Join NEMA Text Alerts on RainedOut
Rainout notices sent to your
email or cell phone.

---




















www.NemaHistory.com
HALL OF FAME PAGES:
Gene Angelillo Marvin Rifchin
Carl Kibbe Wen Kelley
Butch Walsh John McCarthy
Jim O'Brien


.

---

---

2018 & 2019 Race
Results & Photos

Results for 2002 to 2019 HERE

---

NEMA Merchandise:
Cyndy Scrivani
508-584-7748
cyndyann10361@yahoo.com

---

NEMA TRACK
HISTORIES


with 2017 updates


PDF HERE
NEMA
STATS


with 2017 updates


PDF HERE
NEMA CHAMPIONS
PDF HERE
LITES
STATS


with 2017 updates


PDF HERE
NEMA NUMBERS
PDF HERE
NEMA DRIVER WINS
AT TRACKS
PDF HERE
Members of the NEMA
Dick Gallagher Memorial
Hall of Fame
PDF HERE

---

VINTAGE MIDGET RACING
www.vintagemidgetracing.com
In 2006, Dave Shore from Southbury, CT. started VMR to help keep vintage midget racing alive. Anyone who has a caged vintage car, and would like to run with us, please contact:
Dave Shore at 203-509-2835.


2018 VMR Dates at the VMR website.

---



FULL IMPORT & DOMESTIC
REPAIRS AND SERVICE
Jeff Horn


182 Pond St.


Ashland, MA 01721
508-881-4540


Hitch & Trailer Specialists


www.a-1automotiveservice.com


---




SALES • SERVICE




PERFORMANCE and SUSPENSION UPGRADES





Specializing in Finer Imports


AUDI • BMW • JAGUAR • MERCEDES
LANDROVERS • PORSCHE • SAAB
VOLVO • VW



(508) 697-5921


1460 Pleasant St. (Route 104)
Bridgewater, MA 02234
www.motorcarsint.com

---

SERVING ALL MAKES of MIDGET




& SPRINT CAR ENGINES


Jon Andruk
ja@circleperformance.com


69 LOCUST STREET,




BERKLEY, MA 02779




508-580-5844

174 CID Ford Head Gaerte - $16,500
INFO SHEET PDF

---

---

---

NEMA LITES T-Shirts are available for purchase. The LITES shirts are available in 3 colors - white, gray and royal blue. They come with either the NEMA LITES logo only on the front or with 2 logos - NEMA LITES on the front and regular NEMA logo on the back. The white shirts are $10. The gray or blue are $12. The new LITES t-shirts can be at The Race Depot/ Seymour Enterprises in Marlboro Mass or are available from Cyndy Scrivani.

---

2014
2013
2012
2011
2010
2009
2008

2007
2006
2005
2004
2003
2002


2011
2010
2009

---

---

---


"Tires Designed for Champions"
hoosiertire.com


Brockton, MA - 508-580-5844
Supplier of Mazda Midget engines &
Independently Making Brand X Better

RI's most respected name in Collision Repairs
crowncollision.com

www.rwjm.com

---

---


Gene Angelillo Memorial Page




NEMA and Hoosier Tire




Ink Exclusive 3 Year Deal

Brockton, MA - NEMA President, Mike Scrivani, announced today that the Northeastern Midget Association and Hoosier Tire East have inked an exclusive, three year deal. Under the deal, NEMA will have exclusive rights in the Northeast to the current plated compounds (RR 7, 7.3, RF 5, LR, 5 and LF, 4, 5) and will be the only series in the Northeast running these particular tires.





Hoosier will also continue to be a major contributor to the NEMA point fund, and in addition have offered fixed pricing for the racer over the next three years.




"NEMA has enjoyed a long history with Hoosier. This sport is about supporting those who take care of you, and supporting each other. We feel that we have the best product in Hoosier and look forward to a long relationship with them," said NEMA President, Mike Scrivani. "We have an exciting schedule brewing for 2015 and expect great car counts," said Scrivani.





As part of the arrangement, Hoosier tire has selected long time NEMA supporter Seymour Enterprises to be the exclusive dealer and service provider to the Northeastern Midget Association.

| | |
| --- | --- |
| | |
| | |
| | |










































































































































































































































































































































































































































CHECK THE
MEMBERS ALERTS PAGE
FOR THE LATEST HANDICAPS, COMPETITION ADDENDA,
RACE PROCEDURES, & NEMA FORMS

CAROL DUNCAN
Carol Ducan, wife of Ed Duncan and
longtime NEMA member, has passed.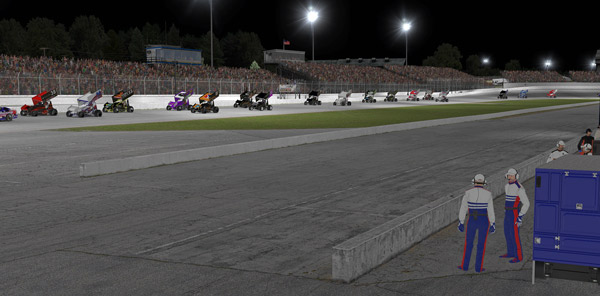 FEATURE LINEUP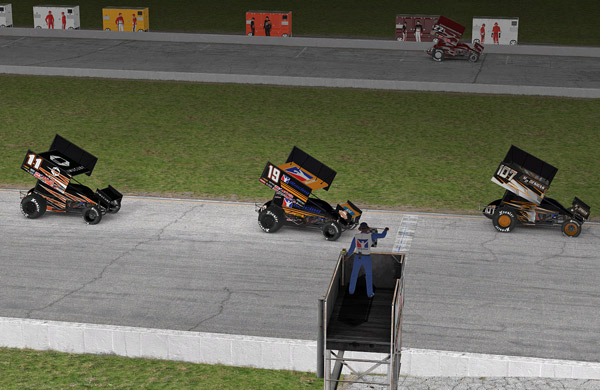 TOP THREE
NEMA Virtual Icebreaker a Success!
NEMA ventured into the virtual world last night, 4/9, to run their virtual Icebreaker at Thompson Motorsports Park. 26 drivers showed up to participate in the event. The race was also broadcasted by Full Velocity Racing Network Live. The event pulled over 2200 unique watchers during the event, which is awesome, thank you fans!

The event kicked off with Qualifying and NEMA's own PJ Stergios took home quick time honors, followed by NEMA invaders Matt Dail and Collin Penn. NEMA's Anthony "Bug" Marvuglio and invader Michael Henry rounded out the top 5.

Heat race action was next. The 3 heat race winners were: Anthony Marvuglio, Mike Henry and Richie Coy.

The B and C Mains followed and were won by Stephen Pearce and Danny Cugini, respectively.

The feature event saw Jeffrey Battle and Ryan Locke on the front row and they lead the 26 car field to the green. The race only had 1 caution and had blistering action all over the track. In the end, NEMA invader, Matt Dail took home the win over Richie Coy, PJ Stergios, Adam Dion and Seth Carlson.

NEMA would like to thank all those that participated and watch the event, were thinking of doing more, so stay tuned!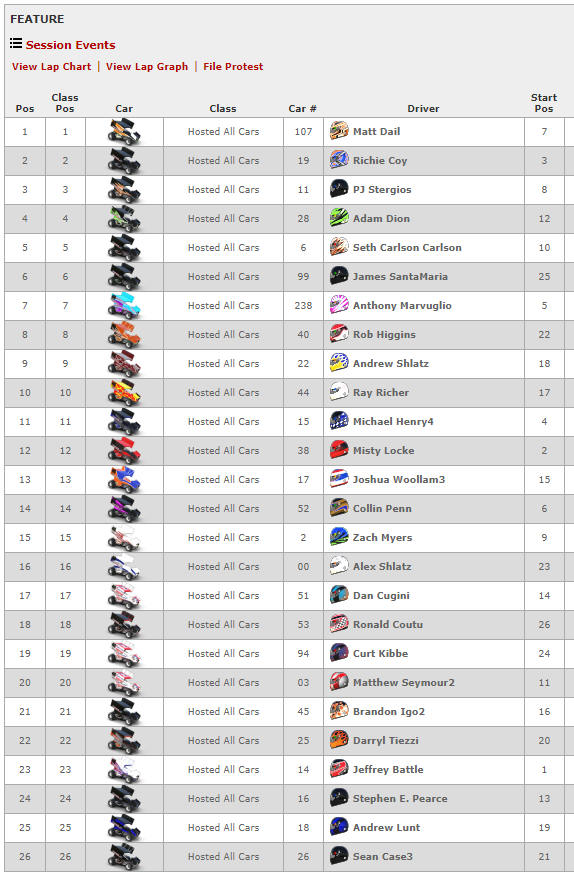 eNEMA - Virtual Icebreaker
Hi NEMA members!

So, since everything is shut down, our Icebreaker has been postponed and other sanctioning bodies have tried it ... NEMA would like to run it's first eNEMA race - that stands for electronic NEMA - on iRacing.

No, it's not a replacement for actual racing, however, it's a way that we can get together (virtually) as a membership and have some fun and do a little racing. Trust me, it's not easy.

What we are proposing is using iRacing to host an official eNEMA race. iRacing does not have pavement midgets in their current catalog. They do have wingless pavement sprint cars though and that is what we think should be used. Thompson Speedway is in the simulator and that's the venue for our eNEMA Icebreaker. There is a possibility that we could broadcast the race on youtube, facebook or twitch.

I have checked and we have several current NEMA drivers that have iRacing accounts, which is great. I would encourage all our drivers to participate, however, iRacing is not free and the setup is not free. You will need a computer capable of running iracing and a steering wheel/pedal combo. There are tons out there. I currently have a logitech g29 and I would recommend a wheel with force feedback, but you don't need it...any wheel can work.

In order to move forward, I would need to hear from all of you. Will there be enough interest to do this? Any 2019 NEMA or NEMA Lite driver is locked in to the Icebreaker. We are also inviting all car owners, crew members and family members to participate as well. We may even add fans to the mix. If we have enough, we will work out a qualifying procedure. Please contact me and let me know if you are interested: email, text or facebook ... Also, pass the word on to anyone you might not think is on this email or someone who would be interested.

Hope everyone is safe and sound during this time.

Richie Coy - NEMA Secretary - richiecoy@gmail.com
LITES SCHEDULE NOTE
Good afternoon NEMA membership,

Thompson Speedway has postponed their Icebreaker to a tentative date of May 16th. Unfortunately, we already have a date scheduled at Lee Speedway, so the NEMA LITES will not be able to make the new tentative date at Thompson. NEMA is working with Thompson to see if the LITES race can be moved to another date this year. However, as of right now we do not have a new date.

As the COVID-19 outbreak continues to impact our lives, NEMA will be monitoring and in contact with all our tracks. Our members health and safety is priority #1 and any schedule changes will be announced to you as quickly as possible.

Please everyone stay safe, and we hope to be racing soon!

Richie Coy - NEMA Secretary - richiecoy@gmail.com

NEMA LITES DYNO TEST
SATURDAY, APRIL 18th
-


NEMA is offering a dyno test session
at SMG Motoring.

10-12 spots at $250 each spot.

SMG Motoring will be considered the official dyno of NEMA for 2020 – meaning, that if you are sent to the dyno, this is where your car will be sent. You are welcome to use other dynos to tune your car, etc – but the final determination will be at SMG.

To book a time contact Paul Scally: pvs377@aol.com

If there is more demand than the 18th can handle, we will arrange for another date in May.



NEMA Driver Spotlight: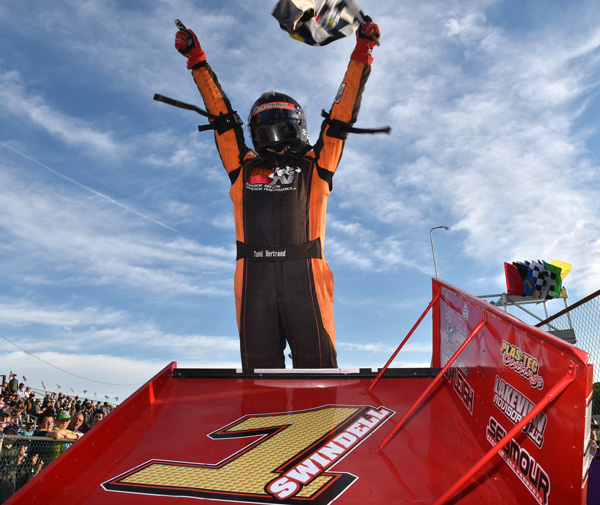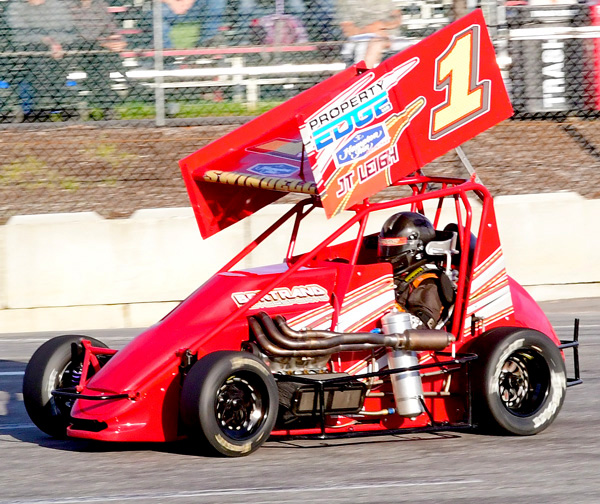 Todd Bertrand
Another year, another hectic race season for the Danielson, CT native Todd Bertrand. It was a great year for the seasoned NEMA veteran, culminating with a second place points finish.

Despite the statistics on the surface, Bertrand wanted more, "What kept us from winning the championship this year were our two DNF's: the first one at the season opener at Lee USA Speedway, and the second being our DNF while leading at Thompson Motorsports Park in mid-August." The failure at Thompson could not have been at a worse time, with Lee USA was two days later, also prior family obligations, not to mention work. "The support system I have here at Bertrand Motorsports is second to none. The day after Thompson, my wife and her father took the cylinder to John Andruk at Circle Performance for repairs. She waited there all day and came back to get the engine back together with her father and me. If it weren't for them, I would not have made it to Lee, let alone win my heat race."

Going into 2020, the 2019 Wiscasset winner has hefty but very doable goal in mind, "We're going to continue to work harder than anybody else, and get that first championship."
NEMA Driver Spotlight: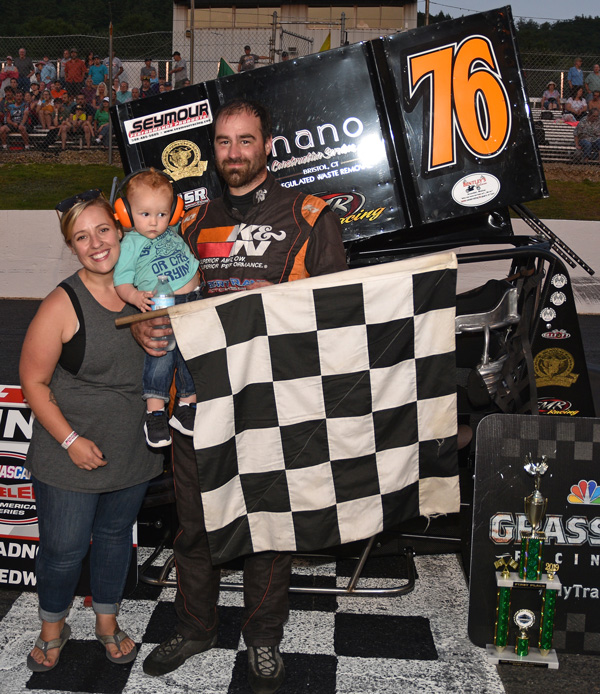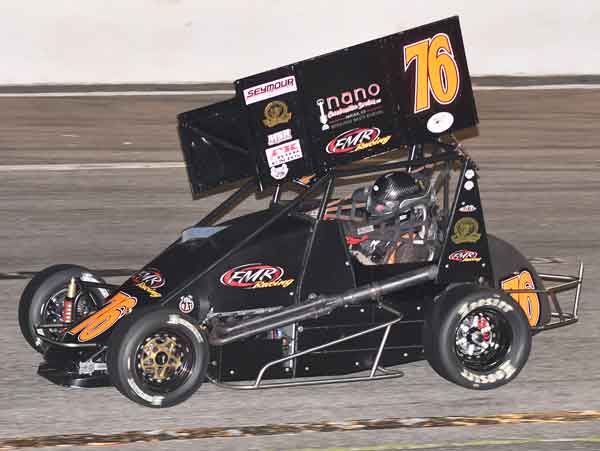 Randy Cabral
"You can't win them all," is how seven-time NEMA champion Randy Cabral described his 2019 season. "We were right in the thick of the championship fight but having more DNF's this year than in the last five years," stated Cabral who ended the year 3rd in points in NEMA, "really hurt our points efforts. Not to mention our feelings. We'll take 2019 as a learning experience, it's all we can do."

Despite his position in the final standings, he had a series high 6 wins between NEMA Midgets and NEMA Lites, a year that also earned Frank Manafort a first owner's championship in the NEMA Lites division with the #76. "Hopping from car to car allows me to constantly exercise my abilities. I can never allow myself to stop learning as a driver, no matter how hectic my night gets," referring to pulling triple duty between NEMA Midgets, NEMA Lites, and the Pro-4 Modifieds.

For 2020, NEMA will revisit Hudson Speedway for the first time in almost 20 years, with Cabral being one of only a handful of drivers that were in the field that day. "It's a great racetrack. I've also run there in Pro-4 Modifieds and Mini-Cup cars. I'm glad to see it back on the schedule, along with Claremont."

It appears father time can't touch Cabrals' talents and when asked of his 2020 goals, Cabral simply stated, "Stay focused, and keep doing what we are doing. Father time hasn't touched my abilities, but he has changed my appearance."
NEMA Driver Spotlight: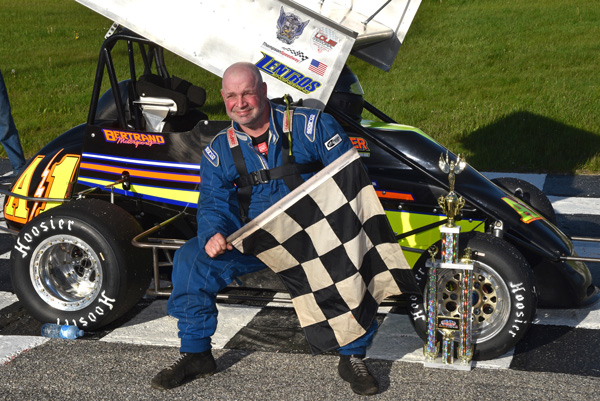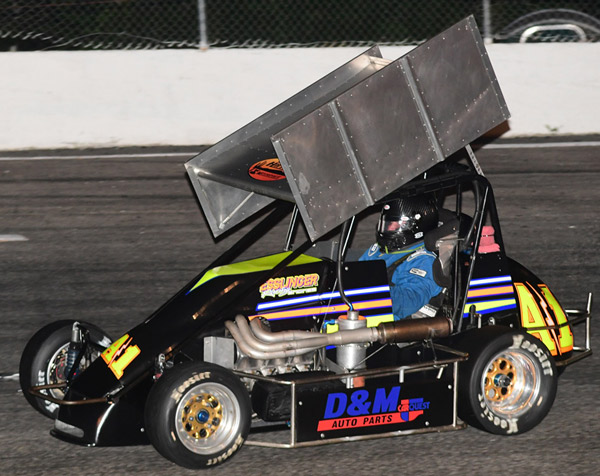 Mike Horn
NEMA veteran Mike Horn made his intentions clear, with a dominating win in the first race of the season at Lee USA Speedway. "It was more than just a win; it was a personal victory for the team. A long-time crew member of ours just battled back from cancer, so we wanted this for him." Marking not just his first win since his return, but also his first podium, Mike set out with the points lead and had another podium the next race.

Unfortunately for Mike, the season quickly unraveled from there. Fighting a sluggish car, reliability, and hard-luck, Mike made the most of his situation and ended the year with a string of top-fives. "To win these races, you need to make your own luck. Having top-three speed, and being in top three are two different things. We need to combine the two together, and we'll be in championship contention."

Some big news in NEMA for 2020 is the return to Hudson Speedway. Mike Horn is one of two drivers in the current NEMA field who competed in that most recent race there 20 years ago, "I feel I do have some sort of advantage there, but the track has certainly changed since the time we were last there. I won in a kart there when I first started racing, so I'm very familiar with that track. Hudson was specifically built for midgets, and I am so happy to see the facility improvements."
NEMA Driver Spotlight: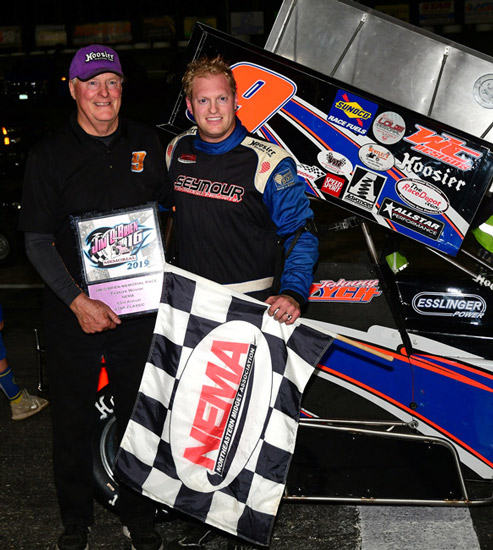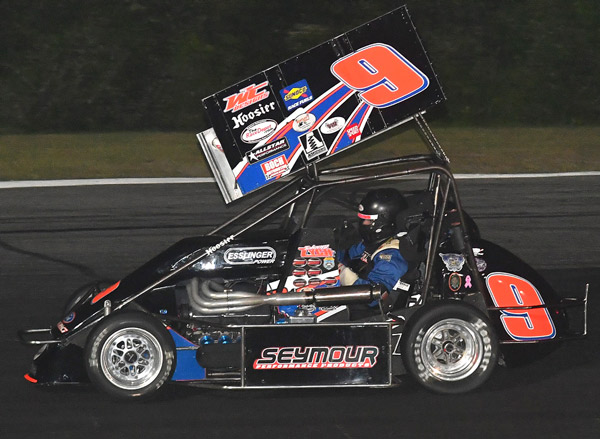 John Zych Jr.
For John Zych Jr., 2019 was another "what if" season. Showing speed at times, his year hampered by crashes and motor issues, "2019 was our most frustrating year yet. The practice crash really got our season on the wrong foot. We need to finish races in 2020 if we are to win another title."

As unusual as 2019 was for the three-time champion, Zych was still happy to point out some high points, including his inaugural Star Classic win. "Winning the Star Classic was easily the best moment of the year. That is such a special race and I've always loved Star. Additionally, my father and I worked our butts off the week before the Boston Louie Seymour Memorial to get the car back together where just a few days before it was in pieces after our wreck."

Zych was given an opportunity to run for the late Frank Manafort at the NEMA Lites season opener at Thompson, a race which saw a dominate performance from Zych in the 76M. Zych doesn't run the Lites often, but it seems to fit his driving style well, "The Lites cars are easier to drive, but much harder to race. A mistake costs you in the long run of a race. You have to keep your momentum up in order to pass cars as everyone is so competitive." He further adds, "Whereas in NEMA, you need finesse. You can't throw caution to the wind if your car is not handling right as you'll wear out your tires. You must take what the track will give you and try to make the best of it."

As for the upcoming season, Zych plans to be back on top of the speed charts and the points standings. His intentions are clear, "We have clean slate going into 2020, and we'll be more than ready."
NEMA Driver Spotlight: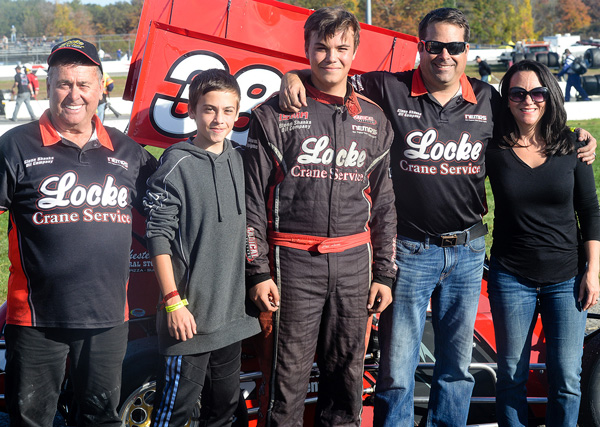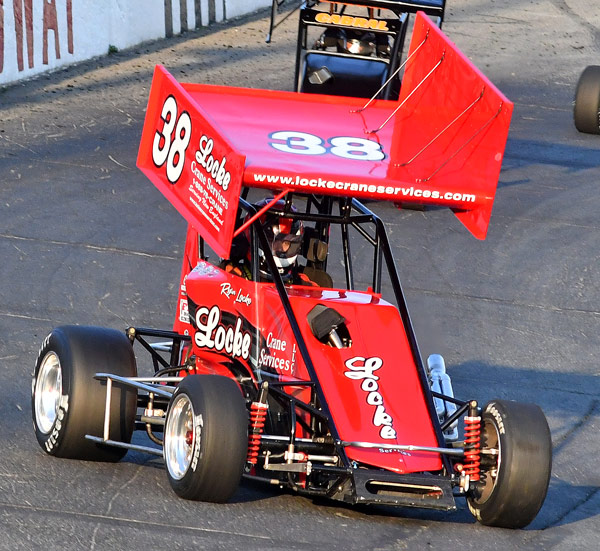 Ryan Locke
"It's left me hungrier for more championships," stated 2019 NEMA Lites champion Ryan Locke. "It's crazy to think we have come this far in just four years. We are racing with the best drivers in New England, and to think to we came out on top is just unbelievable."

The pivotal moment for the Raymond, NH native was his win at the Seekonk Speedway in the NEMA Lite portion of the "Boston Louie Seymour Memorial." "Winning that race was a huge confidence boost. I realized that we have the ability to compete for wins one a weekly basis." The young driver has proven his worth in the series by scoring two wins, 10 top five's, and 11 top 10's from 12 races in 2019. His consistency this season was nearly unmatched, with only one other driver matching his top fives.

Two tracks that Locke has not raced at, Claremont Motorsports Park & Hudson Speedway have been added to the 2020 schedule. Ryan has previous experience in karts at the 1/8th track at Claremont, formerly Twin State Speedway but feels that he should no issue adapting to these unique and challenging racetracks. "I feel we will adapt well to those tracks. Additionally, I feel we are just as good, if not the best tea, to adapt to new situations."

If there's a championship favorite, it may be Locke, "We just need to take our 2019 program in 2020 and repeat it." High on talent and confidence, his mission in 2020 is to claim a first owner's title, in addition to defending his drivers title.
NEMA Releases
2020 Schedules
NEMA Midgets Schedule HERE
-
NEMA Lites Schedule HERE
On Saturday, December 8th, Northeastern Midget Association President, Tim Bertrand, released the club's 2020 schedules to the membership and press. Fourteen NEMA Midgets shows and seventeen Lites shows, with thirteen combined NEMA Midgets/NEMA Lites shows highlight a season that brings NEMA back to many of its familiar, historic "haunts."

"We plan to play off of the success that we had over the last couple of seasons, as a club. We had strong car counts in the 30 car range every week, with a season high of nearly 40 cars at the Boston Louie event," said club President, Bertrand. "I see us only continuing to gain momentum for 2020. We've got a number of new teams coming into the Lite series, have at least three new full time teams in the NEMA division, with 3-4 others returning for 2020," said Bertrand.

The Northeastern Midget Association will play part in nearly all of the Northeast's most prestigious races: The Thompson ICEBREAKER, The Star Classic, The Boston Louie Memorial, Seekonk's Open Wheel Wednesday, LEE's Open Wheel Opener & Oktoberfest, Waterford's 4 Cylinder Frenzy, and Thompson's World Series of Racing.

NEMA starts its season at Thompson Speedway Motorsports Park's annual ICEBREAKER event, with a Lites only race. The club will visit Thompson on two other occasions, one with the Whelen Modified Tour in August, and the World Series in October.

"Thompson Speedway Motorsports Park has enjoyed its great partnership with with the Northeastern Midget Association. For the past several seasons, they have provided some of the most exciting competition at Thompson and we are delighted to welcome them back in 2020," said GM of the Thompson Speedway Motorsports Park, Terry Eames.

The club will return to Star Speedway with two combined shows and two Lites Only shows this season. The highlight on the schedule is a return to the Star Classic, one of the biggest open wheel races in the Country.

"NEMA did a great job for us last year at the Star Classic, and is a great addition to our race card," said Star Speedway GM & owner Bobby Webber Jr. "We are excited to have them return a number of times this year, and continue our over sixty year tradition here at Star Speedway," he said.

A big highlight on the schedule this year is two trips to Seekonk Speedway, one with the Lites only at Open Wheel Wednesday and the other, the prestigious Boston Louie Memorial, at Seekonk with the International Supermodified Association in August.

NEMA will also return to two tracks this year, one in Claremont Motorsports Park for the opening event, to accompany the Granite State Pro Stocks, and one at Hudson Speedway, where NEMA has not competed at in nearly twenty years.

Three shows at LEE USA Speedway are on the docket, after NEMA re-kindled its relationship with the speedway after the change of ownership last season. The last time NEMA visited the Speedway, Sammy Swindell took down a victory, to extend his 49 year winning streak. Swindell is slated to compete with NEMA on a handful of occasions again in 2020.

Always favorites, NEMA returns to Wiscassett, Monadnock, and will be back at the New London-Waterford Speedbowl this season after troubles kept the track opening last season.

"The Speedbowl is extremely excited to have NEMA headline our Inaugural 4 Cylinder Frenzy show, on Saturday September 12th, 2020. The NEMA midgets always provide the most exciting side by side action and down to the wire finishes! This will be the premier 4 cylinder show in the Northeast and will be one of our biggest events of 2020," said Speedbowl GM Mike Serluca.

2020 NEMA Events:

4/4 - Thompson Speedway Motorsports Park - ICEBREAKER

(Lites Only)



4/25 - Claremont Motorsports Park - Marvin Rifchin Memorial (NEMA & Lites)

5/2 - Star Speedway

(Lites Only)



5/16 - Lee USA Speedway - "Open Wheel Opener" (NEMA & Lites)

6/6 - Wiscassett Speedway - Ames True Value Night (NEMA & Lites)

6/20 - Star Speedway - Butch Walsh Memorial (NEMA & Lites)

6/21 - Hudson Speedway (NEMA & Lites)

7/1 - Seekonk Speedway - Open Wheel Wednesday

(Lites Only)



7/17 - Lee USA Speedway - Gene & Marilyn Angelillo Memorial (NEMA & Lites)

7/25 - Monadnock Speedway - Iron Mike Scrivani Memorial (NEMA & Lites)

8/1 - Star Speedway

(Lites Only)



8/12 - Seekonk Speedway - Boston Louie Memorial (NEMA & Lites) - Wednesday

8/19 - Thompson Speedway Motorsports Park

(NEMA Only)

- Wednesday

9/12 - New London-Waterford Speedbowl - 4 Cylinder Frenzy (NEMA & Lites)

9/19 - Star Speedway - Star Classic - Jim O'Brien Memorial (NEMA & Lites)

10/3 - LEE USA Speedway - Oktoberfest (NEMA & Lites)

10/10-11 - Thompson Speedway - World Series - Shane Hammond Memorial (NEMA - Sat., Lites - Sunday)

10/31 - New London-Waterford Speedbowl - Closer (NEMA & Lites) - Saturday




NEMA's 1000th Race - Star Speedway - 8/23/14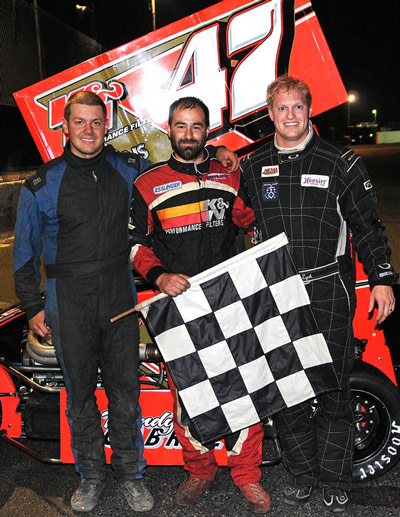 CARLSON - CABRAL - ZYCH
Recognizing Some
NEMA Milestones
The Northeastern Midget Association will open the season at Star Speedway on May 21. It will be the 1018th point-paying race in the club's 63-year history.

Passing unheralded was the club's 1,000th race at Star Speedway on August 23, 2014. Randy Cabral was the winner, besting John Zych Jr. and Seth Carlson.

New England's oldest and most enduring touring division, NEMA was formed in the late spring of 1953 at the Thompson clubhouse. Fred Meeker was the first NEMA winner at Seekonk Speedway on May 30, 1953. New England Auto Racing Hall of Famer Bill Eldridge won the next afternoon at Waterford.

The NEMA Lites open at Thompson Speedway's Icebreaker on April 9. There have been 106 races for a division that started with an exhibition run at New London-Waterford in 2008. The 100th Lites race was won by Danny Cugini at Lee on July 17 of last year.

With two victories last year, Randy Cabral is now tied with Nokie Fornoro in fourth place on NEMA's all-time win list with 47. He has 16 seasons with a least one victory tying him with Bobby Seymour on that list. They have come consecutively, equaling a NEMA standard set by National Midget Hall of Famer Dave Humphrey. Most of Cabral's wins have come in Tim Bertrand's No. 47 but it all started when an upstart Cabral captured the 2000 Boston Louie in a family car.

Star Speedway, with 103 races going back to 1968, is the leader among tracks hosting NEMA events. Randy Cabral tops active NEMA competitors with four Star wins including three of the last four. John Zych Jr. has also won at Star.

NEMA is clearly one of the most competitive open cockpit divisions in the country. Over the past six years, there have been 23 different NEMA winners and in all but one of those seasons, at least one "first-timer" appeared. Over that span John Zych Jr., Todd Bertrand, Avery Stoehr and Seth Carlson have become top contenders. Danny Cugini and Jim Chambers were first time winners in 2015. Bertrand, Stoehr and Cugini are all products of the NEMA Lites. The Lites have had 20-different winners in the past three seasons, champion Anthony Payne and Megan Cugini among the 2015 first timers. Designed with competiveness in the forefront nine years ago, the Lites are a true success story.

Nominations are now being accepted for the New England Auto Racers Hall of Fame. The nomination form and procedure are available on the New England Antique Racers' website - www.near1.org. Please disregard the posted deadlines.

Those with NEMA connections already enshrined are Gene Angelillo, Chuck Arnold, Burt Brooks, Ray Brown,Joe Csiki, Bill Eldridge, Frank Ferrara, Drew Fornoro, Dave Humphrey, Johnny Kay, Wen Kelly, Rollie Lindblad, John McCarthy, George Monsen, Al Pillion, Billy Randall, Marvin Rifchin, Mike Scrivani Sr., Louie Seymour, Hank Stevens, Ed Stone and Bentley Warren.
Previous Events - Photos & Results - HERE
Previous NEMA NEWS HERE
NEMA AWARDS HISTORY