Join NEMA Text Alerts on RainedOut
Rainout notices sent to your
email or cell phone.

---



















.

NEMA 2015 Membership Form HERE

LITES 2015 Membership Form HERE

---

---

10/5 - Waterford Speedbowl
Denise Chambers - $ 165.00

---

2014 Race Results & Photos

---


At 8:00 PM on August 14th
Speed Sport Magazine on MAVTV
will broadcast the 1 hour show
of the NEMA Boston Louie
Memorial Classic at Seekonk
Watch the 9
"Boston Louie"
clips on
YouTube
HERE

presented by


MAVTV Channel Finder HERE

---

From NASCAR to Formula 1, World of Outlaws to

Midgets

, MotoGP to Supercross, SPEED SPORT is the only publication that covers it ALL! With one of the best editorial teams in the business, and carrying on a legacy over 75 years in the making, SPEED SPORT is the ONE magazine any serious race fan needs to have.


SUBSCRIBE HERE

---

---

2013 YEARBOOK - $ 5.00

NEMA Merchandise:
Cyndy Scrivani
508-584-7748
cyndyann10361@yahoo.com

---

NEMA TRACK
HISTORIES


with 2013 updates


PDF HERE
NEMA
STATS


with 2013 updates


PDF HERE
NEMA CHAMPIONS
PDF HERE
LITES
STATS


with 2013 updates


PDF HERE
NEMA DRIVER WINS AT TRACKS
PDF HERE
Members of the NEMA
Dick Gallagher Memorial
Hall of Fame
PDF HERE

---

Custom Apparel, Screen Printing, Embroidery, & Promotional Items




-




Custom, Racing Crew Pit Shirts, Jackets and Caps




-


Custom Racing T Shirts
Low Minimums


-


(24/7 Live Answered)
508-485-5511
888-485-5510
www.stellarapparel.com

---

VINTAGE MIDGET RACING
In 2006, Dave Shore from Southbury, CT. started VMR to help keep vintage midget racing alive. VMR runs a limited schedule on Wed. and Sat. nights throughout the summer. Anyone who has a caged vintage car, and would like to run with us, please contact Dave Shore at 203-509-2835. Our current racers come from all over the Northeast including : Long Island, RI, CT, MA, NY, ME & NH.
WATERFORD SPEEDBOWL
Weds. May 10 - Weds. June 4, Weds June 9,
Weds. August 6, & Weds. Augus 27
MOUNTAIN SPEEDWAY


St. John, PA - Sun. May 18

---



FULL IMPORT & DOMESTIC
REPAIRS AND SERVICE
Jeff Horn


182 Pond St.


Ashland, MA 01721
508-881-4540


Hitch & Trailer Specialists


www.a-1automotiveservice.com


---




SALES • SERVICE




PERFORMANCE and SUSPENSION UPGRADES





Specializing in Finer Imports


AUDI • BMW • JAGUAR • MERCEDES
LANDROVERS • PORSCHE • SAAB
VOLVO • VW



(508) 697-5921


1460 Pleasant St. (Route 104)
Bridgewater, MA 02234
www.motorcarsint.com

---

NEMA Releases Vintage
Slide Show on DVD
The Northeastern Midget Association announces the release of NEMA Vintage photo's on DVD. The presentation is from the collection of one of the most respected journalist, historians and statisticians in New England, Pete Zanardi.

The range of drivers, owners, tracks and race cars depicted in the collection are the who's who in Northeastern midget racing. The forefathers that laid the foundation for present day racing are illustrated in color and black and white photo's complete with captions. Bill Randall, Ray Roberts, Ronnie Evans and Jerry Russo just to name a few drivers from NEMA's infancy.

The early cage days drivers are represented by Bill Roth, Lee Smith, Hank Stevens and Len Thrall for example. And to finish out the last couple of decades are the Fornoros, Stoehrs, Scrivanis, Seymours and many many more. The cars are as big as the drivers on this DVD that range from the Badgers to the uprights, cage and cageless, even some Offy's.

The DVD is 332 pictures strong and is a must for any early day racing enthusiast.

The cost is $20 each with all proceeds going directly to NEMA to help carry on the rich traditions these early pioneers built.

Payment can be made through PayPal HERE
to rewindles@sbcglobal.net or by sending a check or money order (payable to NEMA) as well as your name and address to Bill Van Slyke,
23 Horsestable Cir., Shelton, Ct. 06484.

---

---

2013 Race Results & Photos
Results for 2002 to 2012 HERE

---

---




NEMA LITES T-Shirts are available for purchase. The LITES shirts are available in 3 colors - white, gray and royal blue. They come with either the NEMA LITES logo only on the front or with 2 logos - NEMA LITES on the front and regular NEMA logo on the back. The white shirts are $10. The gray or blue are $12. The new LITES t-shirts can be at The Race Depot/ Seymour Enterprises in Marlboro Mass or are available from Cyndy Scrivani.

---

2014
2013
2012
2011
2010
2009
2008
2007
2006
2005
2004
2003
2002


2011
2010
2009

---

---

---


safetysolutions.com

NEMA Discount Available HERE


"Tires Designed for Champions"
hoosiertire.com


Brockton, MA - 508-580-5844
Supplier of Mazda Midget engines &
Independently Making Brand X Better

Racers' Online Store
theracedepot.com

Charlton, MA
actrailers.com

East Enterprises
Brownsburg, IN
beastcars.com

S. El Monte, CA
esslingeracing.com

Rochester, IN
gaerteengines.com

1800runsnew.com

Visit the
Coastal 181.com
Bookstore HERE

RI's most respected name in Collision Repairs
crowncollision.com

RacingAgainstCancer.com

www.rwjm.com

---

---


Gene Angelillo Memorial Page














-

















































































































































































































































































































































































































































































































































































































































































































































































































































































































































































































































































































































































































































































































































































NEMA 2015 Membership Form HERE
LITES 2015 Membership Form HERE


"The Pyramid of Grip" Chassis Dynamics Seminar
Danny Drinan will be running two chassis dynamics seminars at
The Racer's Expo on Saturday February 7th.

Quarter Midgets - 9:30 AM to 12:00 PM
Open Wheel Cars - 2:00 PM to 4:30 PM

He has put together a Seminar that is Called "The Pyramid of Grip" and will discuss the following topics followed by a very dedicated question and answer portion as well. It will cost $50 per person.

1.) Shock Department - Compression, Rebound, Velocities, and there effect
2.) Spring Packages and Splits
3.) Roll Steer & its use and purpose
4.) Cross Weight & the understanding of its effects
5.) Dynamic Loading and its result
6.) The effects and Potential Gains of Anti-Roll Bars
7.) Tire Department - Preparation, alteration of pressures, the effects of stagger
8.) Roll Centers & their effects ( Panhard VS Jacobs Ladder )
9.) Radius Rods and the effect of their mounting points and angles
10.) Aero Packages and there effects.

We encourage you to contact our office @ 317-486-9710 to pre-register and make pre-payment via credit card to reserve your seat. Hope to see you there!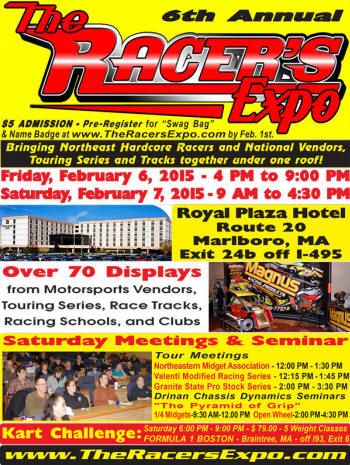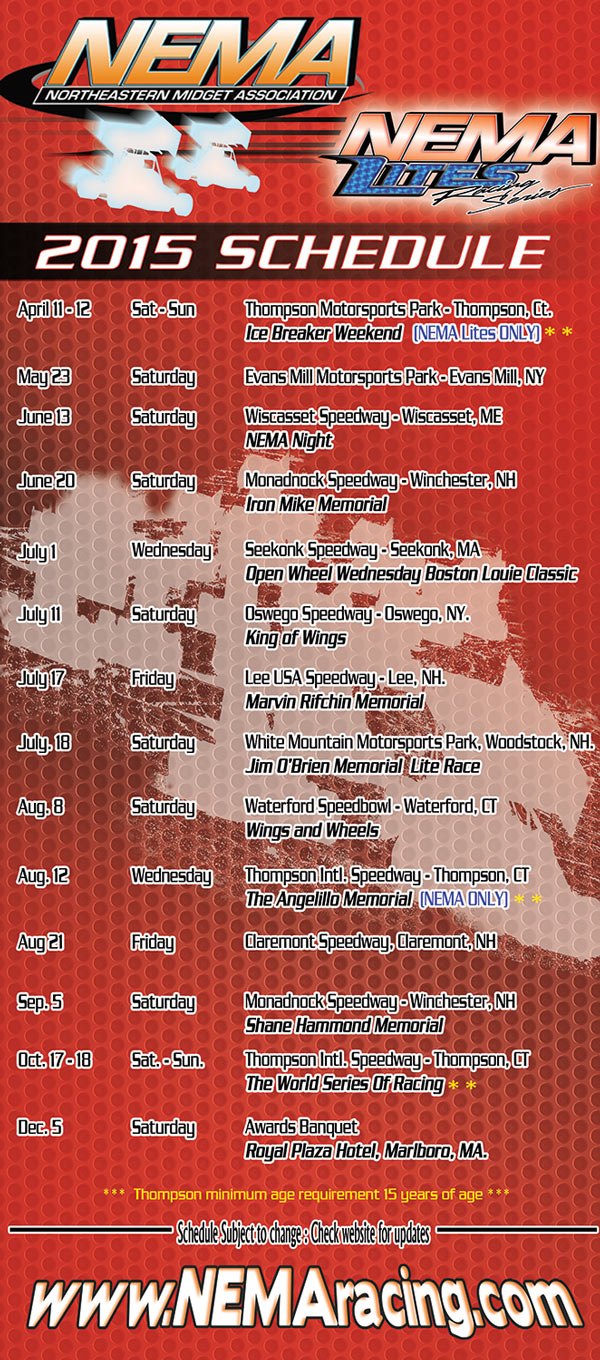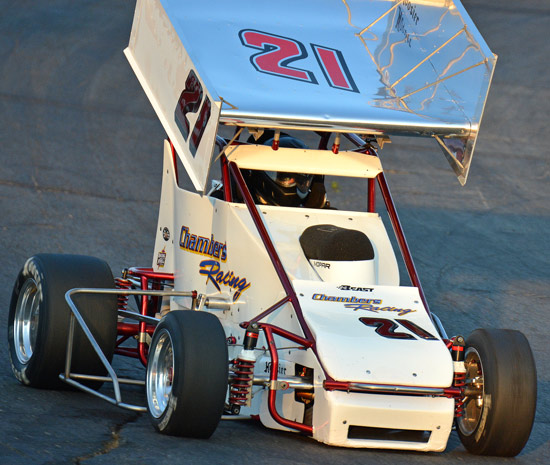 Chambers Brothers Among NEMA Threats
Brockton, MA – The Chambers family - brothers Jim & Alan, will celebrate their 20th year of open wheel racing during the 2015 season.
Although the team is still finalizing plans for next season, one thing is sure - they will be a force to be reckoned with, within both the NEMA and NEMA Lite ranks. The current plans include 2 NEMA cars (Beast Chassis) and a NEMA Lite car that will be shared amongst the two. The team also plans to have a few "guest" driver appearances - a phenomenon that has been popular in NEMA the last few years for a number of teams.

It's a family affair, no doubt for Chambers Racing. The team boasts two family businesses as sponsors in Michael Chambers Auctioneers as well as Alan's business - Mac's Auto world.

"My favorite track is Star speedway in Epping, as this was the track I grew up watching races at and started my adult racing career in the 350 supermodifieds," says Alan. "Jims favorite tracks are Lee Speedway and Monadnock because he always seems to run strong each time NEMA makes an appearance there," said Chambers.

"After racing in a few different series we have found a home with NEMA. We love racing with NEMA because of the high level of competition and the camaraderie between all the drivers and teams, NEMA is like a big family and its nice to travel with a group that will race us hard, but no matter what, the night always ends in handshakes and a good laugh," he says.

Outside of racing Jim is an automobile auctioneer and enjoys playing the drums and snowboarding as well as playing on anything with an engine. Alan owns a used car dealership, and when he is not busy working he enjoys playing the guitar, soccer and videogames.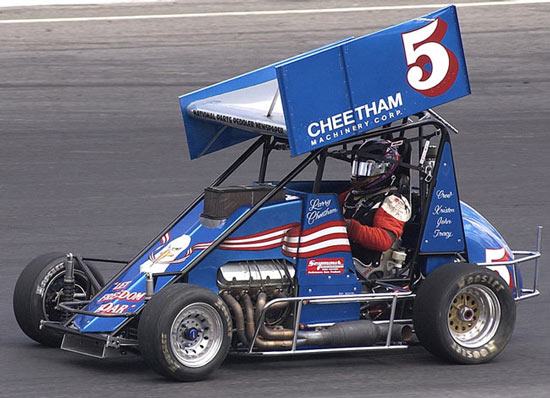 Lawrence Fletcher "Larry" Cheetham Jr.
A long time NEMA member and supporter,
Larry Cheetham passed away on Wednesday, Jan. 7th.
- First Visitation -
Friday, January 9th, 2015, 4:00pm - 7:00pm
Smith Funeral & Memorial Services
8 Schoolhouse Road Warren, RI
Just off Rt. 136 behind Bank Newport
Map & Directions
- Service Information
-
Saturday, January 10th, 2015, 10:00am
Smith Funeral & Memorial Services
-
Interment Information -
North Burial Ground - Hope Street Bristol
VISIT THE NEMA BOOTH AT THE
NORTHEAST MOTORSPORTS EXPO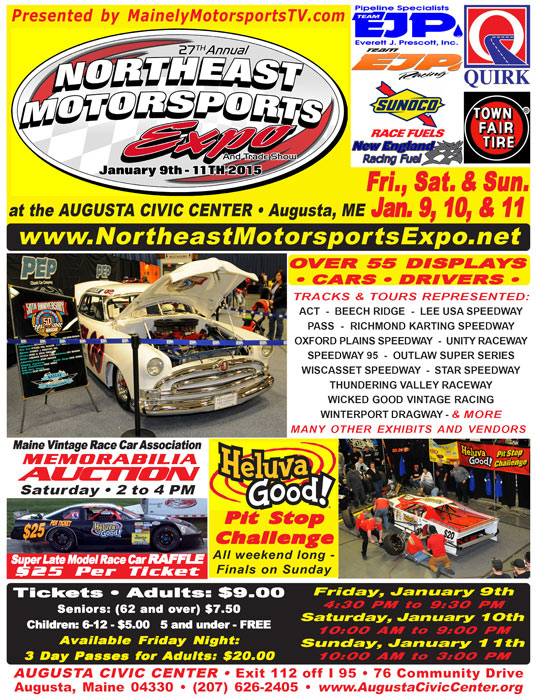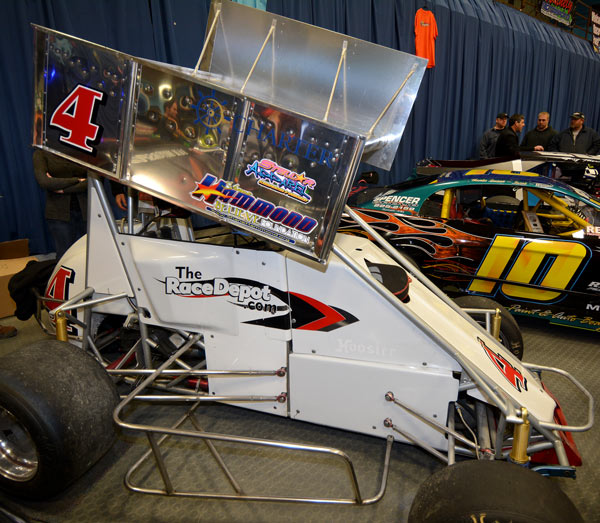 Paul Scally's NEMA Lites #4 in the Wiscasset Speedway booth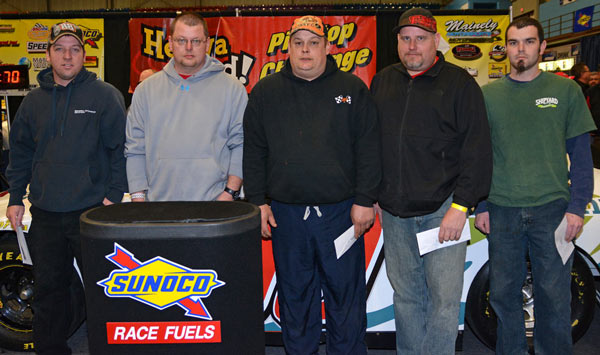 Paul Scally participated in the Helluva Good Pit Stop Challenge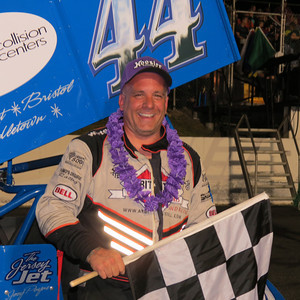 Payne to Pilot Bertrand No. 74
By Nicholas Teto/YankeeRacer.com
Photos by Randy Lindblad and Crystal Snape
Former champion Joey Payne of Fairlawn, NJ will return to NEMA competition at Oswego (NY) Speedway July 11. The NEMA Midgets and Lites will accompany the ISMA Supermodifieds' King of Wings VII card. Payne recorded his most recent victory in the 2013 Iron Mike Scrivani Memorial at Monadnock (NH) Speedway. Previous drivers of the third Bertrand Motorsports entry include Cole Carter, NASCAR Whelen Modified Tour champion Doug Coby, Jeff Horn, and Anthony Marvuglio.

"I'm really excited,"Payne said. "I've known them guys for a long time and I've never driven for the Bertrands. We always talked about it, I always hound them for a ride, and finally last summer we were at Oswego and he (Car Owner Tim Bertrand) said to me, 'We're coming back here next year and you're going to drive the 74 car.' … They have great equipment and all three of their cars are fast on any given day. It's kind of a top quality ride for my home track is going to be a real good thing."

FULL STORY WITH PHOTOS HERE
NEMA congratulates Anthony Nocella on his awesome effort and win at the 2014 Rumble!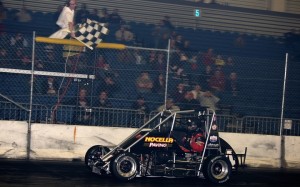 Chris Seelman Photo
Rapid Rookie; Anthony Nocella Stuns Rumble In Fort Wayne, Wins On Opening Night
Audio and recap by Race Chaser Online Managing Editor Jacob Seelman
FULL STORY & AUDIO at RaceChaserOnline.com
For the third consecutive Rumble in Fort Wayne feature event and second straight year, a page of history was written at the Allen County War Memorial Coliseum.
Only this time — it was a true rookie who inked his name in the record books.
Woburn, Massachusetts native and 22-year-old college senior Anthony Nocella made the long haul from New England to make his debut appearance in this year's 17th annual Rumble in Fort Wayne. He then forever left his mark on the concrete oval by passing defending race winner Justin Peck on lap 33 of Friday night's 50-lap National Midget A-main and driving away to a stunning victory.
Nocella becomes the first driver to ever win in his first-career Rumble appearance, driving for noted car owner Bobby Seymour. FULL STORY HERE
NEMA Board Finalizes Rules Package & Exciting Changes for 2015 Season
12-15-14 - Bridgewater, MA - The newly elected NEMA Board wasted no time getting to work, as they met for the first time after being elected last weekend to ratify the 2015 rules proposals this past Sunday, and also agreed on a number of exciting changes for the 2015 season.

The biggest change for the NEMA series will be the addition of staggered heat race points for both divisions, as decided on by the Board. The heat winner will get 20 points, 2nd place 18 points, with 2 points between positions down to 6th place - at which all remaining cars will get 10 points. The Board felt that this change will encourage a better show for the fans during the heat races and reward those who run well in the heat races.

Also exciting for the 2015 season, the Board has adopted the inclusion of a Rookie Development program. Full details will be announced later in the winter, but the intent of the Rookie Development Program will be to provide track time, driver coaching and safety education to new teams and drivers. Drivers falling into the newly adopted age brackets (those who turn 13 during the competition season for the Lites, and 15 years old for NEMA - both with previous experience) must pass the Rookie Development Program and be approved by the NEMA Board prior to competing with NEMA.

NEMA will also be bringing back its NEMA Fan of the Week program in 2015, after a successful program the last couple of seasons. The Fan of the Week gets a free pit pass for themselves and a guest, as well as a tour of the NEMA pit, time with the drivers, and other benefits throughout the evening. In addition, the club will be providing a printed program each week at the race track versus its traditional year book, and will continue its Meet & Greet program under the leadership of Bill Van Slyke.

As previously announced, NEMA will also continue its relationship with Hoosier Tire, as the club signed an exclusive 3 year deal with Hoosier for its current plated NEMA tires. Hoosier East and NEMA have selected Seymour Enterprises as its authorized distributor for the 2015 season.

A number of technical rules were passed as well, and will be posted on this website durng the coming week.
Sunday, Dec 7, 2014 - Annual General Meeting
12:00 Noon - Thompson Clubhouse
NEMA General Membership Meeting
Cites Strong Progress for 2015
12-8-14 - Thompson, CT - NEMA held its annual membership meeting this past Sunday at the Thompson Speedway Motorsports Park clubhouse, with a strong showing of general members present. At the top of the agenda was a preview into the 2015 schedule, which will feature 3 events at Thompson, as well as events at Oswego, Seekonk, Monadnock, Evans Mills, Wiscasset, LEE USA and White Mountain - with tentative dates held for Waterford Speedbowl, Twin State, and Chemung, NY.

The club also elected a new President for the first time in over ten years - with Russ Stoehr running unopposed to take over the top seat in NEMA. Mike McCarthy and Mike Chambers were elected to the Vice President spots, Joe Santa Maria as Secretary and Paul Scally returns as Treasurer. A new Board was also elected with Tim Bertrand, Shawn Torrey, Paul Bigelow, Randy Cabral, Mike Scrivani and Dennis O'Brien taking over those seats.

The club also made additional major strides to help increase its membership base including the development of a Rookie Development program. Under this program, the club will secure track time for new drivers joining the NEMA Lite ranks to practice with the club, particularly noted - 12 and 13 year old drivers will be able to participate in the program. In addition, any driver that turns 13 during the competition season who has prior experience, that has passed the Rookie Development Program and has approval by the Board may compete with the Lite series. The minimum age for NEMA was also lowered to 15 years old with prior experience and Board approval.

Next, the club also voted to have 3 "open" events per year - where the current handicapping system will not be used, and a time trial system will be used similar to previous years at the Boston Louie Memorial, with the hopes of encouraging outside participants from other divisions as well as midget racers from the South and Midwest to participate.

A number of technical rules were proposed as well, and the new Board of Directors will be coming forth over the next week with a vote on those rules to be announced on this website.

NEMA hopes to announce its final schedule by year end, and will also be posted on the website.

NEMA and Hoosier Tire
Ink Exclusive Three Year Deal
Brockton, MA - NEMA President, Mike Scrivani, announced today that the Northeastern Midget Association and Hoosier Tire East have inked an exclusive, three year deal. Under the deal, NEMA will have exclusive rights in the Northeast to the current plated compounds (RR 7, 7.3, RF 5, LR, 5 and LF, 4, 5) and will be the only series in the Northeast running these particular tires.

Hoosier will also continue to be a major contributor to the NEMA point fund, and in addition have offered fixed pricing for the racer over the next three years.
"NEMA has enjoyed a long history with Hoosier. This sport is about supporting those who take care of you, and supporting each other. We feel that we have the best product in Hoosier and look forward to a long relationship with them," said NEMA President, Mike Scrivani. "We have an exciting schedule brewing for 2015 and expect great car counts," said Scrivani.

As part of the arrangement, Hoosier tire has selected long time NEMA supporter Seymour Enterprises to be the exclusive dealer and service provider to the Northeastern Midget Association for the 2015 season.

NEMA's schedule will soon be published on www.nemaracing.com. Stay tuned for all of the latest updates.
NEMA BANQUET - Nov. 22nd


Royal Plaza Hotel -

Marlboro, MA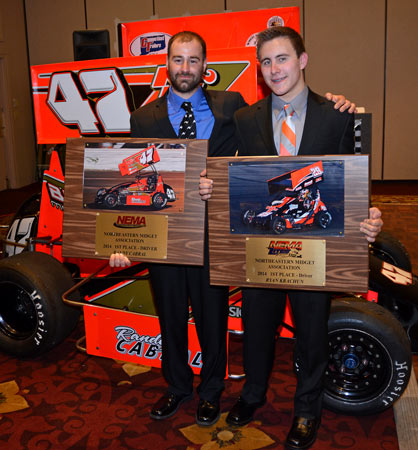 2014 BANQUET PHOTO PAGE HERE
-
NEMA CLOSES 62nd SEASON
WITH AWARDS BANQUET
Marlborough, MA - Champions were honored and achievements recognized during the annual awards banquet for the Northeastern Midget Association Saturday night.

Hundreds of competitors, crew members, fans and their families gathered for the gala event held at the Royal Plaza Hotel in Marlborough, MA. NEMA's announcer Pete Falconi was host for the evening assisted by Speed Sport News television announcer Derek Pernesiglio, who made the announcement that the 2015 Boston Louie Classic for NEMA will once again be nationally televised.

The crowd gave a rousing ovation to the night's special guest, six time champion and multi-hall of famer Dave Humphrey. Humphrey's first NEMA championship came in 1967 and his sixth in 1978 driving for Mike Scravani.

The team of driver Randy Cabral and car owner Tim Bertrand picked up their champion awards for the fifth time in seven seasons in NEMA's top division.

Bertrand was also the recipient of the Wen Kelley Memorial Award, given to a NEMA member that exemplifies outstanding dedication and service to the club, as Wen Kelley did for over 37 years.

NEMA Lites rookie driver Ryan Krachun took home the champion's hardware and so did Scott Bigelow as the champion owner for 2014.

Bigelow finished third in the drivers' standings.

Trophies were awarded to the top 15 drivers and owners in both the NEMA Midgets and the NEMA Lites.

Race car owners with perfect attendance, push truck operators and weekly officials were all given awards.

Krachun was also named one of two Up and Coming Young Drivers for 2014, as well as the recipient of the Ed Clothier Memorial Rookie of the Year Award.

Avery Stoher took the Rookie of the Year honors for the NEMA Midgets.

Long time NEMA supporters Mike and Lu Jarrett were given a special award by club President Mike Scravani for their tireless devotion to NEMA and its competitors.

After almost 50 years, the final Johnny Thomson Memorial Award was presented.

Given annually by a small group of NEMA members from the Lowell, MA area, the award was given to honor the memory of New England's greatest open-cockpit racer. Besides an outstanding career in midget and sprint cars, Thomson raced the Indy 500 eight times, winning the pole in 1959. He died in a sprint car crash in Allentown, PA in the fall of 1960 at the age of 38.

Veteran NEMA member Bruce Beane announced that it would be the final time the award was given, as many of the originators of the award have passed.

The final recipient of the Johnny Thomson trophy was Linda Cleveland, long time NEMA official and secretary.

Linda is also the wife of veteran driver Doug Cleveland, who won the NEMA Associate Member Never Say Die Award.

Kevin Park was the recipient of the same award in the NEMA Lites.

Other prestigious awards given at the banquet include the Jim O'Brien Memorial Award, given by the O'Brien racing family. This year's honor went to Pete Pernesiglio, Sr. The award is given for outstanding contributions to family and racing.

The Ralph Miller Memorial Award for outstanding and continuing perseverance was presented by the O'Brien family and former NEMA President Dick Monahan. This year's recipient was car owner Jeff Johnson.

The Joe Csiki Most Improved Driver Awards went to Jim Chambers in the NEMA Midgets and Logan Rayvals in the Lites.

The Pat Thibodeau Youth and Determination Awards went to Kenney Johnson and Anthony Payne.

Joe SantaMaria was given the Ray Roberts Memorial Award and Scott Bigelow picked up the Brian Caruso Hard Charger Award.

The Gene and Marylin Angelillo Memorial Award is given for an outstanding "woman behind the man" in NEMA. This year's recipient was Rachel LeClerc, who works on the crew of Paul Scally's #30.

Deb and Anthony Marvuglio, mother and brother of the late Shane Hammond, awarded the annual Sportsmanship Award in his name to Kevin Park and Seth Carlson.

The Mechanic of the Year Awards went to Bertand Motorsports and Bigelow Motorsports.

The Ronnie Evans/Len Thrall Top Owner-Driver honors went to Paul "Dangerous" Scally in the NEMA Midgets and Scott Bigelow in the Lites.

The award that no one sets out to win, the Hard Luck Award was given to Dennis and Chris O'Brien in the Lites and Jeff and Kenney Johnson in the NEMA Midgets.

Allan Cantor was named this year's NEMA Lifetime Member.
2014 BANQUET PHOTO PAGE HERE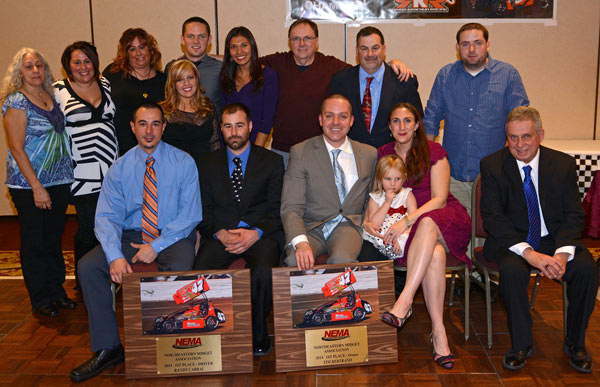 2014 NEMA Midgets Owner and Driver Champions
Randy Cabral and Tim Bertrand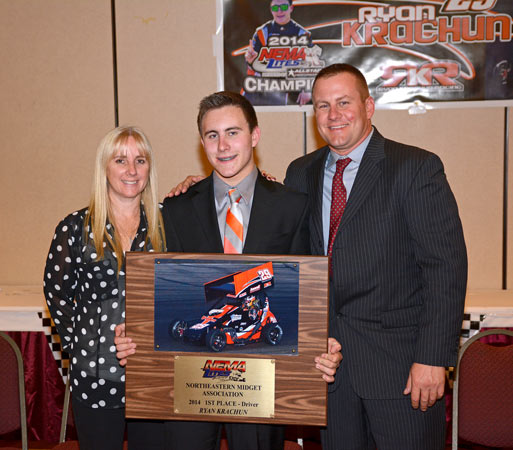 2014 NEMA Lites Driver Champion - Ryan Krachun & Family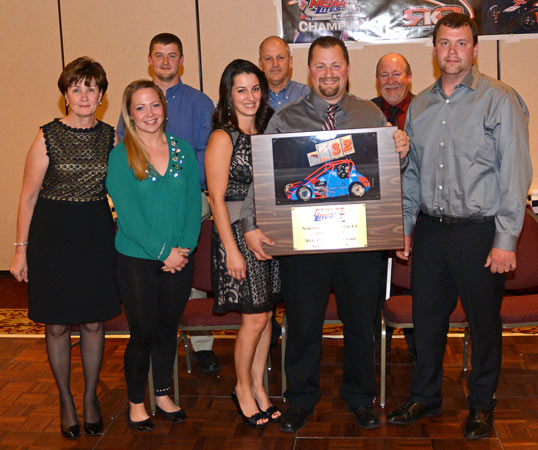 2014 NEMA Lites Owner Champion - Scott Bigelow & Family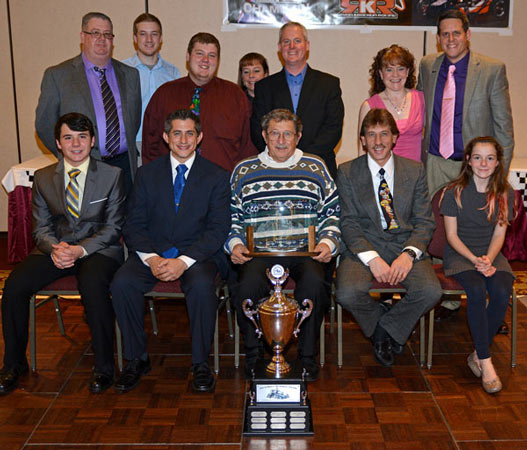 The Jim O'Brien Memorial Award for outstanding contributions to family
and racing was presented by the O'Brien family to Pete Pernisiglio Sr.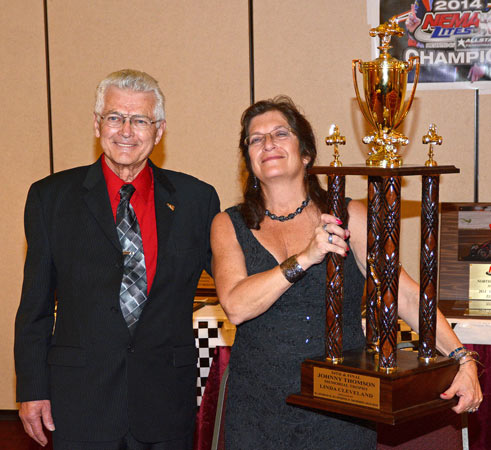 The final Johnny Thomson Memorial Award was presented to Linda Cleveland
2014 BANQUET PHOTO PAGE HERE
.
NEMA CHAMPIONS TO BE
HONORED SATURDAY NIGHT
Marlborough, MA - The Northeastern Midget Association gathers for their 62nd annual awards banquet on Saturday night at the Royal Plaza Hotel in Marlborough, MA. NEMA will crown their 2014 champions and distribute other prestigious awards for both the NEMA Midgets and the NEMA Lites.

The team of driver Randy Cabral and owner Tim Bertrand will collect their fifth champion awards in the last seven seasons. A fete unseen by a consistent driver/owner combination in NEMA. Though the championship wasn't decided until the final race at Thompson, the Cabral/Bertrand team dominated victory lane with six wins in thirteen events. In their first championship season of 2008 they won eight of seventeen races.

They started the season with two DNF's, but had the most consistent record the rest of the way. They only finished out of the top five once, had one fifth place and the rest were first or second place finishes.

Throughout most of the season, Cabral and Bertrand battled the father/son team of Russ and Avery Stoehr for the point lead.

Avery was in his first full season of NEMA Midgets after a successful run in the Lites. He picked up six podium finishes, two of which were wins and never finished out of the top ten in his Kibbe-wrenched entry until the final race at Thompson.

A championship would have continued the family tradition, as father Russ has six of them. His most recent came in 2010 winning the last championship for the Angelillo/Dumo's Desire team, bringing that car ownership total to a record fourteen.

Ryan Krachun won the Lites driver's championship in his first full season with NEMA. The New Jersey driver was able to notch his laurels with consistent finishes. Krachun finished out of the top ten only once, had seven top fives and started the season with two runner-up finishes. His only win came late in the season at Star, his first in a winged midget.

The Lites owner's championship trophy will go to Scott Bigelow. Though he won three features during the season in his own car, the extra owner points came compliments of his brother Ryan, who subbed for him and won at a Lites stand-alone race at Star in May.

Bigelow was able to squeak by Krachun's RKR Enterprises to claim first place in the owners points.

There was no shortage of Bigelows in victory lane this season. Besides the aforementioned Scott Bigelow wins, brother Paul had a Lite win and brother Ryan had both a Lite and NEMA Midget win.

Beyond the champion awards, trophies are handed out to the top fifteen in both divisions, perfect attendance, mechanic of the year, rookie of the year and several prestigious memorial awards.

The big night begins with a social hour at 6:00, followed by dinner, awards and dancing.

This is the first year that the banquet is being held at the Royal Plaza in Marlborough, site of the annual wintertime Racer's Expo. Back in the 60's, the NEMA banquet was held just up the road at the famed White Cliffs Restaurant in Northborough.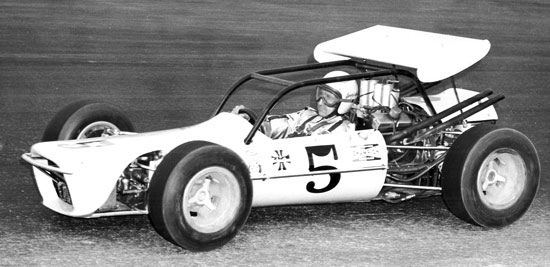 Jerry Wall - Yellow Jacket
NEMA Vintage Slide Show on DVD
Once again, the Northeastern Midget Association is making available the NEMA Vintage Slideshow DVD just in time for Christmas. The presentation is from the collection of one of the most respected journalist, historians and statisticians in New England, Pete Zanardi.

The range of drivers, owners, tracks and race cars depicted in the collection are the who's who in Northeastern midget racing. The forefathers that laid the foundation for present day racing are illustrated in color and black and white photo's complete with captions. On the DVD: Bill Randall, Ray Roberts, Ronnie Evans and Jerry Russo just to name a few drivers from NEMA's infancy.

The early cage days drivers are represented by Bill Roth, Lee Smith, Hank Stevens and Len Thrall for example. And to finish out the last couple of decades are the Fornoros, Stoehrs, Scrivanis, Seymours and many, many more.

The cars are as big as the drivers on this DVD that range from the Badgers to the uprights, cage and cageless, even some Offy's.

The DVD is 332 pictures strong and is a must for any early day racing enthusiast.

The cost is $20 each with all proceeds going directly to NEMA to help carry on the rich traditions these early pioneers built.

Payment can be made through PayPal

HERE
to rewindles@sbcglobal.net or by sending a check or money order
(payable to NEMA) as well as your name and address to Bill Van Slyke,
23 Horsestable Cir., Shelton, Ct. 06484.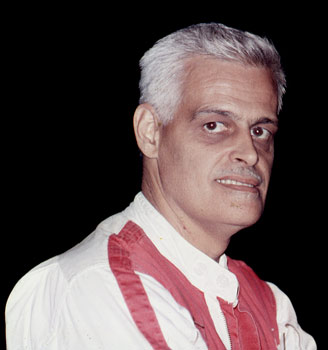 Ronnie Evans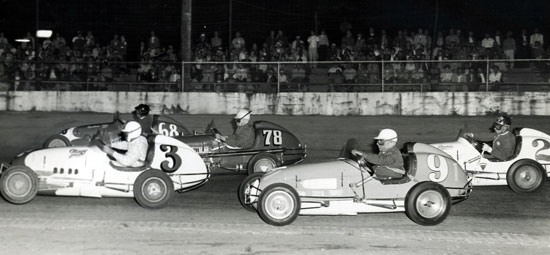 Seekonk Action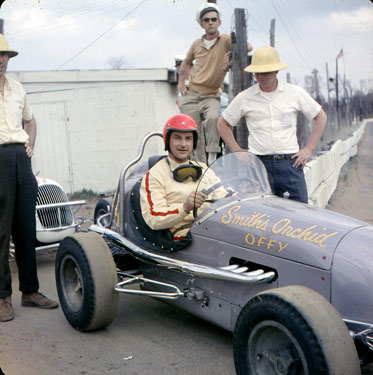 Len Thrall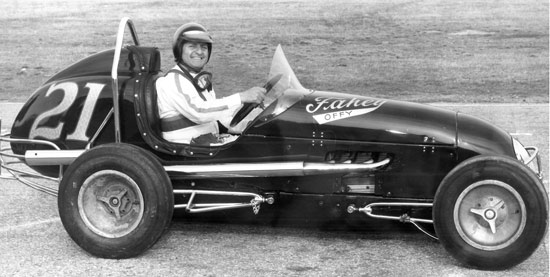 Tony Romit - Fahey Offy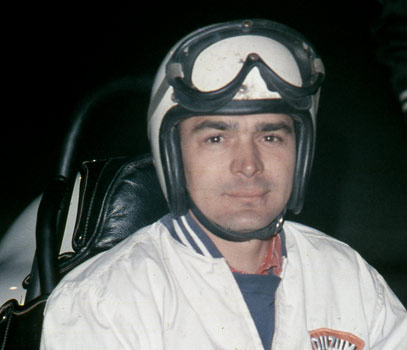 Joe Csiki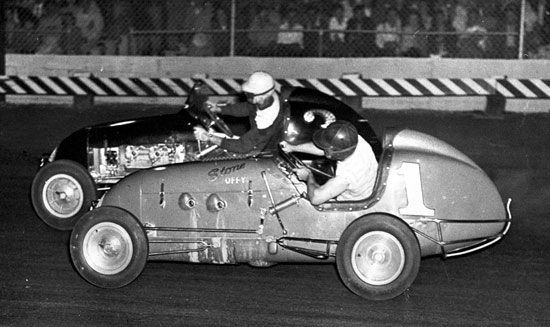 Bill Randall (3) & Bud Tatro (1) - Seekonk


October 17-19, 2014
2014 NEMA Midgets Driver and Owner Champions &
World Series Race Winner: Randy Cabral & Tim Bertrand
CABRAL WINS AT THOMPSON,
CLINCHES CHAMPIONSHIPS
October 19,2014 - Randy Cabral didn't need to win on Sunday to notch another NEMA championship, but you wouldn't have guessed it the way he raced through the field and took the lead in the 25 lap feature at Thompson's World Series. It was his sixth win of 2014. He also added to his record 10 wins at the Connecticut oval, while winning his fifth championship in 7 years.

Cabral, of Kingston, MA. led a Bertrand Motorsports assault, with his teammates finishing second and fifth.

Cabral could have clinched the championship with a decent finish in qualifying, but heats for the midgets were cancelled on Saturday due to a lengthy rain delay. NEMA started Sunday with a 20 minute warm-up session.

It only took Cabral 8 laps to run down and pass early leader John Zych of Mendon, MA. Zych stayed within a few car lengths of Cabral. When the caution came out on lap 14 for a spin by Jim Santa Maria of Burlington, CT, it allowed Zych the opportunity to restart alongside Cabral.

Zych regained the lead until another caution 3 laps later. This one for a slowing Bethany Stoehr of Bridgewater, MA, who had a solid top 5 run going until the car broke. On the restart, Zych's car bobbled and shot to the infield entering turn 1. He slid back up onto the track in the middle of traffic. Everyone was able to get by, but Zych was done due to steering problems, retiring to pit road.

Cabral then opened a comfortable lead, but that was negated by the final caution on lap 21 for an incident involving Scott Bigelow of E. Hampton, CT that landed him against the inside retaining wall just out of turn 4.

The single file restart put second place driver and Cabral teammate for the day Cole Carter right on Cabral's bumper. Carter stayed with Cabral through the first and second turn, but Randy turned up the heat on the backstretch and cruised to victory.

Carter finished second, followed by Danny Cugini of Marshfield, MA in third, Jim Chambers of Atkinson, NH fourth and Cabral teammate Todd Bertrand fifth.

Cabral wins his fifth NEMA championship in 7 seasons, all of which accomplished by driving equipment owned by Tim Bertrand. After starting the season with 2 DNF's, he rarely finished out of the top 3, picking up 5 wins.

He had been point battling another consistent finisher, Avery Stoehr of Lakeville, MA. Stoehr had never finished out of the top 10 all season until Sunday - 7 of those were top 5s with 2 wins along the way.

Champion Cabral and NEMA Lite champion Ryan Krachun of Neshanic Station, NJ will be honored at the annual awards banquet on November 22 in Marlborough, MA.

NEMA MIDGETS - Thompson - 10/19/14

Pos.
#
Driver
Hometown
Owner
1
47
Randy Cabral
Plymouth, MA
Tim Bertrand
2
74
Cole Carterr
Indianapolis, IN
Tim Bertrand
3
51
Danny Cugini
Marshfield, MA
D. Cugini
4
21
Jim Chambers
Atkinson, NH
Mike Chambers
5
39
Todd Bertrand
Sufield, CT
Todd Bertrand
6
44
Russ Stoehr
Bridgewater, MA
Ed Breault
7
54
Jim Santa Maria

Burlington

, CT
Susan Santa Maria
8
46
Kenney Johnson
Bethany, CT
Jeff Johnson
9
30
Paul Scally
Raynham, MA
Paul Scally
10
DNF
32
Scott Bigelow

E. Hampton, CT

Scott

Bigelow

11
DNF
9
John Zych Jr.
Mendon,MA
John Zych Sr.
12
DNF
87
Doug Cleveland
Sudbury, MA
Doug Cleveland
13
DNF
44b
Bethany Stoehr
Bridgewater, MA
Ed Breault
14
DNF
35
Andy Schlatz
-
Glen Cabral
15
DNF
71
Seth Carlson
Brimfield, CT
Gene Feigel
16
DNF
99
Ryan Bigelow
E. Hampton, CT
Joe Santa Maria
17
DNS
15a
Avery Stoehr
Lakeville, MA
Russ Stoehr
18
DNS
50
Kevin Park
Foxboro, MA
Pete Pernisiglio, Sr.

NEMA MIDGETS PRACTICE ON SAT. 10-18

WORLD SERIES MEET & GREET

- 10:30 AM Sunday morning (Oct. 19) behind the grandstands at the fan entrance.

-Top 10 in points in NEMA, ISMA, and Thompson
Sunoco Modifieds have been invited to participate.

-Free give-a-ways for kids and adults.
Current Top 5s
Top 10s
from each
division
expected.
NEMA


Randy Cabral




Avery Stoehr




Seth Carlson




Todd Bertrand




John Zych Jr.

ISMA
Jon McKennedy
Ben Seitz
Rob Summers
Jeff Locke
Mark Sammut
Modifieds
Ryan Preece
Keith Rocco
Todd Ceravolo
Keith McDermott
Kerry Malone
Cabral Leads NEMA Field to World Series
The Northeastern Midget Association has long considered Connecticut's Thompson Speedway the ultimate "separate the men from the boys" facility. While any Thompson checkered is a treasure, the World Series is definitely the biggest plum.

Four time champion and current point leader Randy Cabral of Plymouth looms as the man to beat when NEMA makes its annual appearance at the Thompson World Series on Oct. 18/19. Qualifying is scheduled for Saturday Oct. 18 with the 25-lap feature part of the busy Sunday, Oct. 19 agenda.

Ten victories, including five World Series triumphs, make Cabral the all-time Thompson maestro. Last year, Cabral charged to second place, then made a surprise pit stop for an adjustment before the halfway point, and then made a heroic run to the front again but fell short to John Zych and Bobby Santos. Zych's historic run capped a brilliant championship season for the JZ Motorsports team.

This year, Cabral enters the World Series with a 101 point lead over the young Avery Stoehr. If Cabral is able to start both the heat and feature events, he will wrap up the 2014 Championship.

Thompson's long Midget history, however, is filled with surprises. Considering the last few years have been some of the most competitive seasons in NEMA's 60+ year history, it is safe to consider the possibility of another surprise. Cabral's teammate Todd Bertrand (Bertrand 39), Seth Carlson (Feigel 71), Paul Scally (Scally 30), Avery Stoehr (Stoehr 15B), Zych (Zych 9), Jim Santa Maria (Santa Maria 54) and last week's winner Ryan Bigelow (SantaMaria 99) are all coming to Thompson with high hopes.

NEMA and Thompson have a relationship that goes back to 1960 when the legendary Dutch Schaefer was the winner. Since then, Thompson has helped write a ton of NEMA history and a credible part of that is World Series related.
Greg Stoehr, driving for John Zahar, passed brother Russ in the closing laps to win in 1994. In 2001, Joey Payne, who like Greg Stoehr started last, passed the same Russ Stoehr on the final lap en route to the checkered. The latter was Gene Angelillo's 100th NEMA win. A Nokie Fornoro romp in 2010 proved to be the last Midget ride for one of the sport's greatest competitors.
Cole Carter in NEMA World Series Field
Brockton, MA – Cole Carter, a USAC open-cockpit mainstay and a member of one of America's premier racing families, will be in the Northeastern Midget Association field at Thompson Speedway Motorsports Park for the World Series of Racing on October 18th and 19th.

The son of the legendary "Pancho" Carter, Cole will be a teammate of former series champion and current point leader Randy Cabral in Bertrand Motorsports entries. He'll steer the #74 driven on occasion this season by 2012 NASCAR Whelen Modified Tour champion and current point leader, Doug Coby. After switching engines for the Waterford Speedbowl finale, Coby looked strong in Sunday's shortened practice session but was unfortunately side lined in a first lap crash when Bethany Stoehr's engine expired.

Carter will join a strong field led by Cabral, the all-time NEMA winner at Thompson, that includes Bertrand Motorsports teammate, Todd Bertrand - who was leading last year's World Series until mechanical failure side lined him, 2013 Champion John Zych, Avery Stoehr, Seth Carlson and Paul Scally.

Among current competitors, Russ Stoehr and Zych are the other previous Thompson winners scheduled to be on hand in the field.

Cole Carter's racing genes include both grandfathers – Duane Carter and Carl Forberg – and an uncle – the late Dana Carter – as well as his dad Poncho who, in addition to many Midget and Sprint successes, had 17 Indianapolis 500 starts.

Cole has been running USAC periodically over the last fourteen years, climbing to as high as fourth in the 2005 USAC standings. He has also driven Sprints, Silver Crown and Infiniti Pro Series cars. His last start for Bertrand Motorsports resulted in a runner up effort to Cabral in 2010 at the World Series, and podium finishes earlier that season at both Stafford Speedway and Thompson.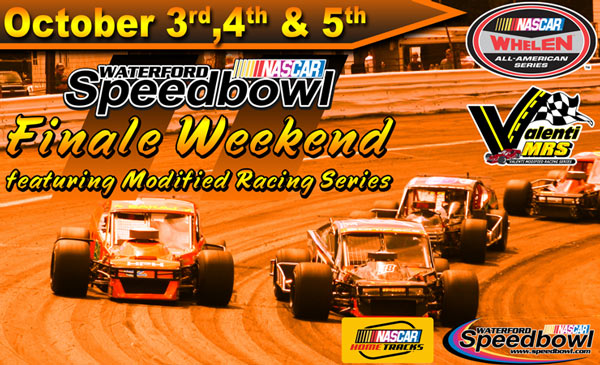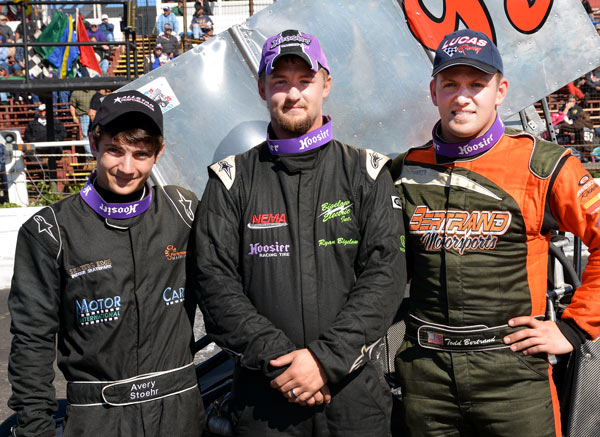 AVERY STOEHR - RYAN BIGELOW - TODD BERTRAND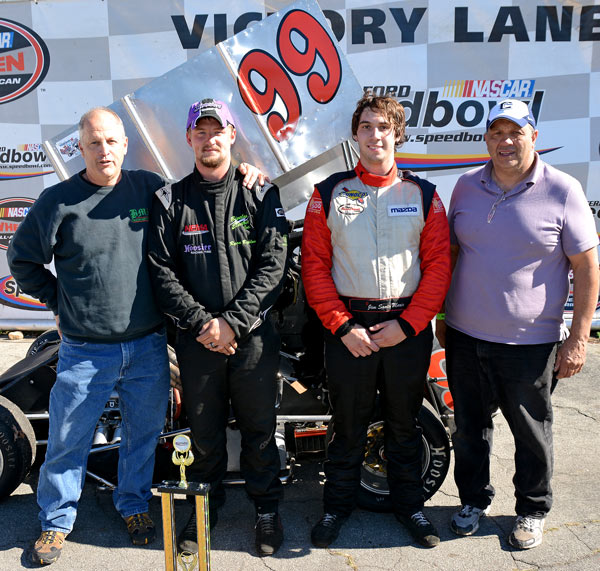 RANDY & RYAN BIGELOW - JIM & JOE SANTA MARIA


John Dadalt

John Dadalt

John Dadalt
Photos by
Norm Marx
NEMA MIDGETS - WATERFORD - 10/5/14

Pos.
#
Driver
Hometown
Owner
1
99
Ryan Bigelow
E. Hampton, CT
Joe Santa Maria
2
39
Todd Bertrand
Sufield, CT
Todd Bertrand
3
15a
Avery Stoehr
Lakeville, MA
Russ Stoehr
4
9
John Zych Jr.
Mendon,MA
John Zych Sr.
5
71
Seth Carlson
Brimfield, CT
Gene Feigel
6
47
Randy Cabral
Plymouth, MA
Tim Bertrand
7
51
Danny Cugini
Marshfield, MA
D. Cugini
8
21
Jim Chambers
Atkinson, NH
Mike Chambers
9
30
Paul Scally
Raynham, MA
Paul Scally
10
54
Jim Santa Maria

Burlington

, CT
Susan Santa Maria
11
80
Pete Pernisiglio, Jr.
Ronkonkoma, NY
Pete Pernisiglio, Sr.
12
DNF
44
Russ Stoehr
Bridgewater, MA
Ed Breault
13
DNF
7
Alan Chambers
Atkinson, NH
Mike Chambers
14
DNF
87
Doug Cleveland
Sudbury, MA
Doug Cleveland
15
DNF
50
Kevin Park
Foxboro, MA
Pete Pernisiglio, Sr.
16
DNF
79
Ian Cumens

Lydell, PA

Ian Cumens
17
DNF
46
Kenney Johnson
Bethany, CT
Jeff Johnson
18
DNF
5b
Bethany Stoehr
Bridgewater, MA
MCI Racing/
Greg Stoehr
19
DNF
74
Doug Coby
Wethersfield, CT
Tim Bertrand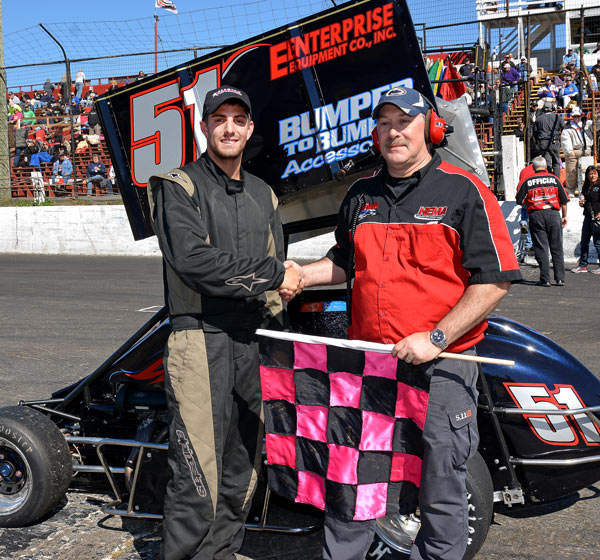 DANNY CUGINI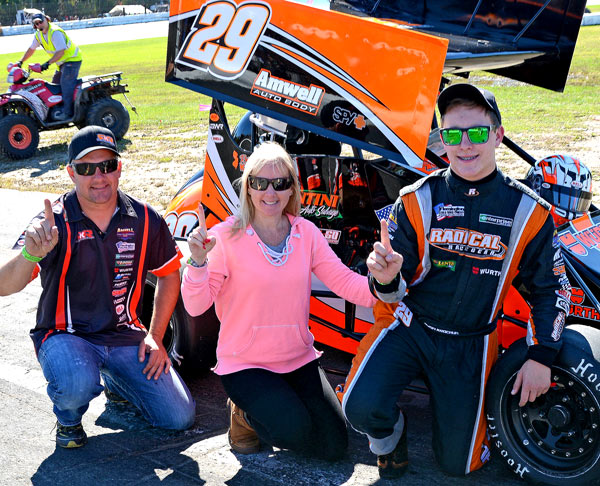 NEMA LITES DRIVER CHAMPION RYAN KRACHUN & FAMILY

Photos by

Norm Marx
NEMA LITES - WATERFORD - 10/5/14
Pos.
#
Driver
Hometown
Owner
1
51
Danny Cugini
Marshfield, MA
D. Cugini
2
9
Matt Swanson
Acton, ME
Matt Seymour
3
94
Logan Rayvals
Brockville, ON, CA
Craig Rayvals
4
25
Richie Morrocco
Plainville, MA
Richard Morrocco
5
32
Scott
Bigelow
E. Hampton, CT
Scott
Bigelow
6
29
Ryan Krachun
Neshanic Station, NJ
Mike Krachun
7
15a
Avery Stoehr
Lakeville, MA
Russ Stoehr
8
18
DJ Moniz
Fairhaven, MA
David Moniz
9
21
Anthony Payne
Fairlawn, NJ
Jennifer Scrivani
10
35
Randy Cabral
Plymouth, MA
Glen Cabral
11
41
Megan
CuginI
Marshfield, MA
D. Cugini
12
16
Dennis O'Brien
Deerfield, NH
Chris O'Brien
13
DNF
52
RJ Gage
-
Kevin Park
14
DNF
42
Juris Kupris
Williamsburg, NY
Charles Thomas Motorsports
15
DNF
31
Paul
Bigelow
Kensington, CT
Paul
Bigelow
16
DNF
45
Brandon Igo
Enfield, CT
David Igo
17
DNF
39
RJ Tufano
West Haven, CT
RJ Tufano
18
DNF
44
Christian Briggs
Mattapoisett, MA
Charles Thomas Motorsports
19
DNF
03
Dennis Potter
New Boston, NH
Dennis Potter
20
DNF
46x
Andy Barrows
New Ipswitch, NH
Jeff Johnson
WATERFORD FINALE PRODUCES
FIRST TIME NEMA MIDGETS WINNER &
FIRST TIME CHAMPION FOR NEMA LITES
October 5, 2014 - Some lines were added to the NEMA history book on Sunday when the midgets ran at the Waterford Speedbowl's Fall Finale. Ryan Bigelow of E. Hampton, CT. became a first time winner in the NEMA Midgets and Ryan Krachun of Neshanic Station, NJ became a first time champion in the Lites.

After all events were rained out on Saturday, NEMA's weekend schedule was whittled down to features only on Sunday. The midgets shared the day with a dozen other divisions of race cars.

As it has many times in the past, The Speedbowl produced a first time winner in the NEMA Midgets. Ryan Bigelow cruised to victory in the 25 lap main. Bigelow, a winner in the NEMA Lites earlier in the season was filling the seat normally occupied by Jim Santa Maria of Burlington, CT. Santa Maria was competing in a new ride and was the early leader of the race after starting on the pole.

The race started with drama when Bridgewater, MA driver Bethany Stoehr's car started smoking and spewing fluid just after the drop of the initial green flag. She piled into the first turn wall and collected CT's Doug Coby, driving a Bertrand Motorsports entry on the way in. Both cars ended up on the hook. Stoehr's car had to be towed from the front and back. Neither driver was injured.

The complete restart saw Santa Maria jump into the lead ahead of Doug Cleveland of Sudbury, MA., Bigelow and Paul Scally of Raynham, MA. After a few laps, Santa Maria was in a comfortable lead with Bigelow in second.

At the halfway mark Santa Maria's car had a suspension issue that caused him to spin coming out of turn 2 and relinquish the lead to Bigelow.

It was all Ryan Bigelow after the restart.

Todd Bertrand of Suffield, CT was slicing through the field and after battling teammate Randy Cabral of Kingston, MA, as well as Lakeville's Avery Stoehr near the front, he set sail to run down leader Bigelow.

Without another caution the laps ran out and Bertrand settled for second, finishing 1.5 seconds behind Bigelow. Avery Stoehr finished third, followed by John Zych of Mendon, MA and Seth Carlson of Brimfield, MA. Point leader Randy Cabral, who had worked into the top 3 earlier ended up in sixth.

In victory lane, an elated Bigelow thanked his crew and family for the support and noted that early in the race he worked as a "blocker" for Jim Santa Maria, who was the first half leader of the race and previous driver of Bigelow's winning car.

Bigelow turned in the fastest lap of the race at 13.16, for a average speed of 106 mph.

The NEMA Lites finished their season at Waterford's Fall Finale on Sunday. Danny Cugini of Marshfield, MA won the battle, but young Ryan Krachun won the overall war by claiming the championship. Krachun had been exchanging the point lead with Cugini over the second half of the season.

Cugini dominated the field, leading the event at one point by a straightaway. At the checkeredflag, he finished almost 3 seconds ahead of Matt Swanson of Acton, MA. It was Cugini's second win of the season, the first coming at Waterford as well.

Swanson finished 3 seconds ahead of Logan Rayvals of Brockville, Ontario. Richie
Morrocco of Plainville, MA was fourth, followed by Scott Bigelow of E. Hampton, CT in fifth.

Krachun finished sixth, but it was good enough to claim the drivers' championship. It was his first full year in the NEMA Lites. In the post race interview he said that "though it was a goal at the beginning of the year, he didn't think that they would end up winning it all."

The 25 lap NEMA Lite feature was marred by a first lap crash when third place runner Andy Barrows of New Ipswich, NH spun sideways out of the fourth turn and collected 5 other cars. Barrows, Christian Briggs of Mattapoisett, MA, RJ Trufano of West Haven, CT and Dennis Potter of New Boston, NH all went off on the hook. None were injured. Anthony Payne of Fairlawn, NJ and Richie Morrocco were able to rejoin the field after being involved.

The NEMA Midgets finish their season and crown a champion at Thompson Motorsport Park's World Series of Racing in two weeks.




NEMA GOES INTO WATERFORD AND COMES OUT WITH A CHAMPION
The Northeastern Midget Association will come out of the Waterford Speedbowl this weekend with one champion and only one race away from crowning another. The midgets make their annual appearance at the Speedbowl's Fall Finale this Saturday and Sunday.

It's the final race of the 2014 season for the NEMA Lites. Ryan Krachun of Neshanic
Station, NJ leads the drivers' standings by 110 points over Danny Cugini of Marshfield, MA. Both were winners in the division, coming in consecutive events in August. Cugini won at Waterford and Krachun at Star.

The owners' points are a different story.

Thanks to multiple victories and a couple of strong runs by brother Ryan subbing in his car, owner/driver Scott Bigelow of E. Hampton, Ct. trails Krachun's RKR Enterprises by only 1 point. Its very possible that the Lites could have different driver and owner champions in 2014. Bigelow currently sits fourth in drivers' points. He can advance his position, but not win the championship as a driver.

Cugini has a shot at both the owners' and drivers' championships with a good showing at the Waterford Finale. But, a decent run by Krachun will clinch the drivers' championship. A feat that would be accomplished in his first full season with the NEMA Lites.

The points are close enough that plenty of spots in the the top 10 of the Lites can
change hands this weekend before putting the cap on their season.

The NEMA Midgets have two more races to run, this weekend at Waterford and the season ender at Thompson in two weeks.

Randy Cabral of Kingston, MA sits atop the standings. He leads Lakeville's Avery Stoehr by 123 points going into Waterford. Cabral won the last race at Oswego with a last lap, last turn pass to claim is fifth of the season. He is eyeing his fifth NEMA championship.

But, Cabral has been absent from Waterford's Victory Lane for a frustrating long time and Stoehr has already won there this season, as well as 2 top 5's in the other Speedbowl races. This will be a battle to watch. Cabral has been flawless since 2 DNF's to start the season. He hasn't finished out of the top 5 since those early season hiccups. Stoehr's record has rollercoasted throughout the year.

Though Avery has a shot at winning the championship, he's got to keep an eye on the surging Seth Carlson of Brimfield, MA who is only 16 points back in third. Like Stoehr, Carlson has a pair of wins this season, one of which came at Waterford for both.

Those top 3 in points have a good lead over the rest of the field, but its tight from
fourth on back.

The owners' points are another story. Cabral's car owner Tim Bertrand has an even stronger lead over Avery's car owner and father Russ Stoehr. A third place finish at Evans Mills with brother Todd Bertrand in the car assured Tim a comfortable owners' points lead. Cabral was in the Breault 44 that day and had one of his two DNF's.

The NEMA Lites run their qualifying heats and feature event on Saturday, while the NEMA Midgets qualify Saturday and run their feature as the first race on Sunday.
NEMA Lites "Allstar" Awards




from Allstar Performance

The NEMA midget association is proud to announce a new corporate partner for their NEMA Lites Series - Allstar Performance out of Watervliet, Michigan.

NEMA has established a new contingency award that will recognize the outstanding efforts of NEMA LITES drivers both on and off the track. At each event the Allstar Performance " Allstar of The Race" will receive a $100 dollar Allstar Performance gift certificate.

Additionally 9 winners will be picked at the 2014 NEMA Banquet to receive an "Allstar of the Season" award. These are open to the NEMA Lites drivers, car owners, and any associate members. These awards will be chosen for outstanding performance both on and off the track.

Allstar Performance recognizes NEMA as having a successful 62 year history and is proud to support the organization with these awards.





allstarperformance.com
Previous Events - Photos & Results - HERE
Previous NEMA NEWS HERE