Join NEMA Text Alerts on RainedOut
Rainout notices sent to your
email or cell phone.

---




















www.NemaHistory.com
HALL OF FAME PAGES:
Gene Angelillo Marvin Rifchin
Carl Kibbe Wen Kelley
Butch Walsh John McCarthy
Jim O'Brien


.

---

---

RIVERHEAD
Eric Decourcy - $130.00

---

2017 Race Results & Photos

Results for 2002 to 2017 HERE

=

Race 9 - Monadnock Speedway - 9-2-17

LITES Race - NL-W Speedbowl - 8-26-17

Race 8 - Star Speedway - 8-19-17

Race 7 - NL-W Speedbowl - 8-12-17

NEMA Race - Thompson SMP - 8-9-17

LITES Race - Speedway 51 - 7-29-17

LITES Race - Seekonk - 7-15-17

Race 6 - Star Speedway - 7-8-17

Race 5 - Boston Louie - Seekonk - 6-28-17

Race 4 - Star Speedway - 6-17-17

LITES Race - Thompson SMP - 6-14-17

Race 3 - Riverhead Raceway - 6-3-17

Race 2 - Wiscasset Speedway - 5-20-17

Race 1 - Star Speedway - 5-13-17

---

NEMA Merchandise:
Cyndy Scrivani
508-584-7748
cyndyann10361@yahoo.com

---

NEMA TRACK
HISTORIES


with 2016 updates


PDF HERE
NEMA
STATS


with 2016 updates


PDF HERE
NEMA CHAMPIONS
PDF HERE
LITES
STATS


with 2016 updates


PDF HERE
NEMA NUMBERS
PDF HERE
NEMA DRIVER WINS
AT TRACKS
PDF HERE
Members of the NEMA
Dick Gallagher Memorial
Hall of Fame
PDF HERE

---

---

VINTAGE MIDGET RACING
www.vintagemidgetracing.com
In 2006, Dave Shore from Southbury, CT. started VMR to help keep vintage midget racing alive. Anyone who has a caged vintage car, and would like to run with us, please contact:
Dave Shore at 203-509-2835.


2017 VMR Dates at the VMR website.

---



FULL IMPORT & DOMESTIC
REPAIRS AND SERVICE
Jeff Horn


182 Pond St.


Ashland, MA 01721
508-881-4540


Hitch & Trailer Specialists


www.a-1automotiveservice.com


---




SALES • SERVICE




PERFORMANCE and SUSPENSION UPGRADES





Specializing in Finer Imports


AUDI • BMW • JAGUAR • MERCEDES
LANDROVERS • PORSCHE • SAAB
VOLVO • VW



(508) 697-5921


1460 Pleasant St. (Route 104)
Bridgewater, MA 02234
www.motorcarsint.com

---

SERVING ALL MAKES of MIDGET




& SPRINT CAR ENGINES


Jon Andruk
ja@circleperformance.com


69 LOCUST STREET,




BERKLEY, MA 02779




508-580-5844

174 CID Ford Head Gaerte - $16,500
INFO SHEET PDF

---

NEMA Releases Vintage
Slide Show on DVD
The Northeastern Midget Association announces the release of NEMA Vintage photo's on DVD. The presentation is from the collection of one of the most respected journalist, historians and statisticians in New England, Pete Zanardi.

The range of drivers, owners, tracks and race cars depicted in the collection are the who's who in Northeastern midget racing. The forefathers that laid the foundation for present day racing are illustrated in color and black and white photo's complete with captions. Bill Randall, Ray Roberts, Ronnie Evans and Jerry Russo just to name a few drivers from NEMA's infancy.

The early cage days drivers are represented by Bill Roth, Lee Smith, Hank Stevens and Len Thrall for example. And to finish out the last couple of decades are the Fornoros, Stoehrs, Scrivanis, Seymours and many many more. The cars are as big as the drivers on this DVD that range from the Badgers to the uprights, cage and cageless, even some Offy's.

The DVD is 332 pictures strong and is a must for any early day racing enthusiast.

The cost is $20 each with all proceeds going directly to NEMA to help carry on the rich traditions these early pioneers built.

Payment can be made through PayPal HERE
to rewindles@sbcglobal.net or by sending a check or money order (payable to NEMA) as well as your name and address to Bill Van Slyke,
23 Horsestable Cir., Shelton, Ct. 06484.

---

---

---




NEMA LITES T-Shirts are available for purchase. The LITES shirts are available in 3 colors - white, gray and royal blue. They come with either the NEMA LITES logo only on the front or with 2 logos - NEMA LITES on the front and regular NEMA logo on the back. The white shirts are $10. The gray or blue are $12. The new LITES t-shirts can be at The Race Depot/ Seymour Enterprises in Marlboro Mass or are available from Cyndy Scrivani.

---

2014
2013
2012
2011
2010
2009
2008

2007
2006
2005
2004
2003
2002


2011
2010
2009

---

---

---


safetysolutions.com

NEMA Discount Available HERE


"Tires Designed for Champions"
hoosiertire.com


Brockton, MA - 508-580-5844
Supplier of Mazda Midget engines &
Independently Making Brand X Better

RI's most respected name in Collision Repairs
crowncollision.com

RacingAgainstCancer.com

www.rwjm.com

---

---


Gene Angelillo Memorial Page




NEMA and Hoosier Tire




Ink Exclusive 3 Year Deal

Brockton, MA - NEMA President, Mike Scrivani, announced today that the Northeastern Midget Association and Hoosier Tire East have inked an exclusive, three year deal. Under the deal, NEMA will have exclusive rights in the Northeast to the current plated compounds (RR 7, 7.3, RF 5, LR, 5 and LF, 4, 5) and will be the only series in the Northeast running these particular tires.





Hoosier will also continue to be a major contributor to the NEMA point fund, and in addition have offered fixed pricing for the racer over the next three years.




"NEMA has enjoyed a long history with Hoosier. This sport is about supporting those who take care of you, and supporting each other. We feel that we have the best product in Hoosier and look forward to a long relationship with them," said NEMA President, Mike Scrivani. "We have an exciting schedule brewing for 2015 and expect great car counts," said Scrivani.





As part of the arrangement, Hoosier tire has selected long time NEMA supporter Seymour Enterprises to be the exclusive dealer and service provider to the Northeastern Midget Association.

| | |
| --- | --- |
| | |
| | |
| | |











-















































































































































































































































































































































































































































































































































































































































































































































































































































































































































































































































































































































































































































































































































































































































































































































































































































































































































































































































































































CHECK THE
MEMBERS ALERTS PAGE
FOR THE LATEST HANDICAPS, COMPETITION ADDENDA,
RACE PROCEDURES, & NEMA FORMS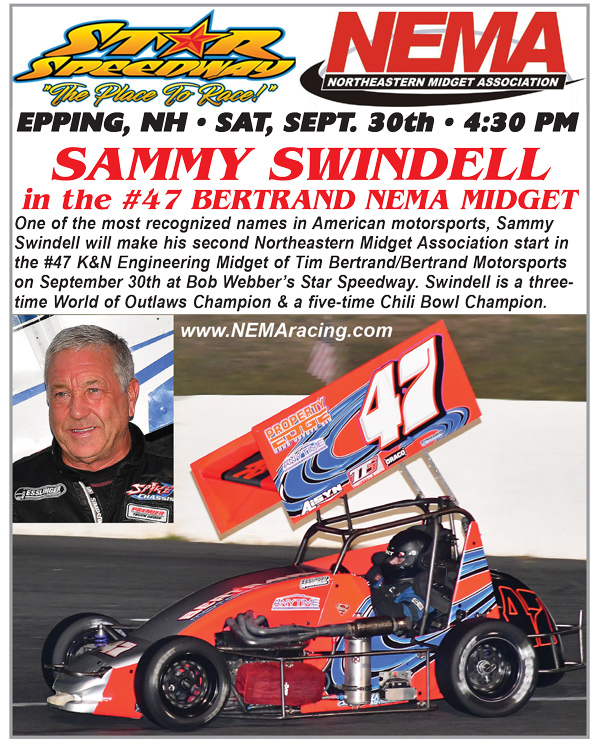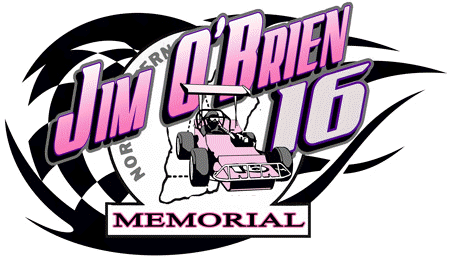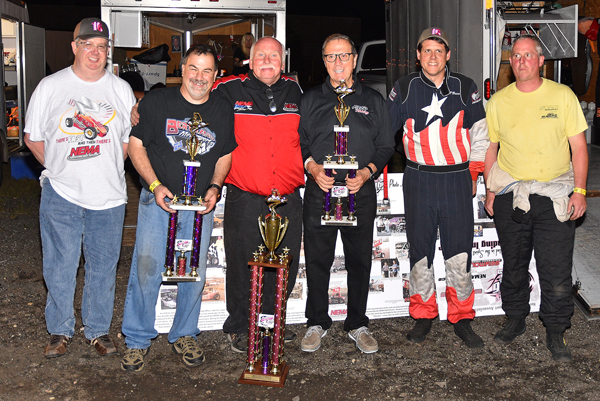 O'Brien Memorial on Tap
at Star on Sept. 30th
On Saturday September 30th, the Northeastern Midget Association will bring its show to Bob Webber's Star Speedway as the NEMA Lites will take center stage for the annual Jim O'Brien Memorial Race. The event will feature the Lites as the premier race, along with the NEMA cars and World of Outlaws star Sammy Swindell on hand.

Brothers Matt and Dennis O'Brien will both be competing in the NEMA and Lites race cards, respectively. Brother, Chris O'Brien, will be on hand as well - as he owns the Dennis O'Brien machine. The O'Brien Memorial win has become a coveted one, on the minds of many Lites racers. One of those is NEMA Champion and Lites competitor, Randy Cabral, who won the event in 2015 at the Waterford Speedbowl.

"Jim was such a good guy, and always thought about the little guy. Maybe we aren't considered the little guys anymore, but for many years when we were showing up with a 1979 Edmunds on a snow mobile trailer, Jim was always there to greet us with a smile. It would be such an honor to win this race," said five time champion, Randy Cabral. "He did so much for the club, I'd like all of the younger generation to understand who he was, and the impact he had on what we have today," Cabral went on to say.

"Jim O'Brien was what NEMA stands for, and personified what we have strived for this club to represent - family values, innovation happening in home garages, and fun," said club President, Tim Bertrand. "His family carries on his legacy by pouring their efforts into the club, and I can't think of a better way to honor their Dad," said Bertrand.

Jim O'Brien was a legendary car owner and club officer, who for a span of four decades personified the best of NEMA. At a very young age, he was introduced to the Midgets by his father and in 1970, joined the NEMA family as a car owner. He earned feature wins with Johnny Evans, driving his Falcon powered Kurtis, and Doug Cleveland who powered to victory in his home built "Pink Panther" laydown chassis.

In 1975 he won the Coca-Cola dirt track championship with Hank Stevens at the wheel. Jim was an innovative fabricator and engine builder and with his sons by his side, he always built his own cars and motors. For years he served as a NEMA contest board member, once a vice-president, and for 13 consecutive years as the treasurer. His life-long dedication to the club was truly outstanding and in 2003, he was inducted into the NEMA Hall of Fame. However, most notably Jim was always one that stood-up and fought for fair competition and defended the "little guy" - racers who ran with small budgets.

"Jim lived and breathed NEMA. He was 100% for NEMA and the little guy. He was a big proponent of building your own car from scratch, every component," said long time club stalwart Mike Scrivani Jr. "Jim also dedicated a great part of his life to serving the club. He did a great job as an officer. He also wasn't afraid to speak his mind, he was very knowledgeable, and when he spoke, people listened," said Scrivani.

In the same spirit of Jim O'Brien, the NEMA Lites were created with two principals - cost effectiveness and fair competition. While the NEMA midgets are considered the fastest midgets in the world, the NEMA Lites boast to be "lite" on the wallet, making them the perfect fit to highlight the Jim O'Brien Memorial race.

SAT. SEPTEMBER 23, 2017
AMES TRUE VALUE NEMA NIGHT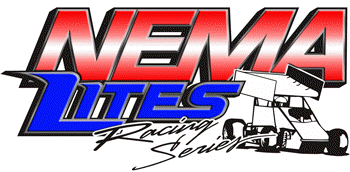 .::NEMA LITES ONLY::.
65 LAP SPECIAL RACE!


LITES Wiscasset Info Sheet PDF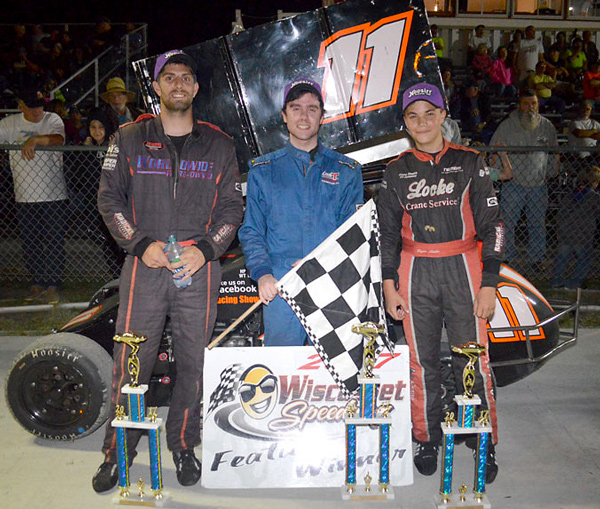 CUGINI - STERGIOS - LOCKE
NEMA LITES - WISCASSET - 9/23/17
Pos.
#
Driver
Hometown
Owner
1
11
Jake Stergios
Candia, NH
Bill Stergios
2
51
Dan CuginI
Marshfield, MA
Dan Cugini
3
38
Ryan Locke
Raymond, NH
Ken Locke
4
12
Jim Chambers
Atkinson, NH
Jim Chambers
5
9
Ben Mikitarian
Northborough, MA
John Mikitarian
6
30
Paul Scally
Raynham, MA
Paul Scally
7
45
John Zych Jr.
Mendon, MA
Bertrand Motorsports
8
35
Randy Cabral
Kingston, MA
Glen Cabral
9
19
Richard Coy
Haskell, NJ
Richard Coy
10
52
Tyler Rivard
Woonsocket, RI
Kevin Park
11
16
Dennis O'Brien
Deerfield, NH
Chris O'Brien
12
21
Anthony Payne
Fairlawn, NJ
Mike Scrivani
13
7
Jim Cataldo
Sterling, MA
Jim Cataldo
14
41
Meg CuginI
Marshfield, MA
Glenn Cugini
15
3
Chris Vose
Gloversville, NY
Chris Vose
16
27
Kevin Iannarelli
Shirely, MA
Kevin Iannarelli
17
36
Lee Bundy
Kennebunkport, ME
Glen Cabral
J. Stergios Celebrates Milestone Wiscasset 65 Lap Victory
The Northeastern Midget Association Lites division visited the Wiscasset Speedway this past Saturday night. A full field of Lites competitors were on hand, and beautiful weather & a standout crowd greeted the club to the Richard & Vanessa Jordan facility. NEMA's first attempt in many years at a 65 lap event - to celebrate the Club's 65th year, went off with few issues, and at the conclusion it was Jake Stergios taking his family owned #11 to victory in the feature event.

When the Lites field came down to the green, veteran Paul Scally blasted out into the lead. Immediately, Scally set a torrid pace, as he quickly began to distance himself from the field. By lap ten, Scally, running some of the fastest times of the day, was already at the rear of the field and began picking off lapped cars one by one.

Behind Scally, Danny Cugini, Ryan Locke and Ben Mikitarian were all battling for position in a very close pack that ran under a blanket for positions two through ten.

The caution flew on lap thirty two for a John Zych spin in the Bertrand 45, which would end Scally's run, after lapping up to the eleventh place car. Zych, who was having handling issues, pitted and quickly exited as the field took the green flag on the next lap. The caution would fly two laps later, as Zych would make contact with another car coming through the field.

On the next restart, Scally would get a quick jump, but handling issues would see his loose machine slip coming off of turn four and Jake Stergios went around Scally and Cugini to take the lead on lap thirty six. Cugini would slip back to fourth, and then rebounded to come back into third. Scally would continue to battle amongst the top three until Ryan Locke would slip by on lap forty three, putting him in the fourth spot.

As the laps wound down, Stergios would run away and hide, dominating the remainder of the feature, and running some of his fastest laps on laps 45 to lap 55, in the 14.1 range. Locke looked to be on his way to top two finish, but Cugini would slip by with three laps to go, to take down the runner up spot. Locke would come home third, followed by Jim Chambers, Ben Mikitarian, Scally, Zych, Randy Cabral, Richie Coy, and Tyler Rivard.

"We knew we had a good car, but knowing that we had the softer compound on, we felt that if the race stayed green, we could get a big lead and hold on to it. Our plan was to never pit. Once the yellows came out, it was a different race," said Scally.

"Our strategy was to save tires and wait for the fuel to burn off during the first half of the race and hope for a caution. When the caution finally flew on lap 33, I was in third. I got a great restart and was able to grab the lead quickly. The car was just perfect from there on out. I drove as hard as I could knowing we had some fast cars behind us. It felt great to get our first win of the season in the most difficult event of the year," said Stergios.

The NEMA Lites will shine again this coming Saturday in a combined event at the Star Speedway, as they will run for all the glory at the O'Brien Memorial, combined with NEMA and World of Outlaws star, Sammy Swindell.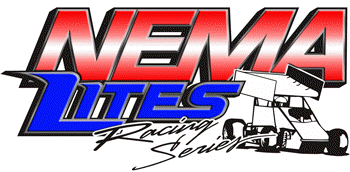 SATURDAY, SEPTEMBER 9th
.::NEMA LITES ONLY::.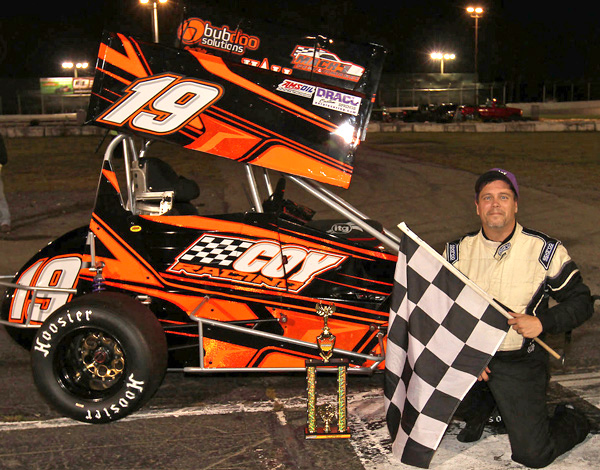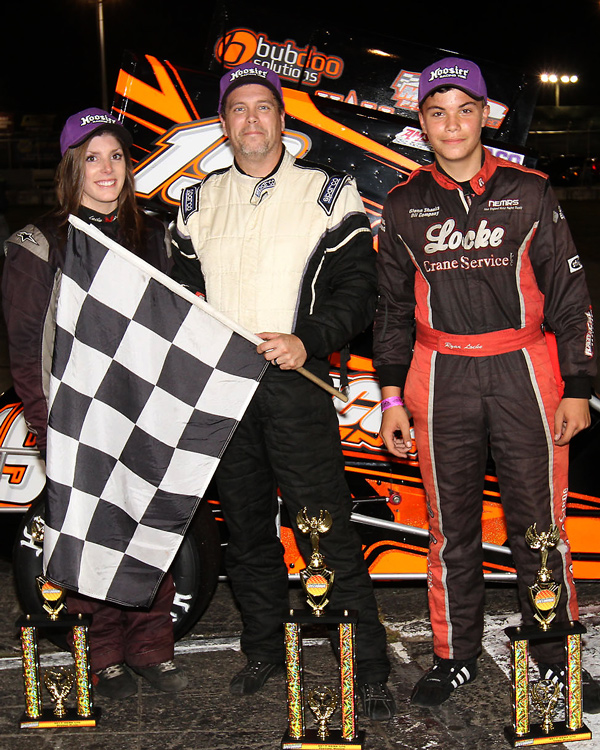 CUGINI - COY - LOCKE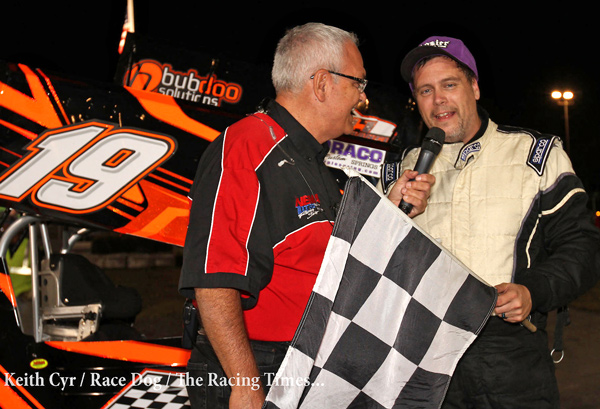 NEMA LITES - WATERFORD - 9/9/17
Pos.
#
Driver
Hometown
Owner
1
19
Richard Coy
Haskell, NJ
Richard Coy
2
41
Meg CuginI
Marshfield, MA
Glenn Cugini
3
38
Ryan Locke
Raymond, NH
Ken Locke
4
13
Ryan Bigelow
East Berlin, CT
Randy Bigelow
5
51
Dan CuginI
Marshfield, MA
Dan Cugini
6
14
Chad Labastie
Uxbridge, MA
Chad Labastie
7
45
Todd Bertrand
Danielson, CT
Bertrand Motorsports
8
9
Ben Mikitarian
Northborough, MA
John Mikitarian
9
12
Alan Chambers
Atkinson, NH
Jim Chambers
10
7
Jim Cataldo
Sterling, MA
Jim Cataldo
11
68
Danny Gamache
No. Smithfield, RI
Cheryl Gamache
12
30
Paul Scally
Raynham, MA
Paul Scally
13
3
Chris Vose
Gloversville, NY
Chris Vose
14
52
Tyler Rivard
Woonsocket, RI
Kevin Park
Richie Coy Continues Coy Legacy
with Speedbowl NEMA Lites Victory
Richie Coy turned a disappointing start to the season into a cinderella story this past Saturday evening at the Waterford Speedbowl, as he took down his first ever NEMA Lites victory, extending the Coy legacy into NEMA's record books.

Coy's father, Johnny, retired from racing in 1992, after driving for the late Carl Kibbe - and had two NEMA wins to his credit. His uncle, Joey Coy, had three NEMA championships and fifteen NEMA wins throughout the years. Coy bested an impressive field at the New London Waterford Speedbowl enroute to his first victory.

When the feature took the track, Coy and Jim Cataldo brought the field to the green flag. Coy blasted out into the lead, setting a pace in the low 14 second bracket in the early stages of the race. Further back, Meg Cugini moved into second, and for a number of laps appeared to be closing the gap on Coy, running the second best time in the feature event of 14.179 seconds. At the halfway point, Cugini trailed Coy by .9/00th's of a second.

One of the most impressive runs of the feature was the young Ryan Locke, running a feature best 14.034, as he was moving through the field. As the laps wound down, the green to checkered run continued, Coy, Cugini and Locke staying evenly spaced, and the feature wound finish in that order. Cugini would end up second, followed by Locke, Ryan Bigelow, Dan Cugini, Chad Labastie, Todd Bertrand, Ben Mikitarian, Alan Chambers and Jim Cataldo.

"This year has been a roller-coaster, we started at Thompson - terrible, probably worse race day I've ever had. From then on we have slowly rebuilt the car piece by piece. Every week we found another and would fix it. We even remounted the seat after Seekonk. Then we started finishing races and learning. We continued to make changes to the car and get better. It's been a long season," said Coy. "Last night was awesome. I'm not sure anyone was more surprised than we were. We were shooting for another top 5, to win was unbelievable," he said.

"When we took the green, Jim jumped out first down the front stretch and I drove down into 1 knowing that if I wanted a good finish I needed to pass him. So I drove it in hard and it stuck and I came out of 2 leading. From that part I drove the race thinking everyone was 3 wide behind me looking for me to make a mistake. The race went quick, first thing I noticed was half way. Then I caught some lap cars, one of them almost spun in front of me. The next thing I see is 2 to go... Then it was, no way!!! I'm still leading, don't screw up these next 2 laps. I guess I did ok and when I saw the checkered i couldn't believe it, probably the most excited I've been for a win in a long time... I got my first ever feature win at Waterford in a tq back in 1994," said Coy.

The NEMA Lites pick back up their schedule with a 65 lap special feature at Wiscassett on September 23rd in Wiscassett, Maine.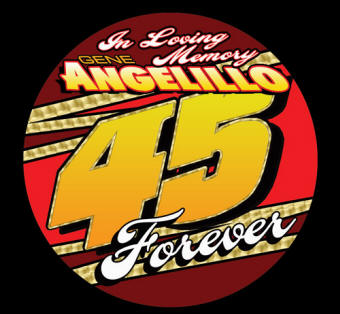 Angelillo One of Several
NEMA Memorial Races
Few, if any, racing organizations celebrates its history, its foundation builders, on the level the Northeastern Midget Association does. In addition to a host of post-season "named" laurels, there are a number of memorial races. Last Saturday Jim Chambers and Anthony Payne were winners in the Marvin Rifchin Memorial at Star Speedway.

The previous week, Avery Stoehr, in Tim Bertrand's 39, and Dylan Duhaime, captured honors in the Angelillo Memorial that was part of the New London-Waterford Speedbowl's Wings and Wheels event. The race memorializes NEMA Icons Gene and Marilyn Angelillo. Stoehr and Bertrand are well aware of the significance of that victory.

It is the third time a Stoehr has won the race, going back to Greg Stoehr's victory in the "Marilyn's Passion" race at Monadnock in 2009. Husband Gene and daughter Laura Kibbe put together the memorial to the tireless woman who some saw as the very soul of NEMA before her death in September of 2007.

Since Gene's passing, the event honors both. The first winner in 2010 was Russ Stoehr in the Dumo's Desire #45. It was an inspired result because Laura decided to carry on the effort Gene and Marilyn had started back in 1980 with a Midget purchased at the Cleveland airport. Marilyn suggested the team be named after Gene's dad Domenic, called "Dumo" and the number corresponded to Gene's age at the time.

Russ Stoehr and Dumo's Desire were the 2010 champions. It was the 14th crown for the Dumo's Desire operation. Gene's 13 titles and the 107 victories he and Marilyn shared once appeared to be uncatchable marks. He won championships with Drew Fornoro, Joey Payne and Russ Stoehr. They also won races with Nokie Fornoro and Ted Christopher. With all the stories (some now reaching folklore status) and the statistics, Gene and Marilyn left behind truly incredible standards not only in performance but in leadership roles.

Tim Bertrand knows and appreciates NEMA history and his place in it. Since 2002, he and driver Randy Cabral each have five championships. His cars have won over 60 times including the three straight (2011-13) Angelillo Memorials brother Todd captured. Mark Buonomo, Lou Cicconi and Doug Coby and Tim himself have also won in Bertrand cars.

The Mike Scrivani Memorial is slated for Sept. 2 at Monadnock with the Jim O'Brien Memorial at Star on Sept. 30. Both are legendary car owners. Shane Hammond is memorialized at Thompson's World Series. The Allan Cantor, Boston Louie Seymour, Butch Walsh in addition to the Angelillo and Rifchin races have already been run. The names all seem to blend in.

Angelillo's first victory with Drew Fornoro aboard in 1981 came at Hudson Speedway. Early in the race, Nokie Fornoro, in a Scrivani car, went off the track bringing out the red. While waiting out the red, the right rear on the Angelillo car was going down. "Iron Mike" Scrivani ordered the right rear be taken off his damaged racer and put on the Angelillo car. Drew then went on to win the feature.

Gene Angelillo loved telling that story. Mike Scrivani Jr. continues to tell it, one of hundreds he has mastered. It is one of the reasons NEMA loves memorial races.
NEMA Announces
"First Time" Winner Awards
for 2017 Season
New Award will be presented by Seymour Performance for NEMA Midgets and by the Mike Scrivani Family in honor of "Iron Mike" Scrivani for the Lites Division.
For the first time, the Northeastern Midget Association has announced a new award for the 2017 season, that will reward first time winners in a "lottery" style system. Seymour Performance of Marlborough, MA will present the award for the NEMA series. The Mike Scrivani Jr. Family, in honor of legendary NEMA car owner "Iron Mike" Scrivani, will present the Lite series award.

Each week, the presenting sponsor will put $50 into a "fund" that will build up until each division sees a first time winner. For example, if a first time winner takes the checkers on the 5th race of the season, a bonus of $250 will be paid to that driver, and the fund will be reset for the next race.

With a number of new teams signed up for both the NEMA series and the Lites series for 2017, the effort will help promote the new teams coming into the division.

"This is an awesome effort, and I'm excited that Mike Scrivani brought this idea forward to the club and owners," said newly appointed NEMA President, Tim Bertrand. "Mike and his family have been a beachhead team in NEMA for over forty years and we are very excited to have them spearheading this new program for the club," said Bertrand.

"When Mike called me with this idea, I thought it was fantastic. It will be an awesome way to reward first time winners in both series," said Bobby Seymour of Seymour Performance.

In addition to the award, the Scrivani Family presents the Iron Mike Memorial race, which will take place this year at Monadnock Speedway, on September 2nd, and the Seymour Family presents the Boston Louie Memorial, which will take place at Seeknonk Speedway on June 29th.

NEMA kicks off its schedule with the Lites at Thompson Speedway Motorsports Park at the ICEBREAKER on April 1, and then moves on to the New England mainstay, the New London Waterford Speedbowl on May 6th (Lites) and May 7th (NEMA).
NEMA 2017 Schedule


Final Version - 1/26/17

April 2017
1st Thompson - Icebreaker - Lites only

May 2017
13th Star
20th Wiscasset

June 2017
3rd Riverhead -

Alan Cantor Memorial


14th Thomson - Lites only
17th Star
28th Seekonk -

Boston Louie Memorial



July 2017
8th Star -

Butch Walsh Memorial


15th Seekonk - Lites only
29th Speedway 51 - Lites only

(NEW)



August 2017
9th Thompson - NEMA Midgets only
12th Waterford - Wings and Wheels /

Angelillo Memorial


19th Star -

Marvin Rifchin Memorial


26th Waterford - Lites only

September 2017
2nd Monadnock -

Iron Mike Memorial


9th Waterford - Lites only
23rd Wiscassett - Lites only - 75 laps
30th Star -

Jim O'Brien Memorial



October 2017
14th Thompson - NEMA Midgets only -

Shane Hammond




Memorial


15th Thompson - Lites only - Shane Hammond Memorial

December 2017
2nd NEMA Banquet - Royal Crown Plaza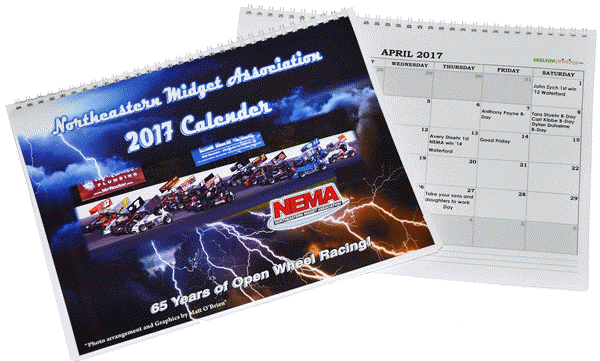 NEMA's 65th CONSECUTIVE YEAR
2017 CALENDAR
The Northeastern Midget Association announces the release of the 2017 Racing Calendar celebrating NEMA's 65th consecutive year.

This publication features colored photos and knock out graphics.The body of the calendar is full of current and historic information including past and present driver's first wins and the tracks they won at. Both NEMA and NEMA LIte drivers and car owner's birthdays are spread from front to back as well as the legends of yesterday.

And for the traditionalists, all the important dates and federal observances are included as well as a few surprises. All this information is set to a backdrop of team photos and outstanding graphics produced by race team owner and driver Matt O'Brien.

This calendar is a must have for the northeastern race fan and will serve as the perfect Christmas gift to be enjoyed all year long.

We are currently offering these units for a low price of $10 each with all profits funneled back into the club.

Quantities are limited; to order, send your check to
Bill Van Slyke, 23 Horsestable Cir., Shelton, Ct. 06484
(Checks made out to Bill Van Slyke).

NEMA's 1000th Race - Star Speedway - 8/23/14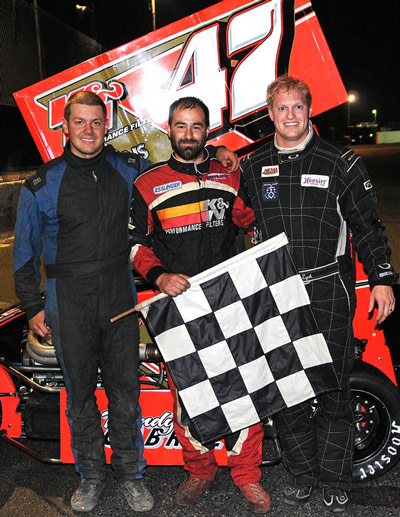 CARLSON - CABRAL - ZYCH
Recognizing Some
NEMA Milestones
The Northeastern Midget Association will open the season at Star Speedway on May 21. It will be the 1018th point-paying race in the club's 63-year history.

Passing unheralded was the club's 1,000th race at Star Speedway on August 23, 2014. Randy Cabral was the winner, besting John Zych Jr. and Seth Carlson.

New England's oldest and most enduring touring division, NEMA was formed in the late spring of 1953 at the Thompson clubhouse. Fred Meeker was the first NEMA winner at Seekonk Speedway on May 30, 1953. New England Auto Racing Hall of Famer Bill Eldridge won the next afternoon at Waterford.

The NEMA Lites open at Thompson Speedway's Icebreaker on April 9. There have been 106 races for a division that started with an exhibition run at New London-Waterford in 2008. The 100th Lites race was won by Danny Cugini at Lee on July 17 of last year.

With two victories last year, Randy Cabral is now tied with Nokie Fornoro in fourth place on NEMA's all-time win list with 47. He has 16 seasons with a least one victory tying him with Bobby Seymour on that list. They have come consecutively, equaling a NEMA standard set by National Midget Hall of Famer Dave Humphrey. Most of Cabral's wins have come in Tim Bertrand's No. 47 but it all started when an upstart Cabral captured the 2000 Boston Louie in a family car.

Star Speedway, with 103 races going back to 1968, is the leader among tracks hosting NEMA events. Randy Cabral tops active NEMA competitors with four Star wins including three of the last four. John Zych Jr. has also won at Star.

NEMA is clearly one of the most competitive open cockpit divisions in the country. Over the past six years, there have been 23 different NEMA winners and in all but one of those seasons, at least one "first-timer" appeared. Over that span John Zych Jr., Todd Bertrand, Avery Stoehr and Seth Carlson have become top contenders. Danny Cugini and Jim Chambers were first time winners in 2015. Bertrand, Stoehr and Cugini are all products of the NEMA Lites. The Lites have had 20-different winners in the past three seasons, champion Anthony Payne and Megan Cugini among the 2015 first timers. Designed with competiveness in the forefront nine years ago, the Lites are a true success story.

Nominations are now being accepted for the New England Auto Racers Hall of Fame. The nomination form and procedure are available on the New England Antique Racers' website - www.near1.org. Please disregard the posted deadlines.

Those with NEMA connections already enshrined are Gene Angelillo, Chuck Arnold, Burt Brooks, Ray Brown,Joe Csiki, Bill Eldridge, Frank Ferrara, Drew Fornoro, Dave Humphrey, Johnny Kay, Wen Kelly, Rollie Lindblad, John McCarthy, George Monsen, Al Pillion, Billy Randall, Marvin Rifchin, Mike Scrivani Sr., Louie Seymour, Hank Stevens, Ed Stone and Bentley Warren.
Previous Events - Photos & Results - HERE
Previous NEMA NEWS HERE
NEMA AWARDS HISTORY