Sat.-Sun., October 6th-7th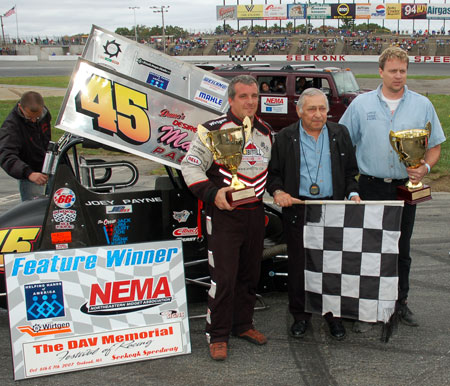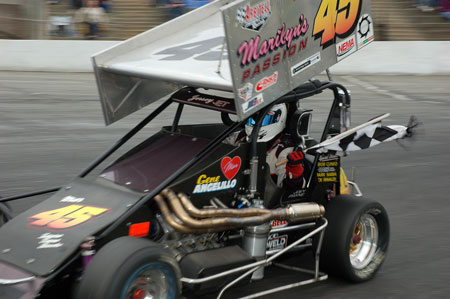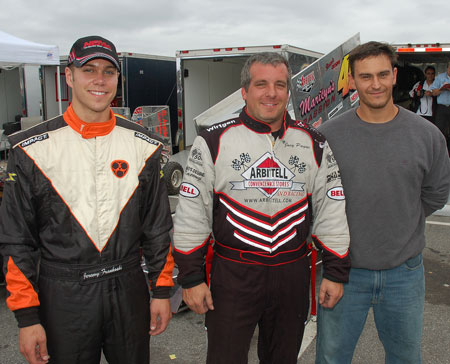 D.A.V. Memorial : l to r - Jeremy Frankoski, 2nd;
Winner Joey Payne; and Ben Seitz, 3rd.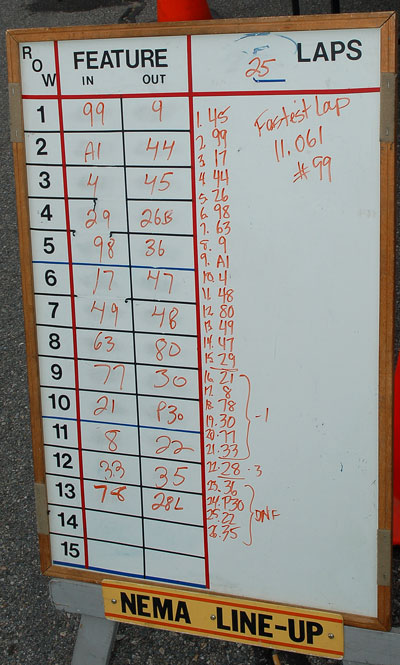 Payne Wins NEMA Prize At Seekonk's DAV
An opportunistic Joey Payne Jr. won Sunday's 25-lap Northeastern Midget Association feature at Seekonk Speedway's D.Anthony Venditti Memorial. A lap-20, single-file restart pass was the winning move.

"This is for Marilyn (Angelillo) and John (Blewitt)" said an emotional Payne, paying tribute to his car owner's late wife and the modified star who passed away earlier this year. He took the lead from rookie Jeremy Frankoski, the only other leader.

Point leader Payne leads Ben Seitz by six going into next weekend's final event at Thompson Speedway's World Series.
Seitz was third Sunday

It was the second win of the year for Payne, who started sixth with a new Esslinger motor. He was battling Aaron Wall for second when the third yellow showed. "I said to myself I've got one shot here,"
offered Payne, who failed on a restart challenge earlier. "I have a weight jacker and I took all the wedge out of the car. I took all the weight out of the right front."

"I got beat by experience," understated 21-year old Frankoski who took the lead at the opening green and was never seriously challenged. His 11.061 seconds lap in the Power Point Race Cars #99 was the fastest of the race. "If it went green to checkered, he would have won that race no doubt," said Payne.

But yellow did fly. "[Jeremy] was trying to take it in easy on the restart and get a jump on me," said Payne, in his 23rd year of racing. "I timed it perfectly. When he got on the gas his front end slid up a little bit and I went under him and checked out."


Yellow showed again two laps later when Randy Cabral and Wall, running third and fourth, tangled between one and two. It paid dividends for Seitz who was running sixth at the time, coming from 11th. He made shock adjustments prior to the lap 20 restart and
passed Erica Santos for third on the green.

"The car kind of worked better at the end," said Seitz who looks for a fourth straight championship at Thompson. "The top 10 cars were so even and I was just trying to get to the front as quick as I could."

Following Santos were Greg Stoehr, Ted Christopher (in the Santos #98), Drew Fornoro (Seaman #63), John Zych Jr., Jeff Horn and Nokie Fornoro. Fifteen of the 26 starters finished on the lead lap. It marked a return for Drew after a couple of seasons away. He will be at Thompson.

Taking advantage of 18 laps of green racing, Frankoski, the leader in rookie standings, was in lapped traffic before the halfway point. "I didn't want to see that caution," he said. He said a win earlier in the year, only the third rookie to do so, made it easier to accept.
Seekonk D.A.V. Memorial - Oct. 7th
Pos.
#
Driver
Hometown
Owner
1
45
Joey Payne
Fairlawn, NJ
Gene Angellilo
2
99
Jeremy Frankoski
Newark Valley, NY
Power Point
Racing
3
17
Ben Seitz
Pocasset, MA
Pete Valeri
4
44
Erica Santos
Franklin, MA
Ed Breault
5
26b
Greg Stoehr
Bridgewater, MA
Greg Stoehr
6
98
Ted Christopher
Plainville, CT
Robert
Santos Jr.
7
63
Drew Fornoro
Newton, NJ
John Seaman Sr.
8
9
John Zych Jr.
Mendon, MA
John Zych
9
A1
Jeff Horn
Ashland, MA
Jeff Horn
10
4
Nokie Fornoro
Stroudsburg, PA
Mike Jarret
11
48
Ryan Preece
-
Tim Bertrand
12
80
Lou Ciconni Jr.
Aston, PA
Peter Pernesiglio
13
49
B.J. MacDonald
Dublin, PA
B.J. MacDonald
14
47
Randy Cabral
Plymouth, MA
Tim Bertrand
15
29
Aaron Wall
Shrewsbury, MA
Bobby Seymour
16
21
Barry Kittredge
Marlboro, MA
Barry Kittredge
17
8
Rich Gerbe
Franklin Sq., NY
Lee Gerbe
18
78
Doug Cleveland
Sudbury, MA
Linda Cleveland
19
30
Paul Scally
Raynham, MA
Paul Scally
20
77
Jeff Zuidema
North Brookfield, MA
Mike Lugelle
21
33
Shawn Torrey
Marshfield, MA
Shawn Torrey
22
28l
Paul Luggelle
Holbrook, MA
Paul Luggelle
23
DNF
36
Shane Hammond
E. Bridgewater, MA
Glen Cabral
24
DNF
P30
Mike Horn
Ashland, MA
Mike Horn
25
DNF
22
Chris Leonard
Pelham, NH
Dave Leonard
26
DNF
35
Cory Cleary
Plymouth, MA
Glen Cabral
27
DNS
7ny
Adam Cantor
Dix Hills, NY
Cantor Racing
28
DN
87k
Bobby Kuiken
Prompton Lakes, NJ
Robert Kuiken
29
DNS
52
Kevin Park
Foxboro, MA
Kevin Park
30
DNS
5
Larry Cheetham
Bristol, RI
Larry Cheetham
31
DNS
88
Abby Martino
Norfolk, MA
Joan Martino
32
DNS
16
Matt O'Brien
Wilmington, MA
Jim O'Brien

Results from Saturday 10/6 Qualifying
NEMA Heat 1 (10 laps)
* 1. #29-Aaron Wall, Shrewsbury, MA
* 2. #17-Ben Seitz, Pocasset, MA
* 3. #9-John Zych, Jr., Mendon, MA
* 4. #A1-Jeff Horn, Ashland, MA
* 5. #48-Ryan Preece, Kensington, CT

NEMA Heat 2 (10 laps)
* 1. #99-Jeremy Frankowski, Newark Valley, NY
* 2. #4-Nokie Fornoro, Stroudsburg, PA
* 3. #45-Joey Payne, Fairlawn, NJ
* 4. #98-Ted Christopher, Plainville, CT
* 5. #63-Drew Fornoro, Newton, NJ

NEMA Heat 3 (10 laps)
* 1. #44-Erica Santos, Franklin, MA
* 2. #26-Greg Stoehr, Bridgewater, MA
* 3. #47-Randy Cabral, Plymouth, MA
* 4. #36-Shane Hammond, Halifax, MA
* 5. #49-B.J. MacDonald, Dublin, PA

NEMA B Main (10 laps)
* 1. #21-Barry Kittredge, Marlboro, MA
* 2. #30P-Mike Horn, Ashland, MA
* 3. #8-Rich Gerbe, Franklin Square, NY
* 4. #22-Chris Leonard, Pelham, NH
* 5. #33-Shawn Torrey, Marshfield, MA
* 6. #35-Cory Cleary, Plymouth, MA
* 7. #78-Doug Cleveland, Sudbury, MA
NEMA Point Battle Moves To Seekonk

by Pete Zanardi
Sixteen points separate point leader Ben Seitz, seeking an unprecedented fourth straight drivers title, and Joey Payne Jr. as the Northeastern Midget Association returns to Seekonk Speedway Oct. 6-7 for the D.Anthony Venditti Memorial.

"It's all about pressure," says Seitz, a winner earlier this year at Seekonk. "It's all about how good you do in the garage and on the track." NEMA's best get around the quarter mile in the low 11 seconds bracket.

It will be the fourth Seekonk visit this year for NEMA. Lou Cicconi Jr., part of the super successful Bertrand team, will be looking to become the first driver to win three Seekonk features in a single
season.

NEMA will qualify on Saturday. Sunday's 25-lap feature is second on the list of four features, the racing beginning a 1 PM.

Seekonk hosted the first-ever NEMA race on Memorial Day of 1953, Fred Meeker scoring the win. Since then there have been 34 NEMA winners in 68 races at Seekonk. Nokie Fornoro tops the list with eight
victories. Also on the list are active competitors Randy Cabral (3), Cicconi (3), Jeff Horn (3), Seitz (3), Greg Stoehr (1) and Payne (1).

Modified standout Ted Christopher will be in the Santos 98s.

Both Payne and Seitz come into the race off disappointing finishes two weeks ago at Waterford Speedbowl. Payne's Dumo's Desire team has made an engine change, moving to an Esslinger. "It will be the maiden voyage for the Esslinger," said Payne who lost an engine while running third at the Speedbowl.

Seitz had a crash at the 'Bowl. "You never know how the car is going to come back," he says. "There was no visible damage and up to the that point we were running well."

Two of the last three years the NEMA points battle has come down to Seitz and Payne. "We've been here before," offers Payne.

The point race, says Seitz "is always in the back of your mind. You always keep on your eye on where you are and where others are." Payne's view is even more basic: "We have to get out of there with a victory."

Payne says Seekonk "is a tough place to set up for because you are always turning. You have to make the right rear left last. You are always on the right rear." Seitz sees the historic oval as a "fun place" if the car is dialed in." If it isn't, he ways, "there's not a lot you can do."