Saturday - August 25th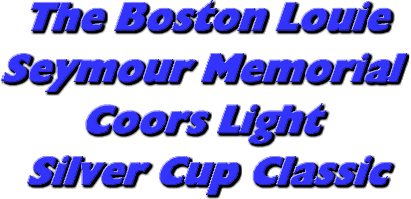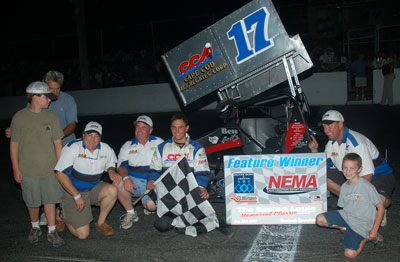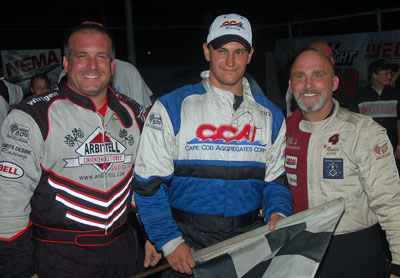 Ben Seitz Comes Up Big In NEMA
Boston Louie Seymour Memorial
at Seekonk Speedway
by Dale Wolbrink

Seekonk, MA (August 25, 2007): Ben Seitz of Pocasset, MA, became the first repeat winner during the 2007 season for the Northeastern Midget Association (NEMA) with his dominating performance on Saturday night at Seekonk Speedway. The victory came in the prestigious "Boston" Louie Seymour Memorial Coors Light Silver Cup Classic; making Seitz only the second driver to repeat in the event's 11-year history.

Seitz, who made a three-wide move on the initial start, led every lap to score the victory. It was anything but clear sailing for Seitz who had to make the pass for the lead twice before it counted and then had to withstand a pair of cautions during the race to score the victory.

"The last restart with Nokie (Fornoro) and Joey (Payne) was a little nerve-racking," said Sietz after the feature. "Those two guys are always tough."

But Seitz was up for the challenge. He bested the wily veterans on both restarts to post his second Seymour Memorial event win. Seitz joins Joey Payne of Fairlawn, NJ, as the only repeat winners of the Classic.

Seitz's previous '07 win came on July 5, 2007 at the Thompson International Speedway. Other winners this season include Bertrand Motorsports teammates Lou Cicconi and Randy Cabral, Joey Payne, Nokie Fornoro, Erica Santos, and Jeremy Frankoski.

The "Boston" Louie Seymour Memorial Classic is an annual event hosted by the Seymour Family and a host of sponsors held in honor of legendary car owner Louie Seymour. Nicknamed "the man who traveled a million miles", the transcontinental journeys of Louie a.k.a. "Boston'' Louie found him in victory lanes throughout the country with such distinguished drivers as Ken Schrader. The accolades, most notably in United States Auto Club (USAC) events, brought notoriety not only to his team's accomplishments but also open-wheel racing in the northeast. Always a fierce competitor, Louie may have been most admired for his unwavering commitment to his family, friends, and fellow competitors. Today his family continues his tradition as goodwill ambassadors to midget racing.

The Helping Hands of America time trials were held in the tradition of the Indy 500 with laps being clocked with packs of racers on the track. Randy Cabral was awarded the pole for his lap of 11:332 seconds. Greg Stoehr posted the second fastest lap at 11:351 seconds. Adam Cantor, Nokie Fornoro and Lou Cicconi rounded out the top-five in time.

Qualifying proceeded with heat races presented by Schrader Racing, Ferrara Spring, Crow Enterprizes, Precision Truck Parts and Oval Track Parts. The first of three heat races was won by Erica Santos of Franklin, MA. Other heat race winners include Seitz and Nokie Fornoro.

In the Santos Motorsports B-Main, Barry Kittredge rebounded from a host of early woes to score the victory. After having troubles before the initial start, it was clear sailing for Kittredge, who led every lap en route to the victory.

Jeremy Frankoski started from the pole position but it was Jeff Horn who jumped out at the start of the 29-lap main event presented by Marine Engines, Harrington Trucking and Wirtgen America. Before the completion of the initial lap a spin by Paul Scally brought out the yellow necessitating a complete restart. On the second attempt at a start, it quickly became a three-car battle for supremacy with third-place starter Seitz joining the battle with the front row starters. Barry Kittredge's luck finally ran out when his car ended up on his side to bring out the red flag. The leaders heeded the red flag before the completion of lap one.

During the stop in the action, Bobby Santos III, who had returned to the reigns of the Seymour owned #29, was pushed into the pits. Santos was able to return to action. Rookie contender Mark Irving also encountered problems.

The third time was a charm as lap one went into the record books with Seitz as the leader. On the restart, Seitz screamed to the inside of the two-wide battle between Frankoski and Horn to establish himself as the leader. Frankoski settled in for second while Horn had his hands full with Joey Payne for third.

After two laps of side-by-side racing, Payne took over the third position on lap three. The best battle on the track was found just outside the top five and featured Greg Stoehr and Nokie Fornoro. Several laps of hard racing ended when Stoehr appeared to get out of shape and spun in turn two on lap eight. Lou Cicconi's hard luck season continued as he brought his car to the infield during the caution period.

On the restart, Seitz had to contend with Frankoski and Payne. Shane Hammond, Horn, Fornoro, Randy Cabral, Adam Cantor and the Santos siblings made up the top ten when racing went back to green. Seitz resumed his command of the event as Frankoski and Payne duked it out for the runner-up spot. Payne quickly moved into second. Fornoro used the outside groove to advance his position to fourth. Frankoski put up quite a fight but relinquished the third spot to Fornoro on lap 10. The action cooled when Andy Shaltz spun on lap 13.

Seitz was up to the challenge once again on the restart and set sail at the head of the pack with Payne and Fornoro taking chase. A charging Hammond, who had lost some positions on the previous green flag run, moved from the sixth position, passed Horn and Frankoski, to run in fourth. Cantor and Cabral still lurked outside of the top five.

Cantor finally broke into the top five on lap 17 moving Frankoski back to sixth. Cabral, looking to come along for the ride put his racer to the outside of Horn in a battle for seventh. Meanwhile, up front, Seitz was mired in heavy lapped traffic. On lap 20, Seitz was forced to go three wide around a group of lapped cars. The champ handled the traffic and the pressure with ease, never skipping a beat.

With four laps to go Seitz continued to lead Payne and Fornoro. Cantor had made his way by Hammond and into the fourth spot. Over the closing laps, Horn and B. Santos were locked in a heated battle for the eighth position. Stoehr had battled back from his earlier spin to find his place inside the top ten.

At the checkers, it was all Seitz. Payne had to settle for the second spot ahead of Nokie Fornoro. Cantor's season continues on the upswing with another strong finish in fourth. Hammond rounded out the top five.

A mix of emotions ran high with the podium finishers in victory lane on Saturday night. The victory was a relief for Seitz and his team. "We needed this," said Seitz. "We've been struggling."

While NJ resident Payne was a bit more reflective. "I'm never happy with second but after the week we've had with losing John Blewett, we'll take it."

As always, the NEMA competitors provided a fitting tribute to Boston Louie and a great show for the Seekonk Speedway fans. In only four short days, the NEMA Midgets will return to the Seekonk Speedway on Wednesday, August 29, 2007, for the first of two make-up events.
Seekonk Speedway - August 25th
Pos.
#
Driver
Hometown
Owner
1
17
Ben Seitz
Pocasset, MA
Pete Valeri
2
45
Joey Payne
Fairlawn, NJ
Gene Angellilo
3
4
Nokie Fornoro
Stroudsburg, PA
Mike Jarret
4
7ny
Adam Cantor
Dix Hills, NY
Cantor Racing
5
37g
Shane Hammond
E. Bridgewater, MA
Jack Glockner
6
29
Bobby Santos III
Franklin, MA
Bobby Seymour
7
99
Jeremy Frankoski
Newark Valley, NY
Power Point
Racing
8
47
Randy Cabral
Plymouth, MA
Tim Bertrand
9
A1
Jeff Horn
Ashland, MA
Jeff Horn
10
26b
Greg Stoehr
Bridgewater, MA
Greg Stoehr
11
44
Erica Santos
Franklin, MA
Ed Breault
12
9
John Zych Jr.
Mendon, MA
John Zych
13
80
Doug Cleveland
Sudbury, MA
Peter Pernesiglio
14
12
Kyle Carpenter
Gloucester, MA
Brad Carpenter
15
35
Cory Cleary
Plymouth, MA
Glen Cabral
16
20
Andy Shlatz
Enfield, CT
Andy Shlatz
17
33
Shawn Torrey
Marshfield, MA
Shawn Torrey
18
78
Steve Powers
N. Andover, MA
Linda Cleveland
19
77
Mike Lugelle
Hull, MA
Mike Lugelle
20
DNF
P30
Mike Horn
Ashland, MA
Mike Horn
21
DNF
8
Rich Gerbe
Franklin Sq., NY
Lee Gerbe
22
DNF
22
Chris Leonard
Pelham, NH
Dave Leonard
23
DNF
30
Paul Scally
Raynham, MA
Paul Scally
24
DNF
47b
Lou Ciconni Jr.
Aston, PA
Tim Bertrand
25
DNF
11
Mark Irving
Bellingham, MA
Charles Camosse
26
DNF
21
Barry Kittredge
Marlboro, MA
Barry Kittredge
DNS
28l
Paul Luggelle
Holbrook, MA
Paul Luggelle
DNS
87k
Bobby Kuiken
Prompton
Lakes, NJ
Robert Kuiken
DNS
52
Kevin Park
Foxboro, MA
Kevin Park
BOSTON LOUIE MEMORIAL

Heat Race Sponsors:
Schrader Racing
Ferrara Spring
Crow Enterprizes
Precision Truck Parts
Oval Track Parts

Time Trials Sponsor:
Helping Hands

B-Main Sponsors:
Santos Motorsports

Feature Sponsors:
Marine Engines
Harrington Trucking
Wirtgen America

Awards

Award

Sponsor

Amount

Recipient

Hard Luck Award

Skip Hulgren

$250

Barry Kittredge, #21

Hard Charger

Camosse Masonry

$150

Doug Cleveland, #80

Boston Louie Long Distance Tow Award

Wall Sports

$150

Robert Kuiken, #87

Sportsmanship Award

Ktron, Inc

$100

Pete Pernesiglio, #80

Non-Qualifiers

Santos Motorsports

$80

Paul Lugelle, #28L

Non-Qualifiers

Santos Motorsports

$80

Kevin Park, #52

Non-Qualifiers

Santos Motorsports

$80

Bobby Kuiken, #87
Products

Sponsor

Award

For

Recipient

Richard Petty
Driving Experience

Rookie Driving Experience

Rookie of
The Race

Jerry Frankowski, #99

3 Lap Ride-along

Mechanic of The Race

Peter Valeri, #17

3 Lap Ride-along

Owner of
The Race

Peter Valeri, #17

Indy Performance Components

$1,000.00 certificate for carbon fiber body

Feature
Winner

Ben Seitz, #17

$250 certificate to
IPC products

10th place

Greg Stoehr, #26

TheRaceDepot.com

$100 certificate
for Hans Device

5th place

Shane Hammond, #37G

Simpson Bag

15th place

Cory Cleary, #36

Molecule Care Kit

20th place

Mike Horn, #30P

$100 certificate
for Hoosier Tire

25th place

Mark Irving, #11

Design 500

$150 certificate

10th place

Greg Stoehr, #26

$100 certificate

B Main
Winner

Barry Kittredge, #21

Advanced Racing Shocks

$100 certificate

7th place
B Main

Mike Lugelle, #77
Annual Seymour Memorial On Tap this Weekend at Seekonk
Groton, Ct (August 18, 2007): It is considered by most to be the marquee event of the season for the Northeastern Midget Association. On Saturday night, August 25, 2007, the Seekonk Speedway and the Seymour Family proudly present the 11th Annual Boston Louie Seymour Memorial Coors Light Silver Cup Classic. This prestigious event honors the patriarch of the noted Seymour Racing family of Marlborough, MA.

The "Boston" Louie Seymour Memorial Coors Light Silver Cup Classic is presented annually by the Seymour Family and a host of sponsors to pay tribute to one of Midget racing's most endearing characters. Termed the "man who traveled a million miles", Seymour earned notoriety nationally for his ability to build stout race cars and winning race teams. While traveling the country from his home in Massachusetts, Louie Seymour earned accolades at the top level of open-wheel racing with prominent drivers like Kenny Schrader.

His contributions to the sport helped shape Midget Racing in New England. His triumphs across the country also helped draw attention to the well-deserved open-wheel racers in New England. The Seymour Family carries on the legacy, the "Spirit of Boston", with their continued dedication to the racing community. Bobby & Mike Seymour have helped to advance Midget racing through their commitment of time, resources, technical expertise and enthusiasm

With the reputation of "Boston" and the family, noted companies continue to pledge their commitment to the event helping to build not only the prestige but also the profitability for the competitors. Over the years, the event has gained prominence with its sentiment and added prize money.

The qualifying procedure for the Boston Louie Seymour Memorial Coors Light Silver Cup Classic will consist of the Helping Hands of America time trials and heat races presented by Schrader Racing, Ferrara Spring Works, Crow Enterprizes, Precision Truck Parts and Oval Track Parts. If necessary, Santos Motorsports will present a B-Main. Marine Engines, Harrington Trucking, and Wirtgen America proudly present the 29-lap main event.

In 2006, Nokie Fornoro of Stroudsburg, PA, led wire-to-wire to earn the victory in the 10th annual event. Fornoro joined his brother Drew Fornoro as race winners. Other previous winners also included Ben Seitz, Russ Stoehr, Bobby Seymour, Bobby Santos III, and Randy Cabral. Joey Payne is the only two-time winner.

The probability of a repeat winner would appear to be small. Since 1997, there has only been a single driver able to repeat in the Seymour Classic event. This season, the Northeastern Midget Association (NEMA) has been among the most competitive series in the country. In the seven events held thus far this season, NEMA has seen seven different drivers visit victory lane. A new face could likely visit victory lane at Seekonk this Saturday night.
See which driver makes the "Boston" Louie Seymour Memorial Coors Light Silver Cup Classic the crown jewel in their career on Saturday night. The NEMA Midgets will be part of a full racing card that also includes Pro Stocks, Late Models, Street Stocks and Trucks. The grandstands open at 4pm; racing starts at 6pm. Adult general admission is $17, junior tickets (ages 13-15) are available for $5.00. Children 12 and under are free while a $2 Senior Citizen discount is available for race fans age 55 and up with a valid ID. For more event information log on to www.seekonkspeedway.com or
call (508) 336-9959.