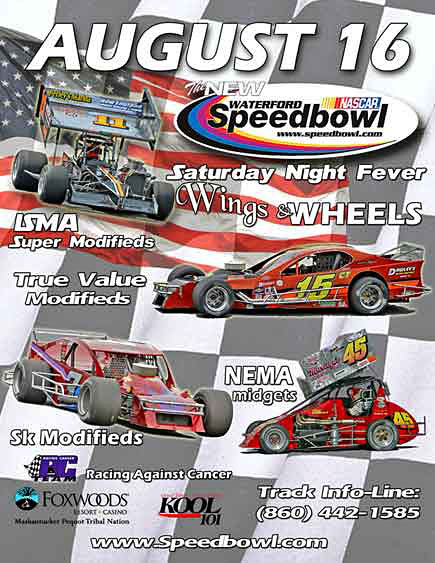 Keith Cyr Graphic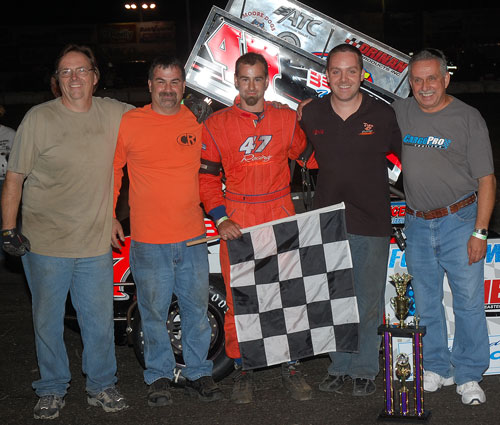 Cabral Continues Speedbowl Mastery
Waterford, CT - Taking command on the only restart on lap 11, Randy Cabral continued his mastery at Waterford Speedbowl winning the 25-lap Northeastern Midget Association's segment of Saturday night's Racing Against Cancer Wings and Wheels presented by Foxwoods and Kool 101.

It was his seventh career Speedbowl win and the third in four starts this season in the Bertrand #47. It was his second straight and fifth overall win of "a dream season" and the 17th of his career.

Cabral actually gained a spot on the restart. William Wall, who had led the first 10 laps, was put back to third for jumping the initial start. Cabral moved up outside Mike Keeler (Seamon 63). He then powered around Keeler through one and two jumping into a commanding lead. The fastest lap (a 12.947) came on the 15th circuit.

Keeler held on for second followed by Joey Payne (Angelillo 45), Greg Stoehr (Stoehr 26b) and Wall (Wall 5).

"I knew I had a good car and it was working on the outside way better than usual," Cabral said. It must have been all the rubber the Modifieds put down." After battling Keeler for several laps before the yellow, Cabral "knew the #63 was fast. I knew I needed something like the restart."

"[The Bertrand] crew has really got their stuff together," said Keeler in the understatement of the night. It was Keeler's best finish yet in the Seamon car.

"I've been asked a lot this week 'what is your secret at the Speedbowl'" Cabral said from Victory Lane. "I honestly didn't know but now I do. It's my crew and I don't mind telling anybody because nobody can steal my crew."

The #47 lost an oil line in the second practice. While his crew worked on the motor – "actually checking the lower end" – Cabral was part of a group trying to get Erica Santos back in business. Erica, who suffered a bent value in the second heat, had to eventually abandon the Breault #44 replacing brother Bobby in the family #98. She wound up eighth behind Jeff Abold (Seymour 29) and Adam Cantor (Cantor 7ny).

NEMA gets a weekend off before returning to action Saturday night, Aug. 30 at Monadnock Speedway.

NEMA NOTES – Jeremy Frankoski drove the Luggelle 77m to ninth…Lee Bundy was back in his own #2 … Cabral is only the second Boston Louie winner (joining Russ Stoehr) to capture the next race…"Every time I see the Speedbowl on the schedule I just smile," he said after passing Drew Fornoro as the club's all-time winner on the third mile…Cabral was a key factor in the Speedbowl's all-out media blitz for the event generally acknowledged to have drawn the largest crowd in many years. Cabral was featured in both New London Day and Norwich Bulletin stories and was on Kool 101 radio.
-
Waterford - Wings and Wheels - 8/16/08
Pos.
#
Driver
Hometown
Owner
1
47
Randy Cabral
Plymouth, MA
Tim Bertrand
2
63
Mike Keeler
Danbury, CT
TSR Motorsports Inc.
3
45
Joey Payne
Fairlawn, NJ
Gene Angelillo
4
26b
Greg Stoehr
Bridgewater, MA
Greg Stoehr
5
5
William Wall
Shrewsbury, MA
Wall Motorsports LLC
6
29
Jeff Abold
Pennellville, NY
Bobby Seymour
7
7ny
Adam Cantor
Dix Hills, NY
Cantor Racing
8
98
Erica Santos
Franklin, MA
Robert Santos Jr.
9
77m
Jeremy Frankoski
Huntington, NY
Mike Luggelle
10
9
John Zych Jr.
Mendon, MA
John Zych
11
87
Doug Cleveland
Sudbury, MA
Doug Cleveland
12
88
Abby Martino
Norfolk, MA
Joan Martino
13
2
Lee Bundy
Kennebunkport, ME
Lee Bundy
14
11
Howie Bumpus
Lakeville, MA
Charles Camosse
15
78
Brian Cleveland
Billerica, MA
Linda Cleveland
16
28
Paul Luggelle
Holbrook, MA
Paul Luggelle
17
2k
Kelly Ferrell
Chaplin, CT
John Ferrell
18
DNF
94
Jim Peruto
Doylestown, PA
Jim Peruto
19
DNF
30
Paul Scally
Raynham, MA
Paul Scally
20
DNF
99
Lou Cicconi Jr.
Aston, PA
Power Point
Race Cars
21
DNS
49
B.J. MacDonald
Dublin, PA
B.J. MacDonald
22
DNS
44
Erica Santos
Franklin, MA
Ed Breault
The Racing Against Cancer Wings & Wheels presented by Foxwoods and Kool 101
Set For Speedbowl Aug. 16
(WATERFORD, CT) Three of New England's fastest divisions will be coming to Waterford Speedbowl Aug. 16 when Saturday Night Fever becomes The Racing Against Cancer Wings and Wheels presented by Foxwoods and Kool 101.

The International Supermodified Association (ISMA), the TrueValue Modified Series (TVMS) and the Northeastern Midget Association (NEMA) will be joined by the Speedbowl's SK-Modifieds. One hundred mile per hour speeds will be commonplace in one of the most attractive offerings in the Speedbowl's 58-year history.


The gates open at 3:30 PM and racing begins at 5.

The True Values will go 100 laps, the Supers 50, the SKs 35 and the Midgets 25. All will qualify via heats and consis (starting at 5 pm) that guarantee some hectic action.


$2 of every ticket will go to Racing Against Cancer. Over the past half dozen years, RAC had contributed over a half million dollars to the battle against cancer. Adult grandstand tickets are $32.00.

All four divisions are open 'wheel' divisions. The Supers and Midgets are "winged" as well.

It is 210 feature laps – 100 for the True Values, 50 for the Supers, 35 for the SKs and 25 for the Midgets – on New England's most competitive track. The 'Bowl's famous outside groove has been a factor all season, producing a record number of winners. All divisions will qualify via heats, guaranteeing excitement.

Billed as "Saturday Night Fever" over the past weeks, Wings and Wheels promises blisteringly hot speeds. Chris Perley, who'll be after a third straight Speedbowl win, turned an incredible 12.489 seconds lap (107-mph plus) last May. It was, however, just a few "ticks" better than Randy Cabral's 12.848 (105-plus) in the Bertrand Midget set a few weeks before. Cabral will be after a third straight Speedbowl win as well.

Lowering the existing standard is now a major objective with each visit for both divisions. Nobody is betting against it. The Speedbowl has featured quickness throughout the season. ISMA, in fact, continues to talk about an 11 seconds lap.

Dwight Jarvis' 14.075 lap and many SK times in the 14.150 range are testimony that the True Value and SK Modifieds are surpassing the century mark as well.

Bowl fans have their favorites in the touring divisions starting with ISMA's Rob Summers, the one-time SK champion who'll be coming with a TrueValue car as well. Summers would like nothing better than adding a ISMA checkered to his Speedbowl resume.

Ted Christopher will be returning in the Czarnecki #20. TC would like to add to a Speedbowl resume that includes, in addition to 33 SK wins, successes in the NASCAR Modifieds, NEMA Midgets and Pro4 Modifieds.

Wings and Wheels will bring incredible talent to the Bowl including local favorites Rob Summers, who may see action in a modified as well as a Super, Chris Pasteryak, Ed Dachenhausen and Mike Holdridge. The latter three are TVMS standouts.

Jeff Abold, 19-year old son of ISMA great Pat, is another double duty possibility in both a Midget and Super.

In addition to Summers, Jeff Holbrook, Russ Wood, Dave McKnight, Mike Ordway Jr. and Mike Lichty hope to add to their ISMA resume by stopping Perley's Speedbowl streak. Cabral is the target for the likes of Jeff Horn, Nokie Fornoro, Bobby Santos III, Joey Payne and Greg Stoehr.

David Pinkham, Les Hinckley, Kirk Alexander and Jean-Paul Cyr joint Jarvis on the TVMS scorecard.
.
NEMA Back To The Bowl;
Record Lap Probable
Although he insists, "lap times are never first priority," point leader Randy Cabral admits, "they get a lot of attention." His 12.74 seconds lap could "definitely be bested" when the Northeastern Midget Association returns to Waterford Speedbowl Saturday night for the Racing Against Cancer Wings & Wheels presented by Foxwoods and Kool 101.

Making its fourth Speedbowl visit of the season, NEMA shares the program with the International Supermodified Association, the True Value Modifieds and the SK-Modifieds.

Through 10 races, NEMA has had five winners, Bobby Santos III (3), Joey Payne, Greg Stoehr and Jeff Abold joining Cabral (4). . Consistent finishes by Payne and Santos have prevented Cabral and car owner Tim Bertrand from pulling away in their respective point races.

Coming off a victory in the Boston Louie at Seekonk, Cabral believes there are plenty of candidates to turn a 12.6 lap. Greg Stoehr, the winner the last time NEMA visited Waterford, Erica and Bobby Santos and Abold are all strong possibilities.

Despite his six career Speedbowl wins including two this year, Cabral refuses to see himself as the favorite. "Everybody says the goal is to catch me," he says. "Well, they didn't have any trouble catching me last time at the Speedbowl. There are a lot of potential winners every time."

The Speedbowl, he adds, "is where everybody seems to run their best."

NEMA has been in record territory all season. "Everyone is really up on their game, paying attention to what's going on," Cabral says. "The technology, the motors, the tires, everything is getting better. You need those times to say competitive."

Lap times have always been of special importance to open cockpit racers. "A lot of people always want to get in the record books," says Cabral. "I am a little different. I'm happy as long as we're faster than the second place car."

NEMA NOTES – Way back in the Speedbowl's first season, 1951, Indiana driver George Tichenor set fast time for an AAA 100 lapper with a 17.92 seconds run. Art Cross won the October race which was held in near freezing temperatures…Sharing the program with the Supermodifieds always pumps up the NEMA fraternity. Lou Cicconi Jr. is the only driver to win in both at the Speedbowl. Jeff Abold has driven both with success this season…After a strong top-five at the Boston Louie, Jeremy Frankoski will be back in the second Bertrand car this weekend. .......Mike Keeler, another who has driven in both ISMA and NEMA this year, is in Frankoski's old ride, the Seamon #63 and will also be running his #56 ISMA Super. Keeler has a NEMA Speedbowl win…Only once has a Boston Louie winner won the next race as well. Russ Stoehr did it in 1997, the first year the Louie ran…There have been 41 different winners in the 78 NEMA features at the Speedbowl since 1951 and its probable that 15 will be on hand this weekend in some capacity.