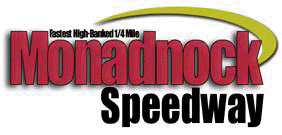 Saturday - August 30th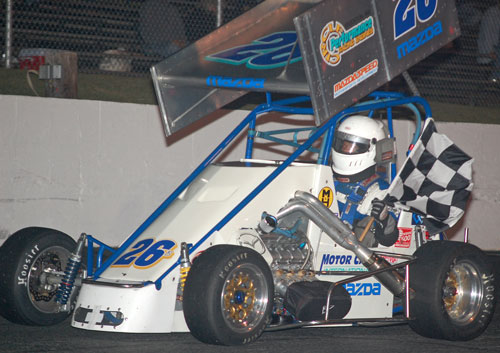 Monadnock Speedway - 8/30/08
Pos.
#
Driver
Hometown
Owner
1
26b
Greg Stoehr
Bridgewater, MA
Greg Stoehr
2
47b
Jeremy Frankoski
Huntington, NY
Tim Bertrand
3
98
Ryan Preece
Kensington, CT
Robert Santos Jr.
4
5
William Wall
Shrewsbury, MA
Wall Motorsports LLC
5
7ny
Adam Cantor
Dix Hills, NY
Cantor Racing
6
45
Lou Cicconi Jr.
Aston, PA
Gene Angelillo
7
A1
Jeff Horn
Ashland, MA
Jeff Horn
8
47
Randy Cabral
Plymouth, MA
Tim Bertrand
9
44
Erica Santos
Franklin, MA
Ed Breault
10
63
Mike Keeler
Danbury, CT
TSR Motorsports Inc.
11
99
Aaron Wall
Shrewsbury, MA
Power Point
Race Cars
12
4
Nokie Fornoro
Stroudsburg, PA
Mike Jarret
13
21
Barry Kittredge
Marlboro, MA
Barry Kittredge
14
87
Doug Cleveland
Sudbury, MA
Doug Cleveland
15
9
John Zych Jr.
Mendon, MA
John Zych
16
78
Brian Cleveland
Billerica, MA
Linda Cleveland
17
77m
Andy Shlatz
Enfield, CT
Mike Luggelle
18
2
Lee Bundy
Kennebunkport, ME
Lee Bundy
19
28
Paul Luggelle
Holbrook, MA
Paul Luggelle
20
DNF
88
Abby Martino
Norfolk, MA
Joan Martino
21
DNF
16
Matt O'Brien
Wilmington, MA
Jim O'Brien
HEAT WINNERS: 45 & 26b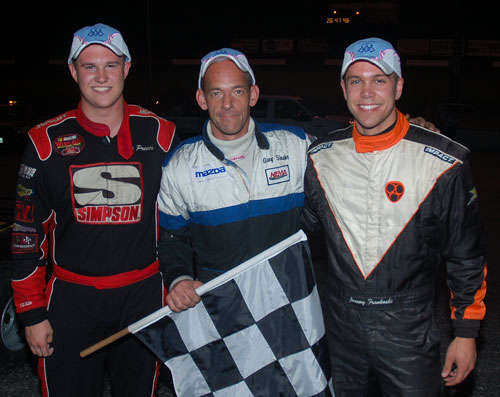 Monadnock 8/30 Top Three (L to R): Ryan Preece, Greg Stoehr, and Jeremy Frankoski
Stoehr Edges Frankoski at Monadnock
Winchester, NH - Starting third, Greg Stoehr took the lead with one lap in the books and then held on to capture the 25-lap Northeastern Midget Association feature Saturday night at Monadnock Speedway. It was the second win of the year for Stoehr in the family 26b.

Stoehr, spending most of the late stages in traffic, had a two-car
length lead on Jeremy Frankoski (Bertrand 47b) at the checkered with Ryan Preece (Santos 98s) a close third. Twenty-five laps of green-flag racing resulted in battles, often three-wide, for position almost all the way back.

The caution showed with only one full lap complete when Stoehr and Nokie Fornoro (Jarret 4) made contact in turns three and four. Fornoro and Lou Cicconi, subbing for Joey Payne Jr. in the Angelillo #45, both spun and were sent to the rear.

Stoehr lined up outside pole sitter William Wall (Wall 5) on the restart. On the green Stoehr, who had the fastest lap of the night in his qualifying heat (11.77 seconds), beat Wall into the corner and opened a sizable
lead.

Meanwhile, Frankoski, who favored the outside, and Preece, using the inside, began their moves from mid-pack. Frankoski claimed runner-up honors over the determined Preece with an outside pass on the final lap.

William Wall and Adam Cantor (Cantor 7ny) completed the top five while Cicconi had an impressive run coming from last to sixth.

Point leader Randy Cabral (Bertrand 47) fought a slow leak in the right rear tire after hitting the wall early and finished eighth. With neither Payne nor Santos racing, he gained further distance in the drivers point standings. Preece's finish, however, did allow Bob Santos Jr. to gain slightly on Tim Bertrand in the owners rankings.

NEMA's busy schedule continues with a September 12thFriday night date at Lee USA Speedway. The NEMA Lites will be at Lee as well.

NOTES: Stoehr was the third winner at Monadnock this year. Payne and Santos had won previously...NEMA has now run 12 features with six more left ... It was the second time this year Cabral had a two-race win streak stopped at Monandock ... Payne and Santos III were both at the Oswego Classic.

NEMA Visits Monadnock:
Cabral After Third Straight
Winchester, NH - Maybe the toughest stop on the Northeastern Midget Association schedule, Monadnock Speedway tends to be the great equalizer.

Earlier this year Randy Cabral and the Bertrand #47 had a two-win streak ended at the tricky third mile. They'll try again Saturday night as NEMA makes its third visit to the Granite State venue.

Three in a row has not happened in NEMA since 1993 when Jeff Horn, diving for Bay Hayes, did it at Seekonk (May 29), Star (June 13) and Waterford (June 26). Cabral comes into the race off wins at Seekonk's Boston Louie and Waterford's Wings & Wheels.

Joey Payne Jr. and Bobby Santos III won the previous visits to Monadnock this year. Cabral, who has never won at Monadnock, leads Payne by 143 while Bertrand has a 121-point edge on Robert Santos II in owner points.

Neither Payne or Santos is expected to be at Monadnock. Lou Cicconi Jr. will climb into Payne's usual ride, the Angelillo #45

It will be NEMA's 12th feature of the season. There have been five different winners, Jeff Abold and Greg Stoehr joining Cabral, Payne and Santos. Rookie William Wall, Erica Santos, Cabral's teammate Jeremy Frankoski and Mike Keeler, now in the Seamon #63, appear ready to join the win list.

"The list is far from complete," insists NEMA President Mike Scrivani. "There are still some surprises left and there's no place better than Monadnock for that to happen."

Nokie Fornoro and Stoehr are the only other active drivers with Monadnock wins.

NOTES: The NEMA record for consecutive wins belongs to the legendary Joe Csiki. He ran off six straight in 1963. Nokie Fornoro, in the Scrivani #22, won five straight in 1981…Drew Fornoro is the all-time Monadnock winner with 10 including five in a row in 1982 and '83…Following his checkered at Seekonk on July 16, Jeff Abold now sits, alphabetically anyway, atop the list of all-time NEMA winners. He replaced the late Chuck Arnold, the latter a winner at Norwood Arena on Aug. 29, 1958. That's 50 years ago this weekend…Joe Payne and Jeff Horn are still a win short of that magic 20 win mark…Dave Humphrey won the first NEMA date at Monadnock beating Lou Fray and Butch Walsh on July 9, 1972.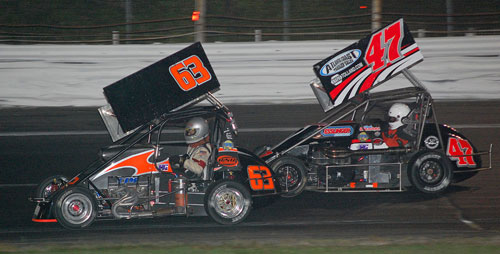 Keeler, NEMA Head Back to Monadnock

The Mike Keeler's "deal" with John Seamon's TSR Motorsports started a month ago at Monadnock Speedway.

Coming off an impressive run at Waterford Speedbowl, Keeler sees himself among "the contenders" when the Northeastern Midget Association returns to the tricky third-mile Saturday night. It will be NEMA's third Monadnock visit of the year.

Five-time winner and point leader Randy Cabral leads NEMA to Monadnock. Other winners this year include Bobby Santos III, Joey Payne,
Chris Abold and Greg Stoehr.

Keeler definitely has his sights set on joining the list. He says things have "gotten better and better" since finishing sixth at Monadnock on July 26 in Seamon's Gaerte-powered Stealth.

Keeler has been testing Seamon's new Esslinger-Beast and doesn't know what car the team will take to Monadnock. Either way, he's optimistic.

"It's different," says Keeler of Monadnock. "My first time there I was in a True Value Modified. The last time I think I learned a lot and I have that to fall back on. The car is definitely capable."

A heat win and a second (behind Cabral) at the Speedbowl's "Wings & Wheels" is another reason for optimism for both the team. Keeler lost the lead to Cabral on the only restart and then "concentrated on getting second rather than smoking my tires."

Starting back in the early 1990s in quarter midgets, Keeler has tried a variety of divisions. Currently campaigning his own Supermodfied, his resume includes a NEMA win at the Speedbowl in '06. "I don't feel I belong in anything," he explains. "I feel I belong in everything."

The #63 Midget, however, is priority one. The team, which includes car chief Joe Fiore and crew chief Steve Mikush, "is the best I've been with," Keeler says. "John doesn't spare a thing."

"Mike's a pro," says Seamon. "He can tell you what's wrong with the car and that's important. I got lots of calls when the ride became available but I called Mike."


Seamon's racing experience goes back to "sneaking into Plainville Stadium as a 15-year old." He had cars at Danbury Race Arena then took time off "to build my business before returning to the Go Karts with son John Jr." He moved from Go Karts to Focus Midgets and then to NEMA with John Jr., the latter an engineering student at Rochester Institute of Technology and still a member of the team.