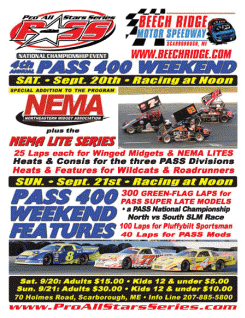 Santos' Family Prevails
at NEMA's 900th

Scarborough, ME - Following a mid-race side-by-side battle with sister Erica, Bobby Santos III moved into the lead and went on to win the 900th feature in Northeastern Midget Association history Saturday at Beech Ridge Motor Speedway. Santos came from the eight starting spot.

Matt Bettencourt bested Anthony Marvuglio and Russ Wood Jr. in the accompanying NEMA Lites feature. Mike Ordway Jr. was the early leader in the Bertrand 48 and dropped out due to over heating. Russ Wood Jr. had been the leader when a multi car pile up took him out along with all but Bettencourt and Marvuglio.

It was the fourth win of the season for the Santos #98 team and put Bob Santos Jr. into the owners point lead by 13 points.

The Santos siblings duel followed the second restart. "It was fun racing Erica," said Bobby. "I think my car was a little better than hers. Her car (Breault #44) got a little tight on her. I was on the outside and I finally got by her."

Bobby had "checked out" when the final yellow set up a
green-white-checkered finish. Joey Payne, who took second with seven laps left, wound up six car lengths behind at the checkered. Jeff Abold (Seymour #29), Adam Cantor (Cantor 7ny) and Erica completed the top five.

Starting in the second row, Erica had the lead three laps in. Bobby was running second when the first yellow showed and fell in behind his sister when racing resumed. He was still there when the second yellow came out.

It was a tough day for the Randy Cabral driven-Bertrand #47. Going into the day with an 87-point lead in the owner standings, the car suffered ignition problems all day. Owner Tim Bertrand finally shelved it in favor of the #39 which also had trouble in the feature.

"Honestly with what we were doing I didn't think a lot about it being
NEMA's 900th race," said Bobby following his 12th career win. "We were petty busy with my car and Erica's car. Now, it's pretty neat. Any NEMA win means a lot so this is special."

One of the oldest Midget sanctioning bodies in the country, NEMA began at Seekonk Speedway on May 30, 1953. Fred Meeker was the winner.

"I think it's pretty exciting," countered Bob who received a plaque
commemorating the event. "I think it's pretty big and speaks to NEMA's position."

It was the 13th feature of the season for NEMA which will be part of
Twin State Speedway's "Open Wheel Sunday" this weekend on Sunday, September 28th. The Lites are headed for the Claremont, NH third-mile as well.

NEMA NOTES: "Everybody enjoyed the side-by-side battle between Erica and Bobby, everybody but me," deadpanned Bob Jr. who works on both cars…The car Cabral, who continues to lead in driver points, drove in the feature is the one Ryan Newman was to drive at the rained out show at Lee USA a week earlier.

Photos by
NormMarx.com
Beech Ridge Motor Speedway - 9/20/08
Pos.
#
Driver
Hometown
Owner
1
98
Bobby Santos III
Franklin, MA
Robert Santos Jr.
2
45
Joey Payne
Fairlawn, NJ
Gene Angelillo
3
29
Jeff Abold
Pennellville, NY
Bobby Seymour
4
7ny
Adam Cantor
Dix Hills, NY
Cantor Racing
5
44
Erica Santos
Franklin, MA
Ed Breault
6
47b
Jeremy Frankoski
Huntington, NY
Tim Bertrand
7
26b
Greg Stoehr
Bridgewater, MA
Greg Stoehr
8
99
Aaron Wall
Shrewsbury, MA
Power Point
Race Cars
9
4
Nokie Fornoro
Stroudsburg, PA
Mike Jarret
10
21
Barry Kittredge
Marlboro, MA
Barry Kittredge
11
87
Doug Cleveland
Sudbury, MA
Doug Cleveland
12
11
Howie Bumpus
Lakeville, MA
Charles Camosse
13
9
John Zych Jr.
Mendon, MA
John Zych
14
88
Abby Martino
Norfolk, MA
Joan Martino
15
16
Matt O'Brien
Wilmington, MA
Jim O'Brien
16
2
Lee Bundy
Kennebunkport, ME
Lee Bundy
17
77m
Mike Luggelle
Hull, MA
Mike Luggelle
18
5
William Wall
Shrewsbury, MA
Wall Motorsports LLC
19
28
Paul Luggelle
Holbrook, MA
Paul Luggelle
20
DNF
78
Brian Cleveland
Billerica, MA
Linda Cleveland
21
DNF
39
Randy Cabral
Plymouth, MA
Tim Bertrand
22
DNF
77
Shawn Torrey
Marshfield, MA
Mike Luggelle
23
DNF
63
Mike Keeler
Danbury, CT
TSR Motorsports Inc.
24
DNF
30
Paul Scally
Raynham, MA
Paul Scally
Lites - Beech Ridge Motor Speedway - 9/20/08

Pos.
Car #
Driver
Owner
1
10
Matt Bettencourt
F. Bettencourt Trucking
2
35
Anthony Marvuglio
Glen Cabral
3
DNF
51
Russ Wood Jr.
Russ Wood
4
DNF
11
Jake Stergios
Bill Stergios
5
DNF
18
Jesse State
Jim State
6
DNF
33
Shawn Torrey
Shawn Torrey
7
DNF
09
Stephanie Doty
Ronald Doty
8
52
Kevin Park
Kevin Park
9
DNF
28
Paul Luggelle
Paul Luggelle
10
DNF
48
Mike Ordway Jr.
Tim Bertrand
11
DNF
57
P.J. Stergios
Bill Stergios
12
DNS
5c
Joey Chick
Bob Chick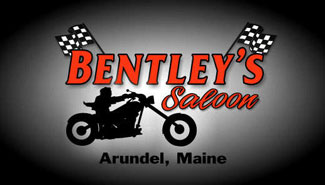 www.bentleyssaloon.com
1601 Portland Road
Arundel, ME 04046

Swing by Sat. night to celebrate the race
with other NEMA competitors!

Bentley's has a CAMPGROUND too!
Call ahead - 207-653-7536
.

NEMA Takes 900th Race
To Maine's Beech Ridge
Scarborough, ME - The Northeastern Midget Association moves on to Maine's Beech Ridge Motor Speedway Saturday to take part in The PASS 400 Weekend at the historic facility. It will be the 20th race at Beech Ridge and 900th feature for the 56 year old club.

Driver Randy Cabral and owner Tim Bertrand will take the point leads into the unique afternoon race. Cabral has a 217-point edge on Joey Payne Jr. while Bertrand leads Bob Santos Jr. by 87 as the season heads into the stretch drive.

The racing action will start at noon.

Jeremy Frankoski, now a Cabral teammate, will be looking for two straight at Beech Ridge. He beat Aaron Wall and Joey Payne last year in the Power Point #99 car. Jeff Horn (1993) and Payne (2004) are the only other active drivers with wins at "The Ridge."

A five-way battle rages behind Cabral and Payne for the lucrative top-five spots in the final driver standings. Bobby Santos III ( Santos 98), Adam Cantor (Cantor 7ny), Erica Santos (Breault 44), Greg Stoehr (Stoehr) and Frankoski are all involved. All have won or flirted with victory this year.

The third-mile Beech Ridge, one of the premier short tracks in the country, replaces All-Star Speedway on the NEMA schedule. "When things didn't work out at All-Star, Beech Ridge called and asked if NEMA would like to be part of PASS weekend," said club Vice President Tim Bertrand. "It was a great opportunity for us."

Rain last week at Lee pushes up the 900th feature celebration. Beech Ridge has been part of NEMA since 1955 when George Tilton won on the dirt.

Four races will remain for NEMA following Beech Ridge – Open Wheel Sunday at Twin State on Sept 28, The Finale at Waterford Speedbowl on Oct. 4-5, and the DAV at Seekonk Speedway on Oct. 11-12 and the World Series at Thompson Speedway on Oct. 18-19.

NEMA NOTES: Last week's rain washed away the opportunity to see NASCAR Sprint Cup driver Ryan Newman in a Bertrand Midget. The Bertrand team, reports however, they plan on getting together again with Newman perhaps this Fall in Arizona and then next summer when Newman returns to New Hampshire International Speedway …Beech Ridge winds up hosting the 13th feature of the year. Nokie Fornoro and Dave Humphrey have each won the 13th race five times. Cabral won the 13th in 2002 and again last year. Santos won it in '03.

Stancill, Clark Lead PASS National Championship Challengers to The Ridge
Naples Maine – This week's PASS 400 Weekend at Scarborough Maine's Beech Ridge Motor Speedway will offer up the widest variety of circle track racing anywhere in Maine this year. But for two Pro All Stars Series (PASS) super late model competitors, the big 300 lap go on Sunday September 21st could prove pivotal in their individual quests for the inaugural PASS National Championship.

15-year old John Stancill will be seeing Beech Ridge for the first time, but the National Championship point leader has teamed up with veteran PASS car owner Jay Cushman for PASS 400 Weekend, and Cushman's' experience at the The Ridge will make Stancill's learning curve much easier. Stancill hasn't visited victory lane as of yet, but his third and fourth place finishes at Hickory and Orange County in the first two National Championship events give him a two point lead over Cassius Clark in the standings. Like Stancill, Clark has yet to visit PASS victory lane in 2008 but he ran eighth at Hickory and came close at Orange County Speedway, finishing second to Trevor Sanborn in the Orange Blossom Special.

The National Championship Series was designed to give race fans from both regions an opportunity to see the top teams in both series go head to head, and a solid contingent of PASS South racers are planning to make the trip to Beech Ridge. In addition to Stancill, Floridian Perry Brown, Kyle Busch Racing development driver Alex Haase, John Batten and Tennessean Heath Hindman are among those expected to be on hand, as is PASS South point leader Corey Williams.

PASS 400 Weekend actually kicks off on Thursday September 18th with racing for 350's 305's, four cylinders, mini trucks and outlaw trucks. Heat racing gets the green at 5:45 P.M.

Friday is a practice day for all PASS 400 Weekend divisions, from noon until six in the evening. The grandstands will be open to the public free of charge.

The action heats up on Saturday, September 20th with qualifying races for all divisions, including the PASS super late models, PASS Mods and Pluffybilt Racing Tractors Sportsman. Saturday's card will be highlighted by the winged warriors of the Northeastern Midget Association, making their first appearance with the Pro All Stars Series. Plus there are features for the Roadrunners, Wildcats and NEMA Lite open wheelers on tap too.

Then on Sunday September 21st, it's the 300 for the PASS Super Late Models, a 100 lap PASS Pluffybilt Racing Tractors Sportsman feature and 50 laps for the PASS Mod division.
4th Annual

9/20-21/08


NEMA Midgets Highlight Saturday Action on PASS 400 Weekend

Naples ME - The fourth annual Pro All Stars Series (PASS) 400 weekend at Beech Ridge Motor Speedway is only two weeks away and series President Tom Mayberry is pleased to announce the addition of the NEMA midgets to Saturday's racing card.

Said Mayberry, "I'm excited that we've been able to add the NEMA midgets to the Saturday September 20th schedule for PASS 400 weekend. It's their first appearance on the same card with the Pro All Stars, and I know they will put on a great show. They'll give our fans yet another reason to make it a racing weekend at Beech Ridge on September 20th and 21st!" .

In addition to the NEMA Midgets and NEMA Lite Series on Saturday, there'll be qualifying races and features for the Road Runners and the Wildcats. The PASS Pluffybilt Racing Tractors Sportsman, PASS Mods, and PASS North Super Late Models will set their respective fields for Sunday's action.

On Sunday September 21st its' all feature racing; 100 laps for the PASS Sportsman, 50 laps for the PASS Mods and the big one, 300 laps and $10,000.00 to win for the PASS North super late models. Look for a strong contingent of PASS South drivers to make their way to Beech Ridge for round three of the four-race PASS National Championship series. Ayden North Carolina teenager John Stancill leads Mainer Cassius Clark by just two points in the National standings. The entry list already features drivers from North Carolina, Tennessee, Maine, Massachusetts, New Hampshire, Vermont and New Brunswick Canada.

Gates open at 10:00 AM and the first green flag waves at 12:00 sharp on both Saturday and Sunday.