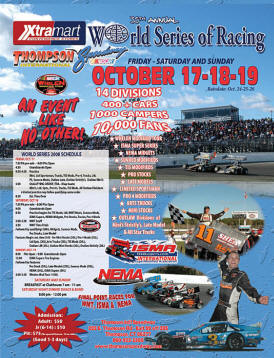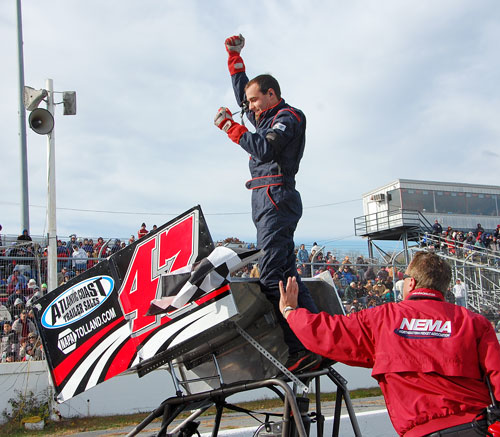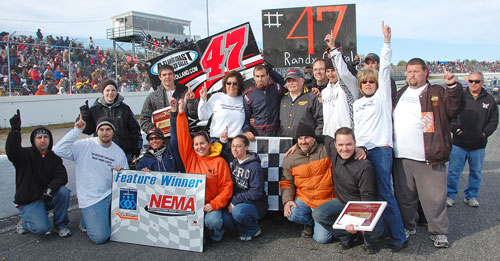 Feature - Thompson World Series - Sun. Oct. 19th
Pos.
#
Driver
Hometown
Owner
1
47
Randy Cabral
Plymouth, MA
Tim Bertrand
2
4
Nokie Fornoro
Stroudsburg, PA
Mike Jarret
3
26b
Greg Stoehr
Bridgewater, MA
Greg Stoehr
4
7ny
Adam Cantor
Dix Hills, NY
Cantor Racing
5
P30
Mike Horn
Ashland, MA
Mike Horn
6
5
William Wall
Shrewsbury, MA
Wall Motorsports LLC
7
87
Doug Cleveland
Sudbury, MA
Doug Cleveland
8
30
Paul Scally
Raynham, MA
Paul Scally
9
2
Lee Bundy
Kennebunkport, ME
Lee Bundy
10
DNF
44
Erica Santos
Franklin, MA
Ed Breault
11
DNF
28
Paul Luggelle
Holbrook, MA
Paul Luggelle
12
DNF
45
Joey Payne
Fairlawn, NJ
Gene Angelillo
13
DNF
99
Keith Botelho
-
Power Point
Race Cars
14
DNF
98s
Bobby Santos III
Franklin, MA
Robert Santos Jr.
15
DNF
9
John Zych Jr.
Mendon, MA
John Zych
16
DNF
11
Ronnie Yuhas Jr.
Waterford, CT
Charles Camosse
17
DNF
39
Jeremy Frankoski
Huntington, NY
Tim Bertrand
18
DNF
78
Brian Cleveland
Billerica, MA
Linda Cleveland
19
DNF
77m
Mike Luggelle
Hull, MA
Mike Luggelle
20
DNS
77
Shawn Torrey
Marshfield, MA
Mike Luggelle
Cabral & Bertrand Clinch NEMA Titles
with World Series Win
Thompson, CT – Randy Cabral clinched the driving championship for himself and the owner's title for Tim Bertrand Sunday with a victory in the 25-lap Northeastern Midget Association feature at Thompson Speedway's World Series. It was the third straight and the eight win of the season for the #47 team.

"A perfect way to cap it off, victory in the World Series," said Bertrand, calling the season-long effort "the perfect package."

Starting eighth, Cabral took the lead from Joey Payne (Angelillo #45) down the front straight away heading into lap four. Four cautions slowed the action as Cabral moved under the checkered a half-straightaway ahead of Nokie Fornoro, the latter coming from last in the Jarret #4.

Both Cabral and Bertrand were concerned when Fornoro, who had almost no practice and fell out on lap one of his qualifying heat on Saturday, lined up second on a lap 12 restart. Bobby Santos, running second, brought out the yellow spinning off turn four into the infield, collecting John Zych with him (Zych #9).

Cabral "caught a look" at the leader board. He told himself "Nokie just came from last to second, I'm done." Bertrand was equally pessimistic. "On the restart, Nokie was right there and I said 'he's playing with us,'" offered Bertrand. "Than Randy started to pull away and I realized 'hey, we are pretty good today.'"

Cabral got away on three more restarts leaving Fornoro to battle eventual third place finisher Greg Stoehr (Stoehr 26b). "If we didn't have those cautions he was going to have a hard time," said Fornoro. "He started getting loose and I was getting tighter. It would have been interesting in traffic."

Adam Cantor (Cantor #7ny) and Mike Horn (Horn #P30) filled out the top five.

Coming from sixth, Payne grabbed the lead following a first lap yellow. Cabral followed him past early leader Erica Santos (Breault #44) with Bobby Santos III (Santos #98s) third.

"It looked the 45 was having motor problems," said Cabral who had planned on taking his time going to the front. "The 45 was a lot faster in our heat (won by Payne) on Saturday. I saw the problem and decided to try and take advantage."

Mechanical woes did in both Payne and Erica Santos.

NEMA will end its season at Twin State Speedway's Open Wheel Sunday in Claremont, NH this weekend.
Heat 1 - Thompson World Series - Sat. Oct. 18th

Heat 2 - Thompson World Series - Sat. Oct. 18th
Elusive 3rd Straight Win
World Series Possibility
Sunday's feature at Thompson Speedway's World Series will be the 12th time over the past 15 seasons that a Northeastern Midget Association driver goes after a third straight feature win. It will be the third time this season Randy Cabral gives it a shot.

Not since Jeff Horn put together wins at Seekonk, Star and Waterford in 1993 has a driver won three straight. Over the past 215 features, there have been back-to-back winners only 11 times.

"I'm not going to get greedy," has become Cabral's standard reply to challenges. He has been "unbelievably lucky" this year especially in two-day events. The Bertrand Racing Team has made recovering from a tough Saturday almost commonplace.

Cabral comes to the World Series off wins at Waterford's Finale and Seekonk's DAV Memorial, both two day events. The World Series is as well, NEMA qualifying on Saturday. Cabral has six career Thompson wins including this year's July race.

"The team spends a lot of time working on the cars and we show up with high expectations," says Cabral, who has seven checkereds and this year's driving title all but won. "We take nothing for granted though. Every race is something different."

Thompson is very different. "When you think about what can happen it's already happened at Thompson," says Cabral. There have been 69 NEMA events at Thompson starting with Dutch Schaefer's win on April 24, 1960.

Tim Bertrand has 73 points on Bob Santos Jr. atop the owners standings. While 247 separate Cabral and Joey Payne in the driver standings, there's only 50 between third and sixth – Bobby Santos III, Adam Cantor, Greg Stoehr and Erica Santos.

Since 1994, Cabral and Russ Stoehr have gone after a third straight four times. The list also includes Mike Seymour, Joey Coy, Howie Bumpus and Ben Seitz – an impressive group.

When Cabral missed a third straight back in '06, Bobby Santos III was the winner at Stafford. This year Payne and Stoehr were the winners, both times a Monadnock. Santos, Stoehr and Payne have all made history at Thompson. Stoehr beat brother Russ in a barnburner way back in 1993. Payne gave car owner Gene Angelillo his 100th win in 2000, beating teammate Drew Fornoro in the process.

Coming off an impressive run from the back at the DAV, Nokie Fornoro is another with long whiskers at Thompson. He has four Thompson wins, the last in '05.

The World Series traditionally draws a strong NEMA field.