New England
Outdoor Furnace
2008 Fall Challenge
"Open Wheel Sunday"
Sunday, Oct. 26th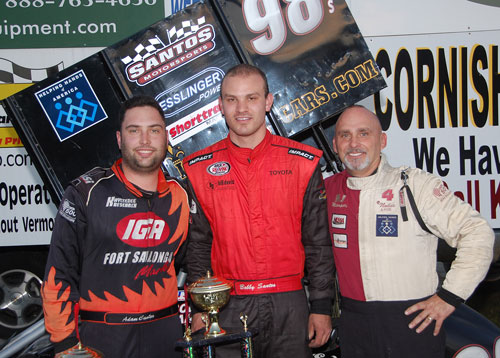 Santos III Rules at Twin State
Claremont, NH – Showing off his "traffic game" to perfection, Bobby Santos III won the 25-lap Northeastern Midget Association feature at Twin State Speedway's Open Wheel Sunday. It was the last show of the season for NEMA.

Starting sixth, Santos drove the family #98 past early leader Mike Horn on lap four. Adam Cantor (Cantor 7ny), who had followed Santos to the front, assumed second less than a lap latter. The top two remained unchanged to the checkered, two thirds of the race run in traffic.

It was the fifth win for Santos who clinched a runner-up spot (behind Tim Bertrand) for his dad in the car owner standings.

Nokie Fornoro (Jarret 4), 2008 champion Randy Cabral (Bertrand 47) and Joe Payne Jr., the latter in the #75 campaigned in the past by Lou Cicconi Jr., completed the top five.

There were three restarts including two over the final four laps. Payne got by William Wall on a lap 21 restart and then had to defend it two laps latter. Wall (Wall 5) held on for a hard-earned sixth.

It was NEMA's 18th race of the 2008 season.
Feature - Twin State Speedway - Sun. Oct. 26th
Pos.
#
Driver
Hometown
Owner
1
98s
Bobby Santos III
Franklin, MA
Robert Santos Jr.
2
7ny
Adam Cantor
Dix Hills, NY
Cantor Racing
3
4
Nokie Fornoro
Stroudsburg, PA
Mike Jarret
4
47
Randy Cabral
Plymouth, MA
Tim Bertrand
5
75
Joey Payne
Fairlawn, NJ
Lou Cicconi Jr.
6
5
William Wall
Shrewsbury, MA
Wall Motorsports LLC
7
P30
Mike Horn
Ashland, MA
Mike Horn
8
22
Chris Leonard
Pelham, NH
Dave Leonard
9
87
Doug Cleveland
Sudbury, MA
Doug Cleveland
10
21
Barry Kittredge
Marlboro, MA
Barry Kittredge
11
30
Paul Scally
Raynham, MA
Paul Scally
12
78
Brian Cleveland
Billerica, MA
Linda Cleveland
13
2
Lee Bundy
Kennebunkport, ME
Lee Bundy
14
DNF
77m
Jim Miller
Weymouth, MA
Mike Luggelle
15
DNF
26b
Greg Stoehr
Bridgewater, MA
Greg Stoehr
16
DNF
28
Paul Luggelle
Holbrook, MA
Paul Luggelle
17
DNF
9
John Zych Jr.
Mendon, MA
John Zych
18
DNF
99
Keith Botelho
-
Power Point
Race Cars
19
DNF
45
Woody Pitkat
-
Gene Angelillo
20
DNS
77
Andy Shlatz
Enfield, CT
Mike Luggelle
Lites - Twin State Speedway - Sun. Oct. 26th

Photos by NormMarx.com

NEMA Ends '08 Season At Twin State
The Northeastern Midget Association brings its 2008 campaign to a close at this weekend's rescheduled Open Wheel Sunday at Twin State Speedway in Claremont, NH. Although both NEMA and Twin State are among New England's oldest racing institutions, the Midgets have run only two features at the semi-banked third mile.

Twin State is a major challenge. Kyle Carpenter was the last winner,
besting Joey Payne Jr. and Adam Cantor in 2005. Dave Humphrey (1973) is the only other NEMA Twin State winner.

It is the final opportunity for teams to grab that elusive win. Adam
Cantor (Cantor 7ny), Erica Santos (Breault 44), and Nokie Fornoro
(Jarret 4) have had impressive runs this year. Fornoro came from last to second last week at Thompson's World Series. Erica Santos placed second at Waterford Speedbowl while Cantor has been in the top five nine times.

They hope to join a win list that includes champion Randy Cabral, Bobby
Santos III, Greg Stoehr, Payne and Jeff Abold. Coveted top-10 spots in
both the driver and owner standings are still to be determined.

Their respective championships secured, there are still things to be
accomplished for Cabral and owner Tim Bertrand. They're after a fourth
straight and a ninth overall win. Fornoro was the last to win four in a
row (in was actually six straight) driving for Mike Scrivani in 1981.

The six straight tied the record for consistency established by Joe Csiki in 1963. Csiki won 11 times that year. Fornoro won 10 of 20 in '81.