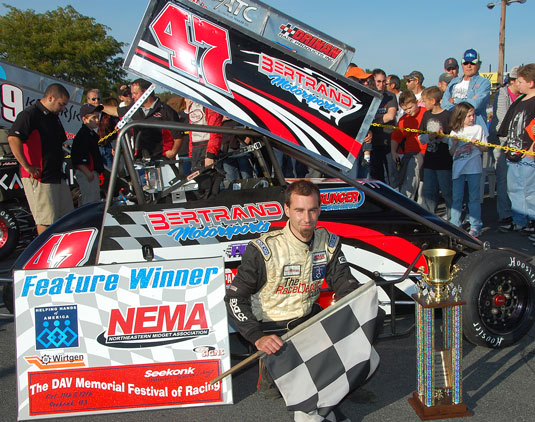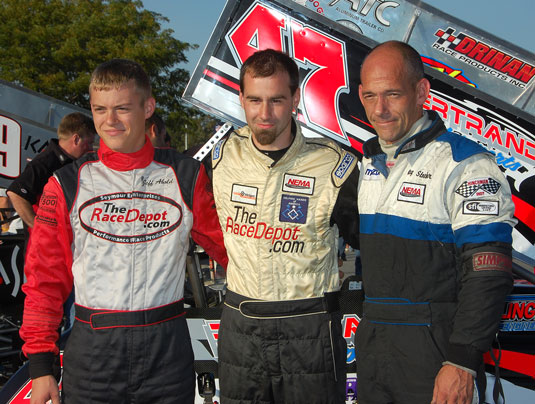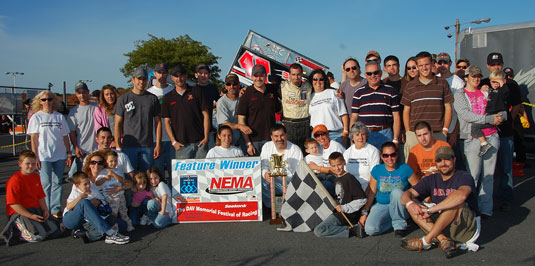 NEMA Feature - Seekonk DAV - 10/12/08
Pos.
#
Driver
Hometown
Owner
1
47
Randy Cabral
Plymouth, MA
Tim Bertrand
2
29
Jeff Abold
Pennellville, NY
Bobby Seymour
3
26b
Greg Stoehr
Bridgewater, MA
Greg Stoehr
4
98
Bobby Santos III
Franklin, MA
Robert Santos Jr.
5
5
William Wall
Shrewsbury, MA
Wall Motorsports LLC
6
4
Nokie Fornoro
Stroudsburg, PA
Mike Jarret
7
7ny
Adam Cantor
Dix Hills, NY
Cantor Racing
8
22
Chris Leonard
Pelham, NH
Dave Leonard
9
45
Joey Payne
Fairlawn, NJ
Gene Angelillo
10
44
Erica Santos
Franklin, MA
Ed Breault
11
87
Doug Cleveland
Sudbury, MA
Doug Cleveland
12
P30
Mike Horn
Ashland, MA
Mike Horn
13
99
Aaron Wall
Shrewsbury, MA
Power Point
Race Cars
14
88
Abby Martino
Norfolk, MA
Joan Martino
15
77m
Jim Miller
Weymouth, MA
Mike Luggelle
16
11
Howie Bumpus
Lakeville, MA
Charles Camosse
17
9
John Zych Jr.
Mendon, MA
John Zych
18
21
Barry Kittredge
Marlboro, MA
Barry Kittredge
19
16
Matt O'Brien
Wilmington, MA
Jim O'Brien
20
78
Brian Cleveland
Billerica, MA
Linda Cleveland
21
2
Lee Bundy
Kennebunkport, ME
Lee Bundy
22
28
Paul Luggelle
Holbrook, MA
Paul Luggelle
23
DNF
30
Paul Scally
Raynham, MA
Paul Scally
24
DNS
77
Andy Shlatz
Enfield, CT
Mike Luggelle
25
DNS
47b
Jeremy Frankoski
Huntington, NY
Tim Bertrand
26
DNS
39
Randy Cabral
Plymouth, MA
Tim Bertrand
Cabral NEMA DAV Winner
Seekonk, MA - Even when Randy Cabral's luck has been bad this year, it's turned out good. "It's been that kind of year for me," offered Cabral after capturing his seventh Northeastern Midget Association victory of the season Sunday at Seekonk Speedway's D. Anthony Venditti Memorial.

Coming from 12th, Cabral (Bertrand 47) passed Greg Stoehr (Stoehr 26b) in traffic in turn one on lap 21. He went on to beat a closing Jeff Abold (Seymour 29), putting a positive luster on what began otherwise.

The car broke a lower drive shaft in Saturday's qualifying. "It happened going down the backstretch on the last lap and I coasted over the finish line," explained Cabral. "That was the difference between winning and not winning. If I didn't finish sixth I wouldn't have started 12th. Further back, I don't know if I could have done it. If it had been a one-day show, we would not have run."

When Stoehr passed early leader Doug Cleveland five laps in, Cabral was third. A lap later he was challenging and when the only caution showed eight laps in, Stoehr and Cabral were almost a straightaway ahead of the battle for third between Bobby Santos III and Joey Payne Jr.

Stoehr got the jump on the green with Cabral following. Abold quickly moved into third.

"Greg and I were in traffic," Cabral explained the pass. "I went in pretty deep and I got the car a little sideways. We bumped a little bit. He got into my nerf bar. It was good hard racing."

Stoehr was not aware they hit. He was "compensating for a badly loose racecar" which after "five or six laps did us in." Abold, who came from 11th, passed Stoehr with two left. The leaders ran in traffic for the last 14 laps.

Bobby Santos III and William Wall completed the top five. Nokie Fornoro, Adam Cantor, Chris Leonard and Erica Santos were sixth through tenth. Fornoro, Cantor and Erica Santos had the last three starting spots.

Cabral's Saturday was made worse when teammate Jeremy Frankoski suffered a bruised lung and a concussion in a Saturday crash. He was taken to Rhode Island Hospital in nearby Providence but was on hand Sunday.

"I really wanted to win for [owner] Tim Bertrand," said Cabral, pointing out "the car was junk on Saturday and Tim thought about it all night. We made two more changes before the race. He found what we needed."

Jesse State won the 25-lap NEMA Lites race on Saturday night. State beat Jake Stergios and Shaun Gosselin.

NEMA continues its traditional season ending with a spot in this weekend's World Series at Thompson Speedway.

NOTES: NEMA honored five-time champion Dave Humphrey, a recent inductee into the National Midget Hall of Fame…Steve Grant started the feature from the track.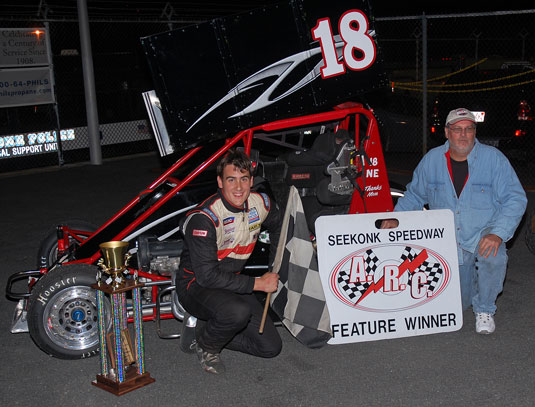 Lites Feature - Seekonk DAV - 10/11/08

Pos.
Car #
Driver
Owner
1
18
Jesse State
Jim State
2
11
Jake Stergios
Bill Stergios
3
26
Shaun Gosselin
Gosselin Racing
4
09
William Wall
Ronald Doty
5
33
Shawn Torrey
Shawn Torrey
6
35
Anthony Marvuglio
Glen Cabral
7
51
Russ Wood Jr.
Russ Wood
8
10
Matt Bettencourt
F. Bettencourt Trucking
9
28
Paul Luggelle
Paul Luggelle
10
20
Chris Haskell
Andy Shlatz
Stamford, CT
$100 Hard Charger Award to
Shaun Gosselin #26

NEMA Heats - Seekonk DAV - 10/11/08
Heat 1 - 26, 45, 87, 30, 99
Heat 2 - 29, 98s, 5, 77, 88

Photos by NormMarx.com

NEMA Owner Battle Moves to Seekonk
Tim Bertrand holds a 43-point edge on Bob Santos Jr. atop the owners
point standings as the Northeastern Midget Association heads to Seekonk Speedway's D.Anthony Venditti Memorial this weekend.

The respective chauffeurs - Randy Cabral in the Bertrand #47 and Bobby Santos III in the Santos #98 - are in a group of seven active drivers with success at the "Cement Palace." Seekonk is one of the classic Midget venues in the nation.

Cabral and rookie Jeff Abold were Seekonk winners previously this year. Each also has a second. The all-time Seekonk winner is Nokie Fornoro with eight. Others include, in addition to Cabral (4) and Abold, Lou Cicconi Jr. (3), Jeff Horn (3), Greg Stoehr (3), Joey Payne Jr. (2) and Santos.

The competitive NEMA Lites will be on hand, Jesse State and Shaun
Gosselin both looking for a second 'Konk checkered."

"Bobby and I have talked about how strange this is," says Cabral, a
six-time winner this year. "Neither of us is a point chaser but we both
want it badly for our owners, and in Bobby's case his dad. They both
work very hard."

Cabral points out, however, Abold's win in the Seymour #29 earlier this
season is classic testimony to the unpredictability of Seekonk. He
posted one of the biggest upsets in club history at Seekonk - the 2002
Boston Louie.

Cabral takes a wide lead over Joey Payne Jr. in the drivers standings.
There is, however, much that remains to be decided as NEMA prepares for it 73rd Seekonk feature going back to Memorial Day of 1953. Fred Meeker won the club's first- ever race that day.

A scant 16 points separate third-through-five - Santos, Adam Cantor
(Cantor 7ny) and Erica Santos (Breault 44) - in the driver standings.
Positions sixth-through-10 - Stoehr (Stoehr 26), Jeremy Frankoski
(Bertrand 47b), William Wall (Wall 5), Nokie Fornoro (Jarret 4) and John Zych Jr. (Zych 9) - are no less unsettled.

Stoehr, Ed Breault and TSR Motorsports (Mike Keeler) are presently
battling for the last top-five spot in the owners standings.

The Bertrand team comes to Seekonk off a dominating performance last week at Waterford Speedbowl's Finale. Not only did Cabral and Frankoski finish one-two but Todd Bertrand won the Lites race.