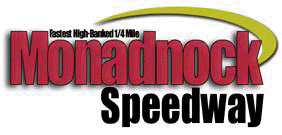 KAYEM HOT DOG NIGHT
SAT. JULY 26th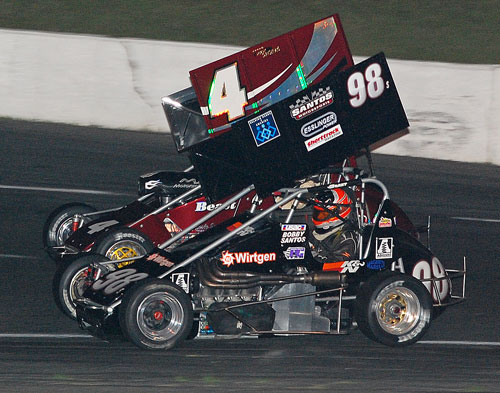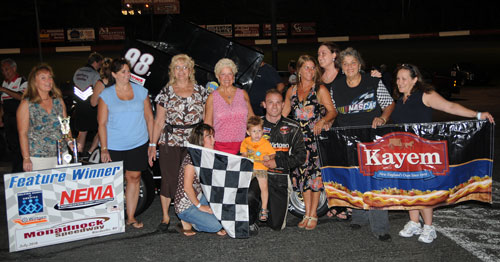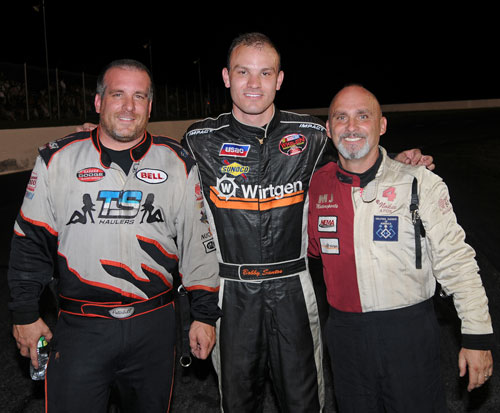 -
Monadnock Speedway - 7/26/08
Pos.
#
Driver
Hometown
Owner
1
98
Bobby Santos III
Franklin, MA
Robert Santos Jr.
2
45
Joey Payne
Fairlawn, NJ
Gene Angelillo
3
4
Nokie Fornoro
Stroudsburg, PA
Mike Jarret
4
7ny
Adam Cantor
Dix Hills, NY
Cantor Racing
5
44
Erica Santos
Franklin, MA
Ed Breault
6
63
Mike Keeler
Danbury, CT
TSR Motorsports Inc.
7
5
William Wall
Shrewsbury, MA
Wall Motorsports LLC
8
A1
Jeff Horn
Ashland, MA
Jeff Horn
9
99
Aaron Wall
Shrewsbury, MA
Power Point
Race Cars
10
87
Doug Cleveland
Sudbury, MA
Doug Cleveland
11
9
John Zych Jr.
Mendon, MA
John Zych
12
26b
Greg Stoehr
Bridgewater, MA
Greg Stoehr
13
21
Barry Kittredge
Marlboro, MA
Barry Kittredge
14
16
Matt O'Brien
Wilmington, MA
Jim O'Brien
15
88
Abby Martino
Norfolk, MA
Joan Martino
16
DNF
47
Randy Cabral
Plymouth, MA
Tim Bertrand
17
DNF
35
Lee Bundy
Kennebunkport, ME
Glen Cabral
18
DNF
77
Andy Shlatz
Enfield, CT
Mike Luggelle
19
DNF
28
Paul Luggelle
Holbrook, MA
Paul Luggelle
20
DNS
77m
Jeremy Frankoski
Huntingon Station, NY
Mike Luggelle
21
DNS
22
Chris Leonard
Pelham, NH
Dave Leonard

Monadnock NEMA Honors To Santos
Coming from the ninth starting spot, Bobby Santos III grabbed the lead with two laps remaining and captured the 25-lap Northeastern Midget Association feature Saturday night at Monadnock Speedway. It was the third win of the season for Santos who was making his first-ever start on the quarter mile.

Santos, in the family #98, "took the line away" from Nokie Fornoro (Jarret #4) in one and two. It capped an amazing run to the front over the final eight laps. It was his 11th career NEMA win.

The turning point came on lap 17 when Greg Stoehr (Stoehr #26b), running fifth, and Lee Bundy (Cabral #35) got together. Point leader Randy Cabral (Bertrand #47), running sixth, suffered a broken heim joint and was eliminated. Stoehr was penalized at the conclusion of the event.

Fornoro, who had led since lap two, resumed command with Joey Payne Jr. (Angelillo #45) and Adam Cantor (Cantor Racing 7ny) in pursuit. With four laps left Santos got Cantor and quickly closed on the top two. He moved past Payne in one and two with four remaining.

"It was an exciting night," understated Santos who "thanked" Fornoro for lessons involving the tricky Monadnock.

"I didn't need that last caution," offered Fornoro, claiming "the motor got a little slow on us" in the closing laps.

Payne, who started eighth, grabbed second on the last lap. Cantor and Stoehr followed Fornoro.

Fornoro was leading when the red showed for rain three laps in. He charged back into the lead on the restart but couldn't shake Cantor. Payne, Santos, Cabral and Stoehr, running behind the leaders, were all in traffic when the final caution showed.

Erica Santos (Breault #44) was sixth while Mike Keeler, in his first ride in the Seaman #63, claimed seventh. William Wall (Wall #5), Jeff Horn (Horn A1) and Aaron Wall (Power Point #99) completed the top 10.

It was the first time this season Cabral has finished out of the top two. Despite the 17th place finish, he retains "a comfortable yet impacted" lead over Payne in the driver standings. Bob Santos Jr. did, however, make a sizable gain on Bertrand in the owner standings.

Santos' joins his late grandfather Bob on the Monadnock win list. "The Frito Bandito" captured five modified shows there back in 1973.

Points will be a concern when NEMA heads to Waterford Speedbowl Saturday night for Nostalgia Weekend. Cabral will be after a fourth straight Speedbowl victory.

NEMA RETURNS TO MONADNOCK
President Mike Scrivani Jr. recalls vividly "asking the fans to please sit down" when the Northeastern Midget Association returned to Monadnock Speedway last summer. NEMA had not raced on the trick quarter mile for 10 years.

"The people couldn't believe how fast we were," Scrivani says. "They had us at 105 mph. The people were so excited they were standing up and we had to ask them to set down so the scorers and the announcers could see."

Saturday night will be the second of the season and 25th overall Monadnock visit for NEMA. Joey Payne Jr. was the winner earlier this year. Greg Stoher was the winner last summer.

"It is a drivers' track, a place for the veterans," continues Scrivani, pointing to the track's "totally different ends." It takes "some adjusting," he adds. Nokie Fornoro won for Scrivani on the way to the championship way back in 1981.

Monadnock's NEMA history begins with Dave Humphrey's win for John McCarthy on July 9, 1972. Payne gave Gene Angelillo his 12th Monadnock win, 11 of them coming with Drew Fornoro.

NEMA heads into the weekend with four winners in seven races – point leader Randy Cabral has four, Bobby Santos two and Payne and 19-year old Jeff Abold one apiece. It kicks off a busy stretch drive, the club active the next four Saturday nights, Aug. 2 and Aug. 16 at Waterford Speedbowl flanking Seekonk's Boston Louie on Aug. 9.

"Things are good, very good," insists Scrivani pointing to the 44 cars the last time out at Seekonk – 17 of them NEMA Lite entries. "We've got a lot of cars, lots of very good equipment and lots of races. Everybody is excited."

Cabral, who has yet to finish worse than second, cautions he's taking nothing for granted. While he won four times, he has lost the lead twice. "It is not smart to start believing nobody else has anything for me," he said after running second to Abold at Seekonk.

Fornoro, Jeremy Frankoski, Erica Santos, Lou Cicconi Jr. and Jeff Horn are all legitimate contenders every time NEMA runs.
NEMA NOTES – Following the Tuesday night victory at Seekonk, Bobby Seymour had plenty of accolades for Abold: "He's got a lot of talent; he is good on restarts and he has a good teacher in [his father] Pat," said Seymour. Will the team win again? "We've got a good combination, just like [Randy] Cabral and the Bertrands," he answers. "That's what its all about, the whole package." … Cabral and the Bertrand #47 is clearly the target. Both Bobby Santos (at Stafford) and Abold made special mention of beating Cabral in Victory Lane … Jeff Horn and Joey Payne remain at the 19 career win mark … Last year Jeremy Frankoski was the first rookie to win a feature in several years. Abold's win gave the club two in as many years.