Nostalgia Weekend - Sat. July 25th
Vintage race cars on display from New England Antique Racers (NEAR), Senior Tour Auto Racers (Star)
and Vintage Midgets.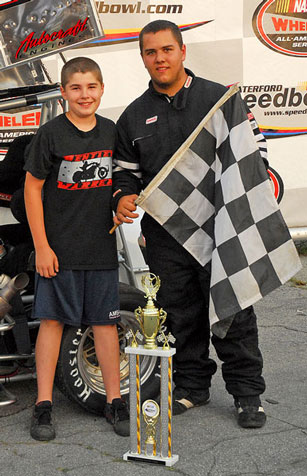 Lites Feature - Speedbowl - Sat. July 25th
Pos.
#
Driver
Hometown
Owner
1
29
Anthony Nocella
Woburn, MA
Matt Seymour
2
11
Jake Stergios
Candia, NH
Bill Stergios
3
28
Paul Luggelle
Holbrook, MA
Paul Luggelle
4
48
Todd Bertrand
Suffield, CT
Tim Bertrand
5
35
Anthony Marvuglio
E. Bridgewater, MA
Glen Cabral
6
20
Chris Haskell
Southampton, MA
Andy Schlatz
7
22
Rick Hart
Nassau, NY
Rick Hart
8
09
Wade Matteson
-
Ron Doty
9
12
Edward LeClerc Jr.
Taunton, MA
Edward LeClerc Sr.
10
DNF
5c
Joey Chick
Hubbardston, MA
Bob Chick
11
DNF
36
Eric Cabral
Manchester, NH
Glen Cabral
12
DNF
47
Randy Cabral
Plymouth, MA
Glen Cabral
13
DNF
52
Kevin Park
Foxboro, MA
Kevin Park
14
DNS
00
Shawn Torrey
Marshfield, MA
Paul Luggelle
Second Lites Win For Nocella
Waterford, CT – Anthony Nocella led all but four laps en route to a NEMA Lites victory Saturday night at Waterford Speedbowl. Starting fifth, the 20-lapper was the second win of the season for Nocella.

"It feels good to get the second one," said Nocella who steered the Seymour #29 inside of pole sitter Paul Luggelle exiting four. Running to the finish without a caution, he "liked" the added room the Speedbowl allowed.

Jake Stergios, who came from deep in the field, won a series of individual battles before settling for second. He got Anthony Marvuglio for third with eight to go. Luggelle was dispatched with five remaining and Stergois was closing on the leader.

"I was not aware of Jake," said Nocella. "I just kept going as hard as I could." A Whip City Speedway Mini Sprint competitor prior to this year, he credits car owner Bobby Seymour with making the move to asphalt.

Luggelle was third while Todd Bertrand won a late race battle with Anthony Marvuglio for fourth.