Fri. June 26th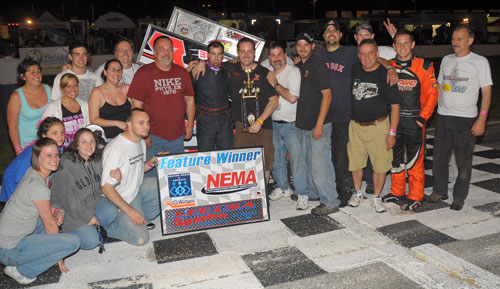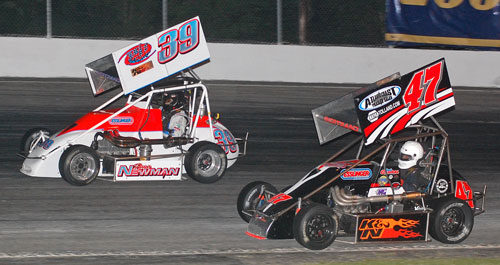 Feature - Lee USA Speedway - Fri. June 26th
Pos.
#
Driver
Hometown
Owner
1
47
Randy Cabral
Plymouth, MA
Tim Bertrand
2
39
Ryan Newman
South Bend, IN
Tim Bertrand
3
45
Russ Stoehr
Bridgewater, MA
Gene Angelillo
4
63
Mike Keeler
Danbury, CT
TSR Motorsports Inc.
5
7ny
Adam Cantor
Dix Hills, NY
Cantor Racing
6
44
Erica Santos
Franklin, MA
Ed Breault
7
4
William Wall
Shrewsbury, MA
Mike Jarret
8
26b
Greg Stoehr
Bridgewater, MA
Greg Stoehr
9
9
John Zych Jr.
Mendon, MA
John Zych
10
99
Chris DeRitis
PA
Power Point
Race Cars
11
2
Lee Bundy
Kennebunkport, ME
Lee Bundy
12
77
Mike Luggelle
Hull, MA
Mike Luggelle
13
28
Paul Luggelle
Holbrook, MA
Paul Luggelle
14
55s
Andy Shlatz
Enfield, CT
Mike Luggelle
15
DNF
55w
Aaron Wall
Shrewsbury, MA
Wall Motorsports LLC
16
DNF
3
Jim Miller
Weymouth, MA
Mike Luggelle
17
DNF
21
Abby Martino
Norfolk, MA
Joan Martino
18
DNF
22
Chris Leonard
Pelham, NH
Dave Leonard
19
DNF
30
Paul Scally
Raynham, MA
Paul Scally
20
DNF
50
Neil Blatt
Holbrook, NY
Pete Pernisiglio
21
DNS
87
Doug Cleveland
Sudbury, MA
Doug Cleveland
Cabral Beats Teammate Newman
at Lee USA Speedway
Lee, NH – Randy Cabral passed Bertrand Motorsports teammate Ryan Newman coming out of turn two on lap 13 and went on to score a convincing win in Friday night's 25-lap Northeastern Midget Association feature at Lee USA Speedway.

After taking second on a lap 11 restart, Cabral needed only two laps before slipping past NASCAR Sprint Cup star Newman. Only a lap 22 caution impeded his romp to a second win in as many 2009 races.

Cabral called grabbing second on the restart as key to the win, his first ever at Lee. Lining up third, he "just stayed on it and followed Ryan. It was one of those let's see what happens moves."

Dropping Mike Keeler to third, Cabral was immediately on Newman's tail. The winning move was swift. "Sure, I was aware it was Ryan Newman," he said. "He is a tremendous, very talented driver, but I've raced with Nokie Fornoro and Russ Stoehr and they're not exactly slouches."

Russ Stoehr (Angelillo) passed Keeler on lap 17 and went on to claim third in a new chassis. Adam Cantor (Cantor 7ny) came from 12th to claim fifth

Newman, a one-time national Midget contender, disappointed no one. After the initial start resulted in a yellow, Ryan took off from the outside pole and before yellow flew again had half straightaway on Keeler. Further back, contact as a result of hard racing between Cabral and Greg Stoehr resulted in the latter spinning in turns one and two.

"I feel like a idiot," Cabral said of the incident with Stoehr. "I drove it in too hard and Greg checked up a little trying to get around a lapped car. I ran into the back of him and that is not my style."

Cabral's 13.834 was the fastest lap of the feature. Keeler and Greg Stoehr were the heat winners.
Jake Stergios' late rally resulted in a NEMA Lites victory over Eddie LeClerc Jr. Russ Wood was third in the Lites race with Paul Luggelle and Rick Hart completing the top five.

NEMA moves on to Thompson International Speedway on Thursday, July 2, for the Marvin Rifchin Trophy Race.


Car owner Tim Bertrand reports that Ryan Newman came determined to win in the Bertrand #39. "There were a lot of changes made including replacing a spring during the night and he did them himself," said Bertrand. "He got right down on the ground working on the car."


Newman's best time in the feature was 13.929, a tick off winner Randy Cabral's race-best 13.834.


In the area with the Sprint Cup Series at nearby New Hampshire International Speedway, Newman did tell the fans he loved the opportunity to perform in New England. Bertrand says it could happen again.


The crew played a big role in Russ Stoehr's run from ninth to third in the Angelillo #45. The crew made several adjustments including moving the wing after an unsatisfactory heat effort.


William Wall was in the Jarret #4 replacing an under the whether Nokie Fornoro.


Adam Cantor had another fine run coming from 12th to fifth behind Mike Keeler, the latter very impressive in the first heat.


The Cabral/Bertrand team has now conquered five tracks – Lee, Monadnock, Seekonk, Thompson and Waterford. It was the 23rd career win for Cabral.


Between the NEMA and the NEMA Lites divisions, there were 37 Midgets in the pits.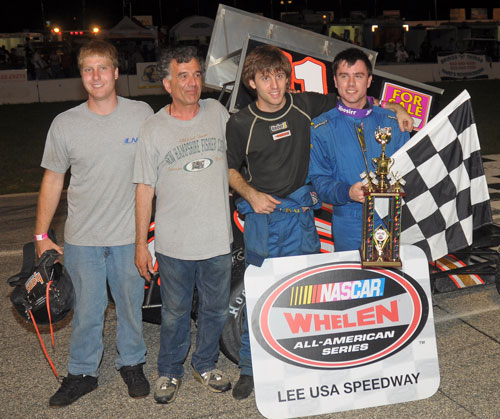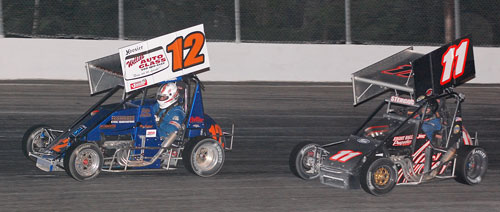 Lites Feature - Lee USA Speedway - Fri. June 26th
Pos.
#
Driver
Hometown
Owner
1
11
Jake Stergios
Candia, NH
Bill Stergios
2
12
Edward LeClerc Jr.
Taunton, MA
Edward LeClerc Sr.
3
51
Russ Wood Jr.
Pelham, NH
Russ Wood
4
28
Paul Luggelle
Holbrook, MA
Paul Luggelle
5
22
Rick Hart
Nassau, NY
Rick Hart
6
5c
Joey Chick
Hubbardston, MA
Bob Chick
7
48
Todd Bertrand
Suffield, CT
Tim Bertrand
8
35
Randy Cabral
Plymouth, MA
Glen Cabral
9
29
Anthony Nocella
Woburn, MA
Matt Seymour
10
4
Chris Haskell
Southampton, MA
Bobby Seymour
11
36
Eric Cabral
Manchester, NH
Glen Cabral
12
52
Kevin Park
Foxboro, MA
Kevin Park
13
DNF
93
Jake Smith
Stroudsburg, PA
Ted Smith
14
DNF
00
Josh Woollam
Buzzards Bay, MA
Paul Luggelle
15
DNS
33
Shawn Torrey
Marshfield, MA
Shawn Torrey
16
DNS
66l
Joe Spinzola
Scituate, MA
Mike Luggelle
Stergios Battles Way to Lites Win
Lee, NH – Jake Stergios won a number of battles before capturing the war that was the NEMA Lites feature Friday night at Lee USA Speedway. Stergios came from 11th and didn't take the lead until lap 18 of the 20 lap feature.

Six laps in, Stergios, driving the family #11, was battling for third with Russ Wood Jr. and Rick Hart, while almost a straightaway behind the battle for the lead between Eddie LeClerc Jr. and Paul Luggelle. LeClerc blasted to the front on the initial start and then ran away again on a third-lap restart.

While Luggelle was closing in on LeClerc, Wood, Hart and Stergios battled, often side-by-side. When the trio became single file, they quickly closed the gap and by lap 12 Wood owned second. A lap latter Stergios was third.

Stergios, battling temperature woes, chased Wood for four laps before grabbing second coming out of two on lap 12.

LeClerc held on for second with Wood right on his tail. Luggelle and Hart completed the top five.

Luggelle and Todd Bertrand were the head winners.

The Lites get back into action at Lee USA Speedway on July 4th for a holiday weekend special 2 PM Saturday show featuring Monster Trucks.
Friday
June 26
7:15 PM

Lee USA Event Schedule for 6-26 HERE
Note: "License Pit Ticket" requires a NASCAR License


The Bertrand #39 with Jeff Horn at the 2009 NEMA opener at Monadnock

NASCAR Star Ryan Newman
Slated to Race at Lee USA
Lee, NH (June 8, 2009) - - Before there was stardom and 13 wins on the NASCAR Sprint Cup circuit, the biggest win of his successful career, the 2008 Daytona 500, and before becoming one of only 19 drivers to have recorded at least one win in each of NASCAR's top three Series - Sprint Cup, Nationwide and Truck , Ryan Newman was a grass roots racer. An open-wheel driver with a passion to win. The "Rocketman" as he's known, did, many times.

Newman will try to capitalize on that experience in open wheel racing when he pilots the the #39 NEMA Midget "Hot Pepper Promotions" sponsored car on Friday, June 26, 2009 at Lee USA Speedway in Lee, New Hampshire. The car is
owned and prepared by Bertrand Motorsports.

A racer since he was four-and-one-half years old, Newman later saw success in midget and sprint car competition under the United States Auto Club banner.

The South Bend, Indiana., racer is a former "Night Before The 500" winner, a traditional race held prior to the Indianapolis 500, and is the only driver to have won USAC National rookie honors for Midget-Sprint-and Silver Crown competition. He has competed in 170 races under the USAC sanction with 17 wins, 60 top five finishes, and 96 top 10 finishes.

Newman will compete against some of the very best midget drivers in the Northeast under the Northeastern Midget Association sanction. Randy Cabral, Russ Stoehr, many time champion Nokie Fornoro, 34 year veteran Doug Cleveland, and young hot shoe Jeff Abold, lead the list of early entries.

In addition, the NEMA Lites and a full program of NASCAR Whelen
All-American Series racing is scheduled for a 7:15 PM start. For additional info log on to www.leeusaspeedway.com

Ryan Newman Highlights
NEMA Field at Lee

Brockton, MA – Looking to add another track to its list of "solved" venues, Bertrand Motorsports will "double team" Lee USA Speedway Friday night, June 26. NASCAR Sprint Cup regular Ryan Newman and defending champion Randy Cabral will be in Bertrand equipment in the 25-lap Northeastern Midget Association feature.

Cabral comes to the challenging third-mile off a victory in NEMA's season opener at Monadnock Speedway a month ago. "That was our first win there and we want to continue to add tracks to the list," said team owner Tim Bertrand.

Gene Angelillo, an eight-time Lee USA winner, heads up a group with equally committed goals. Angelillo's car was a crash victim at Monadnock. He and driver Russ Stoehr will be coming to Lee with a new East chassis. Stoehr has won twice at Lee, both times back in 1991.

The NEMA Lites will be at Lee as well.

The 2008 Daytona 500 winner, Newman brings impressive open-cockpit credentials to the Bertrand #39. Among his 17 USAC victories is a Night Before The 500 checkered. Currently driving for the Stewart-Hass team, the popular Newman is the only driver to have won Rookie of the Year honors in USAC Midgets, Sprints and Silver Crown cars.

After a number of changes suggested by Newman over the past couple of weeks via phone discussions with Bertrnad, the #39, tested by Ryan Preece at Stafford Speedway this past Friday was "very impressive" according to Bertrand. Newman, a Purdue University grad, is "anxiously awaiting another opportunity to drive a Midget" said Bertrand.

While the attention may be magnified, Angelillo points out "a lot of other teams have something to prove" and predicts another great race on what has become one of the most challenging tracks on the NEMA schedule. It will be the 25th NEMA event at Lee going back to 1966.

Second at Monadnock, Mike Keeler admits to "a fondness" for Lee. He aims to give the constantly improving TSR Motorsports operation its first NEMA win. Wall Motorsports will double-team the opposition as well, brothers William and Aaron collecting a third and fourth at Monadnock. Adam Cantor, who came from last to fifth in a damaged racer at Monadnock, is another threat.

Youngster Jeff Abold is expected to be in the Seymour car, part of a field that will include established NEMA standouts Nokie Fornoro, Erica Santos, Greg Stoehr, John Zych Jr. and Doug Cleveland.

Cabral was second in NEMA's only visit to Lee last season and is ready for the challenge as well, stating that the team has been busy installing a fresh engine for the occasion and making significant chassis changes from their Monadnock setup. He hopes to duplicate last year's start when he won the first two events on the schedule.

NEMA Winners at Lee USA Speedway

First: Walt Gale, 1966;
Last: Bobby Santos III, 2008.

No. -Driver - First - Last
6 - Drew Fornoro - 1985 - 1990
3 - Jeff Horn - 1987 - 1994
2 - Nokie Fornoro - 1986 - 1989
2 - Dave Humphrey - 1967 - 1985
2 - Russ Stoehr - 1991 - 1991

One-time Lee USA Speedway Winners:
Joey Coy (1991), Mike Favulli (1988), Walt Gale (1966), Mike Osite (1987), Joey Payne Jr. (2003), Bob Resco Jr. (1994), Bobby Santos III (2008), Ben Seitz (2004), Bobby Seymour (1990).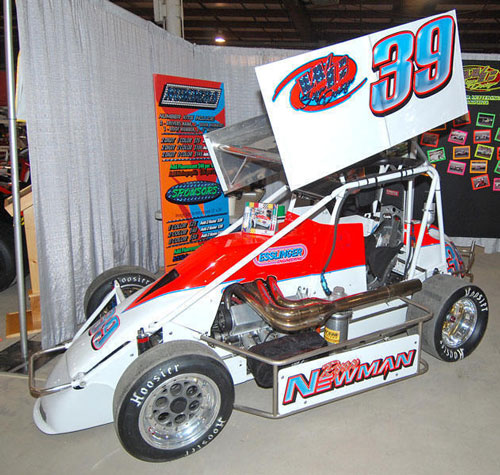 | | | |
| --- | --- | --- |
| Jeff Horn | Ryan Newman | Cole Carter |
Impressive "Guest List"
For Bertrand Team
Brockton, MA - Jeff Horn, a New England open-cockpit mainstay, will be the first of several high profile names to drive a Bertrand midget in 2009 Northeastern Midget Association competition. Horn, who has 19 career NEMA wins, will drive the Esslinger-powered #39 Drinan car at the club's season opener Saturday night May 23 at Monadnock Speedway.

Tim Bertrand and Randy Cabral, in the #47, will begin defense of the owner and driver championships at Monandock. It is the first of 17 races on the '09 schedule.

According to Bertrand, current Sprint Cup competitor and one-time USAC open-cockpit star Ryan Newman will drive the #39 at Lee USA Speedway on Friday night, June 26. Current USAC driver Cole Carter, son of the legendary open wheel chauffeur Pancho Carter, will drive at Waterford Speedbowl on July 25 and at Seekonk's "Boston Louie" on Aug. 8 in a new car that is currently being constructed.

Bertrand also said Newman is "tentatively scheduled" to drive the car at Lee and Canaan Speedways in September. There is also the possibility of other drivers to appear within the Bertrand stable in 2009 dependent upon sponsorship opportunities that the team is working on.

"Jeff Horn is the perfect choice to start this program off," said Bertrand. "We are there to race but he'll also be feeling the car out a little bit for us to ensure Ryan has a solid ride for Lee. Monadnock is a place where experienced guys seem to do well and few guys know the place better than Jeff. I also like Jeff because he respects the equipment having owned his own cars for years."

Plans for Newman to drive for Bertrand at Lee last year were rained out. Currently driving the US Army car for the Stewart-Hass team, Newman was one of the top open cockpit drivers in the nation before moving to NASCAR. He has a Midget and Silver Crown championship on his resume.

Carter, who will drive midgets, sprints and silver crown cars this year, is the third generation of Carter racers beginning with grandfather Duane and his late uncle Dana. Father Pancho, a sprint and champ car stalwart for many years, made 17 Indianapolis 500 starts.

Speed 51 Radio to Fill the Airwaves on RaceTalkRadio.com with Racing Action from New Hampshire to Florida
ACT's Governors Cup, NEMA Midgets,
Blizzard Series and Multiple Days of Trackside Now Coverage Highlight a Busy Weekend for the Leader in Asphalt Short Track Racing News
Speed 51 Radio, like its partner Speed51.com, has done so much for short track racing in just a short amount of time. In just a matter of months, races from all across the country have been broadcast over the Internet thanks to 51 Radio. Now, 51 Radio along with Racetalkradio.com are set to bring you live coverage from multiple events this weekend. The line-up is filled with high-profile events from up and down the East Coast.

Radio coverage includes the NEMA Midget event on Friday night, June 26th at Lee USA Speedway in Lee, New Hampshire.

"We've started calling this block of time New England Speedweeks," said Speed51.com Editor Mike Twist. "OK, so it isn't really "weeks" long, but there is enough racing action to fill a week or two of time. Over the course of three days, we'll be seeing two ACT Late Model races, a Modified Tour race, a Camping World East race, a PASS North race, Midgets and more take place in a three-state area of Northern New England. It's mind-blowing to think of all of that action and we're so excited to be able to bring that back to the fans with on Speed51.com as well as on Speed 51 Radio and RaceTalkRadio.com"