Wednesday, July 15th!
$10K to Win100 Lap Open Mods Race
NEMA Midgets - Pro 4 Mods!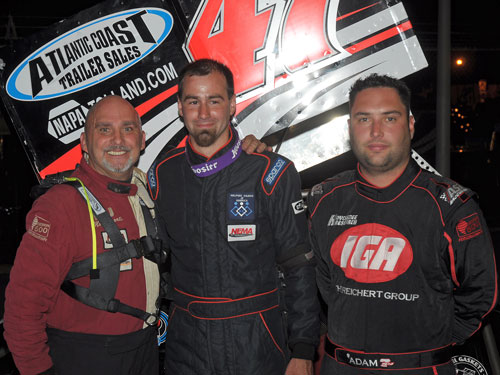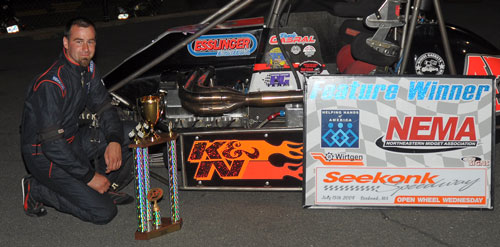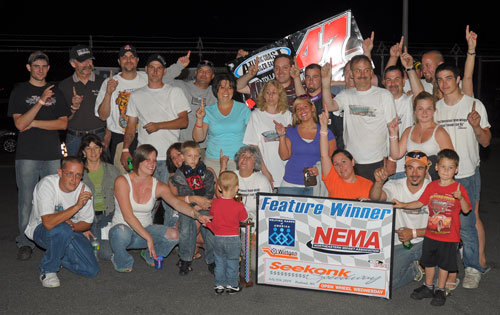 Lap 1: racing 5 wide
on the backstretch!
Photos by NormMarx.com
25 Lap Feature - Seekonk - Wed. July 15th
Pos.
#
Driver
Hometown
Owner
1
47
Randy Cabral
Plymouth, MA
Tim Bertrand
2
4
Nokie Fornoro
Stroudsburg, PA
Mike Jarret
3
7ny
Adam Cantor
Dix Hills, NY
Cantor Racing
4
45
Russ Stoehr
Bridgewater, MA
Gene Angelillo
5
99
Chris DeRitis
Philadelphia, PA
Power Point
Race Cars
6
3m
Jim Miller
Weymouth, MA
Jim Miller
7
21
Abby Martino
Norfolk, MA
Joan Martino
8
11
Jake Stergios
Candia, NH
Bill Stergios
9
29
Anthony Nocella
Woburn, MA
Matt Seymour
10
12
Edward LeClerc Jr.
Taunton, MA
Edward LeClerc Sr.
11
28
Paul Luggelle
Holbrook, MA
Paul Luggelle
12
DNF
2
Lee Bundy
Kennebunkport, ME
Lee Bundy
13
DNF
26b
Greg Stoehr
Bridgewater, MA
Greg Stoehr
14
DNF
44
Erica Santos
Franklin, MA
Ed Breault
15
DNF
22
Chris Leonard
Pelham, NH
Dave Leonard
16
DNF
30
Paul Scally
Raynham, MA
Paul Scally
17
DNF
5
William Wall
Shrewsbury, MA
Wall Motorsports LLC
18
DNF
74
Jeff Horn
Ashland, MA
Tim Bertrand
19
DNS
5c
Joey Chick
Hubbardston, MA
Bob Chick
---
Cabral Adds Seekonk To Win List
Seekonk, MA - Coming from the eighth starting spot, Randy Cabral needed only two laps to take the lead and then go on to win the 25-lap Northeastern Midget Association feature Wednesday night at Seekonk Speedway. It was the third win of the season in four starts for Cabral and car owner Tim Bertrand.

Nokie Fornoro's restart challenge on lap 16 was the only threat for
Cabral who moved into sole possession of seventh place on NEMA's
all-time win list with 24.

Fornoro (Jarret 4) was second followed by Adam Cantor (Cantor #7ny), Russ Stoehr (Angelillo #45) and Chris DeRitis (Power Point #99).

Back-to-back cautions on laps 15 and 16 erased a commanding Cabral advantage. Fornoro, battling a damaged race car (the result of a crash in warm-ups), lined up behind Cabral on the first. He quickly assumed second on the green.

A lap and a half of side-by-side racing followed the second restart.
"My only choice was to hold him down, keep his RPM down," said Fornoro. "I kept him pinned for a couple laps but I knew I was way too free to continue."

"I kept hearing Nokie and then I didn't hear him anymore," said Cabral. "I didn't know where he was. It's never easy with Nokie in there."

Fornoro explained "I had to slow a little bit to cool down my right
rear." Cabral's fastest lap of the race - an 11.359 - came on lap 18 as he began to pull away again.

Cabral immediately went to the outside on the initial green. Heading
into turn three, he went high and DeRitis low passing first-lap leader
Chris Leonard. "I saw it and I went for it," said Cabral who went
DeRitis exiting one.

Cabral moved past Bobby Seymour on the all-time win list. "Yeah, I pay attention to that," he said. "Bobby is another guy I grew up watching win races."

It was the fourth straight top-five for Cantor who won the first heat
and blamed himself "for not leaving well enough alone" referring to the car's setup for the feature. "We'll take it and keep on improving."

Fornoro was "happy as hell" with second after another heroic effort by his crew. A broken axle sent him into the wall in warm-ups. The crew re-did the rear end and "compensated as best they could" for a bent front axle. His best lap - an 11.504, came on lap 22.

It was the best finish yet for rookie DeRitis who battled Russ Stoehr
over the final laps.

NEMA returns to action Saturday night July 25th at Waterford Speedbowl's Nostalgia Weekend.
---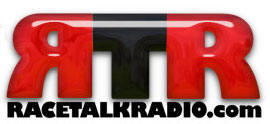 LIVE PROGRAMMING
July 15, 2009
7:00 PM Tonight!
Join Speed51 and Race Talk Radio for a little midweek open whell action from Seekonk Speedway! Bob Dillner, Matt Kentfield and Mike Twist will be live in Seekonk, MA
for all of the exciting modified, Pro-4 and
Northeast Midget Association racing starting at 7pm ET.
---
NEMA BRINGS EXPERIENCED
HANDS TO SEEKONK
Brockton, MA – The Northeastern Midget Association returns to Seekonk Speedway's Open Wheel Wednesday on July 15th. The top three on the club's all-time Seekonk win list will be in the field.

Nokie Fornoro, coming off a win at Stafford Speedway in the Jarret #4, has eight career Seekonk wins. Defending champion Randy Cabral, who has won the last two at the 'Konk, and Russ Stoehr, are tied for second with five wins apiece.

There is a seven-way tie for fourth with three wins and two of them, Jeff Horn and Greg Stoehr, will be on hand as well. Horn will again join Cabral in the #74 and #47 Bertrand cars. They were second and fifth at Stafford. Greg Stoehr will be in his own 26b and brother Russ in the Angelillo #45.

"You come prepared," offers Fornoro of Seekonk, a classic momentum track that is steeped in Midget history. "There are not a lot of secrets here. The track can be a great equalizer when it comes to equipment."

Still, surprises can happen. Jeff Abold drove the Seymour #29 to victory three Seekonk races ago, besting Cabral. Since then, the second-generation driver has finished second to Cabral twice.

Adam Cantor, working on three straight top-fives, Chris Leonard Erica Santos are all possibilities at Seekonk.

Cabral, who has not been out of the lead in driver standings since winning the '08 season opener, and Bertrand are the point leaders heading into the fourth race of the season for NEMA.




With two wins this year, Randy Cabral, who recently turned 30, has moved into a seventh-place tie with Bobby Seymour on NEMA's all-time win list, each with 23. Ahead are Drew Fornoro (85), Dave Humphrey (73), Nokie Fornoro (43), Russ Stoehr (39), Bill Eldridge (34) and Johnny Mann (29),


Cabral's teammate Jeff Horn just recently turned 64 and has shown no signs of slowing down with a great top 5 run from the back at Stafford Speedway. A native Vermonter, Horn's first race was at the lamented Catamount Stadium in Milton, VT. He is just a win shy of the 20 mark in career wins.


Other than Cabral (two firsts and a second), Adam Cantor has been the most consistent competitor so far with three straight top fives in the family 7ny.


Seekonk hosted its first-ever event, a Midget race, on May 30, 1946. Oscar Ridlon was the winner. The first-ever NEMA race was at Seekonk on May 30, 1953. Fred Meeker was the winner.

NEMA Winners at Seekonk

No. Driver First Last
8 - Nokie Fornoro - 1995 2006
5 - Randy Cabral - 2000 2008
5 - Russ Stoehr - 1996 2000
3 - Dick Brown - 1959 1960
3 - Mark Buonomo - 1997 2005
3 - Lou Cicconi Jr. - 1996 2007
3 - Jeff Horn - 1992 2001
3 - Johnny Mann - 1972 1976
3 - Ben Seitz - 2005 2007
3 - Greg Stoehr - 1993 1994
2 - Joe Csiki - 1963 1965
2 - Bill Eldridge - 1953 1964
2 - Drew Fornoro - 1986 1998
2 - Dave Humphrey - 1965 1986
2 - Joey Payne Jr. -2005 2007
2 - Al Pillion -1956 1957
2 - Bobby Seymour - 1999 1999
2 - Mike Seymour - 1994 1995
2 - Jerry Wall - 1971 1972

One-time Seekonk winners: Jeff Abold (2008), Keith Botelho (1998)
Len Boyd (1979), Ray Burke (1956), King Carpenter (1962),
Barney Davis (1957), Bob Hart (1971), Russ Klar (1967),
Red Marlow (1959), Fred Meeker (1953), Tony Romit (1960),
Bobby Santos III (2006), Dutch Schaefer (1965), Lee Smith (1983), Hank Williams (1960).