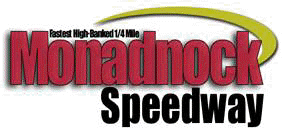 Winchester, NH - Saturday, August 1st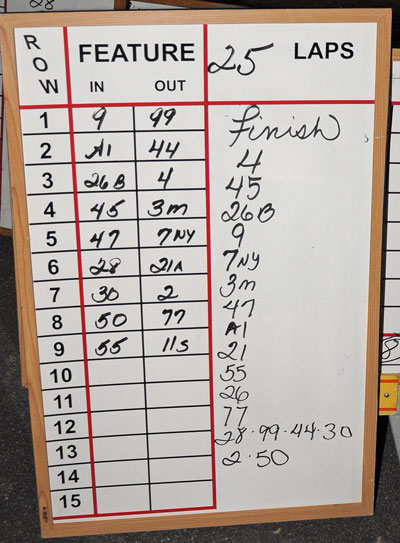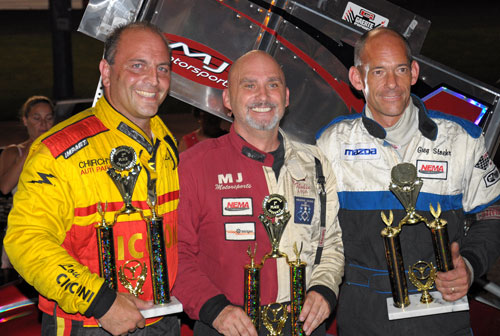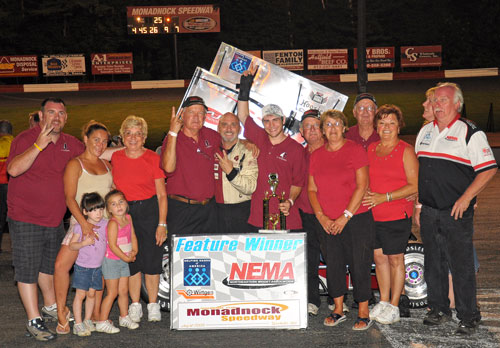 Nokie Fornoro Captures
Monadnock Midgets
Winchester, NH – Calling it an "either me or him situation," Nokie Fornoro took the lead on the third restart and went on to capture the 25-lap Northeastern Midget Association feature Saturday night at Monadnock Speedway. It was the second win of the season for the Jarret 4 team.

The third restart came with just two laps complete. It put Fornoro, who initially started sixth, on the front row outside John Zych Jr. Lou Cicconi Jr., subbing for an ill Russ Stoehr in the Angelillo 45 and Greg Stoehr were in row two.

Fornoro got the lead midway through three and four. Cicconi, the quickest in both practice and the heats, got Zych a half lap later for second. "On this track, when cars are within three tenths of each other passing can be a pain in the butt," said Fornoro who set about "trying to get as many lapped cars between me and whomever."

Fornoro had the fastest lap in the feature, an 11.892 effort on the 10th circuit.

Only a lap 16 caution slowed Fornoro although Cicconi did close over the final circuits. Greg Stoehr got by Zych on the final restart to claim third and Adam Cantor earned his sixth straight top-five.

Fornoro admitted "making a quicker jump than I should have" on the last restart. Cicconi made some "weight jacker adjustments" late in the race – "I should have done it earlier" – and felt "another five laps I might have caught him."

The second crash eliminated five cars including Chris DeRitis and Erica Santos. While Fornoro emerged undamaged ("things were going on all around me") it did affect Stoehr, Cantor and Cicconi ("I hit the rumble strip and it changed things").

Zych, managed to get the jump on the green to finally complete the first lap.
He had also pulled away on the initial green only to have yellow fly immediately. .

Within a half-a-lap, however, a Fornoro and Cicconi duel emerged. Yellow put an end to it and on the third restart, Fornoro got to take advantage of some green flag action.




The Jarret crew made three changes before settling for the "out of box setup" for the feature…"I just love racing with Lou Cicconi," said Fornoro. "I used to help him out when he was a rookie."


Cicconi on Fornoro: "He is so good, so smooth. Every time you get next to him, he finds another tenth of a second."


It was a very impressive run for Zych who had a couple of great restarts but called the final one "bad." He held his own in the company of the best Midget drivers in the east.


Stoehr, who called Monadnock his "very favorite track," said "the right guys always win here."


Cantor continues to impress. He passed three cars to get a fifth after actually being airborne in the second crash.
NEMA Feature - Monadnock - Sat. August 1st
Pos.
#
Driver
Hometown
Owner
1
4
Nokie Fornoro
Stroudsburg, PA
Mike Jarret
2
45
Lou Cicconi
Aston, PA
Gene Angelillo
3
26b
Greg Stoehr
Bridgewater, MA
Greg Stoehr
4
9
John Zych Jr.
Mendon, MA
John Zych
5
7ny
Adam Cantor
Dix Hills, NY
Cantor Racing
6
3m
Jim Miller
Weymouth, MA
Jim Miller
7
47
Randy Cabral
Plymouth, MA
Tim Bertrand
8
A1
Jeff Horn
Ashland, MA
Jeff Horn
9
21
Abby Martino
Norfolk, MA
Joan Martino
10
DNF
55s
Shaun Torrey
Marshfield, MA
Mike Luggelle
11
DNF
26
Shaun Gosselin
Oswego, NY
Gosselin Racing
12
DNF
77L
Edward LeClerc Jr.
Taunton, MA
Mike Luggelle
13
DNF
28
Doug Cleveland
Sudbury, MA
Paul Luggelle
14
DNF
99
Chris DeRitis
Philadelphia, PA
Power Point
Race Cars
15
DNF
44
Erica Santos
Franklin, MA
Ed Breault
16
DNF
30
Paul Scally
Raynham, MA
Paul Scally
17
DNF
2
Lee Bundy
Kennebunkport, ME
Lee Bundy
18
DNF
50
Neil Blatt
Holbrook, NY
Pete Pernisiglio
19
DNS
11s
Frank Swan
Plymouth, ME
Frank Swan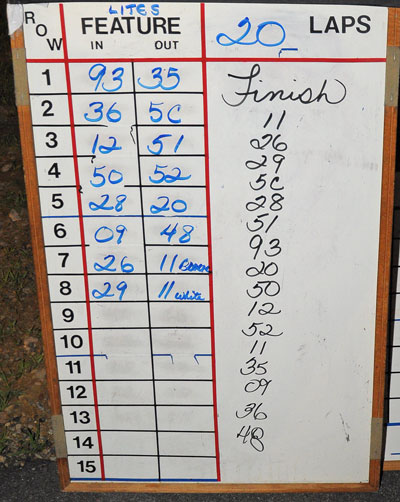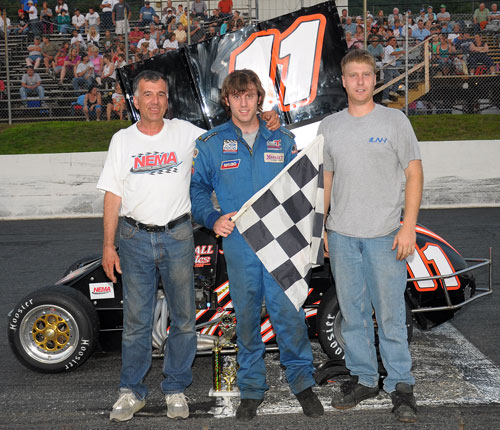 Pinch Hitter P.J. Stergios
Delivers in NEMA Lites
Winchester, NH - "Pinch hitting" for brother Jake, P.J. Stergios won the 20-lap NEMA Lites feature Saturday night at Monadnock Speedway. It was the first-ever Midget win for Stergios who took control with some nifty back stretch heroics and then survived two restarts.

Stergios passed both Jake Smith and Russ Wood Jr. to take the lead following a lap-two restart. He had a comfortable edge when yellow flew again on lap 12. He got away from Wood and three laps later beat back a restart challenge from Shaun Gosselin.

With the car "coming in better and better" and with "a lighter fuel load," Stergios was worried about the cautions. Although he "leaned it out under caution" when he came to the restarts he "brought it down slow and then just stood on it." He learned that, he says, from watching "the good Modified drivers."

Following the final restart Stergios left behind a torrid battle for second that eventually went to Gosselin. Anthony Nocella , Joey Chick and Paul Luggelle filled out the top five with Wood sixth.

It was the third win for the Stergios car, Jake, who was working Saturday night, getting the other two. "Our driving styles are very similar," explained P.J. who also credited lessons learned during practice sessions a year ago at Monadnock.
Lites Feature - Monadnock - Sat. August 1st
Pos.
#
Driver
Hometown
Owner
1
11b
P.J. Stergios
Candia, NH
Bill Stergios
2
26
Shaun Gosselin
Oswego, NY
Gosselin Racing
3
29
Anthony Nocella
Woburn, MA
Matt Seymour
4
5c
Joey Chick
Hubbardston, MA
Bob Chick
5
28
Paul Luggelle
Holbrook, MA
Paul Luggelle
6
51
Russ Wood Jr.
Pelham, NH
Russ Wood
7
93
Jake Smith
Stroudsburg, PA
Ted Smith
8
20
Chris Haskell
Southampton, MA
Andy Schlatz
9
50
Mike Muldoon
Baldwinsville NY
-
10
12
Edward LeClerc Jr.
Taunton, MA
Edward LeClerc Sr.
11
52
Kevin Park
Foxboro, MA
Kevin Park
12
11w
David Rose Jr.
Keene, NH
David Rose Sr.
13
DNF
35
Anthony Marvuglio
E. Bridgewater, MA
Glen Cabral
14
DNF
09
Chris Leonard
Pelham, NH
Bobby Seymour
15
DNF
36
Eric Cabral
Manchester, NH
Glen Cabral
16
DNF
48
Todd Bertrand
Suffield, CT
Tim Bertrand

Granite State Weekend
Ahead For NEMA & Lites

Brockton, MA – The Northeastern Midget Association will spend the weekend in New Hampshire. The "winged wonders" will be at Monadnock Speedway in Winchester on Saturday evening and
Twin State Speedway in Claremont on Sunday afternoon. It's a rare "back-to-back" situation for NEMA that will appear with the American/Canadian Tour for the first-time ever at Claremont.

The NEMA Lites will be at both tracks as well.

The NEMA point races have tightened up following Adam Cantor's victory last weekend at Waterford Speedbowl. Cantor and Cantor Racing have climbed to within 33 points (623-590) of Randy Cabral and car owner Tim Bertrand. Russ Stoehr and car owner Gene Angelillo sit third with 514.

Both Cabral, a crash victim at Waterford, and Nokie Fornoro, who ran out of gas on the last lap while leading, both come into the weekend with added incentive. Cabral had three wins and a second heading into Waterford while Fornoro has been the fastest car two of the last three races. He and car owner Mike Jarret sit fourth with 501 points.

Cantor hopes his habit of doubling up continues. He had two fifths, then two thirds before the win. "The win is definitely something to build on," said Cantor who was second to Bobby Santos III last October at Twin State.

Unlike most venues on the schedule, Twin State is not rich in NEMA history. This will be only the fourth race at Claremont. "There's still some things to learn," offers Fornoro.

Cabral won the '09 season opener at Monadnock, turning a sizzling 12.301 seconds lap in the feature. He joined a win list that also included Greg and Russ Stoehr and Fornoro. Russ Stoehr, back in the seat after several years away, has a fourth and a second the last two times out.

Greg Stoehr (430), rookie Chris DeRitis (418) and Erica Santos (369) are fifth through seventh in the driver standings. DeRitis has had two straight top-five finishes for the Power Point Race Cars team.

Newcomers Eddie LeClerc Jr. and Anthony Nocella, a winner last week at Waterford, and Jake Stergios, in his second season, head ups the Lites contender list. It is the second season for the division whose car count continues to grow. Stergios was a winner at Lee earlier this season.

Todd Bertrand, Anthony Marvuglio, Russ Wood Jr. and Paul Luggelle have all had impressive runs as interest in the Lites continues to grow.


Something to shoot for: Drew Fornoro was the last driver to sweep back-to-back weekend shows, winning at Star and Hudson on Sept. 12 and 13, 1989 for Gene Angelillo. The last time NEMA ran back-to-back shows on the same weekend was May 10 and 11, 2003 at Star and Waterford, the latter a rescheduled race. The last time NEMA scheduled back-to-back shows was July 13-14, 2002 at Star. The latter was part of NEMA's 50th anniversary celebration.
Cole Carter's first NEMA race lasted one lap, the motor in the Bertrand 74 exploding at Waterford. The Bertrands will have the car ready when the son of legendary Indy 500 competitor Poncho Carter returns for the Boston Louie Memorial at Seekonk on Aug. 8.
Claremont makes the first time NEMA has shared a docket with the ACT cars. On Aug. 15 at Waterford's Wings & Wheels, NEMA shares the agenda with two other major Northeastern Tours, the International Supermodified Association and the True Value Modified Series.

NEMA Winners at Monadnock Speedway

No. Driver First Last
11 - Drew Fornoro - 1982 1997
5 - Dave Humphrey - 1972 1985
2 - Greg Stoehr - 2007 2008
2 - Bobby White - 1976 1981

One-time Monadnock Speedway winners: Randy Cabral (2009), Nokie Fornoro (1981), Jim Lowrey Jr. (1986), Joey Payne Jr. (2008), Bobby Santos III (2008), Mike Seymour (1984), Russ Stoehr (1995)

NEMA Winners at Twin State Speedway

One-time Twin-State Speedway winners: Kyle Carpenter (2005), Dave Humphrey (1973), Bobby Santos III (2008)