THE ANGELILLO MEMORIAL 45
WATERFORD SPEEDBOWL
SAT. SEPT. 11th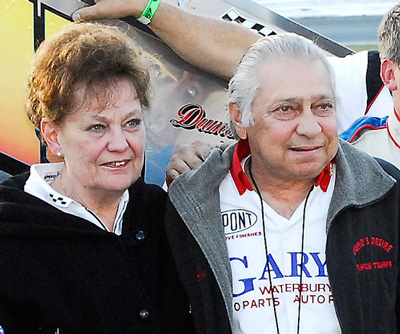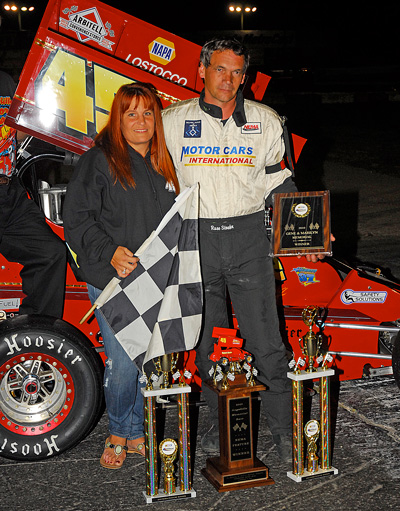 Russ Stoehr Wins Angelillo Memorial
Waterford, CT – Taking the lead on a restart with five remaining, Russ Stoehr, driving the Dumo's Desire #45, put a fairytale ending on the Northeastern Midget Association's 35-lap Angelillo Memorial Saturday night at Waterford Speedway. The late Marilyn and Gene Angelillo owned the team, now led by daughter Laura Kibbe, for over 30 years.

Stoehr, the fourth leader, snuck inside Erica Santos on the third restart with five laps remaining. It was the third win of the season and the 43rd career triumph for Stoehr who assumed the point lead as well. Santos (Breault #44) held on for second followed by Jeff Abold (Abold #29), Joey Payne (Seymour #4) and Jim Miller (Miller #3m).

Jesse State wired the accompanying 20-lap NEMA Lites race. Carl Medeiros and Ryan Bigelow were second and third.

"I can't say how lucky how I am to be able to drive this car and to have known and driven for Gene and Marilyn," Stoehr said. "They were truly pillars of the Midget racing community. I couldn't be prouder." He had the fastest lap (12.875) and it came late in the race.

Santos grabbed the lead on a lap 27 restart after the first yellow erased the half-lap lead Randy Cabral had built. She led a group that included Stoehr, Abold and Payne past Cabral, the latter nursing a failing motor (broken rocker arm). In her best run of the season, Santos ran second for much of the early going.

It took two restarts on lap 30. Santos got the jump on Stoehr the first time but it went for naught when Payne had a tire go down and spun in turn two. Explaining she "had too much time to think" under yellow, she decided "to try something different" on the second restart, bringing the field to the green much slower.

"I think people generally think we'll go outside, so I figured I could sneak inside," said Stoehr. He did that and had the lead heading into one. "I wanted that trophy so badly," said a disappointed Santos who kept up the pressure to the end, "but I'm sure Russ wanted it just as much."

There was enough time between the restarts for the Seymour crew to change the tire, Payne assuming the eighth (the last car on the lead lap) spot. Payne, who spent four years as Angelillo's driver, was very quick over the final laps, posting a 12.98. Miller was also strong at the finish.

The heartbreak prize belonged to Cabral who realized something had gone astray in the motor a couple laps before. "I checked the gauges, I didn't see any oil or water on the track so I kept going," he said. "You can never tell what will happen."

Coming from midfield, Cabral powered to the front and took the lead from Mike Horn down the back stretch with just three laps gone. He had a half-lap on the field by the halfway mark, putting half of it at least a lap down. Horn, the first leader, and Santos battled for second before the later grabbed the spot with seven down.

"I expected to be passed," said Cabral.




Stoehr and Payne had the only 12 second laps and both came late in the race.


The car Stoehr drove to his first NEMA victory was on hand, among the antique midgets performing.


Long-time NEMA writer and announcer Chris Romano, now a North Carolina resident, returned for the event and joined Pete Falconi in the announcer's booth.


"I can't tell you how happy I am that this win comes at Waterford because Terry Eames and Gene were just great friends," Stoehr told the crowd.


Only two events remain for NEMA – Seekonk Speeedway's DAV on Oct. 9-10 and Thompson's World Series on Oct. 16-17.
Heats>
Vintage
Midget>
Feature>
Photos by John DaDalt
Photos by Jim Z
NEMA Feature - Waterford - Sat., Sept. 11th
Pos.
#
Driver
Hometown
Owner
1
45
Russ Stoehr
Bridgewater, MA
Dumo's Desire Racing
2
44
Erica Santos
Franklin, MA
Ed Breault
3
29
Jeff Abold
Pennellville, NY
Bobby Seymour
4
4
Joey Payne
Fairlawn, NJ
Bobby Seymour
5
3m
Jim Miller
Weymouth, MA
Jim Miller
6
47
Randy Cabral
Plymouth, MA
Tim Bertrand
7
26b
Greg Stoehr
Bridgewater, MA
Greg Stoehr
8
9
John Zych, Jr.
Liverpool, NY
John Zych, Sr.
9
93x
Mike Horn
Ashland, MA
Jeff Horn

10

7ny
Adam Cantor
Dix Hills, NY
Cantor Racing

11

88
Britt Anderson
Mooresville, NC
Andy Anderson

12

22
Chris Leonard
Pelham, NH
Dave Leonard

13

25
Keith Botelho
Attleboro, MA
Russ Stoehr

14

8
Barry Kittredge
Marlboro, MA
Barry Kittredge

15

78

Brian Cleveland
Billerica, MA
Linda Cleveland

16

50
Anthony Marvuglio
E. Bridgewater, MA
Pete Pernisiglio,Sr
17
DNF
75
Chris deRitis
Philadelphia, PA

Ciconni/deRitis

18
DNF
30
Paul Scally
Raynham, MA
Paul Scally
19
DNF
2
Lee Bundy
Kennebunkport, ME
Lee Bundy
20
DNF
16
Matt O'Brien
Wilmington, MA
Jim O'Brien
21
DNF
39
Todd Bertrand

Suffield, CT

Tim Bertrand
22
DNS

77
Mike Luggelle
Hull, MA
Mike Luggelle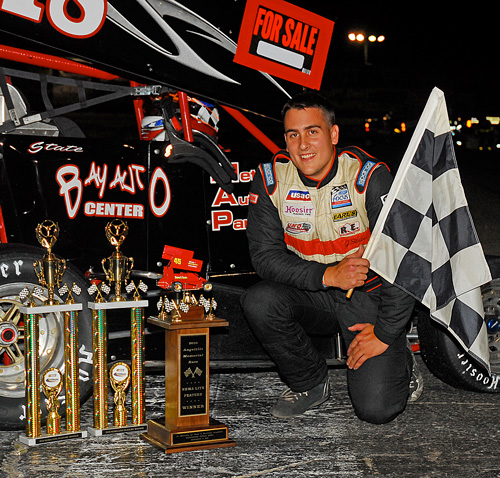 Jesse State Scores NEMA Lites Victory At Waterford Speedbowl
(Waterford, CT.) Jesse State drove a picture-perfect race in notching the 20-lap NEMA Lites portion of the Angelillo Memorial Race at the Waterford Speedbowl on Saturday evening.

Starting on the pole, State quickly took command going unchallenged for the entire event which went-off in record time and included only a single caution flag. Carl Medeiros Jr. finished 2nd, with Ryan Bigelow besting Jim Santa Maria to complete the top-3.

"It's been a long time since I've been in victory lane, and it sure feels good," said State at the conclusion of the event. "My dad put a super setup under me tonight, and the car was just-about perfect. It's great to win on such a special night."

Second-place Medeiros Jr. remarked that it was a "matter of time" preventing him from topping the field. "We simply
ran-out of time," he stated. "We might have had something for him, but that's the way it goes. Jesse was really fast tonight, and it was a quick race."

Ryan Bigelow was happy to score a podium finish. "We found something in the setup tonight, and it definitely helped. The
car was just really-good in the feature," he said. "I'll take a top-3 tonight, and I'm looking forward to more of these podium finishes."

Winning qualifiying heats earlier in the evening were Joey Muciacciaro and Gary Sherman.

The NEMA Lites Series next sees action at Seekonk Speedway on Friday evening, September 24.
Heats>
Feature>
Photos by John DaDalt
Lites Feature - Waterford - Sat., Sept. 11th
Pos.
#
Driver
Hometown
Owner
1
18j
Jesse State
New Hyde Park, NY
Jim State
2
50
Carl Medeiros, Jr.
Westport, MA
Carl Medeiros
3
13
Ryan Bigelow
E. Hampton, CT
Randy Bigelow
4
99
Jim Santa Maria
Burlington, CT
Susan Santa Maria
5
31
Paul Bigelow
Berlin, CT
Randy Bigelow
6
29
Anthony Nocella
Woburn, MA
Matt Seymour
7
4
Randy Cabral
Plymouth, MA
Paul Scally
8
12
Eddie LeClerc Jr.
Taunton, MA
Eddie LeClerc Sr.
9
81
Andy Barrows
New Ipswich, NH
Bobby Seymour
10
45
Joey Mucciacciaro
Wolcott, CT
Frank Mucciacciaro
11
00
Lanson Fornoro
Stroudsburg, PA
Paul Luggelle

12

1
Bethany Viets
Manchester, CT
Charles Gunther
13
7x
Jack McKeon
-
-
14
11
David Rose Jr.
Keene, NH
David Rose Sr.
15


DNF

93

Jake Smith

Stroudsburg, PA
Ted Smith
16


DNF

47
Dave Bedard
-
Glen Cabral
17


DNS

23
Gary Sherman
Billerica, MA
Bobby Seymour
18


DNS

18d
David Moniz
Fairhaven, MA
David Moniz
19


DNS

19
Matt Seavey
-
Matt Seavey
20


DNS

28
Paul Luggelle
Holbrook, MA
Paul Luggelle
---
Angelillo Memorial Next For NEMA
Brockton, MA - Points will be a priority when the Northeastern Midget Association comes to Waterford Speedway Saturday night, Sept. 11 for the second annual Gene and Marilyn Angelillo Memorial race.

The race honors a dynamic couple that, over three decades, brought major changes to NEMA. Gene and Marilyn made countless contributions both as car owners and officers.

The NEMA Lites are also on the busy agenda. The event follows last year's Marilyn's Passion event at Monadnock Speedway.

Leaders Randy Cabral and owner Tim Bertrand bring a 33-point lead over Russ Stoehr and the Dumo's Desire team. The latter has been run by daughter Laura Kibbe since Gene Angelillo's death in March of this year.

In the battle for third, Chris deRitis, the winner at Waterford's Wings & Wheels three weeks ago, leads Greg Stoehr, last year's Marilyn's Passion winner, by 26 points. The deRitis 75 is housed at the Bertrand garage.

Boston Louie winner Jeff Abold will return to the family #29 for the Angelillo race. Joey Payne Jr. takes over the Seymour #4 that prevailed at Seekonk.

Including deRitis and Leonard, who captured the season-opener, there could be as many as nine Waterford/NEMA winners in the field. The list also includes Cabral (who has eight wins), Russ and Greg Stoehr, Adam Cantor, Jim Miller and Barry Kittredge.

"There are few secrets left at Waterford," offers Russ Stoehr, a winner there last year. "It has the perfect geography," Bobby Seymour says of the three-eighths oval considered by many to be the Northeast's premier Midget track. deRitis' turned a 12.977 seconds (104.030 mph) lap at Wings & Wheels.

Aaron Wall, coming off a strong effort at "The Louie," and Mike Horn are looking to join the list of drivers who scored their first NEMA win at Waterford. Other contenders include Keith Botehlo, driving a Stoehr-owned car, local favorite Erica Santos and John Zych Jr.

The Seymour family will be looking for another sweep. "Louie" winner Anthony Nocella will be after a second straight Lites win. Nocella also won the season opener at Waterford.

Double Duty Cabral is another Lites hopeful in a field that includes brother Todd, Andy Barrows, Landon Fornoro, Jim Santamaria, Bethany Viets, Carl Medeiros Jr., Paul Luggelle, Eddie LeClerc Jr. and Russ Wood Jr.
---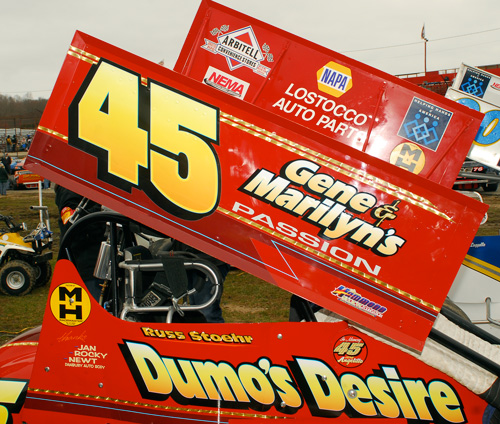 The Angelillo Memorial:
Honoring Gene, Marilyn
Gene and Marilyn Angelilo celebrated well over 115 victories in midget racing, 106 of them in the Northeastern Midget Association. The first victory with Drew Fornoro aboard came at Hudson Speedway on Aug. 2, 1981.


Marilyn had already died when Gene, who passed away on March 1 of this year, tasted his final triumph at Waterford Speedbowl on August 18th of last year. So it is fitting that NEMA and the NEMA Lites return to the Speedbowl for the second Angelillo Memorial 45 (35 lap feature, 10 lap heats) Saturday night.


The couple added immeasurably to NEMA's legacy as officers – Gene as president and Marilyn as secretary. The passion Gene had for midgets in general and NEMA in particular bubbled over. Marilyn's calmness and organizational skills were extraordinary.


History, however, ensures their incredible success as owners with three primary drivers – Fornoro, Joey Payne and Russ Stoehr, the latter currently in his second tour.


Every car carried "Dumo's Desire," a tribute to Gene's father Dominic, better known as "Dumo." With few exceptions, the car was No. 45, Gene's age when Johnny Kay convinced him to go midget racing in 1980. Both identities were Marilyn's doing. The team, now run by daughter Laura Kibbe, continues both traditions.


Gene honored Marilyn's memory with the Marilyn's Passion race last year at Monadnock. Now Laura honors the memory of both at the Speedbowl.


Angelillo and Kay went racing with a car secured in a pouring rain at Cleveland Airport prior to the 1980 season. Perhaps fittingly, one of the club's great stories accompanies the first win. While waiting for the track to be cleared following an accident that involved Drew's brother Nokie, the #45 had a tire go down. It was replaced by a tire off Nokie's Mike Scrivani-owned machine and Drew came from the back to win.


The Angelillos and Drew Fornoro are one of the most successful owner/driver teams in Midget racing. In addition to over 80 wins it resulted in nine NEMA and one ARDC crown for Angelillo and nine titles for Fornoro. The Angelillos went on to win races and championships with Stoehr and Payne, races with Nokie Fornoro and Ted Christopher.


Angelillo is on record as picking win No. 36 – Pocono International Speedway in April of 1986 – as his favorite. He had lost a leg during the winter and "walked into the pits that day." The win, he recalled, was a fitting end to a struggle in which Fornoro played a key role. "He got me off my ass," he said.


Win No. 36 actually came with Nokie aboard on the dirt at Georgetown, DL. He also won with Nokie at Accord, NY that year. There were wins everywhere; another favorite was a victory at Flemington in 1993 with A.J. Foyt present for a tribute to Nick Fornoro. Who can forget Christopher's win at the 1989 Waterford opener? They scored with Drew in an All American Midget Series event at Hialeah, FL in 1992. That was win no. 65.

Payne, who was second at Hialeah, gave the Angelillo's win no. 100 at Thompson Speedway's 2000 World Series. Driving the Autocraft-powered second car, Payne came from 24th to pass Stoehr, in the Gaerte-powered car, with four laps to go. Stoehr's second was more than enough to win titles for himself and Angelillo

Payne's first NEMA title in 2003 was the sixth in a row and the 14th overall for the Angelillos.

A strong field including Payne and Stoehr is expected to celebrate Marilyn and Gene's memory. Among the other contenders are point leader Randy Cabral, Boston Louie winner Jeff Abold, Waterford Wings & Wheels winner Chris deRitis and last year's Marilyn's Passion winner Greg Stoehr.
---
Payne, Seymour Combo
For Angelillo Memorial
Brockton, MA – "There is no other race in the world I would rather win," says Joey Payne Jr. of the Northeastern Midget Association's second annual Gene and Marilyn Angelillo Memorial Saturday (Sept. 11) at Waterford Speedbowl. Payne will drive the Seymour #4 in the race that honors the memory of the dynamic couple.

"I feel I've got a car that can win," continues Payne, who captured 14 features and one championship (2003) over a four-year run driving the Angelillo #45. "Trust me, this is a very big deal for me."

Driving the car that Jeff Abold drove to victory in the Boston Louie, Payne will battle an expected stellar field that will include Russ Stoehr in the Dumo's Desire team that has been run by daughter Laura Kibbe since Gene Angelillo's death in March.

Payne, who gave Angelillo his 100th win at Thompson in 2000, dedicated his victory in Seekonk Speedway's Challenge of Champions earlier this summer to him, calling him "the best owner I ever had."

Point leaders Randy Cabral and owner Tim Bertrand lead NEMA into the Angelillo race, heading up a contingent that also includes Chris deRitis and Chris Leonard, both winners at Waterford this year, Boston Louie winner Jeff Abold, who moves back into the family #29, Adam Cantor, Greg Stoehr, Jim Miller, Mike Horn and Aaron Wall.

Payne, who has three career Waterford wins will have an added incentive. He is just one away from NEMA's 20 win club

The NEMA Lites are also on the Angelillo Memorial docket.