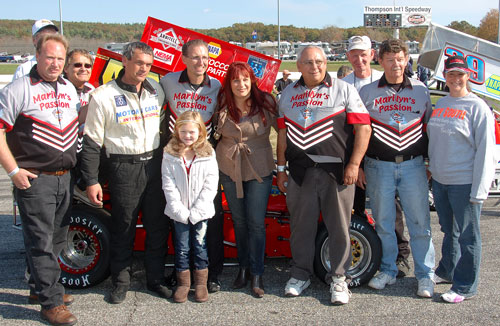 2010 NEMA Champions
Russ Stoehr and Dumo's Desire Racing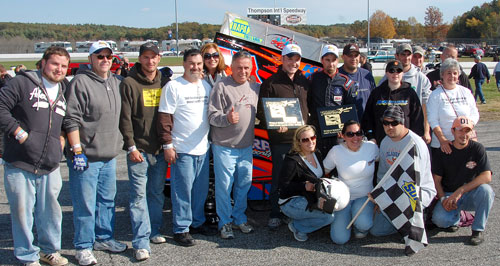 World Series Winner
Randy Cabral and Bertrand Racing
Photos by Norm Marx
NEMA Feature - World Series - Sun., Oct. 17th
Pos.
#
Driver
Hometown
Owner
1
47
Randy Cabral
Plymouth, MA
Tim Bertrand
2
39
Cole Carter
Indianapolis, IN
Tim Bertrand
3
45
Russ Stoehr
Bridgewater, MA
Dumo's Desire Racing
4
7ny
Adam Cantor
Dix Hills, NY
Cantor Racing
5
26b
Greg Stoehr
Bridgewater, MA
Greg Stoehr
6
3m
Jim Miller
Weymouth, MA
Jim Miller
7
93x
Mike Horn
Ashland, MA
Jeff Horn
8
9
John Zych, Jr.
Liverpool, NY
John Zych, Sr.
9
44
Erica Santos
Franklin, MA
Ed Breault

10

50
Anthony Marvuglio

E. Bridgewater, MA

Pete Pernisiglio,Sr

11

2
Lee Bundy
Kennebunkport, ME
Lee Bundy

12

25
Keith Botelho
Attleboro, MA
Russ Stoehr
13


DNF

88
Lanson Fornoro
Stroudsburg, PA
Andy Anderson

14

28

Paul Luggelle

Holbrook, MA

Paul Luggelle

15


DNF

30
Paul Scally
Raynham, MA
Paul Scally
16


DNF

75
Chris deRitis
Philadelphia, PA

Ciconni/deRitis

17


DNF

78
Brian Cleveland
Billerica, MA
Linda Cleveland
Randy Cabral Thompson Winner;
Russ Stoehr NEMA 2010 Champion
Thompson, CT – Leading all but two laps, Randy Cabral, in the Bertrand Motorsports #47, ended the 2010 Northeastern Midget Association season Sunday, winning the 25-lap feature at Thompson Speedway's World Series. Cabral held off teammate Cole Carter (Bertrand #39) over the final 15 laps to collect his fourth win of the season and his club-record ninth at Thompson.

Russ Stoehr's third place was more than enough to clinch championships for him and Laura Kibbe's Dumo's Desire #45. It was the sixth championship for Stoehr who dedicated it to the late Gene and Marilyn Angelillo and to the crew that carried on following Gene's death in March.

Adam Cantor (#7ny) was fourth ahead of a Greg Stoehr (#26b)-Jim Miller (#3m) battle for fifth that went to the former. Greg Stoehr wound up third in the final driver and owner standings.

"We wanted to win the race, that was our only objective," said Cabral who came from the tenth starting spot. After a brief battle with Jim Miller, he grabbed the lead in the backstretch. Carter, meanwhile, took second from Miller on lap six and by lap nine had closed on the leader. When the second yellow showed on lap 12, Cabral and Carter had a seven car advantage on a Miller-Stoehr tussle for third.

Following the restart, Carter appeared to grab the lead momentarily out of two but Cabral beat him into three. It was the only time Cabral "saw" his teammate although the one-time USAC driver did make two other determined moves out of two before settling into a run on the leader's tail. Cabral said he was "surprised" it was Cole, "expecting somebody else like Russ." Still, he felt "if I didn't screw up I was going to be OK."

Russ Stoehr, who went into the feature with a 50-point edge, said he became aware he had nothing after "trying to take on" the leaders on the restart. He did get third from Miller but became aware "there was no purpose in trying to win." He ran by himself in third almost a half straightaway behind over the last 10 laps. Stoehr, who took "a good whack" in a first lap altercation that eliminated Chris deRitis and Brian Cleveland, "played it safe."

Cabral, eager "to redeem himself" after over-aggression proved so costly at Seekonk's DAV, was cautious on the initial start, determined "to let things settle out." On the second green, realizing "how fast everybody was going" he moved to the outside and "went for it."




The championship, said Russ Stoehr, is "just as huge" as the year (1997) that Bruce Beane retired. Four of Stoehr's championships have come with Angelillo. It is the 15th owner's title for the Angelillo team.


Cabral said driving a Pro4 Modified for the Ricardi family on Saturday (he came from last to 11th) was a confidence builder. He continues to make NEMA history, his 30th career moving him past the legendary Johnny Mann on NEMA's all-time win list.


Cole Carter was three-for-three in podium finishes driving for Bertrand Motorsports this year, the World Series result besting the thirds he had at Stafford and Thompson.


Cabral admitted a third championship would have been nice but "having to back them up every year is a pain."

---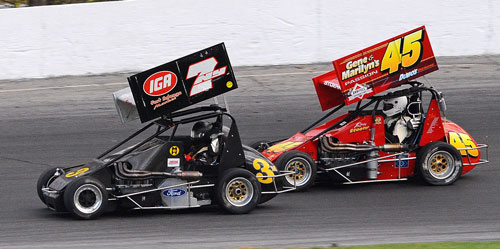 HEAT 1- Saturday at the World Series
3m-45-39-30-9-25-2-26b-28
(3m running the spare 7ny wing)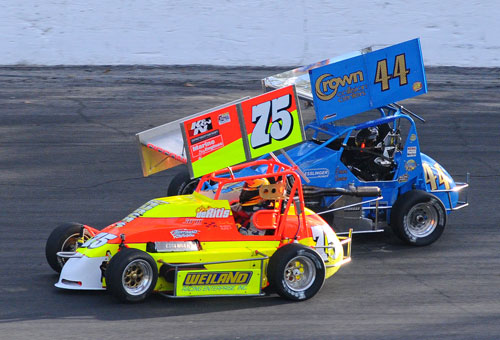 HEAT 1- Saturday at the World Series


75-44-47-93x-7ny-88-78-50

---
NEMA Midgets Point Battle
Ends at World Series
Brockton, MA – Once again, the Northeastern Midget Association champions will be crowned at Thompson Speedway's World Series. Russ Stoehr and the Dumo's Desire team take a 50-point edge on Randy Cabral and Bertrand Motorsports into the scheduled 25-lap feature that will bring NEMA's 58th season to a close.

"Thompson has always favored the veterans," says NEMA President Mike Scrivani Jr. "It is a very fast place, the fastest track we visit. And, there's so much history there."

Both Cabral and Stoehr know their way around the ultra quick five-eighths oval. Cabral has eight Thompson wins including three World Series and a one earlier this year. His and owner Tim Bertrand's 2008 and 2009 titles were secured at the World Series.

Second earlier this season, Stoehr has written much NEMA/World Series history, his battle with brother Greg in 1990 and with teammate Joey Payne Jr. in 2000 now folklore. He has won three times at Thompson including the '94 World Series.

Championships aside, a World Series win is a jewel in itself and a number of contenders including Cole Carter in the Bertrand #39 are taking aim. Carter, a one-time USAC standout, has two straight top five Thompson finishes including a third earlier this year. He was fourth at last year's World Series.

The World Series will end a NEMA season filled with surprises, the latest coming last weekend with Keith Botelho's upset win at Seekonk's DAV. He was the ninth winner of the campaign, the list including, in addition to Stoehr and Cabral, World Series entries Chris Leonard, Chris deRitis and Adam Cantor.

Greg Stoehr, John Zych Jr., coming off strong DAV performances hope to join the list. Other contenders include Jim Miller, Erica Santos and Mike Horn, the latter fourth earlier this year at Thompson. Miller and Santos had season-best seconds this year.

Anthony "Bug" Marvuglio will be driving the Pernesiglio #50.