FAST FRIDAY - JUNE 4TH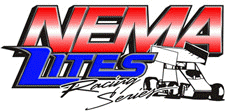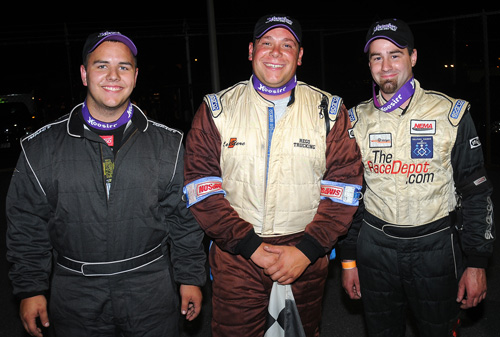 Anthony Nocella, 3rd; Winner Eddie LeClerc; & Randy Cabral, 2nd.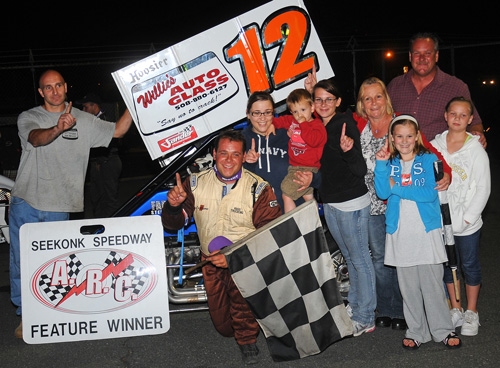 Grids
Race
Action >>
Photos by Norm Marx
Lites Feature - Seekonk - Fri. June 4th
Pos.
#
Driver
Hometown
Owner
1
12
Eddie LeClerc Jr.
Taunton, MA
Eddie LeClerc St.
2
4
Randy Cabral
Plymouth, MA
Bobby Seymour
3
29
Anthony Nocella
Woburn, MA
Matt Seymour
4
48
Todd Bertrand
Suffield, CT
Tim Bertrand
5
18
David Moniz
Fairhaven, MA
David Moniz
6
20
Andy Shlatz
Enfield, CT
Andy Shlatz
7
51

Russ Wood Jr.

Pelham, NH
Russ Wood
8

93

Jake Smith

Stroudsburg, PA
Ted Smith
9
99
Jim Santa Maria
Burlington, CT
Susan Santa Maria
10

52

Kevin Park

Foxboro, MA
Kevin Park
11
1
Bethany Viets
Manchester, CT
Charles Gunther

12

36
Anthony Marvuglio
E. Bridgewater, MA
Glen Cabral
13
47
Jeff Pearl
Salem, CT
Glen Cabral
14
27
Vince Jacob
Coventry, RI
Vince Jacob
15


DNF

00
Lanson Fornoro
Stroudsburg, PA
Paul Luggelle
16


DNF

81
Andy Barrows
New Ipswich, NH
Bobby Seymour
17


DNS

28
Paul Luggelle
Holbrook, MA
Paul Luggelle
HEAT 1:

81 - 18 - 99 - 00 - 27 - 47 DNF - 1 DNS

HEAT 2:

20 - 4 - 12 - 29 - 36 - 48 - 93 - 52 - 51 - 28 DNS
Eddie LeClerc Scores Seekonk
"Fast Friday" NEMA LITES Win
The NEMA LITES Midgets hit Seekonk Speedway Friday, June 4th for the first of four appearances on the "Fast Friday" program.
For the third event of the LITES 2010 season, the field was led to the green for the 20 lap feature by the front row of the #18 of David Moniz of Fairhaven, MA and the #36 of Anthony Marvgulio of Bridgemwater, MA. Moniz jumped into the lead in his Beast/Focus while Eddie LeClerc from Taunton, MA used the high line to advance from his thrid row starting spot and run side by side with Moniz.
After a yellow at midway for a single car spin from a flat, LeClerc took the lead from Moniz on the restart and pulled away cleanly for his first ever NEMA Lites win.
Randy Cabral #4 of Plymouth, MA and Anthony Nocella #29 of Woburn, MA worked their way from the fifth row to top three finishes, each with a Hawk/Focus combination.
Heat winners were the Andy Barrows #81 of New Ipswich, NH and Andy Shlatz #20 of Enfield, CT.
The LITES and the NEMA Midgets travel to Twin State Speedway on Friday, June 11th for their next outing.