FAST FRIDAY - JUNE 18TH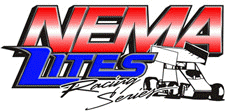 Seekonk 6/18 Top Three - L to R: Jim Santa Maria #99, 3rd;
Winner Bethany Viets #1; and David Moniz #18, 2nd.
Practice
and
Heat


Action >

Photos by John DaDalt
Rookie Bethany Viets Makes History,
Earns First NEMA Lites Victory at Seekonk
SEEKONK, MA - Eighteen year old Bethany Viets of Granby, CT became the first female to win a NEMA Lites feature with her victory at Seekonk Speedway on Friday, and joined 2007 NEMA Midget winner Erica Santos as the only female NEMA feature winners in the 58 year history of the organization.

Starting on the pole for the 20 lap race, Viets led every lap and survived two restarts to earn her initial win over a 20 car field of both veterans and talented newcomers. Fellow rookies D.J. Moniz and Jim Santa Maria finished second and third.

After a restart on lap 2, when Paul Bigelow's car shut down due to a clogged fuel filter and another restart on lap 5, when Eric Cabral's car spun exiting turn four, the race ran non-stop and Viets stretched her lead out to half a straightaway. She passed lapped traffic with ease until late in the race when she closed in on a lapped car that was fighting a handling issue. Then she used her head, in addition to her right foot.

"We're a low budget team, and as much I wanted to win, I didn't want to take any unnecessary chances and try to pass," Viets said in victory lane. "I knew we only had a couple of laps left and I just prayed that I had enough of a lead that nobody would catch me."

Runner-up D.J Moniz started seventh and was closing in on Viets on the final laps. "Our car was getting looser as the race went on, and the looser it got, the faster it went," Moniz said. "But Bethany was really fast and I was having a tough time catching up to her."

It was only Jim Santa Maria's second time competing in a NEMA Lite and he had to work his way from a tenth starting spot to finish third. "It was hard work to pass cars out there," Santa Maria said. "When Randy Cabral got by me, I thought I was going to start falling back, but then I was able to get by him and I knew we were in good shape."

Randy Cabral raced from 13th to finish fourth and Eddie LeClerc came from 11th to finish fifth.

All three heat races, which were won by Kevin Park, D.J Moniz and Randy Cabral, ran without a single yellow flag.




Although she has only competed in a NEMA Lite on four previous occasions, Viets acquired an impressive racing resume on the clay track at Whip City Speedway. Starting in a Micro Stock at age 12, she progressed to 750cc Mini Sprints and Quad 4 Midgets. She has three Mini Sprint wins to go with her nine Quad 4 Midget victories.

The night wasn't a complete bed of roses for Viets. During practice and her heat race, Viets fought a handling problem after car owners Charlie Gunther and Tom Rodzen put on a new left rear tire and struggled to adjust the stagger properly. They eventually changed to an old tire and Viets won with a tire that had been used in three previous features and several practice sessions.

The NEMA Lites join the NEMA Midgets at LeeUSA Speedway this Friday, June 25th.
Lites Feature - Seekonk - Fri. June 18th
Pos.
#
Driver
Hometown
Owner
1
1
Bethany Viets
Manchester, CT
Charles Gunther
2
18
David Moniz
Fairhaven, MA
David Moniz
3
99
Jim Santa Maria
Burlington, CT
Susan Santa Maria
4
4
Randy Cabral
Plymouth, MA
Bobby Seymour
5
12
Eddie LeClerc Jr.
Taunton, MA
Eddie LeClerc St.
6
29
Anthony Nocella
Woburn, MA
Matt Seymour
7
48
Todd Bertrand
Suffield, CT
Tim Bertrand
8
20
Chris Haskell
-
Andy Shlatz
9

52

Kevin Park

Foxboro, MA
Kevin Park
10

93

Jake Smith

Stroudsburg, PA
Ted Smith
11
5c
Joey Chick
Hubbardston, MA
Bob Chick

12

28
Paul Luggelle
Holbrook, MA
Paul Luggelle
13
81
Andy Barrows
New Ipswich, NH
Bobby Seymour
14
36
Eric Cabral
Manchester, NH
Glen Cabral
15
23
Gary Sherman
Billerica, MA
Gary Sherman
16
13
Ryan Bigelow
E. Hampton, CT
Randy Bigelow
17
27
Vince Jacob
Covertry, RI
Vince Jacob
18


DNF

00
Lanson Fornoro
Stroudsburg, PA
Paul Luggelle
19


DNF

47
Vinnie Annarumo
Swansea, MA
Glen Cabral
20


DNF

31
Paul Bigelow
Berlin, CT
Randy Bigelow