Wednesday, July 28th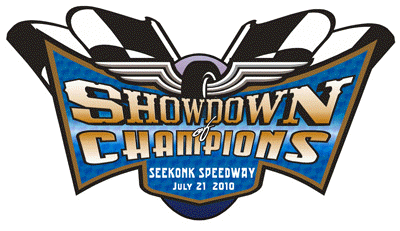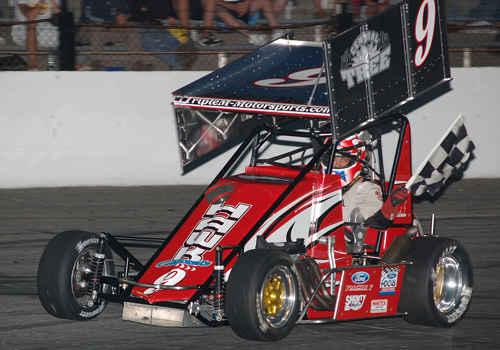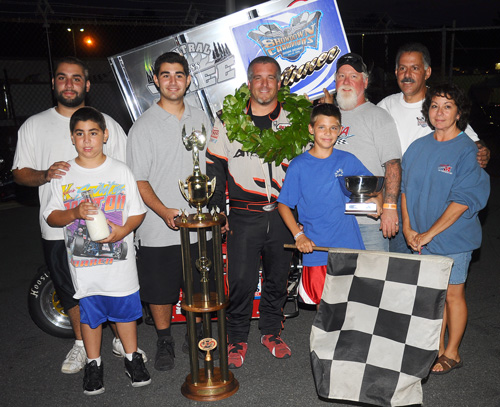 Showdown of Champions - Seekonk - Weds. 7/28
Pos.
#
Driver
Owner
1
9
Joey Payne
John Mikitarian
2
12
Chris Perley
Eddie LeClerc Sr.
3
29
Lou Cicconi
Matt Seymour
4
23
Freddy Astle
Gary Sherman
5
4
Vinnie Annarummo
Paul Scally
6
48
Mike Stefanik
Tim Bertrand
7
45
Teddy Christiopher
Frank Mucciacciaro
8
51
Russ Wood
Russ Wood
9
50
Rick Martin
Carl Medeiros
Joey Payne Jr. Wins NEMA's
Showdown of Champions
Seekonk, MA – Pulling away from a mid-race restart, Joe Payne Jr. won the 20-lap Northeastern Midget Association Showdown of Champions at Seekonk Speedway's Open Wheel Wednesday.
Beating back a brief challenge from Chris Perley, Payne scored a convincing win in the Mikitarian #9. Perley (LeClerc #12) held on for second followed by Lou Cicconi (Seymour #29).
John Astle Jr. (Sherman #23) and Vin Annarummo (Scally #4) held up Seekonk's honor completing the top five. The battle was waged in NEMA Lite cars.
Mike Stefanik (Bertrand #48), Ted Christopher (Mucciacciaro #45), Russ Wood Sr. (Wood #51) and Rick Martin (Medeiros #50) followed.
"I really wanted this bad," said Payne who took home the Coastal 181 Trophy and dedicated the victory to the late Gene Angelillo.
Payne drew the pole and then traded starting spots with Annarummo, "a move that worked in my favor." Coming from eight, he was immediately in a four-way (sometimes four wide), lead-swapping battle that also included Cicconi, Perley and Astle.


.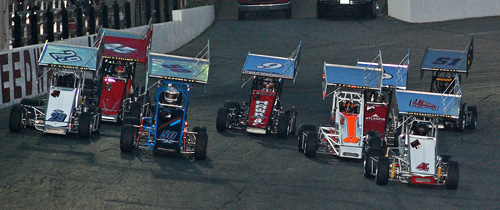 "We were not going to push it and put on a show for the fans," said Perley, who won the Rich Vogler Award. "At the drop of the hat that went out the window."
On the outside, Payne pulled away from Astle on the restart with Perley moving from fourth to second. They moved through one and two nose-to-tail, Perley looking low.
"I saw him," Payne said of long-time rival Perley. "He was going to have to drive his tail off to get by." Payne "kept the car down in the groove. I didn't want him [Perley] under me."
Payne, who replaced Bentley Warren in the field, could put the car "anywhere I wanted," the result of much work with the Mikitarian crew a week ago (before the rain) and again before the race. "We got the car to be really good," he added.




"The first half of the race really showed a trust between drivers," said TV personality Jackie Arute, the event's producer. "It was like a throwback, something you don't see a lot of these days."


Bobby Seymour, the originator of the event, was especially pleased with the finish involving three of the most accomplished open cockpit drivers in the East. Cicconi went on to win the regular NEMA feature for Seymour as well.


"Any race involving the name Rich Volger, the best driver I ever saw, is one you want to win," said Payne who welcomed the opportunity to honor Angelillo, "the best car owner I ever had."


The transponder on Payne's car was not working. Cicconi did turn an 11.881 lap. Perley's best was 11.902.
Wednesday, July 28th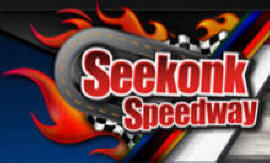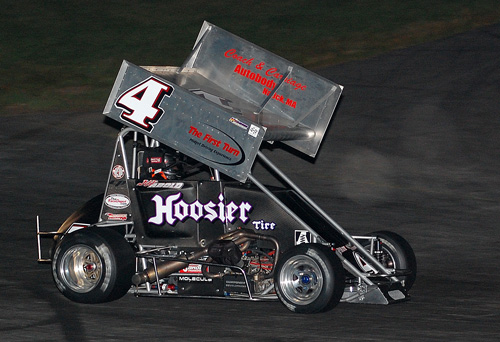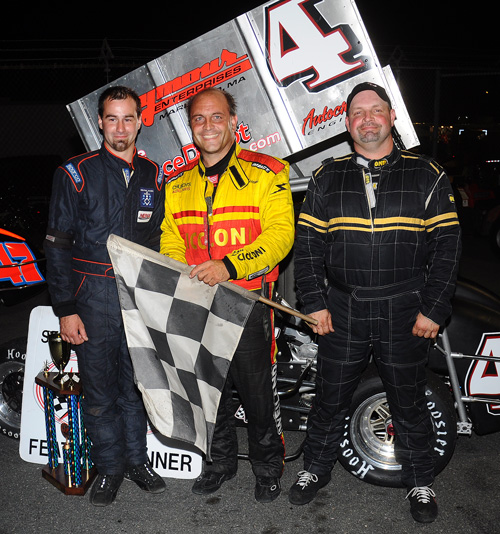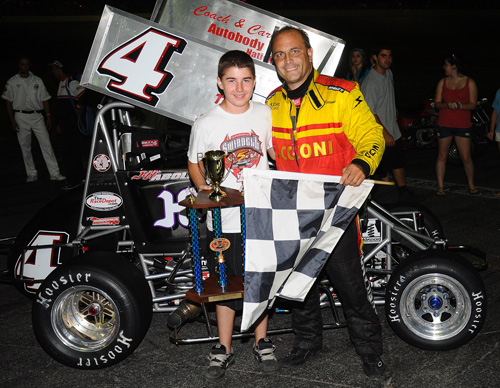 NEMA Feature - Seekonk - Weds. July 28th
Pos.
#
Driver
Hometown
Owner
1
4
Lou Ciconni
Aston, PA
Bobby Seymour
2
47
Randy Cabral
Plymouth, MA
Tim Bertrand
3
93x
Mike Horn
Ashland, MA
Jeff Horn
4
7ny
Adam Cantor
Dix Hills, NY
Cantor Racing
5
45
Russ Stoehr
Bridgewater, MA
Dumo's Desire Racing
6
26b
Greg Stoehr
Bridgewater, MA
Greg Stoehr
7
29
Jeff Abold
Pennellville, NY
Bobby Seymour
8
A1
Jeff Horn
Ashland, MA
Jeff Horn
9
3m
Jim Miller
Weymouth, MA
Jim Miller

10

35
Anthony Marvuglio
E. Bridgewater, MA
Glen Cabral

11

44
Erica Santos
Franklin, MA
Ed Breault

12

51
Russ Wood Jr.
Pelham, NH
Russ Wood

13

9
Joey Payne
Fairlawn, NJ
John Mikitarian

14

2
Lee Bundy
Kennebunkport, ME
Lee Bundy

15

30
Paul Scally
Raynham, MA
Paul Scally

16

12
Eddie LeClerc Jr.
Taunton, MA
Eddie LeClerc Sr.

17

16
Matt O'Brien
Wilmington, MA
Jim O'Brien

18

78
Brian Cleveland
Billerica, MA
Linda Cleveland

19




DNF

75
Chris deRitis
Philadelphia, PA

Ciconni/deRitis

20




DNF

29x
Anthony Nocella
Woburn, MA
Matt Seymour

21




DNF

48
Todd Bertrand
Suffield, CT
Tim Bertrand

22




DNS

55
Aaron Wall
Shrewsbury, MA
Wall Motorsports
Cicconi Rules NEMA Seekonk Feature
Seekonk, MA - Lou Cicconi Jr. "knew right from the start" he had the winning car. "You want to pass when it's the least punishing to the race car," he explained.
Starting seventh, "Liquid Lou" drove the Seymour #4 under Randy Cabral
(Bertrand #47) in traffic on lap 11 and won the Northeastern Midget Association's 25-lap feature at Seekonk Speedway's Open Wheel Wednesday.
Running consistent 11.3s, Cicconi dominated the final laps, finishing a quarter lap ahead of point leader Cabral. Early leader Mike Horn (Horn #93x) was third with Adam Cantor (Cantor #7ny) and Russ Stoehr (Dumo's Desire #45) following."
Cicconi took second from Horn in the backstretch on lap six. He quickly closed on Cabral who had taken the lead from Horn with four gone.
"I didn't pass Randy right away," said Cicconi who was "waiting for the traffic."
"I wanted to go inside the lapped car," said Cabral, "put it down low. I went outside but the car came up and trapped me. Lou slipped under me." Pointing out "my car got better at the end but I let him get too far out in front," Cabral was not totally unhappy with the second spot.
Horn, who settled into a steady run in third place, continues to "pay my dues." He enjoyed a battle with Chris deRitis, the latter dropping out with mechanical woes. "I guess it's one spot at a time," said the second generation racer.


Despite a brief yellow on lap 13, Cicconi needed only 7 minutes and 36 seconds to cover the 25 laps. His best lap was a 11.303.


Cicconi had an "awesome" car on a track "I really love."


It was Cicconi's fourth Seekonk win and his seventh overall NEMA triumph.
"All Jacked Up"
Auto racing and college football broadcaster Jack Arute Jr. is excited to be helping out in the presentation of the "Showdown of Champions."
Jack will participate at the drivers' meeting, the introduction of the drivers to the fans, and in the Victory Circle celebration. A veteran of ABC an ESPN sports broadcasting for more than 25 years, Jack is now the

IZOD IndyCar Pit Analyst for Versus' IndyCar series telecasts.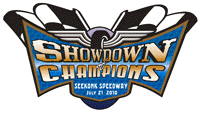 SPONSORED BY

The only university in the country where you can get a two or four year degree in
High Performance Motorsports. A complete university with College and Business all the way through MBA programs. The College of Technology consists of High Performance Automotive, Diesel, Heating, Ventilation, Air Conditioning, and Alternative Fuels.
Plus a new curriculum this year - The Sports Management Program.
Motorsports College Web

&


Ramada Seekonk/Providence Area
940 Fall River Avenue - Seekonk, MA 02771
Hotel Web Page HERE
RAIN ON 7/21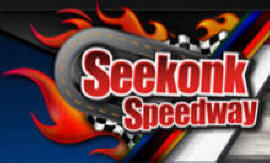 NEMA Heads Back To Seekonk on 7/28
Brockton, MA - The Showdown of Champions and a budding point battle share center stage Wednesday, July 28th, as the Northeastern Midget Association returns to Seekonk Speedway's Open Wheel Wednesday. Rain washed out the race a week ago.
NEMA shares the busy agenda with a 100-lap open Modified event.
Less than 30 points separate defending two-time champion Randy Cabral (Bertrand 47) and Russ Stoehr (Dumo's Desire 45) atop the points. Stoehr comes to Seekonk off a victory in the Hammond Memorial at Waterford last Saturday.
The Challenge puts a collection of stars including trio of Seekonk stalwarts – Vinny Annarummo, Fred Astle Jr. and Rick Martin – into a 25-lap battle in NEMA Lite cars. The field also includes NASCAR Modified Champions Mike Stefanik and Ted Christopher and a quartet of open wheel giants – Russ Wood Sr., Chris Perley, Joey Payne Jr. and Lou Cicconi Jr.
Practice speeds (flirting with 11 seconds) before the rain a week ago gave every indication a classic Showdown battle looms. "You can expect some excitement in this one," says NEMA President Mike Scrivani Jr. "Those boys were going at it pretty good. Every one of them is an old hand when it comes to getting around Seekonk."
One of NEMA's "Coming Home" venues, close racing and tight finishes are commonplace for Midget at the "Cement Palace. Both Cabral, who has six Seekonk wins, and Stoehr, five, are more than familiar with one of area's premier momentum tracks.
Greg Stoehr, Chris deRitis, Jeff and Mike Horn, Erica Santos, Adam Cantor and Jim Miller are also among the contenders.
Raindate July 28th - 7 PM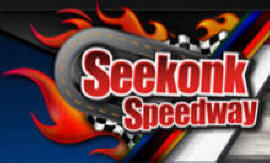 NEMA MIDGETS,
$10,000 TO WIN 100 LAP
OPEN MODIFIED RACE,
PRO-4 MODS,

& the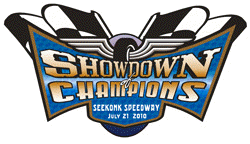 Vinny Annarummo - Fred Astle Jr.
Ted Christopher - Lou Cicconi Jr.
John Heydenreich - Rick Martin
Joey Payne Jr. - Chris Perley
Mike Stefanik - Russ Wood
in NEMA LITES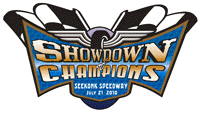 Annarummo, Martin, and Astle
Ready to Repel Cement Palace Invaders
at the Showdown of Champions
Seekonk, MA - Hometown heroes Vinnie Annarummo, Rick Martin and Fred Astle, Jr. are ready, willing and able to defend their turf in the Showdown of Champions at Seekonk Speedway during Open Wheel Wednesday on July 21. From 1973 to 2009, the trio won an astounding 16 track championships and nobody knows how to get around Seekonk Speedway quicker than they do.

Yet none of the Seekonk champs have much Midget experience. Annarummo recently raced in a single NEMA Lite event, Astle recalls a lone effort in a Hop Harrington owned Midget at Seekonk in the last century and Martin has only been in a NEMA Lite Midget to have the seat fitted.

The talented trio will compete against an array of other champions, including Modified mavens Ted Christopher and Mike Stefanik; Supermodified superstars Chris Perley and Russ Wood; open cockpit switch-hitters "Liquid" Lou Cicconi and Joe Payne, Jr.; and Midget master Jon Heydenreich. Every champion will be in an identically prepared NEMA Lite and each wants to walk away as first among equals.

"It's an honor just to race with these guys," says six-time track champion Annarummo. "They're the best of the best. Sure, I have a lot of laps around Seekonk in Pro Stocks and Modifieds, but this is something completely different. I'm a rookie when it comes to open cockpit racing in cars with wings. I can't wait, because if you can beat the best of the best, there's nothing like it."

Four-time track champion Martin is looking forward to his first time racing with a wing. "I know they give the cars lots of down force and I've heard that at some places, the guys can flatfoot all the way around, using just a little bit of brake in the corners. I'm going to try it wide open and see what happens. I know the cars are radically different than what I'm used to, but they still have four tires and a steering wheel."

Astle, who has four Seekonk championships and one at Thompson, is expecting to have a great time. "We'll be running against some very talented people and it's humbling to be asked to defend the honor of Seekonk. I know Ted Christopher well enough to know that he plans on going right to the front, so it should be a very interesting race. I've always wanted another chance in a really competitive Midget and I guess my time has finally come," Astle said.

Open Wheel Wednesday features a full card of NEMA Midget racing and is headlined by a 100 lap Open Competition Modified race.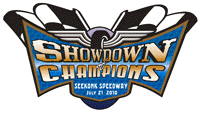 Perley Looks Ahead to the
Showdown of Champions
Seekonk, MA – Seekonk Speedway, many claim, is "the ultimate momentum track." Five-time ISMA champion Chris Perley couldn't agree more.

"When you are in a good car," says Perley, "it is the place you want to be. It is one of my favorite tracks."

Perley joins a host of open-cockpit experts competing in the 25-lap Northeastern Midget Association Showdown of Champions event at Seekonk Open Wheel Wednesday, July 21.

The "Rowley Rocket" is no stranger to the Midgets. He was a winner at the prestigious Oswego Classic back in 2005.

A stellar field that also includes six-time ISMA king Russ Wood Sr. will be in NEMA Lite cars. Jon Heydenreich is ready to race along with Lou Cicconi and Joey Payne Jr. who are recent additions.

NASCAR Modified kings Mike Stefanik and Ted Christopher and Seekonk regulars Vinnie Annarummo, Fred Astle, Jr. and Rick Martin have rides as well.

"Everybody is interested in seeing what they can do," says Perley, a two-time Seekonk ISMA winner. "Looking at the field, there's some bragging rights up for grabs."

It is an accomplished field. Payne and Cicconi have won in TQs, Midgets and Supers. Christopher's' resume includes TQ, Midget and Super wins. Stefanik added a TQ success to his list last winter. Heydenreich, the 1990 Chili Bowl winner, is also accomplished in Sprints and Silver Crown cars.

When Perley calls Seekonk "a superspeedway for the midgets," he knows of what he speaks. Back in 2005 he had a third at Seekonk, part of a limited NEMA schedule driving for Don Berrio.

Wood is no stranger to the Midgets either. His son Russ Jr. is a regular competitor in the Lites division.

A 25-lap NEMA feature and a 100-lap Modified event are also on the Open Wheel Wednesday agenda. For more, visit www.seekonkspeedway.com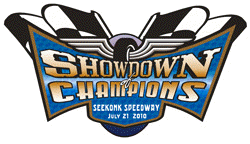 Ted Christopher and Mike Stefanik in
"Showdown of Champions" at Seekonk
SEEKONK,MA - NASCAR Whelen Modified Tour Champions Ted Christopher and Mike Stefanik will be among a select group of champions competing in the Showdown of Champions, a special NEMA Lites race at Seekonk Speedway on Wednesday, July 21.

Christopher, who won the Whelen Modified Tour championship in 2008, has multiple track championships at Thompson International Speedway, Stafford Motor Speedway and the Waterford Speedbowl. His varied resume includes wins in a NEMA Midget and in a TQ Midget. Last month, he won the first dirt Modified race ever held on a road course.

Stefanik holds the all time NASCAR record for series championships, with seven in the Whelen Modified Series and two in what is now the K&N Pro Series East. He won his first track championship at Stafford Motor Speedway in 1979 and went on to earn two more, in addition to the pair he won at Riverside Park Speedway.

In the NEMA Lites Showdown of Champions, Christopher and Stefanik will be competing against a jaw dropping field of fellow champions: Midget Champions Jon Heydenreich; Supermodified Champions Chris Perley and Russ Wood; and Seekonk Speedway Champions Vinnie Annarummo, Fred Astle, Jr. and Rick Martin.

The Showdown of Champions and a full NEMA Midget card will all be part of Seekonk Speedway's Open Wheel Wednesday, which will be capped off with a 100 lap Open Modified race.

For more details, visit www.seekonkspeedway.com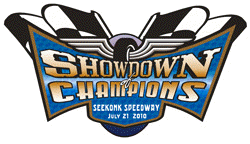 John Heydenreich in

"Showdown of Champions"
Seekonk, MA - Midget racing will be well represented in the NEMA Showdown of Champions event at Seekonk Speedway's Open Wheel Wednesday, July 21. John Heydenreich brings a dazzling resumeto the event.

Heydenreich will take on supermodified stalwarts Chris Perley, Russ Wood and Bentley Warren; modified aces Mike Stefanik and Ted Christopher and Seekonk kingpins Vinnie Annarummo, Fred Astle, Jr.,
and Rick Martin in NEMA Lite cars.

Considering the place and the field, everybody will be taking this seriously on what is called "the ultimate momentum track."

Heydenreich was the winner of the prestigious Chili Bowl in 1990. A Sprint and Silver Crown veteran as well, Heydenreich's "throw caution to the winds style" has resulted in impressive victories on both the ARDC and USAC circuits, not the least of them the 1987 Hut 100. He welcomes a shot at the historic Seekonk third mile.

A 25 lap NEMA Midgets feature is part of Open Wheel Wednesday as well.

For more details, visit www.seekonkspeedway.com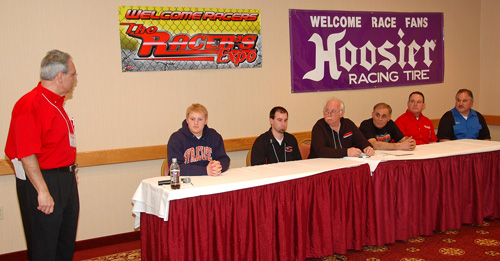 NEMA Announces July 21st
"Showdown Of Champions"
at Seekonk Speedway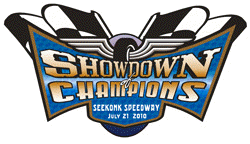 (Brockton, MA) On Wednesday July 21, Seekonk Speedway hosts the Northeastern Midget Association's "Showdown of Champions" a star-studded 25-lap event featuring some of the most-heralded racing talent ever assembled in New England.

Announced during a NEMA press conference held at the recent Racer's Expo Trade Show in Marlborough, MA., the race will be part of Seekonk's "Open Wheel Wednesday" event which also features a full slate of action for the NEMA full-Midgets.

Organizers drew from a vast talent pool for the "Showdown" coming up with a cast of championship-caliber competitors representing several different segments of the sport.

Competing in equally-prepared NEMA Lites Series entries in a 25-lap dash will be John Heydenreich, Chris Perley, Russ Wood, Ted Christopher, Mike Stefanik, Lou Cicconi Jr., Joey Payne Jr., Vinny Annarummo, Fred Astle, and Rick Martin. The group represents literally hundreds of victories and multiple championships in everything from Indy Cars, Midgets and Sprint Cars, to Modifieds, Super Modifieds, and Pro Stocks. There remains the possibility of more "notable" racers being added to the roster.

"We worked diligently at getting some of the best drivers from all facets of the sport to participate, and the response was overwhelmingly positive," stated NEMA Lites' Steve Grant. "We aimed for an absolute "All-Star" cast competing on a completely-level playing ground. In the months-ahead, we'll be working even-further to assure that the Lites Series cars we'll be utilizing for the event are truly-equal in performance for these guys. It's an opportunity for fans to see the "Cream of the Crop" all in one event. There will be no advantages – this one will go to the best driver. With all the talent in this group, "bragging-rights" are sure to be a top priority," he says.

Started with only a handful of entries in 2008, the Lites Series has served as both an economic starting-point for new drivers to get involved in what remains one of the countries "purest" forms of open-wheel competition, and also as a venue for some of the most-seasoned of NEMA competitors. Utilized in the division are economical "sealed" engines. Only a few other subtle differences separate the Lites cars from their "full" Midget counterparts. The competition is both thrilling and equal, setting the stage for a great deal of "side-by-side" racing.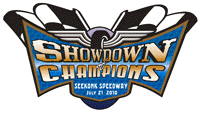 Field Set For NEMA Challenge
Seekonk, MA – The field is set for Northeastern Midget Association 25-lap Showdown of Champions at Seekonk Open Wheel Wednesday. The 10 drivers, who will compete in NEMA Lites cars, fit comfortably into three categories.

The Challenge is part of busy agenda that includes a 100-lap Modified feature and a full NEMA program.

Seekonk regulars

Vinnie Annarummo, Fred Astle, Jr. and Rick Martin

will defend the home turf. The trio has a combined 14 track titles.

The invasion includes two of the premier Modified drivers in the country – nine-time National NASCAR champion

Mike Stefanik

and the incredibly versatile

Ted Christopher

.

A heralded quintet will represent the open-cockpit fraternity – multipule ISMA champions

Russ Wood Sr.

and

Chris Perley

, 1990 Chili Bowl winner

John Heydenreich

, three-time ARDC king

Lou Cicconi Jr.

and 2003 NEMA champ

Joey Payne Jr.



All come with experience on the demanding third-mile. "You always look forward to coming to Seekonk," says Payne.

Little is not represented in a field that combined lays claim to dozens of championships and hundreds of victories. "Looking at the names, there's some bragging rights up for grabs," says Perley, no stranger to the Midgets. Likewise Wood, whose son Russ Jr. is a regular Lites competitor, has Midget experience.

The categories, in fact, overlap. Christopher, owner of multipule track and national Modified championships, is also at home in open cockpit cars having won in Go Karts, Supermodifieds, Midgers and TQs. His "go-to-the front" style could be a major factor in the race."

Stefanik thinks a Showdown win will go well beside the TQ success he scored last winter in nearby Providence, RI.

Long time foes, veterans Payne and Cicconi have major wins in TQ, Midget and Supermodified action. They have a combined eight Seekonk NEMA wins. A Hut 100 winner, Heydenreich's resume also includes success in Sprint Silver Crown cars.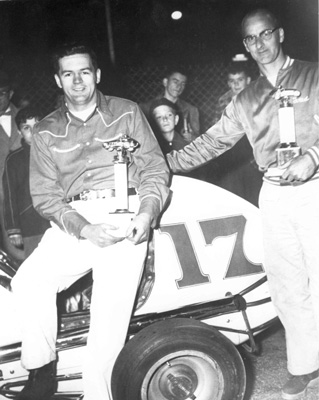 Fred Meeker, left, with car owner Fred Kernan at Seekonk.
NEMA Looks Back at Seekonk Speedway
Steeped in Midget history, Seekonk Speedway hosted the first Northeastern Midget Association event on May 30, 1953. Fred Meeker, in Fred Kernan's #17, won over Al Pillion.

A "Ford Club," NEMA shared the agenda with the established and Offenhauer dominated ARDC. Meeker also won the ARDC feature in the same car, establishing an independent role that NEMA continues to hold.
The NEMA-Seekonk relationship, of course, remains strong. The 'Cement Palace" has hosted over 75 races since that inaugural visit.

Meeker and Kernan were a powerful force in the 1950s, winning in ARDC, MARC and NASCAR as well as NEMA.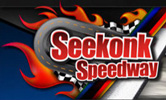 Cabral Takes NEMA Lead to Seekonk
Brockton, MA – Randy Cabral and owner Tim Bertrand come to Seekonk Speedway's Open Wheel Wednesday with the respective Northeastern Midget Association point leads. They'll be looking for a third straight victory in the 25-lap feature.

Second place Russ Stoehr, who trails by 46 points, heads up the group aiming at stopping the streaking Cabral. The two have 11 Seekonk wins between them.

Stoehr, who drives the Dumo Desire #45, is joined by Chris deRitis, Adam Cantor, Russ Stoehr, Jim Miller and Jeff and Mike Horn, all showing strength on occasion this season. Last year's rookie of the year, deRitis, currently sits third in points after five races.

A 100-lap Modified feature and the NEMA Challenge of Champions are on the busy Seekonk docket as well.

Young Jeff Abold, with two NEMA wins at Seekonk over the past two seasons, and veteran Lou Cicconi Jr. are also contenders. Cicconi, a three-time Seekonk winner, will drive the Seymour car Abold rode to victory in last year's Boston Louie. Abold now drives a Gaerte-powered family-owned car that is maintained by the Seymours .

Defending two-time champion Cabral has won four of the last seven NEMA races at Seekonk (Abold, Cantor have the others). He comes to the "cement palace" off wins at Thompson and Stafford Speedways. Both were hard fought and crowd pleasing victories and he and Bertrand expect another battle.

No one, in fact, knows better that no track rivals Seekonk when it comes to hard fought Midget battles. A win away from moving into sixth place on the all-time win list, Cabral won his first NEMA feature in the family car at Seekonk on July 22, 2001.