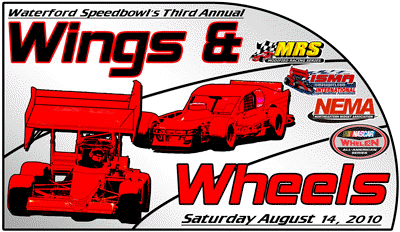 Wings & Wheels Roars Into
Waterford Speedbowl August 14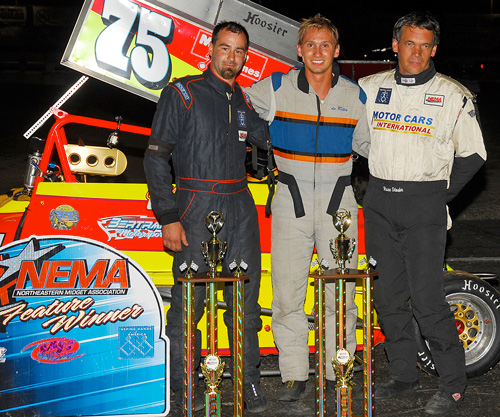 L to R: Randy Cabral, Chris deRitis, and Russ Stoehr
NEMA Feature - Speedbowl - Sat. August 14th
Pos.
#
Driver
Hometown
Owner
1
75
Chris deRitis
Philadelphia, PA
Ciconni/deRitis
2
45
Russ Stoehr
Bridgewater, MA
Dumo's Desire Racing
3
47
Randy Cabral
Plymouth, MA
Tim Bertrand
4
26b
Greg Stoehr
Bridgewater, MA
Greg Stoehr
5
29
Jeff Abold
Pennellville, NY
Bobby Seymour
6
7ny
Adam Cantor
Dix Hills, NY
Cantor Racing
7
93x
Mike Horn
Ashland, MA
Jeff Horn
8
39
Todd Bertrand
Suffield, CT
Tim Bertrand
9
4
Anthony Nocella
Woburn, MA
Bobby Seymour
10
20
Andy Shlatz
Enfield, CT
Andy Shlatz
11
78
Brian Cleveland
Billerica, MA
Linda Cleveland
12
DNF
9
John Zych, Jr.
Liverpool, NY
John Zych, Sr.
13
DNF
22
Chris Leonard
Pelham, NH
Dave Leonard
14
DNF
44
Erica Santos
Franklin, MA
Ed Breault
15
DNF
50
Pete Pernisiglio, Jr.
Ronkonkoma, NY
Pete Pernisiglio,Sr
16
DNF
3m
Jim Miller
Weymouth, MA
Jim Miller
17
DNS
30
Paul Scally
Raynham, MA
Paul Scally
18
DNS
2
Lee Bundy
Kennebunkport, ME
Lee Bundy
HEAT 1 - 3m-93x-4-44-47-22-39 DNF 2-30
HEAT 2 - 75-7-45-9-29-26b-50-78-20
Chris deRitis Gets First NEMA Win
Waterford, CT – Chris deRitis played with the best Saturday night before going on to a convincing Northeastern Midget Association win at Waterford Speedbowl's Wings and Wheels.

The 22-year old Pennsylvanian beat back challenges from defending champion Randy Cabral and had to retake the lead from Russ Stoehr before claiming his first-ever NEMA victory.

deRitis (Cicconi/deRitis 75) passed Russ Stoehr (Dumo's Desire 45) with 10 laps remaining. He went on to win over Stoehr, Cabral (Bertrand 47), Greg Stoehr (Stoehr 26b) and Jeff Abold (Abold 29).

Leading all but two laps, deRitis made the winning pass inside Stoehr heading into turn three. "Russ drove it in high and I went right under him," explained deRitis. "I barely lifted."

"My mistake, I got in too high and he scooted under me," said Stoehr who took the lead on a controversial restart with 12 laps remaining.

deRitis, the 2009 Rookie of the Year, twice beat back early restart challenges from stable mate Cabral. "I knew if I made a mistake it was over," said deRitis. "I knew I couldn't mess up."

The two "came together" on the third restart. The incident clearly angered Cabral who had stormed from eighth to second before the second lap was complete.

"There was contact," admitted deRitis who was concerned with Cabral's post-race anger. "I was just trying to find the groove. I thought that was it, that everybody was going to go by."

"They ran into each other," offered Stoehr. "I drove off the bottom, took the lead and waited for a yellow that never showed."

Cabral, who never doubted deRitis' win, settled into third. deRitis, who had a fast lap of 12.977 (104.030 mph) quickly erased Stoehr's lead before making the winning pass.

The coveted Boston Louie Memorial is next on Aug. 28 at Seekonk Speedway.




"Really cooking" deRitis said of the fast lap.


It was the third race of the season at Waterford and the second first-time winner, deRitis joining Chris Leonard who captured the season-opener…"and both cars with yellow," pointed out Russ Stoehr who finished second to both of them.


deRitis made co-owner Lou Cicconi look good, the latter predicting a win for the youngster before the season began.


Lites standout Todd Bertrand scored an eighth in his NEMA debut.


Jim Miller and deRitis were heat winners.





Todd Bertrand Set For NEMA Debut
Brockton, MA – Todd Bertrand has picked the right track to make his Northeastern Midget Association debut. Todd, a vital part of the NEMA Lites over the past three years, will be stepping into the family #39 Saturday at Waterford Speedbowl's Wings and Wheels.
A NEMA Lites winner at Waterford in 2008, Bertrand has posted two podiums in 'Bowl action this summer. He will be part of a busy pit that includes the #47 of two-time defending champion Randy Cabral and the #75 of Chris deRitis.
Anthony Nocella, a frequent winner in the Lites, will be making his second NEMA start in the Seymour car.
Slated to be a full-time NEMA competitor in 2011, Bertrand, a winner at Monadnock this year, will be reporting to pre-season soccer camp at Western New England following the Waterford race.
Cole Carter drove the car to two podiums earlier this year. Ryan Newman is among the names that have filled the seat.





Chris Leonard Returning to Waterford
After a long wait for backordered pistons, Chris and Dave Leonard have the #22 back together for their return to NEMA Midgets competition.

Following a popular first win at NEMA's season opener at the Speedbowl, the #22 has been able to score points in only a couple of outings while battling mechanical woes.

With the rebuild complete this past weekend, Chris hopes to be back on form at Saturday's Wings and Wheels show.





NEMA Battle Moves Back to Speedbowl
Brockton, MA - Only 32 points separate leader Randy Cabral and contender Russ Stoehr as the Northeastern Midget Association head to Waterford Speedbowl's Wings and Wheels Saturday night.
NEMA shares the program with the ISMA supers, The Modified Racing Series and the Speedbowl's SKs on a program that has quickly become a New England favorite.
Stoehr comes to Waterford with victories in two of the last three events in the Dumo's Desire 45. That includes a win in the Hammond Memorial at the Bowl less than a month ago. Two-time defending champion Cabral, NEMA's all-time Speedbowl winner with eight, has three wins this season in the Bertrand 47. He is working on a streak of five straight podiums.
The battle for third is no less torrid between Greg Stoehr (Stoehr 26b), Chris deRitis (Cicconi/deRitis 75) and Adam Cantor (Cantor 7ny). All three are capable of strong runs, Cantor a winner at Monadnock.
The three-eighths Speedbowl is a charter member of NEMA. It is generally accepted as the premier Midget track in New England. Greg Stoehr's 13.032 seconds lap at the Hammond Memorial converts to just over 103 mph.
Other contenders include second generation drivers Jeff Abold in the family car and Mike Horn, the latter impressive most recently at Seekonk's Open Wheel Wednesday. "We believe we're closing in on that first victory," insists Horn.
No facility, incidentally, has hosted more NEMA first-time wins over the past decade that Waterford. Season-opener winner Chris Leonard was the most recent addition to the list.
The list also includes Barry Kittredge and Jim Miller, the latter coming to Waterford off two strong finishes this season including a fifth the last time out at Monadnock.
Aaron Wall and John Zych Jr are worthy of watching as is 17-year old Anthony Nocella who's slated to drive the Seymour car that won at Seekonk. Todd Bertrand, a Lites standout, will be making his NEMA debut in the family #39.





Cabral, Stoehr Chasing NEMA History
Brockton, MA – Neither will admit to any concern, but Randy Cabral and Russ Stoehr, running one-two atop the Northeastern Midget Association points battle, are flirting with history. There are two major races looming in August – NEMA's participation in Waterford Speedbowl's Wings & Wheels on the 14th and the heralded Boston Louie Memorial at Seekonk on the 28th.
After three wins this year in the Bertrand 47, two-time defending champion Cabral is a win away from sole possession of sixth on NEMA's all-time win list. He is currently tied with Johnny Mann with 29. Stoehr, a two-timer so far this summer in the Dumo's Desire 45, sits fourth with 42 wins, three behind Nokie Fornoro.
Cabral, insistent that he "doesn't belong" with the drivers ahead of him, dismisses the subject quickly. Still, second-generation driver Cabral and third-generation competitor Stoehr, who has won two of the last three races, are fully aware of the role history plays in the 58-year old club.
Stoehr, a five-time champion who has been winning NEMA races since 1989, is highly motivated in carrying forth the traditions set by the late Gene Angelillo. The two wins bring the Angelillo total to 108. Still, in the few years they've been together, the Cabral/Bertrand statistics take a back seat to none.
Waterford and Seekonk are NEMA's "come home," venues with few secrets and high possibility for surprises. Classic testimony to the latter - Cabral's first win, the 2000 Boston Louie at Seekonk in a family car that was older than he was. A surprise of more recent vintage is Chris Leonard's first-ever win in this year's season opener at Waterford.
Over the years Waterford has produced a number of first time wins. High on the list of possibilities this time are Chris deRitis and Mike Horn, both having impressive runs this season. The deRitis car is part of the Bertrand stable. Horn, third at Seekonk, will benefit from the addition of father Jeff to his team. Jeff, who crashed badly at Monadnock, will be "taking some time off" as a driver.
Greg Stoehr, who chased his brother home at the recent Hammond Memorial at Waterford, Adam Cantor, a winner earlier this year, and Jim Miller, are top contenders as well. Lou Cicconi Jr., who dominated Seekonk's Open Wheel Wednesday show, and Jeff Abold are also strong possibilities for Waterford.




After winning six of seven and four in a row (including the '08 Wings and Wheels), Randy Cabral has just two podiums in the last five races at Waterford.


The Seymours and the Bertrand 47 have identical records in the last seven shows at Seekonk, three wins and two seconds.


Anthony Nocella won his second Lites feature of the year and sixth over two years at Monadnock. The 17-year old has made one NEMA start (at Waterford) and gets high praise from the Seymours who have been instrumental in the careers of Bobby Santos III and Jeff Abold.


NEMA has produced a new winner in every year but one since 1997, that being 2009. It started right away this year with Chris Leonard's win at Waterford.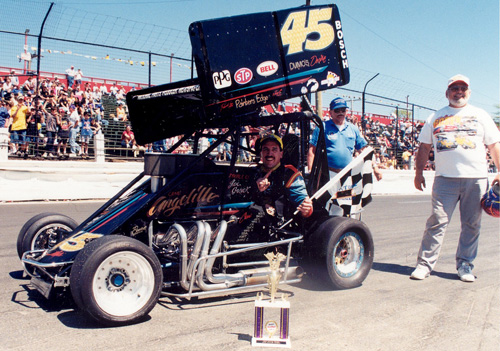 NEMA Looks Back at Waterford Speedbowl
Ted Christopher's Waterford Speedbowl win on May 24, 1998 remains one of the most talked about events in the track's long association with NEMA. Driving an Angelillo car, Christopher edged Bobby Seymour with Mike Seymour third. It remains the only NEMA win for the versatile Christopher who has prevailed in a host of different types of race cars including TQs and Supermodifieds in addition to Modifieds . NEMA returns to Waterford for the Aug. 14 Wings & Wheels show.