SUNDAY
JUNE 19th

---

Russ Stoehr and Russ Wood Jr.
The Thunder Road Winners
Barre, VT - Russ Stoehr passed Mike Horn heading into turn one on lap 18 and went on to a convincing Northeastern Midget Association victory Sunday night at Thunder Road Speedbowl. It was NEMA's first visit to the fame quarter mile since 1991.

Using the outside almost exclusively, Stoehr (Dumo' Desire #45), who came from ninth, used an inside move to get brother Greg (Stoehr #26b) heading into three on lap 17. Two turns later he did the same to Horn (Horn #93x) en route to his second 2011 win in as many tries.

Greg Stoehr got Horn for second with five left. John Zych Jr. (Zych #9) and Jeremy Frankoski (Cantor #7ny) completed the top-five. Greg Stoehr had the fastest feature lap (11.377) although Russ' 11.348 en route to the first heat win set a track record.

Paul Scally (Scally #30) treated the large crowd to some aeronautics in the feature. Going high to miss a spun Jim Miller (Miller #3m) in one, Scally appeared to just clip the wall and then flip end-over-end at least four times down the egress road. He was uninjured.

Horn, who started second, grabbed the immediate lead although by lap 17 the Stoehr brothers were right behind him. Pointing out the car "actually came to me," Stoehr "spent time figuring out how to make the passes." At one point, he actually touched the straightaway wall.

Second heat winner Horn, plagued by a skipping engine, was "a little bit disappointed" but nonetheless impressive in his first run at Thunder Road. Greg, a winner there in '92, and Russ were part of the few that had experience there. Randy Cabral (Bertrand #47) pitted on the red with electrical problems and came back to get a sixth.

In the NEMA LITES Division, Russ Wood Jr. started seventh, assumed control on lap eight and won the 25-lap LITES feature. Anthony Nocella passed four cars over the final six laps to nip Andy Barrows for second.

Wood (Wood #51) moved inside early leader Paul Luggelle (Luggelle #28) through three and four with eight laps gone and built a sizeable lead. "We had a good car all day," understated Wood, the second heat winner and owner of the fastest feature lap (12.101).

Nocella (Seymour #29) put on a dazzling display. He and Barrows (Barrows #81) waged an epic battle over the final lap, Nocella taking second by less than a car length. Cabral (Scally #4) finished strong as well to claim fourth with Carl Medeiros Jr. (Medeiros #50) fifth.

Rookie Brandon Igo in the #48 was the other LITES heat winner.

Only one yellow marred the Lite feature, Paul Bigelow #31 smashing the straightaway wall just as lap two began. Joey Mucciacciaro #45 and Lanson Fornoro #00 were also involved in the incident.

NEMA will be at Stafford Motor Speedway's Carquest Extreme on Tuesday, June 28.


Thunder Road co-owner and announcer Ken Squier could not stop singing the praises of NEMA and that includes the LITES...The faster LITES were about a half-second off their bigger brothers.
"Clears it all up now," Russ Stoehr understated after establishing the track record, erasing Joe Csiki's 11.47 set back in the early 1960s. There was serious doubt about the old standard.
"A demanding place," Russ Stoehr called it while brother Greg, who won there back in 1992, calls it his "favorite track."
Jeff Horn, a Thunder Road winner in '91, watched his son finish third.

Photos by John DaDalt
Photos by
Leif Tillotson

NEMA Feature - Thunder Road - Sun., June 19th
Pos.
#
Driver
Hometown
Owner
1
45
Russ Stoehr

Lakeville, MA

Dumo's Desire Racing
2
26b
Greg Stoehr
Bridgewater, MA
Greg Stoehr
3
93x
Mike Horn
Ashland, MA
Jeff Horn
4
9
John Zych, Jr.
Liverpool, NY
John Zych, Sr.
5
7ny
Jeremy Frankoski
Huntersville, NC
Cantor Racing
6
47
Randy Cabral
Plymouth, MA
Tim Bertrand
7
25
Keith Botelho
Attleboro, MA
Russ Stoehr
8
29
Anthony Nocella
Woburn, MA
Matt Seymour
9
16
Matt O'Brien
Wilmington, MA
Jim O'Brien

10

2
Lee Bundy
Kennebunkport, ME
Lee Bundy
11


DNF

35
Todd Bertrand
Suffield, CT
Glen Cabral
12


DNF

22
Chris Leonard
Pelham, NH
Dave Leonard
13


DNF

3m
Jim Miller
Weymouth, MA
Jim Miller
14


DNF

30
Paul Scally
Raynham, MA
Paul Scally
15


DNF

81
Andy Barrows
New Ipswich, NH
Andy Barrows
16


DNF

50
Carl Medeiros, Jr.
Westport, MA
Carl Medeiros

Photos by




John DaDalt

Photos by
Leif Tillotson

Lites Feature - Thunder Road - Sun., June 19th
Pos.
#
Driver
Hometown
Owner
1
51
Russ Wood Jr.
Pelham, NH
Russ Wood Jr.
2
29
Anthony Nocella
Woburn, MA
Matt Seymour
3
81
Andy Barrows
New Ipswich, NH
Andy Barrows
4
4
Randy Cabral
Plymouth, MA
Paul Scally
5
50
Carl Medeiros, Jr.
Westport, MA
Carl Medeiros
6
28
Paul Luggelle
Holbrook, MA
Paul Luggelle
7
48
Brandon Igo
Wilbraham, MA
David Igo
8
46
Kenny Johnson
Bethany, CT
Jeff Johnson
9
26b
Bethany Stoehr
Bridgewater, MA
MCI Racing/
Greg Stoehr
10

21

Anthony Marvuglio

E. Bridgewater, MA

Jennifer Scrivani

11


DNF

71
Seth Carlson
Brimfield, MA
Gene Feigel
12


DNF

13
Ryan Bigelow
E. Hampton, CT
Randy Bigelow
13


DNF

31
Paul Bigelow
Berlin, CT
Randy Bigelow
14


DNF

45
Joey Mucciacciaro
Wolcott, CT
Frank Mucciacciaro
15


DNF

00
Lanson Fornoro
Stroudsburg, PA
Paul Luggelle

---

NEMA Set For Thunder Road
Brockton, MA –"The fourth turn wall," is Greg Stoehr's quick response to inquiries of his memories of Vermont's Thunder Road Speedbowl. Stoehr, a winner there in 1992, leads the Northeastern Midget Association back to the banked quarter mile Sunday, June 19.

The NEMA Lites will face the famed "widow maker" as well.

"The wall just sort of lays out there," continues Stoehr, one of the few NEMA competitors with Thunder Road experience. "Coming out of four will make a lot of difference. You've got to be careful."

While he agrees, promoter Tom Curley predicts a great show. "Thunder Road is perfectly suited for them," offers Curley, pointing out the facility was built with Midgets in mind back in 1959. He remembers well the early 1960s NEMA visits with the likes of Joe Csiki, Billy Randall, Len Thrall. "Those guys were wild," he says.

Stoehr points out Csiki's one-lap record survived challenges in '91 and '92. It does not surprise Curley who expects Sunday's top times will be in the "very low 12s." NEMA, he predicts, will be "very fast."

Stoehr and brother Russ are among the few who have raced at Thunder Road before. Jim Miller, now a driver, was Greg Stoehr's car owner back in '92. Keith Botelho is another veteran. Randy Cabral, Jeremy Frankoski, Jeff Abold, Chris Leonard, John Zych Jr. and Mike Horn are among those making their TR debut.

Horn's dad Jeff was a Thunder Road winner back in 1991.

Two-time winner Anthony Nocella looms the favorite as the Lites face perhaps their biggest challenge yet. Other contenders include Andy Barrows, Anthony Marvuglio, Carl Medeiros, Ryan Bigelow, Cabral, Russ Wood along with rookies Brandon Igo and Seth Carlson.

"You can't compare Thunder Road to any other track," Greg Stoehr says. "You just got to go out and get the feel it." He does, however, recall "it's got that old track feel to it. The fans are great, appreciative. You feel like you're part of something big."

It is, after all, Thunder Road. "We've been looking forward to this for a while now," offers Cabral.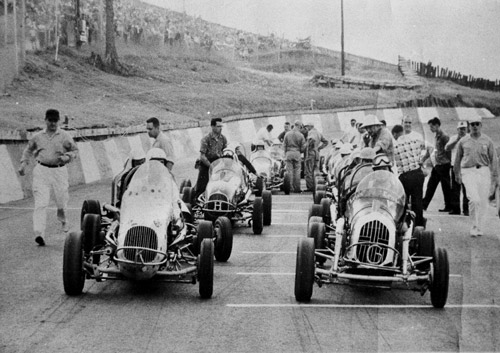 An early 1960s shot of the NEMA Midgets getting ready at Catamount Stadium that was in Milton, VT. From the R.A. Silvia files.
Rain Stops NEMA, Thunder Road Next
Brockton, MA – The Northeastern Midget Association fell victim to the rain at Twin State Speedway Saturday night and now looks forward to a return to the famed Thunder Road Speedbowl in Barre, Vt. Sunday afternoon. The make-up date for Twin State has not been determined.

The NEMA Lites will be taking on Thunder Road's banks as well.

NEMA has not visited Thunder Road since 1992 when Greg Stoehr, driving for Jim Miller, won the feature. With few exceptions including defending champion Russ Stoehr, most of the NEMA competitors will be on the famed quarter mile for the first time.

"There is no question it is a fast place and a challenge," said NEMA President Mike Scrivani Jr., "but one we've been looking forward to. We put on a great show the last time we were there and we'll do it again."

Randy Cabral is among those testing Thurder Road for the first time. Others include Jeremy Frankowski, Chris Leonard, John Zych Jr., and Mike Horn. Horn's dad Jeff was a Thunder Road winner back in 1991. Keith Botelho and Jim Miller, a driver this time, are also contenders.

Anthony Nocella, who already had two wins this season, leads the Lites into Thunder Road. Bobby and Mike Seymour, Nocella's owners, were solid Thunder Road performers in the past. The talented Lites group also includes Cabral, Anthony Marvuglio, Jim Santa Maria and Carl Medeiros Jr., Waterford winner Ryan Bigelow and top rookie Seth Carlson.

Thunder Road was a regular NEMA stop in the early to mid 1960s. Len Thrall, Dick Brown, Jerry Russo, Billy Randall, Bill Eldridge and Joe Csiki, legends all, were winners.