FRI
DAY, JULY 15TH
Greg Stoehr and Russ Wood Jr. Notch
NEMA Victories At Lee USA Speedway
(LEE, NH) Greg Stoehr claimed the 25-lap Northeastern Midgets Association feature at New Hampshire's Lee USA Speedway on Friday evening. It was the veteran racer's first main event win of the season.

Quickly establishing himself as the man to beat, Stoehr passed pole sitter Paul Scally on the second-lap and was never seriously challenged. He easily pulled-away from the field following the events only two restarts.

Action behind the leader was highlighted by an intense battle for second spot between Jeremy Frankoski, Randy Cabral, and Jeff Abold. The action was halted when Cabral suddenly slowed on the backstretch signaling the event's first yellow flag. Restarting from the back, Cabral rallied to a 6th place finish.

The final caution occurred with only 2 circuits remaining when John Zych Jr. stopped on the back chute. Again Stoehr set the pace on the restart, easily maintaining his position at the front.

Frankoski held-on for second followed by Abold. Completing the top-5 was defending NEMA champion Russ Stoehr and Anthony Nocella.

"It feels like it's been a long-time coming" stated winner Stoehr who early in his career was a Late Model competitor at Lee. "The car was just-perfect tonight, and I was able to take advantage of that. Things really went out way right from the start. I'm really happy for our team."

An animated Frankoski seemed elated with a second-place finish. "We'd been experiencing a lot of motor problems, so grabbing a second is almost like a win for us" he commented.

Third-place Jeff Abold stated that he'd been fighting his car throughout the feature. "It was really, really tight coming out of the corners. This finish was a real labor of love for the team; we worked really-hard tonight."

In the 20-lap LITES division main event it was second-generation racer Russ Wood Jr. taking the victory. Wood passed leader Anthony Marvuglio following a restart with only five circuits remaining.

"The car was absolutely-perfect tonight," stated the winner. "I simply can't thank my dad enough for the setup he put under me tonight. That was some intense racing. On the last restart I really stepped-it-up, and fortunately it worked our way."

Rounding-out the top-5 was Jake Sturgios, Marvuglio, Andy Barrows, and James Santa Maria.

The NEMA Midgets next see action at Seekonk Speedway's "Open Wheel Wednesday" on July 20. The NEMA LITES next event happens on Friday evening July 22, also at Seekonk.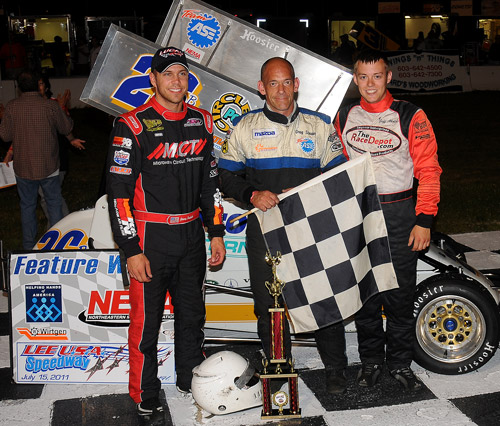 NEMA Midgets Top 3 - L to R: Jeremy Frankoski #7ny, 2nd:
Winner Greg Stoehr #26b; & Jeff Abold #29.
NEMA Feature - Lee USA - Fri., July 15th
Pos.
#
Driver
Hometown
Owner
1
26b
Greg Stoehr
Bridgewater, MA
Greg Stoehr
2
7ny
Jeremy Frankoski
Huntersville, NC
Cantor Racing
3
29
Jeff Abold
Pennellville, NY
Jeff Abold
4
45
Russ Stoehr
Lakeville, MA
Dumo's Desire Racing
5
99
Anthony Nocella
Woburn, MA

Susan

Santa Maria
6
47
Randy Cabral
Plymouth, MA
Tim Bertrand
7
8
Barry Kittredge
Marlboro, MA
Barry Kittredge
8
93x
Mike Horn
Ashland, MA
Jeff Horn
9
25
Keith Botelho
Attleboro, MA
Russ Stoehr

10

16
Matt O'Brien
Wilmington, MA
Jim O'Brien

11

2
Lee Bundy
Kennebunkport, ME
Lee Bundy
12


DNF

30
Paul Scally
Raynham, MA
Paul Scally
13


DNF

9
John Zych, Jr.
Liverpool, NY
John Zych, Sr.
14


DNF

39
Todd Bertrand
Suffield, CT
Bertrand
Motorsports
15


DNS

22
Chris Leonard
Pelham, NH
Dave Leonard
16


DNS

49

B.J. MacDonald
Dublin, PA
B.J. MacDonald
17


DNS

35
Jesse State
New Hyde Park, NY
Glen Cabral

Heat #1:

47 - 99 - 30 - 8 - 16 - 39 - 49 - 35 - 22

Heat #2:

26b - 7ny - 29 - 9 - 45 - 93x - 25 - 2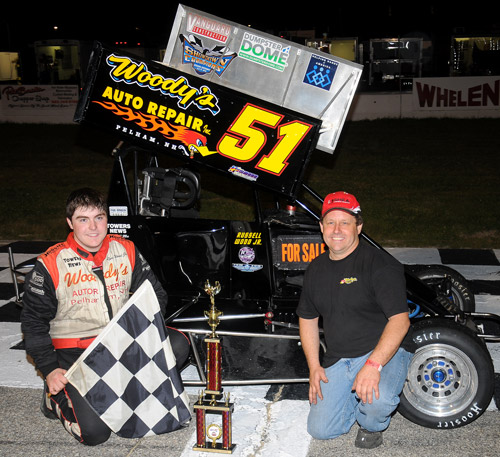 NEMA LITES Winner Russ Wood Jr. with father Russ Wood Sr.
LITES Feature - Lee USA - Fri., July 15th
Pos.
#
Driver
Hometown
Owner
1
51
Russ Wood Jr.
Pelham, NH
Russ Wood Jr.
2
9
Jake Sturgios
Candia, NH
Bobby Seymour
3

21

Anthony Marvuglio

E. Bridgewater, MA

Jennifer Scrivani

4
81
Andy Barrows
New Ipswich, NH
Andy Barrows
5
99
Jim Santa Maria
Burlington, CT
Susan Santa Maria
6
13
Ryan Bigelow
E. Hampton, CT
Randy Bigelow
7
18
David Moniz
Fairhaven, MA
David Moniz
8
48
Brandon Igo
Wilbraham, MA
David Igo
9
44
Christian Briggs
Mattapoisett, MA
Christian Briggs
10
71
Seth Carlson
Brimfield, MA
Gene Feigel
11
7x
Jack McKeon
Kensington, CT
Jack McKeon
12


DNF

47
Lanson Fornoro
Stroudsburg, PA
Julia Parker
13


DNF

28
Paul Luggelle
Holbrook, MA
Paul Luggelle
14


DNF

52
Kevin Park
Foxboro, MA
Kevin Park
15


DNF

46
Kenny Johnson
Bethany, CT
Jeff Johnson
16


DNF

26b
Bethany Stoehr
Bridgewater, MA
MCI Racing/
Greg Stoehr
17


DNS

50
Carl Medeiros, Jr.
Westport, MA
Carl Medeiros
18


DNS

4
Randy Cabral
Plymouth, MA
Paul Scally

HEAT 1

- 51 - 81 - 18 - 71 - 9 - 48 - 99 - 13

HEAT 2

-

28 - 44 - 52 - 47 - 21 - 50 - 26 - 46 - 7x