OPEN WHEEL WEDNESDAY

WEDNESDAY, JULY 2Oth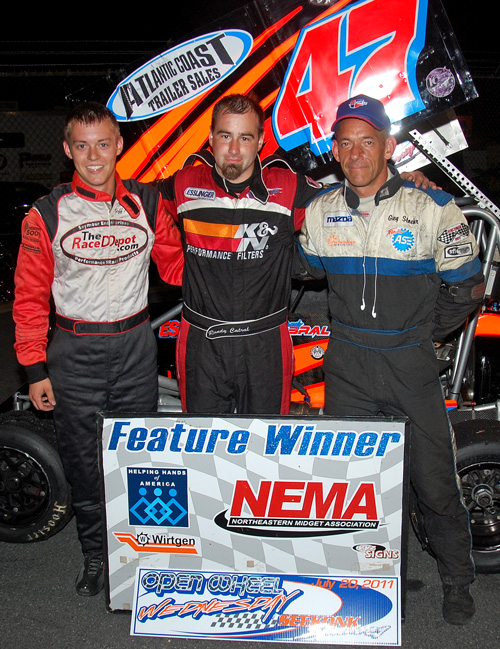 Top Three at Seekonk OWW - L to R: Jeff Abold #29, 2nd:
Winner Randy Cabral #47; & Greg Stoehr #26b, 3rd.
NEMA Feature - Seekonk OWW - Wed., July 20th
Pos.
#
Driver
Hometown
Owner
1
47
Randy Cabral
Plymouth, MA
Tim Bertrand
2
29
Jeff Abold
Pennellville, NY
Jeff Abold
3
26b
Greg Stoehr
Bridgewater, MA
Greg Stoehr
4
7ny
Jeremy Frankoski
Huntersville, NC
Cantor Racing
5
45
Russ Stoehr
Lakeville, MA
Dumo's Desire Racing
6
93x
Mike Horn
Ashland, MA
Jeff Horn
7
25
Keith Botelho
Attleboro, MA
Russ Stoehr
8
22
Chris Leonard
Pelham, NH
Dave Leonard
9
39
Todd Bertrand
Suffield, CT
Bertrand
Motorsports

10

44

Ben Seitz
Pocasset, MA
Ed Breault

11

8
Barry Kittredge
Marlboro, MA
Barry Kittredge

12

2
Lee Bundy
Kennebunkport, ME
Lee Bundy
13


DNF

99
Anthony Nocella
Woburn, MA
Susan Santa Maria
14


DNF

30
Paul Scally
Raynham, MA
Paul Scally
15


DNF

9
John Zych, Jr.
Liverpool, NY
John Zych, Sr.
16


DNF

35
Jesse State
New Hyde Park, NY
Glen Cabral
17


DNF

75

Chris deRitis

Philadelphia, PA
Dan

deRitis

Heat #1:

47 - 25 - 30 - 29 - 39 - 99 - 35 - 8 - 2

Heat #2:

9 - 45 - 22 - 7ny - 26b - 44 - 75 - 93x
Seekonk NEMA Honors to Cabral
Seekonk, MA – Surviving three restart challenges, Randy Cabral (Bertand #47) won the Northeastern Midget Association's 25-lap feature at Seekonk Speedway's Open Wheel Wednesday. It was the first win of the season for Cabral, the fourth winner in the last four NEMA races.

Eventual runner up Jeff Abold (Abold #29) applied the last restart challenge with six laps remaining. "It was my race to lose at that point," said Cabral. Starting sixth, he had led since lap four when he passed Paul Scally (Scally #30) in the front chute.

Cabral, who is "always nervous about restarts" got away from Scally (lap seven) and Jeremy Frankoski (lap 10) earlier.

Greg Stoehr (Stoehr #26b) edged Frankoski (Cantor #7ny) for third with point leader Russ Stoehr (Dumo's Desire #45) fifth.

Abold passed Frankoski shortly after the second restart and had followed Cabral for eight laps before the final yellow."I was thinking we had something for him on a restart, that it was our best chance," said Abold. He added "at the point we were in very similar cars."

"He [Abold] likes to go early," explained Cabral. "I saw him start to go so I guess I went a little early too." A three-time Seekonk winner, Abold did make a serious inside challenge heading into one ("he showed me the nose") before Cabral grabbed a four car length advantage and went on to win with a 0.741 advantage.

"We're trying to keep it consistent," said Greg Stoehr who came from 12th. "We just hung in there." Sitting seventh at the second restart, he got third with three laps left. Greg has emerged as the top contender to brother Russ' championship hopes.

"The way it started, I didn't think it would go this way," said Cabral, adding "we chased the car all day. It wasn't really good until the heat." He called a ride in the Pro-4 "a calming influence." Cabral's 11.256 in his heat was the fastest competitive lap of the night. He also had the fastest feature lap (11.327).

NEMA heads to Waterford Speedbowl Saturday July 30 for the second annual Shane Hammond Memorial.

THANKS FROM A FAN

Please thank Randy Cabral and Bertrand Motor Sports for letting a young boy (pictured with flag) at the Open Wheel Wednesday Midget Show at Seekonk July 20th. Jim Jr. took his Son Adam up to winners circle and was standing there when he was invited to be part of a photo and was handed the checkered flag.

I have been following NEMA since I was 13 years old and Jim Jr who turned 41 on July 20th has been following NEMA from his very early childhood days. I worked for Ev Rogers (61 Badger driven by Billy Mann) and followed the 94 Racing Team with Joey Coy for a good number of years. I remember the Oswego trips with 94 racing team.

My grandson will never forget the night he went to Seekonk on Open Wheel Wednesday and was given the opportunity to be in photo of the winning midget driver. Adam will be another midget fan generation like his grandfather and father. There is no auto racing show like a midget show. For many years we followed NEMA through out the New England States and the many trips to Star Speedway,Hudson Speedway and all the other tracks NEMA raced on.

If you could get this thank you to Randy Cabral and his team would be greatly appreciated. It will be a night at the midget races my grandson wont ever forget. NEMA put on a great show for the racing fans on Open Wheel Wednesday.

Many Thanks
Jim Marsh Sr
West Warwick, RI

Competition Red Hot
as NEMA Visits 'Konk
Brockton, MA – With three winners in the past three races, the Northeastern Midget Association takes what has turned into a very competitive situation into Seekonk Speedway's Open Wheel Wednesday (July 20). It is the club's first Seekonk 2011 visit.

Greg Stoehr, a winner last Friday night at Lee, will be looking for two straight in the 25-lap feature. Point leader Russ Stoehr will be in pursuit of his fourth triumph this year. Mike Horn, who ended Russ Stoehr's win streak at Thompson, is the other winner.

Greg has climbed to within 67 points of his older brother. The siblings have eight Seekonk wins between them.

Randy Cabral, who continues to battle bad luck, and Seymour Enterprises driver Jeff Abold head up the challengers. Cabral has six career wins at the "Cement Palace" while Abold has three including the last two Boston Louie events. Abold posted a blistering 11.071 lap in last year's Louie qualifying.

"Seekonk is one of those tracks where the better you are off the hauler the better you are overall," says NEMA President Mike Scrivani Jr. "We've been coming to Seekonk a long time and there are not a lot of secrets left. You have to run hard there."

Seekonk hosted NEMA's first-ever event back in 1953 and over the years has not failed to produce some drama. Included in the latter list is Keith Botelho's triumph in the Stoehr 25 in last fall's DAV. Bothelho returns in the same car.

Jeremy Frankoski, second at Lee, is a definite contender in the Cantor 7ny. Among the other hopefuls are John Zych Jr., third in last year's DAV, Barry Kittredge, Chris Leonard and B.J. MacDonald.

The NEMA win list at Seekonk starts with Fred Meeker. Nokie Fornoro's eight wins top the list. The Seymour family record at Seekonk is extraordinary. Not only have both Mike and Bobby won there, Lou Cicconi, Bobby Santos III, Mark Buonomo, in addition to Abold, have driven Seymour cars to wins at Seekonk.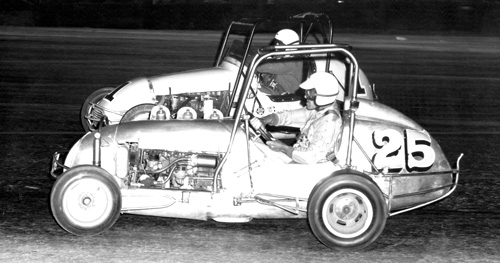 Bob Cherry (25) and Dick Gallagher do battle in the 1960s.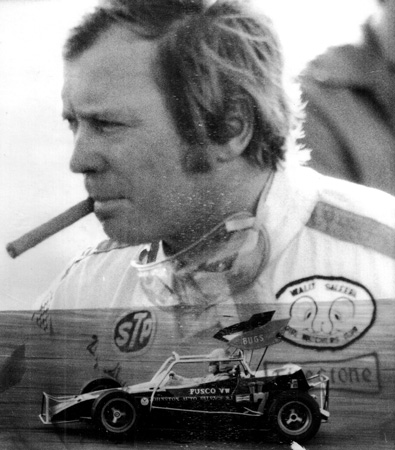 Bugs Stevens drove this Fusco car to a second at Seekonk 10/3/1976.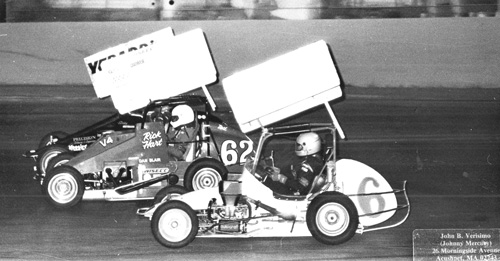 Paul Lawless (6), Ricky Hart (62) and Jeff Horn (outside) at Konk in 1991.