The Angelillo Memorial Race
- Honoring Gene & Marilyn -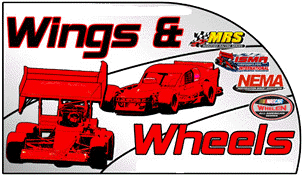 WATERFORD SPEEDBOWL - SAT., AUGUST 13th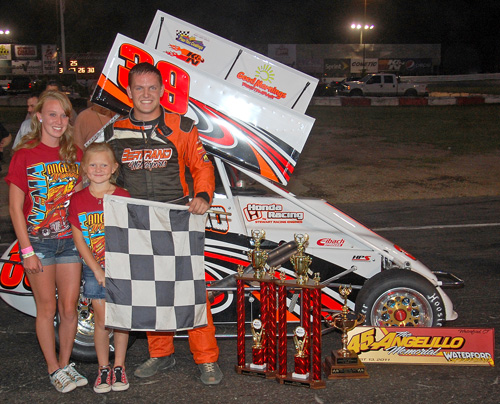 Todd Bertrand wins his first NEMA feature at the Angelillo Memorial
Photos by Norm Marx
NEMA Feature - Waterford - Sat., August 13th
Pos.
#
Driver
Hometown
Owner
1
39
Todd Bertrand
Suffield, CT
Bertrand
Motorsports
2
47
Randy Cabral
Plymouth, MA
Tim Bertrand
3
26b
Greg Stoehr
Bridgewater, MA
Greg Stoehr
4
30
Paul Scally
Raynham, MA
Paul Scally
5
29
Jeff Abold
Pennellville, NY
Jeff Abold
6

49

B.J. MacDonald
Dublin, PA
B.J. MacDonald
7
45
Russ Stoehr
Lakeville, MA
Dumo's Desire Racing
8
7ny
Jeremy Frankoski
Huntersville, NC
Cantor Racing
9
93x
Mike Horn
Ashland, MA
Jeff Horn
10
A1
Jeff Horn
Ashland, MA
Jeff Horn

11

99
Anthony Nocella
Woburn, MA

Susan

Santa Maria

12

87
Doug Cleveland
Sudbury, MA

Doug Cleveland

13

2
Lee Bundy
Kennebunkport, ME
Lee Bundy
14


DNF

3m
Jim Miller
Weymouth, MA
Jim Miller
15


DNF

25
Keith Botelho
Attleboro, MA
Russ Stoehr
16


DNS

22
Chris Leonard
Pelham, NH
Dave Leonard
Todd Bertrand NEMA First Timer
By Pete Zanardi -
Waterford, CT – Patience paid dividends Saturday night for 20-year old Todd Bertrand. Driving the family No. 39, Bertrand won the Northeastern Midget Association's 25-lap Angelillo Memorial at Waterford Speedowl's Wings and Wheels. It was his first NEMA win.

Passing Paul Scally on lap 19, Bertrand covered the distance in a record 5:46.76 (97.330 mph) and finished three-seconds ahead of teammate Randy Cabral (Bertrand #47), the latter coming from 14th. In a mad scramble, Greg Stoehr (Stoehr #26b), Scally (Scally #30) and Jeff Abold (Abold #29) completed the top five.

Bertrand, the sixth winner this year, passed Scally with an inside move into turn three. Pole sitter Scally was the only other leader.

Believing Scally to be faster, Bertrand was content in second "staying patient, driving off the top" and "waiting for an opportunity." It came when Scally drifted up going into three. Bertrand, looking to go outside, "shot to the inside instead" and into the lead.

Before the pass, Scally ran comfortably ahead of Bertrand, B.J. MacDonald and Cabral for several laps. Stoehr came up to challenge Cabral by lap 15.

"The win means so much because of the race," continued Bertrand. "The Angelillos were so important to NEMA. And because Waterford is my favorite track." It is another chapter in the Bertrand/Speedbowl love affair.

While victory belonged to Bertrand, "the move" belonged to Cabral. NEMA's top Waterford winner, Cabral was part of a tight group battling behind Bertrand. With three laps remaining, he took second with a four-wide pass heading into three.

"Don't know how I did it," said Cabral, who was fourth by lap 12. "There was an opening and I think I shut my eyes and went for it." His car, Cabral said, was "awful in practice and we changed everything. We were lucky."

Greg Stoehr got faster as the race went on. "Hooked up on the outside," Stoehr grabbed third on lap 22 and finished a half second behind Cabral.

A broken throttle spring plagued point leader and defending Angelillo Memorial champ Russ Stoehr who finished seventh.

Bertrand and Russ Stoehr were the heat winners.

NEMA gets two week off before returning to Seekonk for the prestigious Boston Louie Seymour Memorial on August 27.




Laura Kibbe did an incredible job in honoring her mother and father Gene and Marilyn Angelillo .


"We don't get to race like that often," offered Greg Stoehr. Winning car owner Tim Bertrand saw it "as maybe the most exciting race I've seen since being associated with NEMA."


In the past two races, Cabral actually passed Bertrand late in the race. This time he didn't get close enough to do it.


It was the eighth Waterford win for the Bertrand family. It started with Tim's win back in 2002.


Jim Miller had the fastest feature lap (13.105). Miller returned after a long layoff while Jeff Horn made his first start of the season.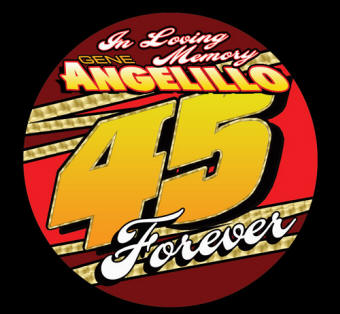 Speedbowl Special
For Gene & Marilyn
Brockton, MA – Over three decades, car owners Marilyn and Gene Angelillo won 107 Northeastern Midget Association races. It led to 14 car owner championships with three drivers – an extraordinary statistic.

Gene died in March of 2010. The last win he celebrated was Waterford's 2009 Wings and Wheels. Russ Stoehr was the driver.

Ironically, this Saturday the Angelillo Memorial is part of the fourth edition of Wings and Wheels. Stoehr's win in last summer's Angelillo race helped the team capture the championship.

It is a continuation of the Marilyn's Passion race at Monadnock in 2009. Marilyn died in September of 2007. After Gene's passing, daughter Laura Kibbe brought the race to Waterford. It made sense.

The Angelillo Waterford victories are divided up between four drivers starting with Drew Fornoro who got the first one back in 1982. Joey Payne and the versatile Ted Christopher have also won at The 'Bowl in Angelillo equipment.

As officers (Gene was a president, Marilyn a secretary) the Angelillos helped guide NEMA.

Marilyn's contributions to NEMA and to the race team continues. The number – 45 – was her idea. It was Gene's age at the time he became a car owner. The "Dumo's Desire" tag memorializes Gene's dad Dominic, better known as "Dumo."
NEMA Speeds Impress at The 'Bowl
Brockton, MA – The Northeastern Midget Association loves the challenge of Waterford Speedbowl's Wheels and Wings. NEMA's Angelillo Memorial is part of the fourth annual edition of the barnburner event Saturday night.

The 3rd annual Angelillo Memorial, honoring long time NEMA car owners and officials Marilyn and Gene Angelillo, adds motivation. The Midgets join the ISMA Supermodifieds, the Valenti Modified Racing Series and the Speedbowl's SK-Modifieds on a card that sells sizzling 100-mph speed.

Chris deRitis clicked off a 12.977 lap (104.030 mph) en route to victory at last year's Wheels and Wings, a tad off the 12.947 Randy Cabral posted in capturing '08 honors. Still the top challenge is the Russ Stoehr's 12.875 lap accomplished in winning last summer's Angelillo Memorial.

It's all testimony to Stoehr's observation that "everybody runs their best at Waterford." According to Bobby Seymour, one of the track true maestros, "geography (length width, surface)" makes Waterford the best Midget facility in the east.

Over the last eight NEMA races at Waterford, Stoehr has four wins, including this year's season opener, and four seconds, including last month's Hammond Memorial.

Last year's Angelillo win was an emotional one. Stoehr, who drives the Dumo's Desire 45, the continuation of the Angelillo operation, wants another one. "But," he says, "Randy and Greg (Stoehr) are certainly on their game."

Following their one-two finish at Twin State, Cabral (Bertrand #47), who remains NEMA's all-time Waterford winner with eight, and Greg Stoehr (Stoehr 26b) have climbed into a virtual tie for second place, well within striking distance of leader and defending champion Russ Stoehr.

Greg Stoehr and Cabral have not won at The 'Bowl since 2008. "Time for that to change," says fan favorite Cabral.

In addition to Russ Stoehr and deRitis, Adam Cantor, Chris Leonard and Keith Botelho have been Waterford winners over the past three seasons. Botelho's impressive win in the Stoehr #25 in the Hammond Memorial, testifies to The 'Bowl's unpredictability.

"Credit my crew Carl and Curt Kibbe," offers Botelho, pointing out the importance of pit work at Waterford. "Experience counts," he adds.

Jeremy Frankoski (Cantor 7n), working on a string of four straight top fives and Todd Bertrand, off a strong third in the Honda Bertrand #39 at Twin City, hope to join both Stoehrs, Cabral, Botelho and Mike Horn on the 2011 win list.




Back in 1951, George Tichenor, qualifying for a Triple-A Midget event, won the pole with a 17.92 second run on Oct. 10. Art Cross won the race but Waterford's Midget win list begins with Johnny Thomson, an ARDC winner on June 30 and again on July 14.


Billy Eldridge won the first NEMA show on May 31, 1953, the second event in club history.


With his recent success, Russ Stoehr has moved into a second place tie with Drew Fornoro in Waterford NEMA wins with six. Randy Cabral has eight. Bobby Seymour in fourth with five.