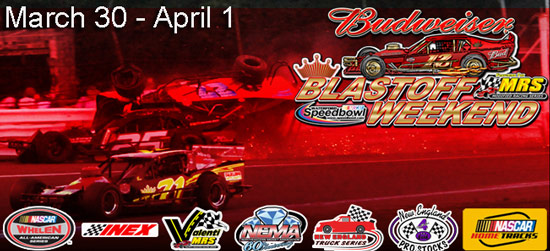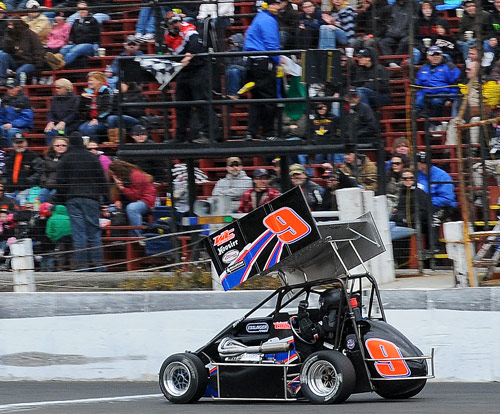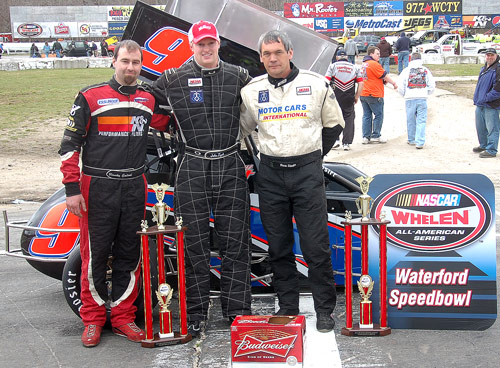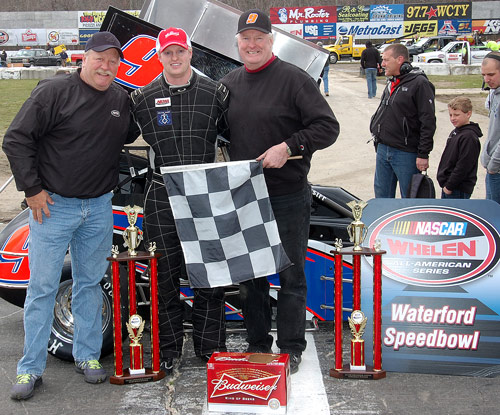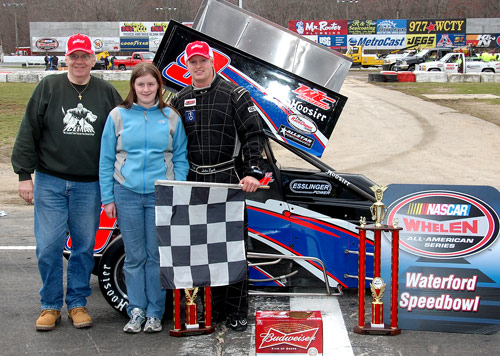 John Dadalt Photo

John Dadalt Photo

Photos by




Norm Marx
Zych Ends NEMA Drought
With Speedbowl Victory
Waterford, CT – John Zych Jr.'s "very long wait" ended Sunday with a victory in the 25-lap Northeastern Midget Association feature at Waterford Speedbowl's Budweiser Blast Off. Taking the lead four laps in, Zych beat back a mid-race restart challenge from Randy Cabral before posting his first-ever win in impressive style.

The victory ended five years of frustration for Zych and his dad. "It's very special," said the one-time Lemoyne College basketball player who joined Cabral (Bertrand 47) and Russ Stoehr (Dumo's Desire (45) on the podium in a Drinan/Esslinger purchased last year from the Bertrand team.

The biggest challenge came from Cabral on a restart following the second caution. "I saw Randy outside and I knew I had to get all I could out of the car," said Zych, now a resident of Louisville, KY. "I just stood on it and tried to say from the middle to the bottom. If Randy was going to get by, it was going to be on the outside."

They ran side-by-side halfway down the front chute before Zych pulled away, "completely surprising" Cabral. "I was on top but I was pinching him down a little bit," said Cabral who "really throught I had something for him. He blew me away."

It was a cakewalk from there for Zych, who posted the fastest lap (13.001 – 103.822 mph), finishing 2.43 seconds in front. "I think I heard Randy behind me once," Zych said, pointing out he was more concerned with lapped cars over the final laps. "I knew I had to get by them clean," he added.

The battle for third between Stoehr and Joey Payne (Breault 44) highlighted the second half of the race. Anthony Marvuglio (Derosier 38) was fifth.

Starting fourth, Zych took the lead from front row starter Paul Scally on the backstretch. It came just ahead of the first caution. Zych got away from Marvuglio on the restart but Cabral quickly moved from fourth to second and was well within striking distance when the second yellow showed.

Zych, who works for the Hershey (Chocolate) Corporation, drove 14 hours to meet his date with destiny.




The Zych #9 is almost an exact copy of Cabral's Bertrand Motorsports #47. "They gave us some pretty good notes on it," said Zych Sr., adding very few, if any, changes have been made.


Zych joined a large number of drivers who won for the first time at the Speedbowl, the list including Marvuglio, Jim Miller and Barry Kittredge, all in Sunday's field.
NEMA MIDGETS - Waterford - 4/1/12

Pos.
#
Driver
Hometown
Owner
1
9
John Zych Jr.
Louisville, KY
John Zych Sr.
2
47
Randy Cabral
Plymouth, MA
Tim Bertrand
3
45
Russ Stoehr
Bridgewater, MA
Dumo's Desire Racing
4
44
Joey Payne
Fairlawn, NJ
Ed Breault
5
38
Anthony Marvuglio
E. Bridgewater, MA
Tammy Bourdeau
6
39
Todd Bertrand
Suffield, CT
Bertrand Motorsports
7
3m
Jim Miller
Weymouth, MA
Jim Miller
8
16
Matt O'Brien
Wilmington, MA
Jim O'Brien
& Sons
Engineering
9
99
Jim Santa Maria
Burlington, CT
Susan Santa Maria
10
2
Lee Bundy
Kennebunkport, ME
Lee Bundy
11
DNF
28
Paul Luggelle
Holbrook, MA
Paul Luggelle
12
DNF
26b
Greg Stoehr
Bridgewater, MA
Greg Stoehr
13
DNF
30
Paul Scally
Raynham, MA
Paul Scally
14
DNF
8
Barry Kittredge
Marlboro, MA
Barry Kittredge
15
DNF
71
Seth Carlson
Brimfield, CT
Gene Feigel
16
DNF
7ny
Adam Cantor
Glen Cove, NY
Allan Cantor
17
DNF
87
Doug Cleveland
Sudbury, MA
Doug Cleveland
---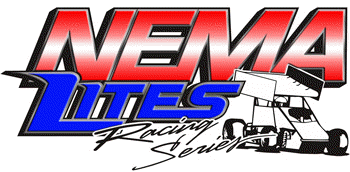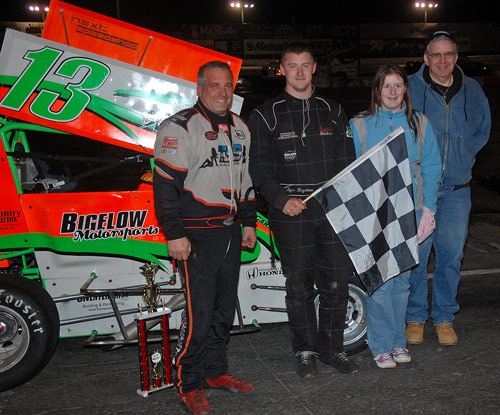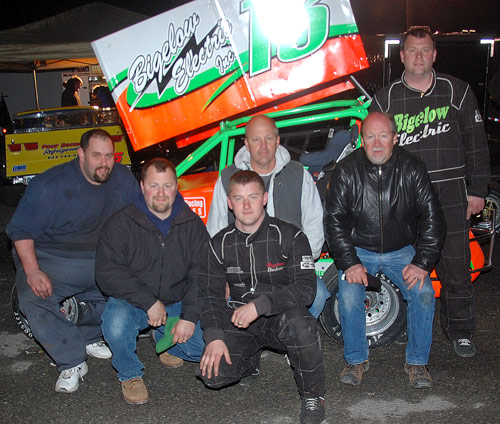 ---
Lites Honors to Ryan Bigelow
Waterford, CT – Taking the lead on the second of two early cautions, Ryan Bigelow went on to win the 25-lap Northeast Midget Association's Lites feature Saturday night at Waterford Speedbowl's Budweiser Blast Off. It was the season opener for the Lites, celebrating their fifth season

Ian Cumens and Joey Payne filled out the podium in Seymour cars. Randy Cabral and Kenny Johnson were fourth and fifth.

Starting midfield, Bigelow sat third when the second yellow flew. Following leader Christian Briggs into second on the restart, Bigelow took command heading down the backstretch. Bigelow faced a third restart with 18 to go (beating Briggs) and a late threat by Cumens before claiming his second career win.

Cumens grabbed second when Briggs dropped out shortly before the halfway point. He quickly chased down Bigelow and had his nose inside the leader's car in the middle of one and two with three laps remaining. Bigelow recovered to win by two car lengths.

Payne, subbing for Anthony Nocella (who was driving a modified) came on strong in the late stages.
NEMA LITES - Waterford - 3/31/12

Pos.
#
Driver
Hometown
Owner
1
13
Ryan Bigelow
E. Hampton, CT
Randy Bigelow
2
9
Ian Cumens
Lydell, PA
Bobby Seymour
3
29
Joey Payne
Fairlawn, NJ
Matt Seymour
4
35
Randy Cabral
Plymouth, MA
Glen Cabral
5
46
Kenney Johnson
Bethany, CT
Jeff Johnson
6
26b
Bethany Stoehr
Bridgewater, MA
MCI Racing/
Greg Stoehr
7
28
Paul Luggelle
Holbrook, MA
Paul Leggelle
8
DNF
44
Christian Briggs
Mattapoisett, MA
Christian Briggs
9
DNF
45
Brandon Igo
Wilbraham, MA
David Igo
10
DNF
50
Carl Medeiros, Jr.
Westport, MA
Carl Medeiros
11
DNF
51
Danny Cugini
Marshfield, MA
D. Cugini
12
DNF
31
Paul Bigelow
Berlin, CT
Randy Bigelow
13
DNF
4
Joey Mucciacciaro
Wolcott, CT
Paul Scally
14
DNS
15b
Avery Stoehr
Lakeville, MA
MC Racing LLC/
Russ Stoehr
15
DNS
11
Alan Chambers
Atkinson, NH
Michael Chambers


NEMA Opens Season at Bowl's Blastoff
Brockton, MA – Commonly called "the best Midget track in the East," Waterford Speedbowl's Budweiser Blastoff is a fitting venue to inaugurate the Northeastern Midget Association's 60th consecutive season. Both NEMA and the NEMA Lites are on the busy two-day agenda.

The Lites kicks off its fifth season with a 25-lap feature on Saturday night. The NEMA "full midgets" 25-lapper is on the Sunday agenda. Both divisions will qualify Saturday afternoon.

Defending champion Randy Cabral, NEMA's all-time Speedbowl win leader with eight, leads the club into the weekend. Among the top challengers are Todd Bertrand, Cabral's Bertrand Motorsports teammate, and Russ Stoehr (Dumo's Desire) who won twice at Waterford last year and has missed the podium only once in the last 10 NEMA Speedbowl visits.

Anthony Nocella and Ian Cumens, teammates on the Seymour team, head up what is expected to be a bumper field for the Lites feature.

"Everybody seems to be at their best at the Speedbowl," explains Stoehr. "Often, you look back and find the best you did all season was at Waterford." Cabral "starts getting excited early in the weeks we come to the Speedbowl."

It is the track's "geography," says Bobby Seymour who has enjoyed great success there as both a driver and owner. "Size, shape, surface, distance," are all factors in the low 13 seconds runs on the third mile.

Sunday's field could have a number of competitors who have won at Waterford in the past including Adam Cantor, who is moving back in the driver's seat of the 7ny after a year away and veteran Joey Payne who'll be piloting the Breault 44 this season. Others on that list include Barry Kittredge, Greg Stoehr, Jim Miller and Chris Leonard.

The rookie battle begins as well with Anthony Marvuglio, Seth Carlson and Jim Santa Maria all contenders, Marvuglio driving for Chris Derosiers. All, incidentally, are Lites graduates.

Paul and Ryan Bigelow, Bethany Stoehr, Andy Barrows, Christian Briggs, Jake Sturgis, Brandon Igo, Kenny Johnson, Carl Medeiros and Jack Smith are Lites probables. Avery Stoehr, Russ' son, is among the newcomers.




This is the sixth time since 2004 NEMA has opened its season at the Speedbowl.


While he is the all-time leader, Cabral's last Waterford win came in 2008.

Four different sets of brothers are on the Waterford win list – Drew and Nokie Fornoro, Mike and Bobby Seymour, Greg and Russ Stoehr and Tim and Todd Bertrand.


Dangerous Paul Scally comes to Blastoff filled with optimism based on his career-high fourth in last year's Angelillo Memorial.


Joey Mucciacciaro will drive Scally's #4 Lites car.