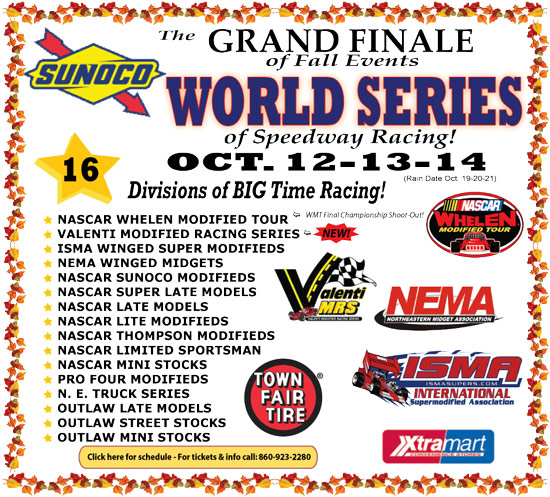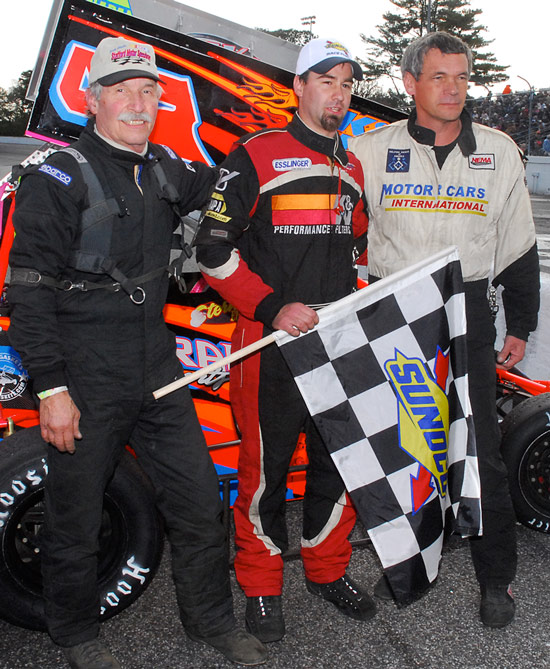 Top Three NEMA Midgets at Thompson World Series: L to R:
Jeff Horn #A1, 3rd; Winner Randy Cabral #47; & Russ Stoehr #45, 2nd.
Cabral World Series Winner
Thompson, CT – Randy Cabral got away on a restart with six laps left and went on to capture the Northeastern Midget Association 25-lap feature Sunday at Thompson Speedway's World Series. It was the third win of the campaign for the Cabral/Bertrand #47 team which takes a commanding 88 point lead into this weekend's season finale at Lee USA Speedway's Ocktoberfest.

The fourth and last caution put an end to a classic Cabral/Russ Stoehr (Dumo's Desire 45) duel that highlighted the middle of the race. Stoehr held on for second with Jeff Horn (Horn A1) claiming a hard-earned third. Mike Horn (Horn 93x) emerged from a battle with Jim Miller (Miller 3m) to claim forth.

It was the tenth career Thompson NEMA victory for Cabral.

Using the bottom, Cabral, coming from the 14th s starting spot, took the lead on the first restart from pole sitter Anthony Marvuglio with 12 laps gone. Two laps later yellow showed again and Stoehr, coming from 12th, went around both Miller and Marvuglio to take second on the ensuing restart. By the next lap, Cabral and Stoehr were side by side.

Stoehr did get the jump on the third restart. "I was settled in for second," said Cabral. "The 45 takes off so fast on restarts. I was lucky I guess."

"The car was pushing off the pedal on the last restart," said Stoehr, pointing out "I didn't want to run into him so I had to let him go." Cabral did open up a five-car gap quickly and went on to win by eight tenths of a second despite Stoehr turning an 18.234 on lap 23.

Cabral said he used the same line employed by close friend Dave Richardi en route to winning the Pro 4 feature on Saturday night over the final circuits. His fastest lap (18.113), however, came on the fourth circuit, part of a rush to the front. He passed Jeff Horn for third on lap three. After a three lap side-by-side battle with Miller he claimed second on lap 10. The second fastest lap of the race, an 18.170, belonged to Miller and it came during the battle with Cabral.

When the first caution showed, Cabral was seven car lengths behind Marvuglio.

Battling a tight car, Jeff Horn turned in a heroic effort running through the leaders throughout. He made a bid for second before finishing a second behind Stoehr in third.
NEMA MIDGETS -THOMPSON - 10/14/12

Pos.
#
Driver
Hometown
Owner
1
47
Randy Cabral
Plymouth, MA
Tim Bertrand
2
45
Russ Stoehr
Bridgewater, MA
Dumo's Desire Racing
3
A1
Jeff Horn
Ashland, MA
Jeff Horn
4
93x
Mike Horn
Ashland, MA
Jeff Horn
5
3m
Jim Miller
Weymouth, MA
Jim Miller
6
26b
Greg Stoehr
Bridgewater, MA
Greg Stoehr
7
9
John Zych Jr.
Louisville, KY
John Zych Sr.
8
2
Lee Bundy
Kennebunkport, ME
Lee Bundy
9
26bx
Bethany Stoehr
Bridgewater, MA
MCI Racing/
Greg Stoehr
10
81
Andy Barrows
New Ipswitch, NH
Dustin Anderson
11
DNF
78
Brian Cleveland
Billerica, MA
Linda Cleveland
12
DNF
7ny
Bobby Santos
Franklin, MA
Allan Cantor
13
DNF
4x
Keith Botelho
No. Attleboro, MA
MCI Racing/
Greg Stoehr
14
DNF
99
Jim Santa Maria
Burlington, CT
Susan Santa Maria
15
DNF
38
Anthony Marvuglio
E. Bridgewater, MA
Tammy Bourbeau
16
DNF
50
Derek Pernisiglio
Charlotte, NC
Peter Pernisiglio Sr.
17
DNF
39b
Todd Bertrand
Suffield, CT
Bertrand Motorsports
18
DNF
4
Anthony Nocella
Woburn, MA
Bobby Seymour
19
DNF
33
Phl DiMario
Glen Cove, NY
Allan Cantor
20
DNF
44
Joey Payne
Fairlawn, NJ
Ed Breault
21
DNF
30
Paul Scally
Raynham, MA
Paul Scally

HEAT 1:

7ny-99-4-3m-2-4x-26b-76-78-81-26bx(dnf)-47b(dns)

HEAT 2:

44-38-A1-45-93x-9-47-33-50-12-30(dnf)
Heat #1

Heat #2
Photos by John Dadalt
---
Russ Stoehr Eyes Two Straight
At Thompson World Series
Brockton, MA – The Northeastern Midget Association has now run 20 straight races without a back-to-back winner. Russ Stoehr, who checkered at Waterford Speedbowl's Finale last Sunday, aims to end that this weekend when NEMA makes its annual visit to Thompson Speedway's World Series. Qualifying is part of the Saturday agenda while the 30-lap feature is tabbed for Sunday.

NEMA comes to the World Series with 11 winners in 12 races, making the 2012 campaign one of the most competitive in the club's 60-year history. There has not been a back-to-back winner since Russ Stoehr won the first three races of 2011.

Point leader Randy Cabral, working on a streak of six straight top-fives, leads NEMA into Thompson. The only two-time winner this season, he is NEMA's all-time winner at Thompson.

The Stoehr threat will be three deep. In addition to Russ (Dumo's Desire 45) and Greg (Stoehr 26b) Keith Botelho will be driving the #4 the Stoehr family recently purchased from Mike and Lu Jarret. All three are familiar with Thompson's demands. "Passing cars at 125 plus miles per hour, you've got your hands full," says Russ, last year's World Series winner.

It is speed at Thompson. Cabral, en route to a second last year, turned a 18.076 lap which converts to 129.453 mph. Stoehr's best lap (18.163) was only a tick off.

Greg sees it as a "mental wrestling match from mid straightaway into the turns," pointing out to be successful "you have to pretty much keep your foot in it deep into the corner."

Botelho, who has been successful in the past in Stoehr equipment, will be steering the car Nokie Fornoro drove to victory in the 2010 World Series – the last win in the legendary driver's career.

The return of the Jarret car enhances what has been an extraordinary year competition wise. "There is good equipment everywhere and passing cars is not that easy anymore," explains Cabral who had a couple of seconds last year at Thompson.

Veteran Jim Miller (first at Oswego and third behind Mike Horn at Stafford) has been impressive on the "big tracks" this summer and earns contender status at Thompson. Horn, a Thomson winner last year, runs a setup very similar to that of Bertrand Racing teammates Cabral and Todd Bertrand.

In addition to the Stoehrs, Cabral, Horn and Miller, 2012 winners include Bertrand, John Zych Jr., Adam Cantor, Anthony Marvuglio, rookie Seth Carlson and Anthony Nocella.

Counting out Joey Payne and Jeff Horn, both Thompson winners in the past, would be a ----serious mistake as well.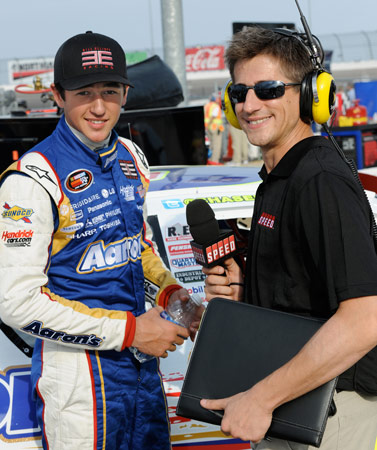 Derek Pernesiglio Files Entry
For Thompson World Series
NASCAR on SPEED Reporter to Drive Family Ride
By Chris Reed - Charlotte, NC - Thompson International Speedway has always held a special place in Derek Pernesiglio's heart. He started attending races there as a little boy, he pit reported his very first NASACR race there and served as a track announcer ultimately springborading him to a motorsports television career. When the NASCAR on SPEED reporter isn't traveling around the country talking about racecars, he's driving them. In two week's Pernesiglio will climb back behind the wheel of a winged NEMA Midget for this years Northeastern Midget Association portion of the Sunoco World Series of Speedway Racing at the Thompson International Speedway in Thompson, Connecticut.

Pernesiglio will drive for legendary NEMA car owner, and father "Mazda" Pete Pernesiglio. It will be the first time he's driven a family owned ride in twelve years.

"I drove Paul Lugelle's Lite car in last years World Series and the thrill of running Thompson rushed right back in again. said Pernesiglio. This year we're coming back with a full-up midget and I'm excited about getting to drive." The Sunoco World Series falls on October, 12th, 13th and 14th. but in the months preceding, Pernesiglio has been sticking to his open-wheel roots racing in the Mini Outlaw Series close to his Charlotte, North Carolina home. "The Mini Outlaws are fun, said Pernesiglio. "They have a hundred horsepower and weigh about three hundred and fifty pounds. They're light, snappy little cars like a midget and we race on dirt. I really feel racing on dirt lately will help me on pavement."

For the event Pernesiglio will carry sponsorship from No Regrets Tattooing and "TV" Tim Productions. "I can't thank Dave Shore and "TV" Tim Deroin enough, said the excited pit reporter. Dave has always been great to my family and helped Dad before. Tim Deroin is the director of our NASCAR K&N Pro Series races on SPEED and he's also raced Modifieds at Riverside Park and part time on the Tour back in the day, he's a racer so he get's it."

When asked about his performance in the event, the pit reporter/part-time driver sounded confident. "The big difference this year is that I've been racing weekly," said Pernesiglio. "Last year I hopped in the car cold, I hadn't driven a midget in ten years...this year I feel better prepared."

Known as the "Indianapolis of the East" the Sunoco World Series falls on October 12th, 13th and 14th and has been the grand fall finale of racing events in the Northeast hosting sixteen divisions of racing from the NASCAR Whelen Modified Tour and International Supermodified Association to the NEMA Midgets, Pro 4 Modifieds and stock cars. The NASCAR K&N Pro Series races can be seen every Thursday at 3pm Eastern standard time, 12pm noon Pacific on SPEED Channel.





Cabral NEMA's Thompson Maestro
Brockton, MA – The Northeastern Midget Association has long considered Thompson Speedway the ultimate "separate the men from the boys" facility. While any Thompson checkered is a treasure, the World Series is definitely the biggest plum.

Three-time champion and current point leader Randy Cabral looms as the man to beat when NEMA makes its annual appearance at the Thompson World Series Oct. 12-13-14. Qualifying is scheduled for Saturday Oct. 13 with the 25-lap feature part of the busy Sunday, Oct. 14 agenda.

Nine victories, including four World Series triumphs, make Cabral the all-time Thompson maestro. He left no doubt about his mastery of the five-eighths oval last fall with a blistering 18.076 lap (129.453 mph) en route to a championship-clinching second place behind Russ Stoehr. It was Stoehr's fourth career Thompson win.

Another Cabral (Bertrand Motorsports #47) – Stoehr (Dumo's Desire 45) battle is a definite possibility. Both teams are old hands at Thompson, Dumo's Desire (formally Team Angelillo) owning over a dozen victories. Stoehr's fastest lap – 18.163 – was only a tick off Cabral's last year.

Thompson's long Midget history, however, is filled with surprises. Considering 2012 has been one of the most competitive seasons in NEMA's 60-year history (ten winners in the first 11 races), it is safe to consider the possibility of another surprise.

Cabral's teammate Todd Bertrand (Bertrand 99), John Zych Jr. (Zych 9), Mike Horn (Horn 93x), Eric Cantor (Cantor 33), Jim Miller (Miller 3m), Greg Stoehr (Stoehr 26b), Anthony Marvuglio (Boubeau 38), rookie Seth Carlson (Feigel 71) and Anthony Nocella (Seymour 9) will all come to Thompson with a 2012 win. Horn and Greg have won in the past at Thompson.

Ageless Jeff Horn (Horn A1) and Joey Payne (Breault 44) are other contenders. Paul Scally (Scally 30), Lee Bundy (Bundy 2), Brian and Doug Cleveland, the family 78 and 87 cars, Jim SantaMaria (SantaMaria 99) and Matt O'Brien (O'Brien 16) are other hopefuls.

NEMA and Thompson have a relationship that goes back to 1960, the legendary Dutch Schaefer the winner. Since then, Thompson has helped write a ton of NEMA history and a credible part of that is World Series related.

Greg Stoehr, driving for John Zahar, passed brother Russ in the closing laps to win in 1994. In 2001, Joey Payne, who like Greg Stoehr started last, passed the same Russ Stoehr on the final lap en route to the checkered. The latter was Gene Angelillo's 100th NEMA win. A Nokie Fornoro romp in 2010 proved to be the last Midget ride for one of the sport's greatest competitors.