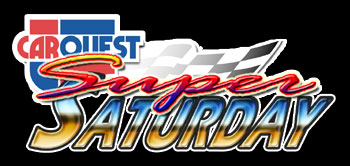 9th ANNUAL CARQUEST
SUPER SATURDAY
SATURDAY, JUNE 30, 2012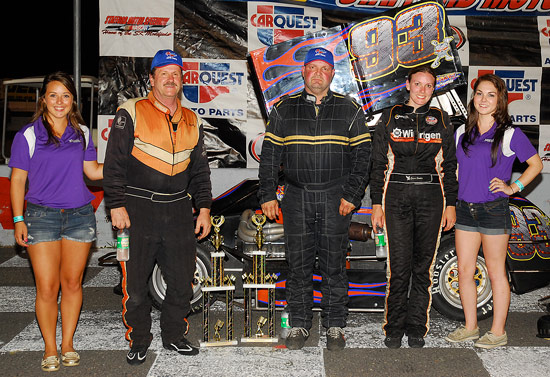 Stafford Top Three - L to R: Jim Miller #3m; 3rd;
Winner Mike Horn #93x; & Erica Santos #44, 2nd.
Photos by John Dadalt
Horn Rules NEMA At Stafford
Stafford, CT – Taking command with nine laps remaining, Mike Horn went on to win the 30-lap Northeastern Midget Association feature at Stafford Motor Speedway's CarQuest Super Saturday. It was the second career win for the second generation driver in his Horn #93x.

Horn, who started fifth, bested Erica Santos (Breault #44) on the third and final restart. The winning pass actually resulted in the third yellow. Sitting second since lap 19, Horn went by the only other leader, a sputtering Anthony Marvuglio (Bordeau #38), in turn three.

Starting second, Marvuglio had survived a couple of restarts and had a commanding lead until fuel problems (he was running out) slowed him with 11 remaining. Horn caught and passed him. There was, however, contact resulting in Marvuglio spinning up the track and collecting third and fourth-place runners Randy Cabral #47 and Russ Stoehr #45.

Santos, in her first Midget ride in two years was second. Jim Miller (Miller #3m) won a battle with John Zych Jr. (Zych #9) for third with Greg Stoehr (Stoehr #26b) fifth.

Closing on the slowing Marvuglio, Horn went to the outside. "At the speed he was going, I thought I absolutely had him cleared by plenty," he said. After Horn moved back into the low groove, Marvuglio appeared to surge forward and make contact.

It was the second straight heartbreaking result for Marvuglio who was robbed of victory at Waterford Speedbowl earlier this year by a flat tire. He took the lead with a daring move into three on lap one and was quickly in a dominating position, his 17.582 on lap five the fastest of the race.

Marvuglio pointed to many cautions before the initial green ("somebody oiled the track") was the real culprit. Calling it "a racing deal," he "knew they were coming" after the engine started sputtering and "was trying to stay low." Horn, he continued "came down and we clipped a little bit. We were racing hard."

Horn was "absolutely worried" about Santos on the final restart. "He is fast and has a lot more experience on this track than I do," she explained. "Oh, I would have loved to beat Mike, but I'm happy with the second," said Santos who was subbing for Joey Payne Jr.

Third was a comeback for Miller. Running second, he made a daring inside move on Marvuglio on the second restart. "I just went for it. Sometimes it sticks and sometimes it doesn't," said Miller who fought the car down the backstretch, falling back into the field. It was at that point that Horn took second.


RACE REFLECTIONS:

John Zych Jr. will take the point lead into the Northeastern Midget Association's next event, a 25-lap feature at Lee USA Speedway on Friday night, July 13. "The late caution definitely helped us," said Zych after a fourth at Stafford Motor Speedway, including a victory in the season opener at Waterford back in early April. "We do appreciate where we are right now."



The caution in question showed immediately after eventual winner Mike Horn passed the fuel starved Anthony Marvugleo with nine laps left. Contact immediately after the pass resulted in Marvugleo, Randy Cabral and Russ Stoehr, crashing. Cabral and Stoehr were second and third in points coming into the race.



Horn joined his father Jeff on the Stafford NEMA win list and hopes to do the same at Lee. "When I raced go Karts at the Pomfret (CT) track I must have learned something that helps me on the big tracks," Horn responded when asked about his prowess (his other win came at Thompson). He was also filled with praise for the Bertrand crew. Horn, incidentally, had "about three laps worth of fuel left."



Marvugleo's misfortune at Safford followed an incident at Waterford. He was dominating there as well, doing much of it with a flat left front. A caution ended that run. Attitude wise, Marvugleo is astonishing. "Two races in a row really do stink," he admitted but quickly added "leading that many laps at Stafford was so much fun," he said. "We were racing so hard."



Marvugleo's fastest lap, a 17.582, came on lap five. Jim Miller's fastest lap, a 17.686, was also on lap five. Speeds, for the most part, were faster earlier in the race.



Miller actually rallied to take away podium honors from Zych. He followed Marvugleo for most of the early going. On a lap 19 restart, he tried a darling inside move that came close to a spin. He found the car much of the way down the past stretch losing many spots. Horn, who took second on that restart, was concerned Miller would come around and "take me out. I just stood on the gas. I didn't dare lift."



Owner Ed Breault was more than happy with Erica Santos who was subbing for Joey Payne. "Winning a heat and second in the feature is pretty good," said Breault. Fans reacted positively when, after the last yellow, they realized Erica was in second place.



Andy Barrows and Bethany Stoehr, three and five laps down respectively, were eighth and nine. Stoehr did an 18.369 lap, that coming late. Brandon Igo also represented the Lites. The Lites will run two 25 lappers at Lee.
NEMA MIDGETS - Stafford - 6/30/12

Pos.
#
Driver
Hometown
Owner
1
93x
Mike Horn
Ashland, MA
Jeff Horn
2
44
Erica Santos
Franklin, MA
Ed Breault
3
3m
Jim Miller
Weymouth, MA
Jim Miller
4
9
John Zych Jr.
Louisville, KY
John Zych Sr.
5
26b
Greg Stoehr
Bridgewater, MA
Greg Stoehr
6
30
Paul Scally
Raynham, MA
Paul Scally
7
2
Lee Bundy
Kennebunkport, ME
Lee Bundy
8
81
Andy Barrows
New Ipswitch, NH
Dustin Anderson
9
77
Bethany Stoehr
Bridgewater, MA
Mike Luggelle
10
DNF
38
Anthony Marvuglio
E. Bridgewater, MA
Tammy Bourdeau
11
DNF
47
Randy Cabral
Plymouth, MA
Tim Bertrand
12
DNF
45
Russ Stoehr
Bridgewater, MA
Dumo's Desire Racing
13
DNF
4
Anthony Nocella
Woburn, MA
Bobby Seymour
14
DNF
45i
Brandon Igo
Wilbraham, MA
David Igo
15
DNF
99
Jim Santa Maria
Burlington, CT
Susan Santa Maria
16
DNF
39
Todd Bertrand
S

uffield, CT

Bertrand Motorsports
17
DNF
7ny
Ryan Preece
-
Allan Cantor
18
DNF
71
Seth Carlson
Brimfield, CT
Gene Feigel
19
DNF
78
Brian Cleveland
Billerica, MA
Linda Cleveland
20
DNF
6
Frank Swan
Plymouth, ME
Frank Swan
21
DNS
35
Glen Cabral
Plymouth, MA
Glen Cabral
22
DNS
7
Adam Cantor
Glen Cove, NY
Allan Cantor
23
DNS
87
Doug Cleveland
Sudbury, MA
Doug Cleveland

HEAT 1:

26b-3m-93x-4-30-2-77-81-6-7-71(dnf)-35(dns)-78(dns)

HEAT 2:

44-38-47-45-9-7ny-99-45-39-45i-87(dns)

Stafford Top NEMA Challenge
Brockton, MA - The Aug. 27, 1950 Hartford Courant claimed the upcoming show at Stafford Springs Speedway would be the "first midget race ever held on a half-mile dirt track in New England." It reiterated the claim the next morning, reporting Mike Nazarek won the 20-lap feature followed by Billy Randall, Nick Fornoro, Johnny Thomson and Bob Disbrow – all now legendary names.

The Northeastern Midget Association visits the now paved historic Stafford Motor Speedway on Saturday night, June 30. NEMA will go 30 laps on a Carquest Super Saturday agenda that includes the ISMA Supermodifieds and Pro-4 Modifieds.

The Midgets preceded the above mentioned race at Stafford, running a paved fifth-mile that sat inside the dirt during the hectic post World War II era. Indeed, NEMA's first visit to Stafford was on the fifth-mile, New Britain native Johnny DeLeo the winner on Sept. 13, 1953. It was NEMA's first season.

NEMA returned to Stafford in 1967, the first year of pavement. One thing, however, has remained constant for the Midgets – be it on dirt or pavement, Stafford presents a major challenge and a win is a major plum.

It will take laps in the 17.5-to-17.7 range (120-plus mph) to prevail at Stafford. Last year, Randy Cabral (Bertrand #47) turned a 17.51 in qualifying. Nokie Fornoro's 17.625 lap in 2009 remains the quickest feature lap. Jeff Abold
(17.75) had the fastest lap a year ago.

Three active NEMA drivers have Stafford wins including Cabral (Bertrand #47) Russ Stoehr (Dumo's Desire #45) currently running two and three in points behind leader John Zych Jr. Three-time and defending champion Cabral, who won in 2010, has four Stafford podiums. Stoehr, a six-time champ, won last year. Ageless Jeff Horn (Horn #A1) was a winner in 2005.

Zych (Zych #9), with a first and a third so far, takes a one-point edge on Cabral, who has two straight seconds, to Stafford. Greg Stoehr (Stoehr #26b), a winner at Waterford, sits fourth.

Jim Miller (Miller #3m) and Greg Stoehr are both "near winners" at Stafford, each running into traffic problems in '10 and '11 respectively. Miller wound up second to Cabral while Greg stormed back to finish third behind his brother.

Stafford hosted two of the premier events in NEMA's history. Jerry Wall's first win in the revolutionary Yellowjacket came at Stafford in 1971 and Erica Santos became the club's first female winner there in 2007.
Modified Ace Preece Gets NEMA Ride
Brockton, MA – Ryan Preece, Stafford Motor Speedway's defending SK-Modified champion and present point leader, will be driving the Cantor #7ny in the Northeastern Midget Association portion of Stafford Motor Speedway's Carquest Super Saturday event.

Preece, 21, "shook down" the Cantor car last Thursday at Waterford. "It went pretty well and on Sunday they offered me the ride for Stafford," he said. "Obviously, I'm looking forward to it."

Cantor Racing is aiming at a two-car effort at Stafford. The team hopes to have a new car ready for regular driver Adam Cantor.

Preece is not exactly a stranger to NEMA. Back in 2007 he had a couple top five finishes driving for Bertrand Motorsports and the next year had a strong third at Monadnock for Bob Santos. "I've always wanted to get back in a Midget," he says. "You really have to be up the wheel in those things."

The grandson of Hall of Fame car owner Bob Judkins, Preece believes the Stafford experience (nine career checkereds including a NASCAR Modified Tour win) "will help somewhat" in a Midget. "Most of the NEMA drivers have been at Stafford before," he says. "One thing I do know, I have a good car."

Preece will be part of a strong field led by current point leader John Zych Jr., three-time and defending champion Randy Cabral and six-time champ Russ Stoehr, last year's Stafford winner. Cabral was the 2010 winner. Other contenders include Russ Stoehr, Jim Miller, Mike Horn and Paul Scally.
Nocella Ready For Stafford Debut
Brockton, MA – Anthony Nocella will be making his Stafford Motor Speedway debut driving the Seymour #4 in the Northeastern Midget Association 30 lapper at the half-mile's Carquest Super Saturday this weekend.

One of NEMA's brightest youth stars, Nocella will drive the same car he won with at Seekonk's Speedway DAV event last fall.

Nocella, the leading winner in the Lites Division, drove several NAMA events in 2012. This, however, will be his first Stafford ride.
Erica Santos Gets Stafford NEMA Spot
Brockton, MA – Erica Santos will be back in the Breault #44 this weekend in the 30-lap Northeastern Midget Association segment of Stafford Motor Speedway's CarQuest Super Saturday.

Santos, "pinch hitting" for Joey Payne, spent five seasons with Breault, leaving in 2010 to pursue a Masters degree in nursing. Including in that span was a victory at Stafford in 2007. She remains the only female winner in NEMA's 60-year history.

"I love Stafford," said the admittedly "excited" Santos. "It is, of course, a special place and we have always had a strong car there." The Santos family, starting with grandfather "Bobby" and including brother Bobby III, has had much success at Stafford.

Santos, who has driven Midgets since 2003, will be part of field that also includes defending Stafford SK-Modified champion Ryan Preese. A NASCAR Whelen Modified regular as well, Preese will be driving the Cantor #7ny.

Santos brings an experienced hand to one of the quickest and most demanding tracks NEMA visits. The Midgets turn the half mile in the mid 17 seconds meaning speeds in excess of 120 mph.

Defending champion and 2010 Stafford winner Randy Cabral (Bertrand #47) and last year's pace setter Russ Stoehr (Dumo's Desire #45) are the favorites on a track that favorites the veterans. Jim Miller and Greg Stoehr, near winners in 2010 and '11 respectively, are contenders as well.

John Zych Jr. (Zych #9) takes an ever-so-slim one-point lead over Cabral into the race.