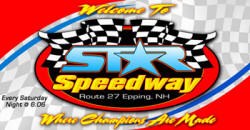 Saturday, July 21st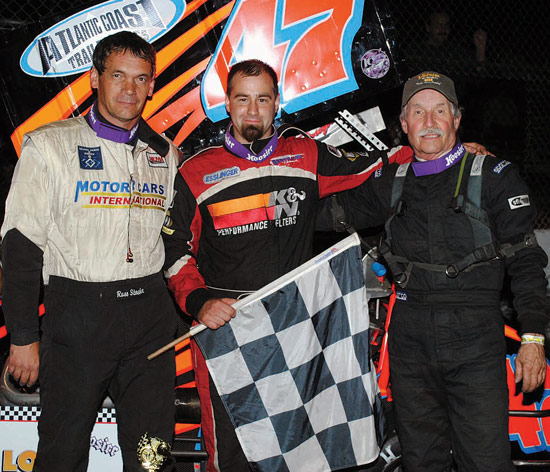 Cabral Celebrates NEMA's Return to Star
Epping, NH – Randy Cabral answered his own question Saturday night, celebrating the Northeastern Midget Association's return to Star Speedway. The defending champion scored an impressive 30-lap victory in NEMA return after an absence of five years.

"I kept asking [car owner Tim Bertrand] 'do I have it anymore?'" said Cabral who ended a nine-race victory draught going back to August of last year. Taking the lead on lap 10, he left no doubt with a convincing victory over ageless Jeff Horn (Horn A1).

A gutsy move on the second of five restarts set up the winning pass. Sitting fourth, Cabral went around Horn in turn one to claim second. "The car was working so good I just thought it would stick," said Cabral who then followed Seth Carlson (Feigel 71), the only other leader, until grabbing control with an inside move out of four three laps later.

Cabral, running laps in the high 11s, had no problem with three restart challenges from Horn, pulling away each time. Over the final 10 circuits, the Stoehr brothers waged a battle for third, Russ (Dumo's Desire 45) the eventual winner over Greg (Stoehr 26b). Anthony Nocella (Seymour 4) rallied for fifth.

Running a "Hail Mary set up, something we hadn't tried before,"Cabral left little doubt en route to his 32nd career win. He has now won in 13 consecutive seasons.

Senior citizen Horn, calling himself "an old bronc rider trying to stay in the rodeo," ran second much of the race. Dropping back to third on Cabral's daring move, he regained it when Carlson stalled in the backstretch four laps later. He again dropped to third when son Mike Horn blasted by on the fourth restart but was back in second a lap later when Mike spun after hitting the backstretch retainer.

A decision to "hang back" early enabled Cabral to miss a first-lap incident that involved almost half the field. On the restart Carlson beat pole sitter Doug Cleveland out of two. Two laps later, Horn grabbed second.

Adam Cantor, the winner at Lee on April 13, missed the race due to the death of his stepfather Joe DeMonte. Cabral dedicated the victory to DeMonte and the Cabral team.

NEMA heads back to Waterford Saturday night for the Shane Hammond Memorial.




"Maybe something good came out of the crash at Stafford," said Bertrand, pointing out it forced him to purchase new shocks. "The old ones were seven years old," he said. "I wanted replacements and found out they don't make them anymore." The result was "throwing out the old setups and starting over."


Jeff Horn was excited about son Mike's daring move. "I don't like to be passed but in that case it was OK," said Horn.


The top-five run of point leader John Zych Jr. ended. Involved in the first lap crash, he came home seventh.


Nocella's run to fifth was impressive. He came back from an early spin after contact with Jeff Horn on lap seven.





NEMA MIDGETS - Star - 7/21/12

Pos.
#
Driver
Hometown
Owner
1
47
Randy Cabral
Plymouth, MA
Tim Bertrand
2
A1
Jeff Horn
Ashland, MA
Jeff Horn
3
45
Russ Stoehr
Bridgewater, MA
Dumo's Desire Racing
4
26b
Greg Stoehr
Bridgewater, MA
Greg Stoehr
5
4
Anthony Nocella
Woburn, MA
Bobby Seymour
6
22
Chris Leonard
Pelham, NH
Dave Leonard
7
9
John Zych Jr.
Louisville, KY
John Zych Sr.
8
44
Erica Santos

Franklin, MA

Ed Breault
9
3m
Jim Miller
Weymouth, MA
Jim Miller
10
16
Matt O'Brien
Wilmington, MA
Jim O'Brien & Sons
Engineering
11
87
Doug Cleveland
Sudbury, MA
Doug Cleveland
12
99
Jim Santa Maria
Burlington, CT
Susan Santa Maria
13
DNF
93x
Mike Horn
Ashland, MA
Jeff Horn
14
DNF
38
Anthony Marvuglio
E. Bridgewater, MA
Tammy Bourbeau
15
DNF
71
Seth Carlson
Brimfield, CT
Gene Feigel
16
DNF
30
Paul Scally
Raynham, MA
Paul Scally
17
DNF
8
Barry Kittredge
Marlboro, MA
Barry Kittredge
18
DNF
39
Todd Bertrand
Suffield, CT
Bertrand Motorsports
19
DNS
78
Brian Cleveland
Billerica, MA
Linda Cleveland

HEAT 1:

71-22-4-A1-45-87-16-3m-93x-78(dns)

HEAT 2:

47-30-39-26b-9-8-38-99(dnf)-44(dnf)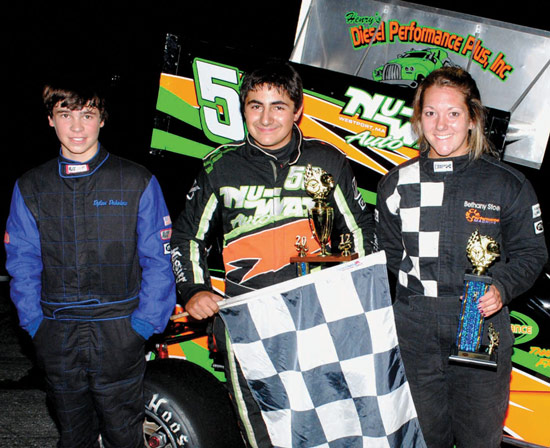 Three Straight For Medeiros
Epping, NH – Carl Medeiros Jr. became the first Northeastern Midget Association Lites Division competitor to capture three straight wins Saturday night with a convincing 25-lap triumph at Star Speedway.

Medeiros (Medeiros 50), coming off two victories at Lee Speedway on July 13, passed Bethany Stoehr down the back stretch five laps in. It was a caution-free romp from there, Medeiros, who will turn 16 on July 24, finishing far ahead of what turned into a Bethany Stoehr (MCI/Stoehr 26b), Dylan Duhaime (Duhaime 57) battle for second.

Youth was served as the 14-year old Duhaime fell a half-car length short of taking second from 17-year old Stoehr at the checkered. They are, however, "old foes" in the go kart wars. "We pretty much know what each other is going to do," said Medeiros after winning the second Lites point race of the season.

Randy Cabral was fourth in the family 35 while Danny Cugini (Cugini 51) held on for fifth.

"I don't know what we're doing different," continued Medeiros, who started 10th. The streak comes after a couple years of near misses for the team.

Stoehr grabbed the lead from Cugini on the first of two early restarts. A couple laps later yellow flew again and on the green she got the jump on Medeiros but the lead was brief. 'I knew he was there and was going to go by," said Stoehr who now has two runner-up finishes in the last three races.

She was not, however, aware of Duhaime's late rally. Coming from seventh, Duhaime (who will not be 15 until next April) made up almost a half-lap deficit to catch Stoehr with two laps remaining. It was Duhaime's third race.

Medeiros takes the streak to Waterford Saturday for the Shane Hammond Memorial.





NEMA LITES - Star - 7/21/12

Pos.
#
Driver
Hometown
Owner
1
50
Carl Medeiros, Jr.
Westport, MA
Carl Medeiros
2
26b
Bethany Stoehr
Bridgewater, MA
MCI Racing/
Greg Stoehr
3
57
Dylan Duhaime
Loudon, NH
Shawn Duhaime
4
35
Randy Cabral
Plymouth, MA
Glen Cabral
5
51
Danny Cugini
Marshfield, MA
D. Cugini
6
81
Andy Barrows
New Ipswitch, NH
Dustin Anderson
7
9
Jon McKennedy
Chelmford, MA
Bobby Seymour
8
4
Logan Rayvals
Brockville, ONT
Paul Scally
9
12
Brandon Martinez
North Kingston, RI
Lou Martinez
10
52
Kevin Park
Foxboro, MA
Kevin Park
11
DNF
6
Frank Swan
Plymouth, ME
Frank Swan
12
DNF
11
Alan Chambers
Atkinson, NH
Michael Chambers
13
DNS
15b
Avery Stoehr
Lakeville, MA
MC Racing LLC/
Russ Stoehr

HEAT 1:

35-26b-57-52-4-9(dnf)-15b(dnf)

HEAT 2:

51-81-11-50-12-6(dnf)





NEMA Returns to Star
Brockton, MA – The Northeastern Midget Association returns to Star Speedway Saturday night. Although it is NEMA's first visit since 2007, it will be NEMA's 138th race at Star, clearly a standard. It will be the first-ever visit to the quarter mile for the NEMA Lites.

Point leader John Zych Jr, looking for a fourth straight top five finish, and Adam Cantor, coming off a dominating performance at Lee USA Speedway, lead NEMA into Star. In addition to Zych and Cantor, Greg Stoehr and Mike Horn hope to become NEMA's first 2012 double winner.

Carl Medeiros Jr., a double winner at Lee a week ago, holds the Lites' spotlight. There has never been a three-straight streak in Lites history.

The legendary Dave Humphrey won NEMA's first visit to Star back in 1968.

Among active drivers, Russ Stoehr and Joey Payne each have eight NEMA wins at Star. In each case, their first NEMA win came at Star, Stoehr's back in 1987 and Payne's in 1994. Star was also the site of Cantor's first NEMA in 2003. Others with NEMA wins at Star include Jim Miller and Randy Cabral.

Horn, who aims to join his dad Jeff on the Star win list, Anthony Marvuglio and Todd Bertrand all hope to shake off heartbreak at Lee.

The busy Cabral, Ian Cumens, Brandon Igo, Bethany Stoehr, the Bigelow brothers and Jake Smith are all contenders to stop the streaking Medeiros in the Lites event.