Sat. August 25th, 2012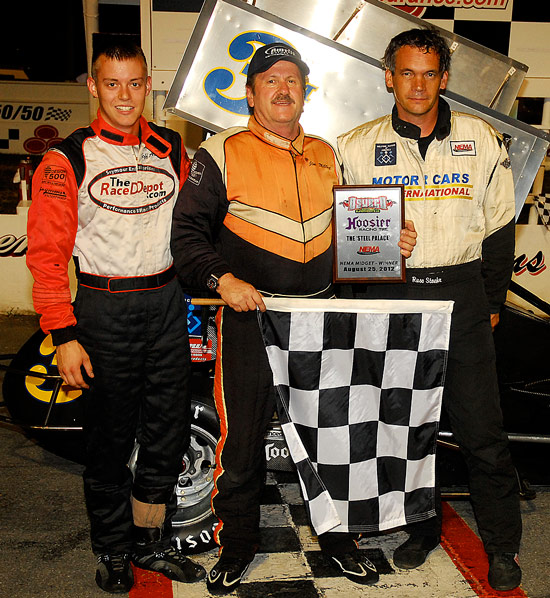 OSWEGO NEMA MIDGETS TOP THREE - L TO R: Jeff Abold #29, 3rd;
Winner Jim Miller, #3m; and Russ Stoehr #45, 2nd.
Photos by




John Dadalt
NEMA MIDGETS - Oswego - 8/25/12

Pos.
#
Driver
Hometown
Owner
1
3m
Jim Miller
Weymouth, MA
Jim Miller
2
45
Russ Stoehr
Bridgewater, MA
Dumo's Desire Racing
3
29
Jeff Abold
Baldwinsville, NY
Jeff Abold
4
71
Seth Carlson
Brimfield, CT
Gene Feigel
5
47
Randy Cabral
Plymouth, MA
Tim Bertrand
6
44
Joey Payne
Fairlawn, NJ
Ed Breault
7
93x
Mike Horn
Ashland, MA
Jeff Horn
8
33
Phl DiMario
-
Allan Cantor
9
38
Anthony Marvuglio
E. Bridgewater, MA
Tammy Bourbeau
10
39
Todd Bertrand
Suffield, CT
Bertrand Motorsports
11
2
Lee Bundy
Kennebunkport, ME
Lee Bundy
12
DNF
99
Jim Santa Maria
Burlington, CT
Susan Santa Maria
13
DNF
30
Paul Scally
Raynham, MA
Paul Scally
14
DNF
9
John Zych Jr.
Louisville, KY
John Zych Sr.
15
DNF
87
Doug Cleveland
Sudbury, MA
Doug Cleveland
16
DNF
77
Greg Stoehr
Bridgewater, MA
Mike Luggelle

HEAT 1:

71-47-29-44-87-38-30(DNF)

HEAT 2:

3m-77-9-33-45-39-93x-99-2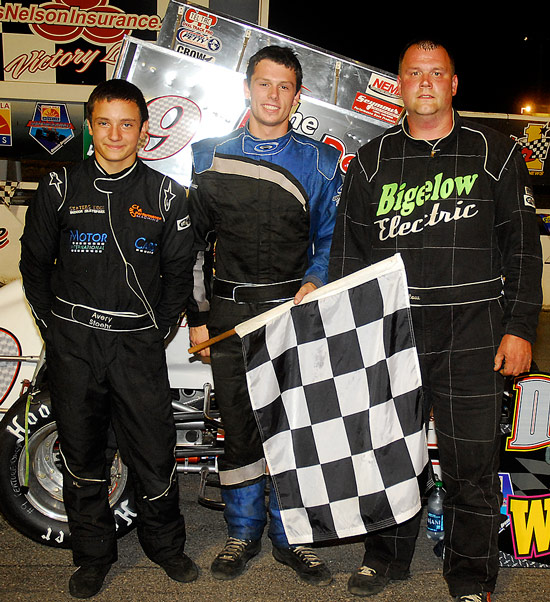 OSWEGO NEMA LITES TOP THREE - L TO R: Avery Stoehr #15b, 3rd:
Winner Ian Cumens #9; and Paul Bigelow #31, 2nd.
NEMA LITES - Oswego - 8/25/12

Pos.
#
Driver
Hometown
Owner
1
9
Ian Cumens
Lydell, PA
Bobby Seymour
2
31
Paul Bigelow
Berlin, CT
Randy Bigelow
3
15a
Avery Stoehr
Lakeville, MA
MCI Racing/
Russ Stoehr
4
99
Howie Bumpus
-
Susan Santa Maria
5
35
Randy Cabral
Plymouth, MA
Glen Cabral
6
11b
Jake Stergios
Candia, NH
Bill Stergois
7
50
Carl Medeiros, Jr.
Westport, MA
Carl Medeiros
8
26b
Bethany Stoehr
Bridgewater, MA
MCI Racing/
Greg Stoehr
9
13
Ryan Bigelow
E. Hampton, CT
Randy Bigelow
10
45
Brandon Igo
Wilbraham, MA
David Igo
11
DNF
33b
Scott Bigelow

E. Hampton, CT

Randy Bigelow

12
DNF
81
Andy Barrows
New Ipswitch, NH
Dustin Anderson
13
DNF
51
Danny Cugini
Marshfield, MA
D. Cugini
14
DNF
57
Dylan Duhaime
Loudon, NH
Shawn Duhaime

HEAT 1:

31-13-9-26b-50-33-45

HEAT 2:

81-51-35-99-15a(DNF)-57(DNF)-11b(DNS)
Veteran Racer Jim Miller Dominates In Oswego Speedway NEMA Action
(Oswego NY) It was all about Jim Miller at New York's historic Oswego Speedway on Saturday evening, as the veteran NEMA racer displayed a dominating performance in capturing the Northeast Midget Association 35-lap feature event.

After setting a new 1-lap track record of 16.94 earlier in the evening, Miller started the feature from the pole position and quickly distanced himself from the competition.

The evening marked Miller's first trip to victory lane since 2001.

Behind the winner several battles raged during the quick green-to-checker affair. For much of the event it was Russ Stoehr, Seth Carlson, and Joey Payne vying for the runner-up spot.

Point leader Randy Cabral was also in the mix having quickly moved-up before being forced to slow when the #77 of Greg Stoehr broke.

Chasing Miller at the checkers were Russ Stoehr, Jeff Abold, Carlson, and Cabral.

Claming victory in the fast-paced 25-lap NEMA Lites feature was Ian Cummings, followed by Paul Bigelow, Avery Stoehr, James Santa Maria and Randy Cabra

NEMA, and the NEMA Lites Series next return to action at Connecticut's Waterford Speedbowl on Saturday evening September 1, for the Gene Angelillo Memorial Race.





Stoehr, Payne, Cabral
NEMA Oswego Veterans
Brockton, MA – Russ Stoehr, who has won eight times there, Joey Payne Jr., a two-time winner, and Randy Cabral, who has some near misses, are among the favorites when the Northeastern Midget Association returns to Oswego Speedway Saturday night. NEMA last visited the historic five-eighths oval back in 2005.

The NEMA Lites will be making the trip as well, Oswego looming as the ultimate test for the five-year old division.

While many competitors will be on Oswego's asphalt for the first time, there are some experienced hands. Current competitors Adam Cantor, Payne, Cabral and Doug Cleveland were all on hand when supermodified ace Chris Perley won the last NEMA race at Oswego in Don Berrio's #2.

Considering Payne, an old hand at Oswego, turned 17.1 seconds laps en route to a victory in 2004, speeds in the 16 seconds bracket are probable.

Stoehr's last win came in 2001. Still, the strategy that carried him to all those wins no doubt remains the same. "It's a big rhythm track," he offered a decade ago. "I've had a lot of success there because I pass on the outside. Guys that get down in the groove can't do that. Actually, it's a pretty easy place to drive. If you make a mistake at Oswego, there's usually room to get out of it."

And, sometimes there isn't. Stoehr had a devastating crash at Oswego in 2002, a race won by Drew Fornoro.

Stoehr's Dumo's Desire team, an extention of the Angelillo operation, also has eight Oswego checkereds.

Cabral, locked in another point battle with Stoehr, came within a whisker of an Oswego win in 2003, crashing while in the lead. The three-time and defending champ was second in '02, fourth in '04 and 11th in '05.

John Zych Jr., Greg Stoehr, Mike Horn, Cantor, Seth Carlson, Cabral and Anthony Marvuglio all hope to become NEMA's first two-time winner this season. Horn has been impressive on big tracks with wins at Thompson and Stafford Speedways in the last two seasons.

Other contenders include Jim Miller, Paul Scally and Todd Bertrand.

It will be a first-time experience for most of the Lite cars. The division has been dominated by youngsters like most recent winner Avery Stoehr (Russ' son), three-time winner Carl Medieros Jr., Ian Cumens, Dylan Duhaime, Bethany Stoehr and Danny Cugini.



NEMA Winners at Oswego




No. - Driver - First Win - Last Win


8 - Russ Stoehr - 1995 - 2001
4 - Drew Fornoro - 1990 - 2002
2 - Joey Coy - 1992 - 1993
2 - Nokie Fornoro - 1991 - 1999
2 - Joey Payne - 2003 - 2004
One-time winners: Howie Bumpus (1999), Lou Cicconi Jr. (1996), Chris Perley (2005), Bob Resco Jr. (1999), Mike Roselli Jr. (2000)