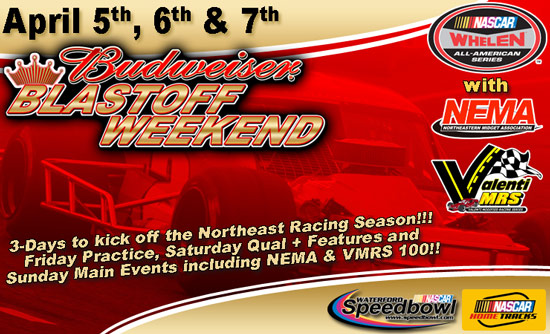 SUN. APRIL 7TH - WATERFORD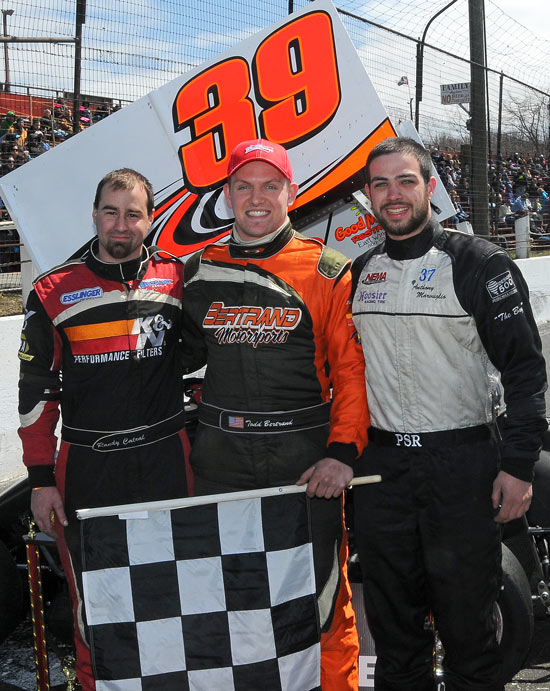 NEMA Midgets Top Three - L to R: Randy Cabral #47, 3rd;
Winner Todd Bertrand #39; & Anthony Marvuglio #38, 2nd.

John DaDalt

Photos by




Norm Marx

Track Scenes >
Todd Bertrand NEMA Blastoff Winner
Waterford, CT - Taking advantage of the caution he was "hoping for," Todd Bertrand captured the 25-lap Northeastern Midget feature Sunday at Waterford Speedbowl's Blast Off Weekend. Bertrand described the run to his third career NEMA win, all of them at Waterford, as "methodical."

Bertrand (Bertrand 39) was in complete control after beating Anthony Marvuglio (Bourbeau 38)) into turn one on a lap 15 restart. Marvuglio held on for second followed by Randy Cabral (Bertrand 47), Seth Carlson (Feigel 71) and Russ Stoehr (Dumo's Desire 45) as NEMA opened its 61st season.

Following three side-by-side laps with fellow front-row starter Carlson, Marvuglio took command. The patient Bertrand, second by lap five, was catching the leader. "I wanted a restart," explained Bertrand. "I didn't want to wear out my tires. I knew my tires were going to be cooler than his."

Looking at the scoreboard, Bertrand noticed teammate Cabral would line up behind him. "I knew if I didn't go, Randy would," he said. Bertrand grabbed the lead with no trouble while Cabral, who started eighth, battled Marvuglio for several laps before settling into third. It was, said Marvuglio "fun racing."

Stoehr, who suffered extensive damage in his heat on Saturday, passed Modified star Doug Coby, in the third Bertrand Racing entry, for fifth shortly after the restart. In the tightest competition of the event, Stoehr, Coby and seventh-place Bethany Stoehr (Stoehr 5b) were all within a half-second of each other.

Bertrand's Honda-powered Drinan was 2.4 seconds in front at the checkered. Anthony Marvuglio's #38 owned the fastest feature lap (13.019). That, however, paled compared to a 12.619 (106.982) posted in winning his heat on Saturday. Cabral had a 12.776 in winning his heat.

In practice on March 30, Bertrand turned a 12.8 but soon realized last weekend "it wasn't going to be fast enough." After Russ Stoehr turned a 12.664 and Cabral and John Zych were in the 12.7s, "I didn't stop working on the car all day. It turned out well."

While NEMA is now idle until the Boston Louie at Seekonk on June 2, Bertrand is preparing for the USAC "Night Before The 500" race at Indianapolis Raceway Park on May 25.




Tim Bertrand said he spent 26 hours in two days earlier in the week getting the car Doug Coby drove ready. The car lost a motor in practice on March 30. Bertrand gave much credit to Mike and Bobby Seymour for preparing and installing the new Autocraft engine. Expect Coby to be in the car again this summer.


Lou Ciccone drove Adam Cantor's 7ny, the first of several guest drivers.


According to Bertrand, NEMA hasn't gone this fast at Waterford since 2008 when Randy Cabral was turning 12.6 laps..."At Waterford, the colder the track, the faster we go," said Randy Cabral. "When it's cold there is tons of grip. We will not be this fast in July and August."


The fastest lap in Sunday's 25-lap feature at Waterford Speedbowl's belonged to Anthony Marvuglio, at 13.019. Bertrand's 12.619 en route to victory in his heat on Saturday is now seen as the NEMA standard at the Speedbowl. "Last year we were all struggling to get in the 12.9s here," said Bertrand who came to Blast Off feeling confident after 12.8s in the practice session on March 30.


The newfound speed was the hot topic right from the start after Russ Stoehr's 12.664 lap in practice. "You've got to concentrate," said Stoehr. "There is not a lot of room for error at those speeds."A broken panhard bar was the culprit in Stoehr's heat crash on Saturday.


It was the maiden run for Bertrand's Honda-powered Drinan which, incidentally, is "totally different" from teammate Randy Cabral's Eslinger/Honda.


The question 'who will be in the Bertrand 74 and Cantor 7ny?' adds some excitement to the 2013 NEMA season. Doug Coby, who drove the 74 to sixth on Sunday, will definitely drive it again. Lou Cicconi is a likely a returnee in either car. Modified standouts Ryan Preece and Keith Rocco are other probabilities.


"I remember hanging around with Greg and Tara Stoehr before they were married," said Keith Botelho. "Now I am racing against their daughter Bethany." Botelho was filling in for Joey Payne Jr. in the Ed Breault #44. "My heart still goes thump, thump, thump when I put the helmet on," said Botelho who started racing stock cars in 1985. It was either 1988 or '89 he took his first Midget ride with Pete Pernesiglio.


Payne, who missed Blast Off because of a family commitment, will have a new car at NEMA's next race, the June 2 Boston Louie at Seekonk.


Louisville's Russ Smith and Michigan's Nik Stauskas, opponents in the NCAA basketball championship game, were classmates of Todd Bertrand at South Kent School. "They were both in my English class," said Bertrand, a soccer player at South Kent.


The "t" on Jim Miller's second car (driven by Lee Bundy) is for Miller's son Trevor who will soon be listed as the owner.
NEMA MIDGETS - WATERFORD - 4/7/13

Pos.
#
Driver
Hometown
Owner
1
39
Todd Bertrand

Suffield

, CT
Bertrand Motorsports
2
38
Anthony Marvuglio
E. Bridgewater, MA
Tammy Bourbeau
3
47
Randy Cabral
Plymouth, MA
Tim Bertrand
4
71
Seth Carlson
Brimfield, CT
Gene Feigel
5
45
Russ Stoehr
Bridgewater, MA
Dumo's Desire Racing
6
74
Doug Coby

Milford

, CT
Bertrand Motorsports
7
5b
Bethany Stoehr
Bridgewater, MA
MCI Racing/
Greg Stoehr
8
29
Ian Cumens
Lydell, PA
Bobby Seymour
9
3m
Jim Miller
Weymouth, MA
Jim Miller
10
30
Paul Scally
Raynham, MA
Paul Scally
11
80
Peter Pernisiglio
Lake Grove, NY
Peter Pernisiglio Sr.
12
DNF
99
Jim Santa Maria
Burlington, CT
Susan Santa Maria
13
DNF
7ny
Lou Cicconi
Aston, PA
Allan Cantor
14
DNF
15a
Avery Stoehr
Lakeville, MA
MCI Racing/
Russ Stoehr
15
DNF
44
Keith Botelho
Attleboro, MA
Ed Breault
16
DNS
9
John Zych Jr.
Mendon, MA
John Zych Sr.
17
DNS
3t
Lee Bundy
Kennebunkport, ME
Trevor Miller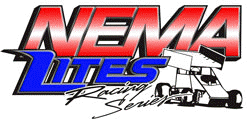 SAT. APRIL 6TH - WATERFORD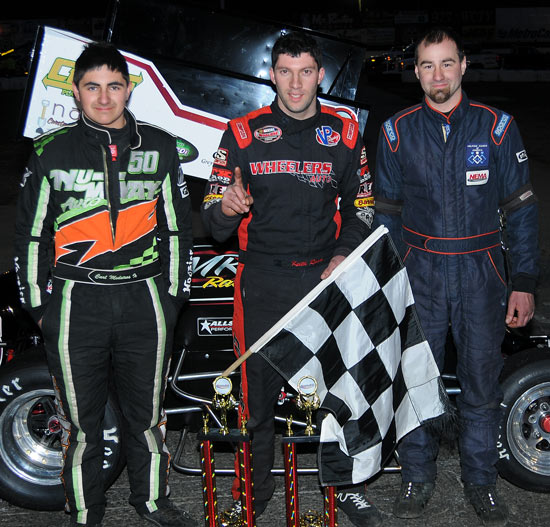 LITES Top Three - L to R: Carl Medeiros Jr. #50, 3rd;
Winner Keith Rocco #76; & Randy Cabral #35, 2nd.


LATE REPORT:

Rocco #76 DQ'd for tech issues.
Waterford Lites Win For Cabral
Waterford – Randy Cabral is the point leader for the Northeastern Midget Association's Lites Division. This year, for the first time, there will be a champion.

Cabral, driving the family's #35, got the win in Saturday night's 25-lap Lites feature at Waterford Speedbowl's Blastoff Weekend. The win fell to Cabral when Keith Rocco, in the Manafort 76, was disqualified for being underweight.

Cabral , who emphatically declares "I am not a contender for the Lites crown," won a heat as well en route to his second Waterford career Lites win. Carl Mederios Jr., Jake Stergios, Brandon Igo and Christian Briggs completed the top five.

Rocco, who came from deep in the field, erased a wide Cabral lead and took the lead through turns one and two with two laps left. He also had the fastest lap (a 13.834)

The second leader, Cabral took the lead from pole sitter Ryan Bigelow with 11 laps remaining. He built up a sizable lead but then couldn't hold off Rocco. Mederios, who can be considered a championship contender, finished very strong.

One caution marred the run, Dan Cugini hit the front stretch wall. Although he left the track in the ambulance, he did not leave the facility.
NEMA LITES - WATERFORD - 4/6/13

Pos.
#
Driver
Hometown
Owner
1
35
Randy Cabral
Plymouth, MA
Glen Cabral
2
50
Carl Medeiros, Jr.
Westport, MA
Carl Medeiros
3
11
Jake Stergois
Candia, NH
Bill Stergios
4
45
Brandon Igo
Wilbraham, MA
David Igo
5
44
Christian Briggs
Mattapoisett, MA
Christian Briggs
6
15a
Avery Stoehr
Lakeville, MA
MCI Racing/
Russ Stoehr
7
7
Dana Shaw
Danielson, CT
Gregory Olson
8
18
DJ Moniz
Fairhaven, MA
David Moniz
9
13
Ryan Bigelow
E. Hampton, CT
Randy Bigelow
10
31
Paul Bigelow
Kensington, CT
Randy Bigelow
11
94
Logan Rayvals
Brockville, ONT
Craig Rayvals
12
41
Joe Cugini
Marshfield, MA
D. Cugini
13
2k
Kelly Ferrell
Chaplin, CT
John Ferrell
14
DNF
81
Andy Barrows
New Ipswitch, NH
Dustin Anderson
15
DNF
51
Danny Cugini
Marshfield, MA
D. Cugini
16
DNS
52
Kevin Park
Foxboro, MA
Kevin Park
17
DQ
76
Keith Rocco
Wallingford, CT
Frank Manafort
Speedbowl Ready for Blastoff!
Large turnout for open practice this past Saturday
Track Press Release - Waterford, CT (April 1, 2013) – A large contingent of racecars and on-lookers turned out this past Saturday at Waterford Speedbowl. Over 125 racecars representing many divisions jammed the pit area to test and tune for the 2013 race season. The Speedbowl opens the New England racing season this coming weekend with Budweiser Blastoff, the track's 63rd season opener.

The largest turnout on Saturday was made by the Valenti Modified Racing Series. The popular open-wheel series will begin its 10th anniversary season at the Speedbowl as part of Budweiser Blastoff Weekend. Approximately 25 teams attended the practice day to put down laps on the shoreline oval. Series officials anticipate well over 30 teams for Budweiser Blastoff. Race teams from the Northeastern Midget Association (NEMA) and NEMA Lites, plus the New England Truck Series joined several Speedbowl racers in attendance Saturday.

Budweiser Blastoff Weekend takes over the Speedbowl April 5th - 7th. The weekend is highlighted by a 100-lap feature for the Valenti Modified Racing Series and a special 63-lap race for the NASCAR Whelen All-American Series SK Modifieds®. Thirteen divisions in total will each be after the first checkered flags of 2013.

The weekend begins when pit gates open at 10:00am on Friday, April 5th for a full day of practice. The Valenti Modified Racing Series will have a special 1 hour open practice from 5:00pm to 6:00pm. Hauler drop off is permitted Friday. Grandstands will be closed.

Pit gates open at 7:30am

Saturday, April 6th

with grandstands opening at 11:30am. Qualifying is set to begin at approximately 3:00pm with the first of seven features on the day scheduled for 5:00pm Saturday. The NASCAR Whelen All-American Series SK Light Modifieds plus

NEMA Lites

, Legend Cars, New England Truck Series, Super X-Cars, X-Cars and Bandoleros will all race features on Saturday.



Sunday April 7th

's event schedule gets started with the popular Speedbowl Pit Party beginning at 9:30am. Fans will be able to see the cars and meet the stars up close on the track before racing begins shortly after noon. Six feature events including the Valenti Modified Racing Series 100,

NEMA Midgets

and NASCAR Whelen All-American Series 63-lap SK Modified® feature highlight Sunday's action. The NASCAR Whelen All-American Series Late Model, Street Stock and Mini Stock features all hit the track on Sunday as well.

Advance ticket sales and a detailed event schedule for Budweiser Blastoff Weekend are available online at Speedbowl.com. Questions may be directed to info@speedbowl.com or contacting the track office at 860.442.1585.


The Northeastern Midget Association opens its 61st season at this weekend's Blast Off at Waterford Speedbowl. NEMA and the NEMA Lites are both on the two-day show. The Lites feature will be on Saturday night and the full midgets on Sunday. Both will qualify on Saturday.



The Midget win list at Waterford starts with Johnny Thomson, still regarded as New England's premier open-cockpit driver. Thomson, a Lowell, MA product, won a fog- shortened 15-lapper in June of 1951 and a month later captured a 35-lapper. Late that year before Art Cross, another Midget legend, won an AAA-sanctioned 100 lapper George Tichenor grabbed the pole with a 17.920 run. Anthony Marvuglio had last year's fastest feature lap time (12.910). Carl Medeiros' 13.871 was the Lites best.



Since 1999, the Waterford Speedbowl has hosted the NEMA season-opener nine times. On four occasions there was a first-time winner including last year when John Zych Jr. prevailed. Others to do it were Rudy Boetticher (2000), Ben Seitz (2004) and Chris Leonard (2010).



NEMA's win list includes fathers and sons and brothers but there has yet to be a father-daughter combination. Russ Stoehr's daughter Bethany, very impressive at Waterford last summer, is a prime candidate to end that draught. She could also start a niece-uncle list with Russ Stoehr. Erica Santos, part of the only sister-brother combo with Bobby III, remains NEMA's only female winner, doing it at Stafford in 2007.



The list of modified drivers who have tried on a NEMA Midget is reasonably lengthy but the list of winners is short. It includes Ted Christopher, who prevailed at Waterford in 1998 and the late Gene Bergin. One of Bergin's two wins came at Thompson. Each was driving for an established car owner (TC for Gene Angelillo, Bergin for Mike Scrivani, Sr.) and each was very familiar with the track. Multi-time Waterford champion Keith Rocco, a Lites winner last summer, had the same advantages. Doug Coby, who will drive for Tim Bertrand this weekend, has those things going for him as well.



Betrand Racing comes with three cars, each with a different power plant. Defending champion Randy Cabral has an Esslinger, Todd Bertrand a Honda and Coby an Autocraft. Counting Coby's five Modified checkereds, the team has 16 Waterford wins, eight for Cabral, two for Todd and one for owner, and former driver, Tim. Four different motors wound up in Waterford's Victory Lane last year – Esslinger (2), Gaerte, Honda and Mazda.



The first appearance of Lites came at Waterford's 2008 opener with an exhibition run. The first "official" race was June 11 of that year, Jesse State beating brothers Jake and P.J Stergios and Anthony Marvuglio.
NEMA Kicks Off Season
at Bowl's Blastoff
Brockton, MA – Coming off one of the most competitive seasons in its 60-year history, the Northeastern Midget Association opens its 2013 campaign April 6-7 at Waterford Speedbowl's Budweiser Blastoff Weekend. Both NEMA and the NEMA Lites are part of the busy agenda.

Defending champion Randy Cabral (Bertrand #47), one of 11 winners a year ago, heads up the entry list. John Zych Jr. (Zych #9), Russ Stoehr (Dumo's Desire #45), Jim Miller (Miller #3m), Todd Bertrand (Bertrand #39), Seth Carlson (Feigel #71) and Anthony Marvuglio (Bourbeau #38), all 2012 winners as well, will also be back.

The 25-lap feature, slated for Sunday, kicks of a 15-race NEMA schedule. The Lites, scheduled to go 25 laps on Saturday night, will race 17 times this summer. Both divisions will qualify on Saturday.

Zych, the defending Blastoff champ, Bertrand, Marvuglio and Russ Stoehr were all winners at Waterford last year. Stoehr's win earned him a tie with Cabral atop Waterford's all-time NEMA win list, each with eight.

Openers at Waterford, however, tend to produce first-ever winners and there's evidence that might continue as well. Youngsters Bethany Stoehr and Ian Cumens are first time candidates, Stoehr driving the same family-owned Beast she turned a 12.986 lap with last season. Cumens, the 2012 Hoosier Tires Lites champ, will be driving for the Seymour operation. Paul Scally (Scally 30), Lee Bundy (Miller #2), now part of the Jim Miller team, and James Santa Maria (Santa Maria #99) are other first-time possibilities.

Defending National NASCAR Modified champion Doug Coby, no stranger to the "Bowl, will be in a third Bertrand car. Coby was impressive in last year's finale at Lee USA before being collected in a crash.

Blast Off marks the start of the sixth season for the Lites, a division that ran for the first time at the Speedbowl in 2008. Avery Stoehr, a two-time winner in 2012 including once at Waterford, and Dylan Duhaime, who wound up second in the Hoosier Challenge points, head up the Lites class. Cabral also expects to run a full Lites campaign in the family car. Other Lites contenders are Logan Rayvals, Brandon Martinez, David Moriz, Brandon Igo and Carl Medeiros Jr.

NEMA and the Lites will visit 10 tracks in 2013. The club returns to Airborne Speedway in Plattsburgh, NY (first time since 1971), Monadnock Speedway and Riverside Speedway in Groveton, NH. It will also visit Seekonk (including the Boston Louie on June 2), Star, Stafford, Lee USA, Oswego and Thompson Speedways.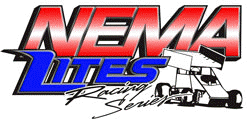 NEMA Lites Kick Off
Sixth Season at 'Bowl
Brockton, MA – The Northeastern Midget Association's Lites Division begins its sixth season at Waterford Speedbowl's Blast Off Weekend April 6-7. The Lites, a blend of returnees and newcomers, are part of a busy two-day agenda that also includes the regular NEMA cars.

The Lites' feature will run on Saturday night while the "full-midgets" feature is on Sunday. Both groups qualify on Saturday for their respective 25-lap features.

Andy Barrows, Ryan Bigelow, Randy Cabral, Brandon Igo, Keith Rocco and Avery Stoehr will all be looking to repeat previous Lites victories at Waterford. Carl Medeiros Jr., Dylan Duhaime, Danny Cugini, Jake Smith, Logan Rayvals, Dana Shaw, David Moniz, R.J. Tufano, Christian Briggs, Kenny Johnson and Bigelow's brothers Paul and Scott return to Lites action as well.

Medeiros (13.871) and Tufano (13.893) had the fastest Lites feature laps last summer at Waterford. Ryan Bigelow is the defending Blast Off champion. Modified star Rocco and Stoehr also turned in impressive winning rides a year ago.

Cabral, NEMA's driving champion four of the last five years, expects to continue driving the family car in Lites action. Ian Cumens, the Hoosier Tires Lites Challenge champ a year ago, will also make some Lites starts around a full-time NEMA effort with the Seymour team.

Returning to Lites action are Jake Stergios, a big winner back in 2009-10, and Kelly Ferrell, a one-time Whip City standout. Heading up the "rookie" list is Richie Morrocco who'll be in the car driven by Brandon Martinez a year ago.

Designed to provide an economical avenue into Midget racing, the Lites have grown impressively over the past six years. The 2013 roster is expected to reach the 30s.

Blast Off ignites an 18-race agenda at nine tracks that will include the half-mile Stafford and Airborne Speedways. The division performed impressively last year in their "big track" debut at Oswego.

Formed as a "feeder division" for the full midgets, it is perhaps more now but it is still serving its original purpose. Cumens and Bethany Stoehr join a number of Lites graduates who have moved up to the full midgets including Todd Bertrand, Anthony Marvuglio, Seth Carlson, Anthony Nocella and Jim Santa Maria.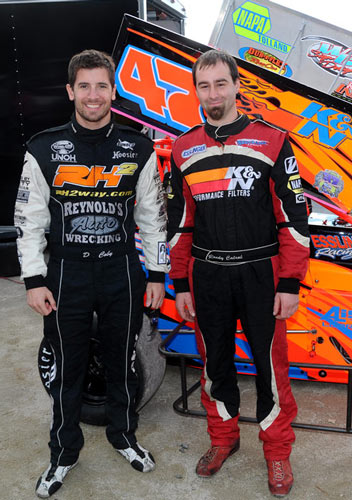 Doug Colby & Randy Cabral
Coby Among NEMA Threats at 'Bowl
aBrockton, MA – Pointing out "It is good to challenge myself with something different," National NASCAR Whelen Modified Tour champion Doug Coby will get back in a Midget at this weekend's Blast Off at Waterford Speedbowl.

The Northeastern Midget Association and the NEMA Lites are both part of busy two-day agenda. The 25-lap Lites feature is scheduled for Saturday night while the full midgets are on the Sunday agenda. Both will qualify on Saturday.

Coby will be in a "custom" chassis designed by Danny Drinan and Tim Bertrand. "The car has been re-done from head to foot, a very nice piece," reports Bertrand.

The car did experience motor problem in last Saturday's practice and will have a new Autocraft engine this weekend.

A Modified Tour winner last year at Waterford, it will be the second Midget ride for Coby, who also has four Waterford SK triumphs. Driving for Bertrand, he was second in his heat in the 2012 finale at Lee before falling victim to a crash in the feature.

Prior to Lee, Coby tested at the Speedbowl. "We were pretty quick," Coby says. "Tim was very happy and we talked about getting together for the 2013 opener right then." A Midget, he says "is the type of car you can really get after with the throttle. Midgets are a lot more precise in terms of where you can put the car."

Modified fans will have a horse in the Lites race as well. Multi-time Waterford champ Keith Rocco will be driving the Frank Manafort-owned car that he was very impressive in at the Speedbowl last summer.

Saturday practice did produce optimistic results for Coby's teammates defending champion Randy Cabral and Todd Bertrand.

Cabral and veteran Russ Stoehr, each with eight career Waterford victories, lead NEMA back to the 'Bowl. John Zych Jr. will be looking for a second straight Blast Off win. Veterans Jim Miller, Joey Payne and Greg Stoehr have all have won at Waterford. Based on a run last season, Bethany Stoehr is another prime candidate. Other contenders are Seth Carlson, James Santa Maria, Anthony Marvuglio, Paul Scally and rookie of the year candidate Ian Cumens.

Avery Stoehr and Brandon Igo, both Waterford winners in '12, top the Lites entries. The Bigelow Brothers (Ryan, Paul and Scott), Kelly Farrell, Carl Medeiros Jr., Dan Cugini, Logan Rayvals and "double duty" Randy Cabral are also contenders.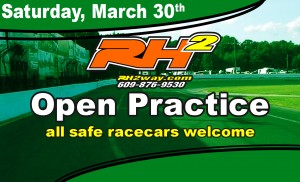 WATERFORD SPEEDBOWL PRACTICE
From the NEMA Facebook Group Page