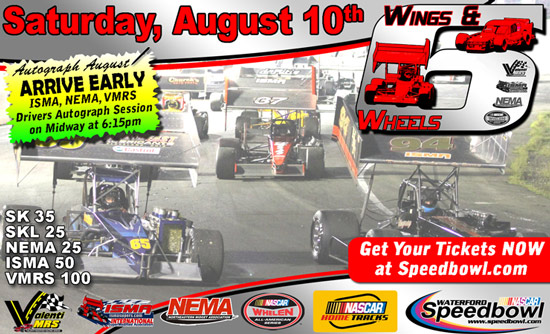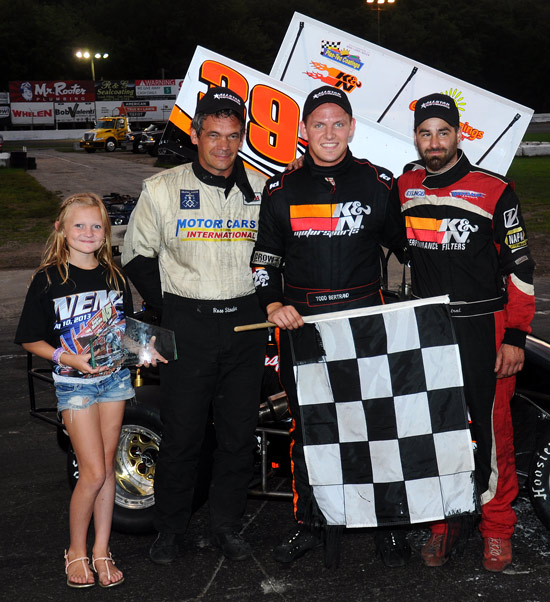 Top Three at the Angelillo Memorial - L to R: Russ Stoehr #45, 3rd;
Winner Tood Bertrand #39; and Randy Cabral #47.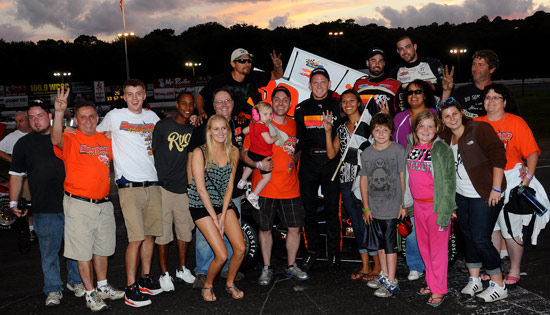 Bertrand Motorsports celebrates its 40th NEMA win.
Bertrand Romps to NEMA Win
at The Speedbowl
Waterford, CT – Todd Bertrand made it three straight Angelillo Memorials Saturday night, winning the 25-lap Northeastern Midget Association feature at Waterford Speedbowl's Wings & Wheels. Grabbing the lead seven laps in, Bertrand went on to a convincing victory, his second of the season.

Most of the drama came before the feature and included a bad heat experience and Todd's dad Gil traveling back to Enfield to get a replacement part after an oil line fitting went bad.

Turning a sizzling 12.794 lap en route to victory, Bertrand (Bertrand 39) came from the eighth starting spot, grabbed the lead from early leader Paul Scally (Scally 30) through turns three and four and took the checkered 4.75 seconds ahead of Randy Cabral. It was the third straight Angelillo runner-up finish for Cabral.

A couple of battles ranged behind Cabral. Russ Stoehr (Dumo's Desire 45) finished third less than a tenth of a second ahead of Anthony Marvuglio (Bertrand 74). Scally held on for fifth just ahead of point leader John Zych Jr. (Zych 9).

"I showed Paul my nose through one and two and he gave me all the room I needed in three and four," Bertrand explained the winning pass. He immediately pulled away and enjoyed a big lead when caution showed with 13 left.

Bertrand got away from Scally on the restart, leaving behind a five car battle. Cabral cleared Stoehr and Scally to settle in second with eight remaining. "I really didn't know who was behind me but I could see the 47 on the scoreboard and that worried me," said Bertrand.

A week earlier, Bertrand had "driven off the track" at Airborne Speedway, a "driver error" that was not easy to forget."I stayed mentally tough all week," said the former schoolboy soccer standout. The challenges continued.

First there as the oil line problem in the first practice. "We were lucky we had so much time," said Bertrand, acknowledging the many divisions at the event. Missing the second practice, repairs were completed in time for the second heat.

"We chose a right rear tire that Doug Coby ran in a heat race back in May that had just two heat cycles," Bertrand said. "I was just being cheap. I almost hit the wall I got so loose." An angry Gil was among the frustrations as Bertrand "just kept my head in it."

Come feature time, he kept his foot in it as well. Both the margin of victory and fast lap surprised him. "I don't think anybody has turned that in a feature for a long time," he said of the latter.

Marvuglio and Cumens were the heat winners.
NEMA MIDGETS - WATERFORD - 8/10/13
Pos.
#
Driver
Hometown
Owner
1
39
Todd Bertrand
Suffield
, CT
Bertrand Motorsports
2
47
Randy Cabral
Plymouth, MA
Tim Bertrand
3
45
Russ Stoehr
Bridgewater, MA
Dumo's Desire Racing
4
74
Anthony Marvuglio
E. Bridgewater, MA
Bertrand Motorsports
5
30
Paul Scally
Raynham, MA
Paul Scally
6
9
John Zych Jr.
Mendon, MA
John Zych Sr.
7
99
Jim Santa Maria
Burlington, CT
Susan Santa Maria
8
29
Ian Cumens
Lydell, PA
Bobby Seymour
9
21
Jim Chambers
Atkinson, NH
Mike Chambers
10
7ny
Phil DiMario
Glen Cove, NY
Allan Cantor
11
5b
Bethany Stoehr
Bridgewater, MA
MCI Racing/
Greg Stoehr
12
26b
Avery Stoehr
Lakeville, MA
Greg Stoehr
13
35
Danny Cugini
Marshfield, MA
Glen Cabral
14
DNF
77
Doug Cleveland
Sudbury, MA
Mike Luggelle
15
DNF
80
Peter Pernisiglio
Lake Grove, NY
Peter Pernisiglio Sr.
16
DNF
44
Joey Payne
Fairlawn, NJ
Ed Breault
17
DNF
71
Seth Carlson
Brimfield, CT
Gene Feigel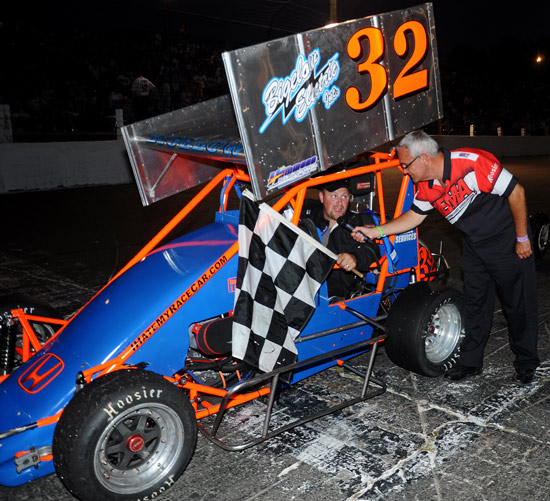 Scott Bigelow #32 - Winner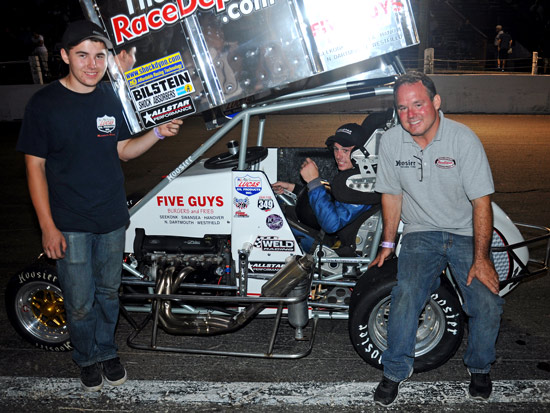 Ian Cumens #9 - 2nd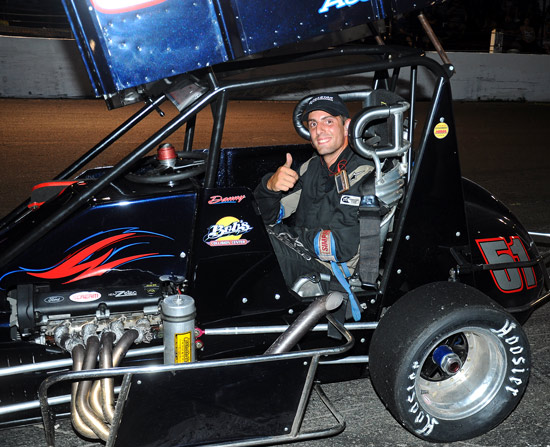 Danny Cugini #51 - 3rd


Bigelow Bests Lites Field
at Speedbowl
Waterford, CT – Scott Bigelow withstood a strong restart challenge from Ian Cumens and went on to win the ALLSTAR Performance 25-lap Northeastern Midget Association Lites feature Saturday night at Waterford Speedbowl's Wings & Wheels. The race was added to the program following rain at the scheduled race at Lee USA Speedway Friday night.

It was a strong run for Bigelow (Bigelow 32) who ran consistent low 14 second laps en route to his first win of the season.

The yellow flew at the halfway point when Carl Mederios Jr. and Avery Stoehr came together. Bigelow, who had led most of the race, lined up with Cumens beside him. They went through one and two side-by-side, Cumens backing a bid on the outside heading down the back chute.

"I kind of pinched him off a little bit," admitted Bigelow, one of three brothers in the race.

"I was up in the marbles ," acknowledged Cumens, pointing out losing momentum "something you want to avoid" in the Lites. Danny Cugini, in fact, got by him and the leaders were half a straightaway ahead when Cumens began the final bid.

He passed Cugini for second with 13 left and at the finish was .341 of a second behind Bigelow. He had a race-best 14.199 (95.077 mph) lap.

Cugini (Cugini 51) was third followed by Kenny Johnson (Johnson 46) and Logan Rayvals (Rayvals 94). Lites rookie Anthony Payne turned in his best effort of the season, finishing sixth in the Scrivani 21.

The race did not pay points. The point battle resumes Saturday night at Riverside Speedway in Groveton, NH.

NEMA LITES - WATERFORD - 8/10/13
Pos.
#
Driver
Hometown
Owner
1
32
Scott Bigelow
E. Hampton, CT
Randy Bigelow
2
9
Ian Cumens

Lydell, PA

Bobby Seymour
3
51
Danny Cugini
Marshfield, MA
D. Cugini
4
46
Kenney Johnson
Bethany, CT
Jeff Johnson
5
94
Logan Rayvals
Brockville, ONT
Craig Rayvals
6
21
Anthony Payne

Fairlawn, NJ

Jennifer Scrivani
7
18
DJ Moniz
Fairhaven, MA
David Moniz
8
41
Megan Cugini

*

Marshfield, MA
D. Cugini
9
DNF
25
Richie Morocco

*

Plainville, MA
Richard Morocco
10
DNF
33
Ryan Bigelow
E. Hampton, CT
Randy Bigelow
11
DNF
52
Kevin Park
Foxboro, MA
Kevin Park
12
DNF
15a
Avery Stoehr
Lakeville, MA
MCI Racing/
Russ Stoehr
13
DNF
50
Carl Medeiros Jr.
Westport, MA
Carl Medeiros Sr.
14
DNF
31
Paul Bigelow

Kensington

, CT
Randy Bigelow
* Rookie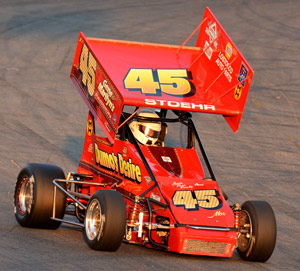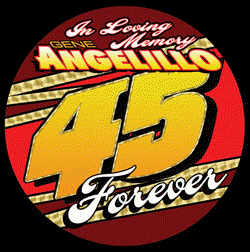 Remembering Gene and Marilyn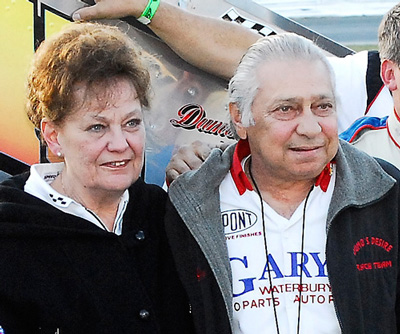 It is all too easy to dismiss the mention of Marilyn and Gene Angelillo with numbers – like 115 or so wins, 107 of them with the Northeastern Midget Association. They won 14 NEMA owner championships with drivers Drew Fornoro, Russ Stoehr and Joey Payne.

Dedication is certainly fitting as well. Both were office holders, Gene serving as president and Marilyn as secretary. The club made full use of Marilyn's secretarial and organizational skills for years. The generosity of both is legend.

Waterford Speedbowl hosts the Angelillo Memorial Saturday night, the 25-lap Midget feature part of the annual Wings & Wheels show.

Daughter Laura Kibbe continues to honor Marilyn, who passed away in September of '07 and Gene who died in March of 2010. It has become a major NEMA event.

No doubt, they'll be some stories told at the 'Bowl. Over three plus decades, Marilyn and Gene touched a lot of lives. It's safe to say, if you spent any time at all with either of them you have a story. The always patient Marilyn and the often fiery Gene left lasting impressions. They are part of NEMA folklore.

It was Marilyn who came up with the "Dumo's Desire" that still adorns the car. It honors Gene's father Dominic or "Dumo." Loyalty was high on the list of priorities for them. Gene was 45 when he bought his first Midget (another great tale), reason enough, Marilyn figured, to put it on the car.

Getting back to numbers – the first win is classic folklore. It was 1981 at Hudson Speedway and Drew Fornoro had just recently joined the team. Early in the feature, Nokie Fornoro, in Mike Scrivani's 21, went off track in turn three, bringing out the red. Drew, concerned about his brother, got out of the 45 and headed for the crash.

It was Scrivani who noticed the right rear on the 45 had gone flat. The still solid right rear was taken off the damaged 21 and, while a Scrivani crew member held the car aloft, put it on the 45. Drew then went out and won the feature beating Lee Smith and Mike Favulli.

Gene loved telling that story. It was one of many.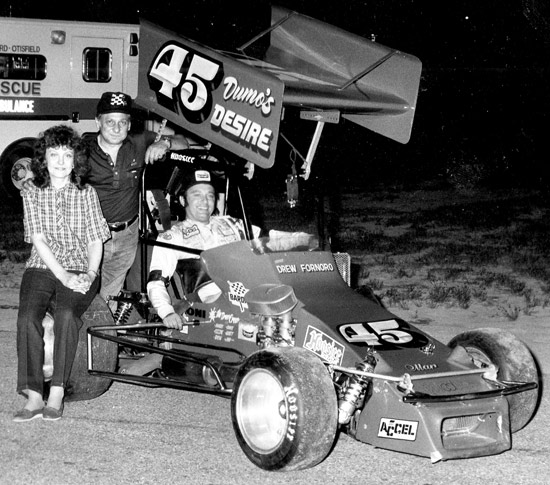 Marilyn, Gene & Drew - 1985
Cumens, Carlson Among
NEMA Waterford Picks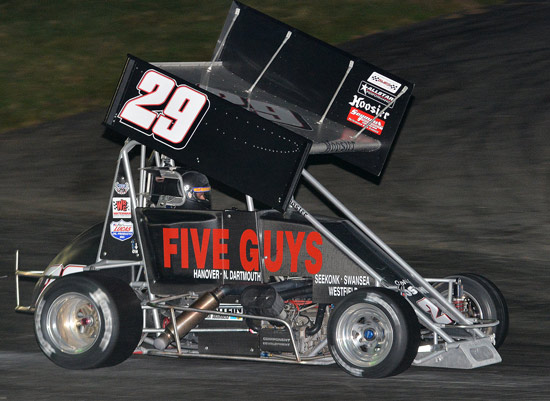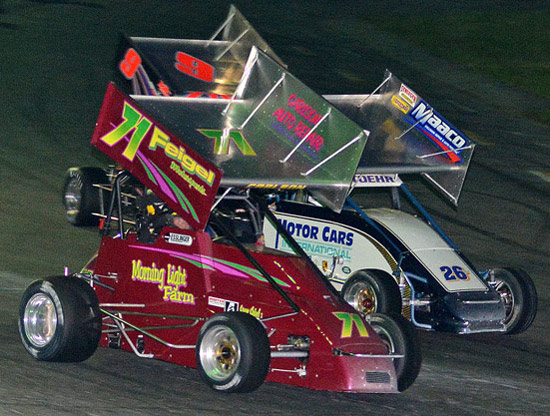 Brockton, MA – Ian Cumens definitely believes he's closing in on that first Northeastern Association victory. Given the fact that Waterford Speedbowl specializes in first-time winners, he is a definite possibility Saturday night at NEMA's Angelillo Memorial.

NEMA is part of Waterford's Wings & Wheels, joining the ISMA Supermodifieds, Valenti Modifieds and the SK-Modifieds in the annual bonanza of speed.

A NEMA rookie with a couple of NEMA Lites wins under his belt, Cumens, who drives the #29 for the Seymour family, comes to Waterford off a strong second (to John Zych) at Airborne Speedway. It was the second runner-up finish for the Pennsylvania driver who sits third in points, 85 behind leader Zych.

If the "youth shall be served" line is followed, Seth Carlson also demands attention, the driver of the Gene Feigel 71 who claimed third at Airborne following a battle with Russ Stoehr. Last year's Rookie of the Year, Carlson, who has a couple of top fives at Waterford, is sixth in points.

Three-time winner Zych, one of 18 to notch his first NEMA win at Waterford, has a slim 43 point edge on Randy Cabral, an eight-time Speedbowl winner. Todd Bertrand, who'll be looking for a third straight Angelillo Memorial victory, is fourth (-110) in points with Russ Stoehr fifth (142). Stoehr also has eight career Waterford wins.

Cabral stayed in the point race with a hard-earned fifth (without power steering) at Airborne. He has been second to Bertrand in the past two Angelillo races.

Stoehr would like nothing better than winning the race that honors the memory of the founder of the team (Dumo's Desire) he continues to drive for.

Expect NEMA to uphold its image speed wise, Anthony Marvuglio's 12.933 (104.384) lap at the Hammond Memorial two weeks back the target. Zych, Bertrand, Phil Dimario (Cantor 7ny), Carlson, Bethany Stoehr and Russ Stoehr all posited consistent 100 mph-plus laps.




Paul "Dangerous" Scally has a fifth and sixth in the past two Angelillo races.


It took Bertrand 5:46.76 (97.33 mph) to win the caution free 2011 Angelillo race.


Three of the top five cars in the car standings belong to Bertrand Motorsports – the Cabral driven 47, the Bertrand driven and the 74. The John Zych Sr. 9 tops the standings.