August 17, 2013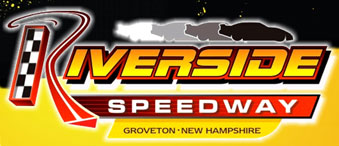 LITES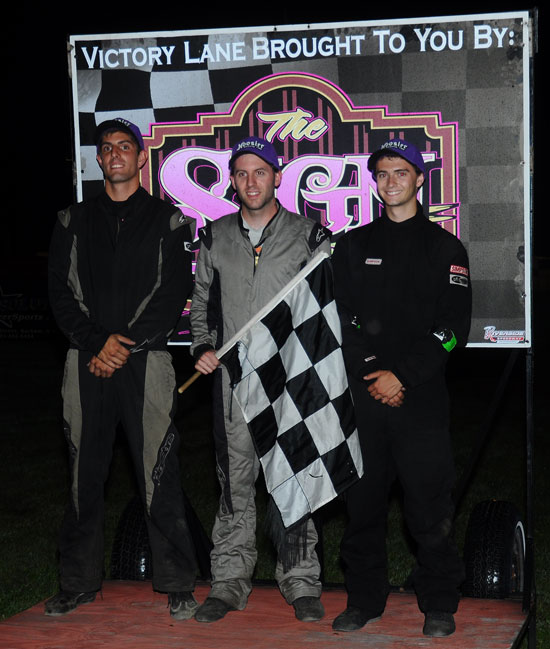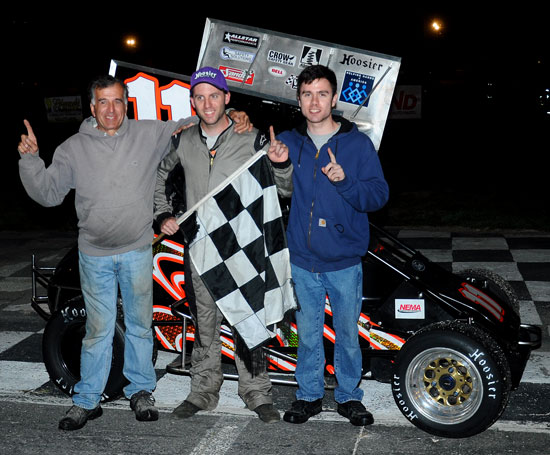 Stergios Tops in Lites at Groveton
Groveton, NH – Coming from the 10th starting spot, P.J. Stergios needed but eight laps to take the lead and go on to win the shortened (20 laps) Northeastern Midget Association Lites feature Saturday night at Riverside Speedway.

Running the outside, Stergios dominated the event which featured a violent crash by Scott Bigelow. It was the third win for P.J. and the fourth win of the season for the car. Rookie Kevin Hutchens (Hutchens 27) was second followed by Dan Cugini (Cugini 51), Kenny Johnson (Johnson 45) and Logan Rayvals (Rayvals 95).

The Lites had trouble getting restarted after a lap 10 yellow, needing three tries. On the second try, Bigelow went over Avery Stoehr's wheel and, after an end-over-ender, hit the wall. Bigelow was rushed to the hospital with two broken vertebrae and a broken finger as was Stoehr (wrist injury). Bigelow and Stoehr were running second and third at the time of the crash.

Although he did not make Groveton, Carl Mederios will take the point lead into the Lites race at Star Speedway August 24.
NEMA LITES - RIVERSIDE - 8/17/13

Pos.
#
Driver
Hometown
Owner
1
11
PJ Stergios
Candia, NH
Bill Stergios
2
27
Kevin Hutchens

*

E. Waterboro, ME
Dan Hutchens
3
51
Danny Cugini
Marshfield, MA
D. Cugini
4
46
Kenney Johnson
Bethany, CT
Jeff Johnson
5
94
Logan Rayvals
Brockville, ONT
Craig Rayvals
6
25
Richie Morocco

*

Plainville, MA
Richard Morocco
7
41
Megan Cugini

*

Marshfield, MA
D. Cugini
8
DNF
32
Scott Bigelow
E. Hampton, CT
Randy Bigelow
9
DNF
15a
Avery Stoehr
Lakeville, MA
MCI Racing/
Russ Stoehr
10
DNF
33
Ryan Bigelow
E. Hampton, CT
Randy Bigelow
11
DNF
31
Paul Bigelow

Kensington

, CT
Randy Bigelow
12
DNS
21
Anthony Payne

Fairlawn, NJ

Jennifer Scrivani
HEAT 1:

32-51-41-31-33-(21 DNF)

HEAT 2:

27-11-15a-94-25-46

* Rookie
MIDGETS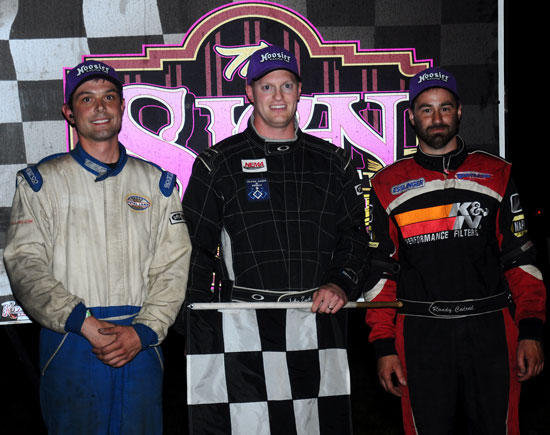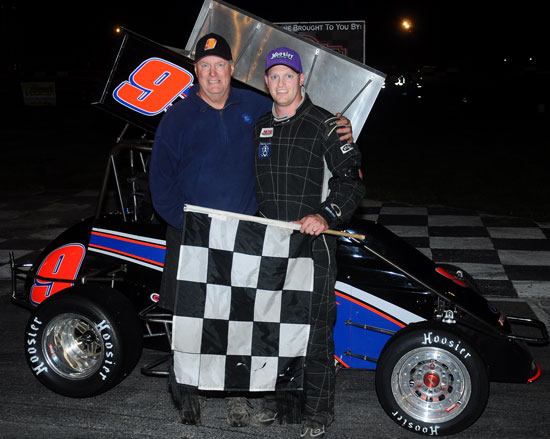 NEMA Win for Zych at Groveton
Groveton, NH – Northeastern Midget Association point leader John Zych is now two-for-two on a track he's seen for the first time. Starting 10th, Zych won the 25-lap NEMA feature Saturday night at Riverside Speedway. It was the fourth win of the season for Zych who also "first-timed" Airborne Speedway.

Zych took the lead on a restart following a lap 17 incident that sent Anthony Marvuglio (Bertrand 74) to the hospital with a puncture to his leg and undiagnosed shoulder issues. Jim Chambers (Chambers 21), Randy Cabral (Bertrand 47), Ian Cumens (Seymour 29) and Paul Scally (Scally 30) completed the top five.

Coming from the seventh starting spot, Marvuglio took the lead from Scally on a lap-four restart. Running laps in the high 10s, Marvuglio had a half lap lead on Zych coming up to lap teammate Todd Bertrand and Russ Stoehr. Bertrand cut a tire down shooting up the track. Marvuglio caught his right rear wheel and hit the wall violently.

The car, which carried both Modified star Doug Coby and Marvuglio to victory this year, was "destroyed" according to owner Tim Bertrand.

Zych, who called the track "scary fast," moved into second on lap eight but clearly had nothing for Marvuglio. The final laps were uneventful, Zych opening up a commanding lead over rookie Chambers, who collected his second runner-up finish of the season and Cabral.

The first caution flew when Seth Carlson and Bethany Stoehr got together. Carlson came back to finish sixth.

Russ Stoehr and Marvuglio were the heat winners.

NEMA returned to Groveton for the first time since 1996.

Zych will take a 33-point lead over Cabral heading into NEMA's Sept. 14 visit to Oswego Speedway.
NEMA MIDGETS - RIVERSIDE - 8/17/13
Pos.
#
Driver
Hometown
Owner
1
9
John Zych Jr.
Mendon, MA
John Zych Sr.
2
21
Jim Chambers
Atkinson, NH
Mike Chambers
3
47
Randy Cabral
Plymouth, MA
Tim Bertrand
4
29s
Ian Cumens
Lydell, PA
Bobby Seymour
5
30
Paul Scally
Raynham, MA
Paul Scally
6
71
Seth Carlson
Brimfield, CT
Gene Feigel
7
39
Todd Bertrand
Suffield
, CT
Bertrand Motorsports
8
45
Russ Stoehr
Bridgewater, MA
Dumo's Desire Racing
9
35
Danny Cugini
Marshfield, MA
Glen Cabral
10
DNF
74
Anthony Marvuglio
E. Bridgewater, MA
Bertrand Motorsports
11
DNF
5b
Bethany Stoehr
Bridgewater, MA
MCI Racing/
Greg Stoehr
12
DNS
77
Doug Cleveland
Sudbury, MA
Mike Luggelle
HEAT 1:

45-39-20-5b-47-77
HEAT 2:

74-30-9-21-71-35
Autograph Session on the Front Straight
Riverside-Groveton Next For NEMA
Brockton, MA - The Northeastern Midget Association will visit Riverside Speedway in Groveton, NH Saturday for the first time since 1996. While it will be "new" to many, they'll hardly have to search for info on the high banked quarter-mile. It will be the fourth overall visit.

The NEMA Lites, engaged in a point battle for the first time in its history, will be on the agenda as well.

Now the owner of the car Ian Cumens drives, Bobby Seymour was a winner in 1987 and finished third in NEMA's last visit to the Northern New Hampshire track. Russ Stoehr was second in '96. Stoehr's current owners, the Dumo's Desire team, had thirds with Drew Fornoro and Lou Rettenmeyer in 1987 and '89 respectively.

The Airborne Speedway experience proved NEMA has little trouble adapting and Riverside's webpage prediction - "These cars will absolutely FLY around Riverside Speedway" – will no doubt hold true.

Three-time winner John Zych Jr. takes the NEMA point lead to Groveton, a very slim 11 up on two-time defending champion Randy Cabral. Todd Bertrand (-66), Ian Cumens (-97) and Russ Stoehr (-112) are third through fifth in points, Bertrand comes off a dominating win at Waterford's Angelillo Memorial, his second of the campaign.

Seth Carlson, Anthony Marvuglio, Paul Scally, Bethany Stoehr and Joey Payne are other contenders. Marvuglio and Scally were fourth and fifth at Waterford.

Carl Medeiros Jr. leaves no secret about his championship hopes. Danny Cugini (-86) and Avery Stoehr (-101) are still very much in contention. Cumens, who has a win and a second in the last two Lites events, and Scott Bigelow, the Waterford winner, are also on a list of favorites that include Kenny Johnson, Logan Rayvals and Brandon Igo.




Joey Coy, driving the Kibbe 94, was the last NEMA winner at Riverside-Groveton. Carl Kibbe is now the crew chief on Avery Stoehr's Lites car.


Randy Cabral will be making his 101st straight NEMA race Saturday. He has, in fact, missed only one NEMA event since he began driving in 2000, that being Sept. 17, 2005 because of a Pro-Four commitment.


NEMA's fathers-and-son fraternity keeps getting stronger with Joey Payne's son Anthony now in the Scrivani #21 Lites car. Anthony had a strong sixth place finish at Waterford last Saturday. Joey joined the exclusive NEMA 20-win club earlier at Monadnock. He is the 14th member of the club.