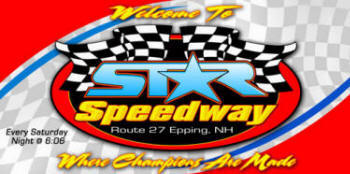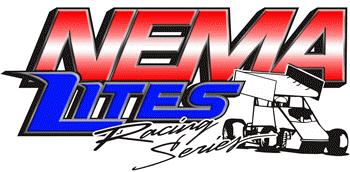 NEMA LITES EVENT at STAR SPEEDWAY
Route 27 - Epping, NH
September 7, 2013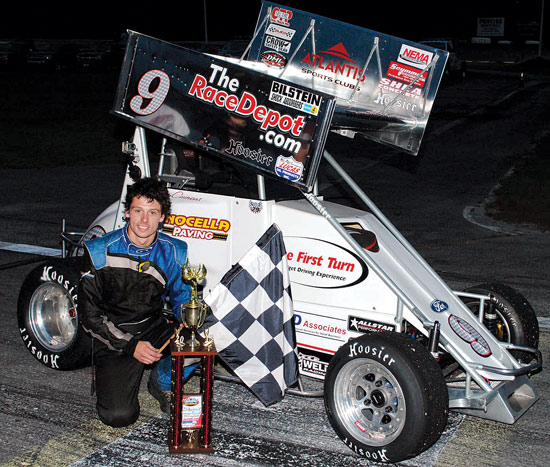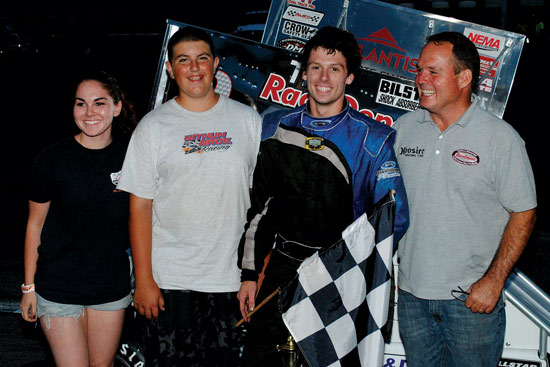 NEMA LITES - STAR - 9/7/13

Pos.
#
Driver
Hometown
Owner
1
9
Ian Cumens

Lydell, PA

Bobby Seymour
2
11
PJ Stergios
Candia, NH
Bill Stergios
3
50
Carl Medeiros Jr.
Westport, MA
Carl Medeiros Sr.
4
25
Richie Morocco

*

Plainville, MA
Richard Morocco
5
51
Danny Cugini
Marshfield, MA
D. Cugini
6
15a
Avery Stoehr
Lakeville, MA
MCI Racing LLC
7
46
Kenney Johnson
Bethany, CT
Jeff Johnson
8
29
Ryan Krachun
Neschanic Station, NJ
Mike Krachun
9
21
Anthony Payne

Fairlawn, NJ

Jennifer Scrivani
10
41
Megan Cugini

*

Marshfield, MA
D. Cugini
11
18
DJ Moniz
Fairhaven, MA
David Moniz
12
7
Dana Shaw
Danielson, CT
Gregory Olson
13
94
Logan Rayvals
Brockville, ONT
Craig Rayvals
14
DNF
31
Ryan Bigelow
E. Hampton, CT
Randy Bigelow
15
DNS
81
Andy Barrows
New Ipswitch, NH
Dustin Anderson
16
DNS
52
Kevin Park
Foxboro, MA
Kevin Park
* Rookie





STAR ISMA CLASSIC 150 THIS SATURDAY BRINGS A FULL FIELD OF TALENT
EPPING, NH- It only happens once a year. The 2013 ISMA International Classic at the Star Speedway in Epping, New Hampshire is not only the longest running Supermodified event in New England, but it is also a race that brings an unsurpassed talent level of winged warriors to the region.

Chris Perley, the "Rowley Rocket" will return to Star, where he learned the craft of racing these unique cars, in the second Vic Miller entry as a team car to standings leader Lou Cicconi. Former Classic winner Justin Belfiore is back, along with Ed Witkum Jr., who tested at the track last week and has been cleared by doctors from a back injury to compete.

Jon McKennedy of Chelmsford, Mass., is another driver who made a name for himself at Star, but he has yet to win a Classic. Mike Ordway Sr., will return in the Clyde Booth car. He too learned to win as a weekly competitor at Star.

Jeff Locke, from nearby Raymond hopes that his increased level of experience this season will lead him to Classic prominence as well. Ben Seitz from Bourne, Mass., Dan Bowes and Rob Summers are all New Englanders who could all play a role in the podium finishing order as well.

Not to be forgotten are the drivers coming from out of the area to compete against New England's best. On that list besides Cicconi are Mike Lichty and Mart Sammut from Canada, Joey Payne from New Jersey, New York native Ray Graham Jr., the talented newcomer Allison Cumens and Tim Jedrzejek from the Midwest to name a few.

Each season a few of the best from the Oswego, N.Y., area such as Joe Gosek have made the trip to compete in this historic event. It's not uncommon to get a last minute entry from there.

Fans can get a one time only experience of a ride around the race track in a two seat Supermodified, driven by either Perley or Russ Wood Sr., beginning at 11:30 AM on Saturday as well. That will lead into practice and then heat races, beginning at 5:00 PM.

The tradition returns for one and only one show each year, and mother nature appears to be on the side of race fans for this special Saturday evening of ISMA Supermodified racing. The 150 green flag only laps are expected to begin at about 8:15 PM. If you have never seen the ISMA field go green at Star, prepare to be amazed.



Also on the schedule for Saturday are the popular NEMA Lites, who always bring a competitive show to the track "Where Champions are Born".

The Outlaw Late Models, Strickly Stocks and Roadrunners will also add to the excitement.