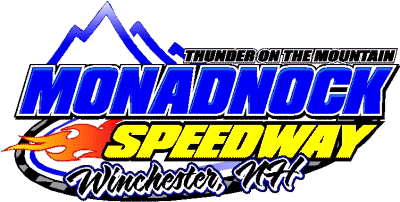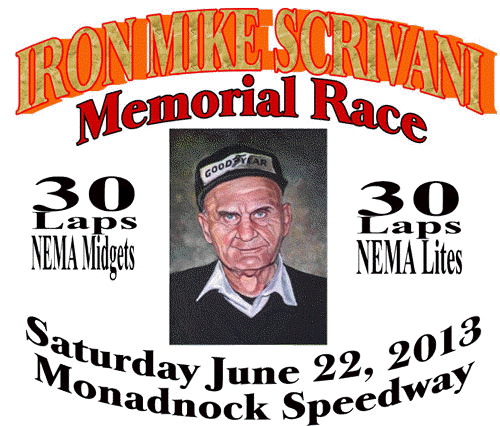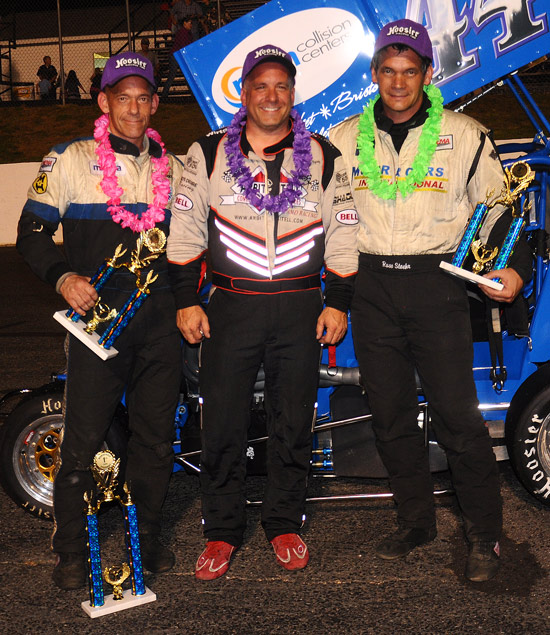 Monadnock NEMA Midgets Top Three - L to R: Greg Stoehr #26b, 3rd;
Winner Joey Payne #44; & Russ Stoehr #45, 2nd.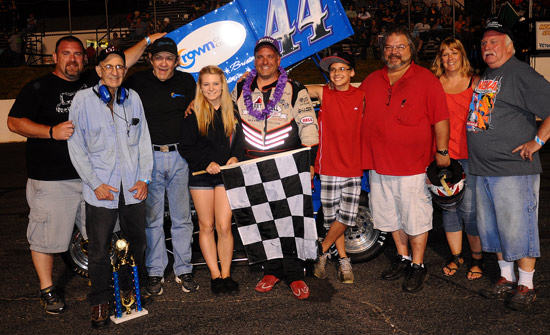 Photos by Norm Marx
Payne Rules NEMA at Monadnock
Winchester, NH – Joey Payne inherited the lead with four laps left and went on to win the Northeastern Midget Association's Iron Mike Scrivani Memorial Saturday night at Monadnock Speedway. It was Payne's first win since 2008.

Driving the new Breault #44, he took command when John Zych Jr. (Zych 9), who had led since lap 13, spun to avoid another car. Zych had a seven car-length lead at the time.

The early leader, Payne had to beat back a late single-file restart challenge from Greg Stoehr (Stoehr 26b) before claiming his 21st career NEMA win. In a late second-turn challenge, Greg Stoehr bobbled enough for brother Russ (Dumo's Desire 45) to claim second. Seth Carlson (Feigel 71) and Ian Cumens (Seymour 29s) filled out the top five.

"We got lucky tonight," summed up Payne, pointing out it came down to Zych "choosing the wrong lane" evading a spinning car. "We were catching him in traffic and it would have been interesting."

"What can I say?" offered an unhappy Zych who charged from the 12th starting spot. "The car was great and I finished ninth." Passing Payne on the outside through three and four, his apparent romp was interrupted only by a lap 17 restart where he had no trouble getting away.

The race was seven laps old before it really started, five cautions plaguing the early going. At that point Greg Stoehr, who started 15th, was fourth. Zych was seventh. Defending champ Randy Cabral was "out" at that point, a victim of NEMA's two-spin rule.

Payne, whose last win came at Monadnock, did get away from Paul Scally and establish a lead on a lap seven restart. Zych caught him four laps later. "I followed Joey for two or three laps and then decided to go for it," said Zych who had the fastest lap (12.042) on the 14th circuit.

"He had us covered," admitted Payne who at that point decided traffic would be a factor.

With four winners in four races, NEMA heads for Stafford Spring's Motor Speedway for Carquest Super Saturday.




The race memorialized Iron Mike Scrivani. NEMA president Mike Scrivani Jr. was the honorary starter. Part of the ceremonies was the distribution of gift bags to ten fans, some which contained $21, recognizing the number the Scrivani family is associated with.


Payne owned the fastest lap of the night, an 11.6 en route to a heat win. Russ Stoehr won the other heat.


Seth Carlson, Ian Cumens and Jim Chambers, four through sixth in a bunch, all had strong runs .


There were four Stoehrs in the feature, Avery driving the Miller 3t.
NEMA MIDGETS - MONADNOCK - 6/22/13

Pos.
#
Driver
Hometown
Owner
1
44
Joey Payne
Fairlawn, NJ
Ed Breault
2
45
Russ Stoehr
Bridgewater, MA
Dumo's Desire Racing
3
26b
Greg Stoehr
Bridgewater, MA
Greg Stoehr
4
71
Seth Carlson
Brimfield, CT
Gene Feigel
5
29
Ian Cumens

Lydell, PA

Bobby Seymour
6
21
Jim Chambers
Atkinson, NH
Mike Chambers
7
39
Todd Bertrand

Suffield

, CT
Bertrand Motorsports
8
30
Paul Scally
Raynham, MA
Paul Scally
9
9
John Zych Jr.
Mendon, MA
John Zych Sr.
10
3t
Avery Stoehr
Lakeville, MA
Trevor Miller
11
13
Ryan Bigelow
E. Hampton, CT
Randy Bigelow
12
77
Doug Cleveland
Sudbury, MA
Mike Luggelle
13
DNF
5b
Bethany Stoehr
Bridgewater, MA
MCI Racing/
Greg Stoehr
14
DNF
16
Matt O'Brien
Wilmington, MA
Jim O'Brien & Sons Engineering
15
DNF
38
Anthony Marvuglio
E. Bridgewater, MA
Tammy Bourbeau
16
DNF
47
Randy Cabral
Plymouth, MA
Tim Bertrand
17
DNS
3m
Jim Miller
Weymouth, MA
Jim Miller
Hard Charger Award: Greg Stoehr #26b
Monadnock NEMA LITES Top Three - L to R: Kenney Johnson #46, 3rd:
Winner PJ Stergios #11; & Andy Barrows #81, 2nd.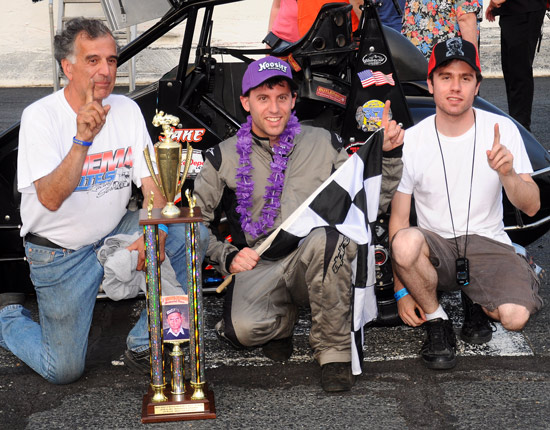 Photos by Norm Marx
Stergios Monadnock Lites Winner
Winchester, NH – P.J. Stergios "kind of got lazy" but rallied in plenty of time to win the NEMA Lites feature at the Northeastern Midget Association's Iron Mike Scrivani Memorial Saturday night at Monadnock Speedway. It was his third win of the season and the fourth for the car.

Starting eighth, Stergios, in the family 11, needed 12 laps to assume command. Andy Barrows continued his run of podium finishes with a second followed by Kenny Johnson (Johnson 46), Danny Cugini (Cugini 51) and Kevin Hutchins (Hutchins 27).

A Stergios-Barrows duel was the highlight, the latter coming from the ninth starting spot to second just before the third yellow flew on lap 22. Barrows, coming off a victory at Star Speedway actually took the lead as the two battled before caution flew again with seven laps left.

"I was a little nervous," said Stergios. "He was outside on the restart and I wanted to give him enough room and I think I slowed myself down." It was, however, an inside move into three that put Barrows in the lead. He was still there when the final caution showed.

"I had him," offered Barrows, claiming the final caution "messed up my rhythm. I stepped up my game and he stepped up his game."

Stergios dispatched Barrows through one and two – "that's where the car was best all day," he said – and went to an almost three second edge at the checkered. The fastest lap of the race – a 12.570 by Stergios – came shortly after he took the lead back.

Barrows was left to thwart the challenge of Kenny Johnson, the latter rallying at the end.

Paul Bigelow, Hutchins and Logan Rayvals all led before Stergios took command.

The point leader going in Carl Medeiros Jr. lost his steering and crashed in his heat. He drove the Scrivani 21 in the feature.

Rayvals and Paul Bigelow were heat winners.
NEMA LITES - MONADNOCK - 6/22/13

Pos.
#
Driver
Hometown
Owner
1
11
PJ Stergios
Candia, NH
Bill Stergios
2
81
Andy Barrows
New Ipswitch, NH
Dustin Anderson
3
46
Kenney Johnson
Bethany, CT
Jeff Johnson
4
51
Danny Cugini
Marshfield, MA
D. Cugini
5
27
Kevin Hutchens

*

E. Waterboro, ME
Dan Hutchens
6
25
Richie Morocco

*

Plainville, MA
Richard Morocco
7
31
Paul Bigelow

Kensington

, CT
Randy Bigelow
8
94
Logan Rayvals
Brockville, ONT
Craig Rayvals
9
33
Scott Bigelow
E. Hampton, CT
Randy Bigelow
10
52
Kevin Park
Foxboro, MA
Kevin Park
11
41
Megan Cugini

*

Marshfield, MA
D. Cugini
12
DNF
21
Carl Medeiros, Jr.
Westport, MA
Jennifer Scrivani
13
DNF
15a
Avery Stoehr
Lakeville, MA
MCI Racing/
Russ Stoehr
14
DNF
22l
Steve Powers
-
Mike Luggelle
Hard Charger Award: Andy Barrows #81
* Rookie
NEMA RETURNS TO MONADNOCK
Brockton, MA – Randy Cabral and Carl Medeiros Jr. take narrow point leads into the Northeastern Midget Association's Iron Memorial Saturday night at Monadnock Speedway. NEMA returns to the Granite State oval after an absence of two years.

NEMA and the NEMA Lites will each go 30 laps on a program that memorializes legendary Midget car owner Iron Mike Scrivani.

After three podium finishes, defending champion Cabral has a 31-point advantage on Bertrand Racing teammate Todd Bertrand. John Zych, a winner two weeks ago at Star, Anthony Marvuglio and Greg Stoehr are bunched together in positions three through five.

Cabral was a Monadnock winner in 2009 while Bertrand grabbed a Lites checker there in 2010. Greg Stoehr is leader among active drivers with three Monadnock wins, one better than brother Russ. Joey Payne Jr. also has a Monadnock win. Ian Cumens, Jim Miller, Seth Carlson, Bethany Stoehr and Jim Santa Maria are other contenders.

Russ Stoehr captured the last Monadnock NEMA visit turning laps in the high 11s in a three-way battle that included Cabral and Russ Stoehr.

Only 11 points separate Lites leader Medeiros and Andy Barrows, the latter coming to the Iron Mike Memorial off a second at the Boston Louie and a first at Star. Medeiros has been equally strong with three podiums including a victory.

Bill Stergios tops the Lites owner list. Sons P.J., a Monadnock winner in 2009, and Jake have both won in the car this summer.

The busy Cabral sits third in Lites points. Danny Cugini and Avery Stoehr, sitting fourth and fifth, hope to improve their positions in a very competitive field that also includes D.J. Moniz, Logan Rayvals, Christian Briggs, Brandon Igo and Kevin Hutchens, the latter the top rookie so far.




Greg Stoehr lists Monadnock among his favorite tracks and for good reason. In the last eight races, he's had five podium finishes, one better than Randy Cabral.


In the past two Monadnock races, the same trio (the Stoehr brothers and Cabral) made up the podium.


P.J. Stergios also lists Monadnock as his favorite track.


John Zych, who fondly recalls doing battle with the likes of Nokie Fornoro and Lou Cicconi before settling for fourth back in 2009, says Monadnock's uniqueness makes it "a fun track.".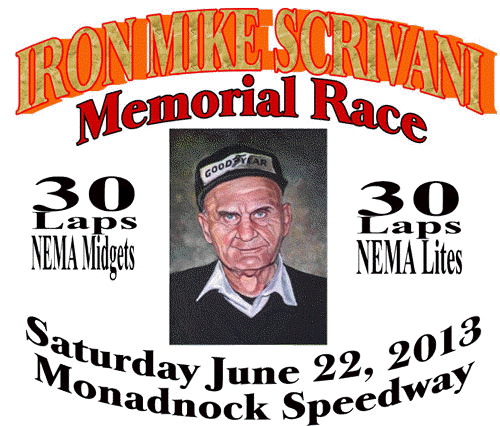 Remembering Iron Mike
Got some time to spare? Like a funny story? If the answer is "yes" to both, catch Northeastern Midget Association president Mike Scrivani Jr. and request a tale about his late dad "Iron Mike" Scrivani Sr. Be prepared to laugh.

Saturday night June 22 NEMA and the NEMA Lites will run the "Iron Mike" Memorial at Monadnock Speedway. The affair memorializes one of the club's most iconic characters, a charter member of NEMA who left behind a host of "stories" on his passing on Feb. 28, 1983.

Proprietor of the legendary "Mike's Truck Stop" in Waltham, MA, Scrivani's car-owning career began in the 1930s with the Big Cars and it included a successful run with the Modifieds in the late 1960s and early 70s, but Midgets, were clearly his first love.

Jerry Russo drove the Scrivani car in NEMA's first race at Seekonk Speedway on Memorial Day of 1953. The first of many wins for the Scrivani team came in 1956 at West Peabody with Russo aboard.

Butch Walsh and Nokie Fornoro won NEMA championships in Scrivani cars and are part of an extended list of drivers to have won in Scrivani equipment in both NEMA and ARDC. The group includes Dave Humphrey, Ray Burke, Dick Brown, Leigh Earnshaw, Hank Williams, Al Pillion, Billy Eldridge, Al Herman, Gene Bergin, Bert Brooks and Johnny Coy Sr.

Before Iron Mike's induction into the New England Auto Racers Hall of Fame in 2008, young Mike was convinced to reminisce about his dad. Coy's win at Stafford was among the stories.

The family had two cars at Stafford, the upright wrenched by Mike Jr. and a Badger under the care of long-time family confidant Hop Harrington. It amounted to a car in each of two warring camps. They came to Stafford, Modified ace Geoff Bodine in the Badger and Coy in the upright. Coy passed Bodine on the last lap to win.

"Hop came unglued," Mike Jr. continues. "'You beat the hometown favorite he yelled. The place would have gone nuts if Bodine had won.'" Coy, however, wanted none of it. Mike Jr. being in the owner's championship battle (which he won) was also a factor.

At first, Mike continues, "the old man didn't care. It was a good race. Then he reconsidered. He was always an upright guy. He loved the uprights. He used to call the badgers door wedges. He decided he liked what happened."

'Comfort' Key For John Zych
Brockton, MA – John Zych Jr. says the key in becoming a Northeastern Midget Association contender is "comfort." Zych in the black #9 will be looking for a second straight win when NEMA vsits Monadnock Speedway Saturday night, June 22, for the Iron Mike Scrivani Memorial.

It's been a "long haul" for Zych and his car-owner dad John Sr., a couple of 'stick and ball' guys who first came to NEMA back in 2007.

"I feel comfortable in how I drive," explains Zych. "And, I've been around long enough to know what I want to feel when I'm in the race car. It's just time and experience."

That, he continues, was what the winning move at Star – going from third to first past Joey Payne and Greg Stoehr – was all about. "I felt really good about the car," he says. "There was just enough room under Joey and I kept the car on the bottom and rotated through." Complete trust in both Payne and Stoehr was a big factor as well.

It was the second career win for Zych. "Both are pretty special," he says. Last year's opener at Waterford "will always be the first" but he "feels pretty good about how we won at Star." It was the Marvin Rifchin Trophy race and while Zych didn't know Rifchin, "I realize how much he meant to people in NEMA."

The Whip City graduate came to Star off a strong third-place run at the Boston Louie. He is reluctant to see himself as a championship contender. "I look to see where we stand," he admits. "I'd be lying if I said we didn't, but a lot of things can happen. I'd like to stay in the point hunt and if everything goes well, we'll make all the races."

Talking about things going well – the Zychs damaged an engine in the opener at Waterford in April. NEMA didn't race again until June which was "fortunate" because there was a long wait getting the engine back.

A year ago Zych, then based in Louisville, KY, won the opener at Waterford and followed with four more top finishes. Then rainouts and business commitments resulted in missed races. While still employed by Hershey Chocolate, he's now back in Mendon, MA.

John Zych Sr. was a baseball/basketball star at LeMoyne College in New York. John Jr. also played basketball at LeMoyne after a standout schoolboy career at Blackstone-Millville High in Massachusetts. Neither had any racing experience when they came to Whip City eight years ago.

They're quick to credit a number of folks for helping along the way including the Seymours and Tim Bertrand. They purchased the car he now drives – a Drinan/Esslinger – from Bertrand three years ago.
=