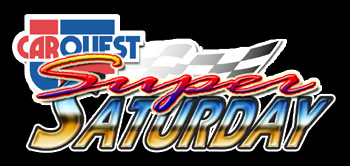 10th ANNUAL CARQUEST SUPER SATURDAY
SATURDAY, JUNE 29, 2013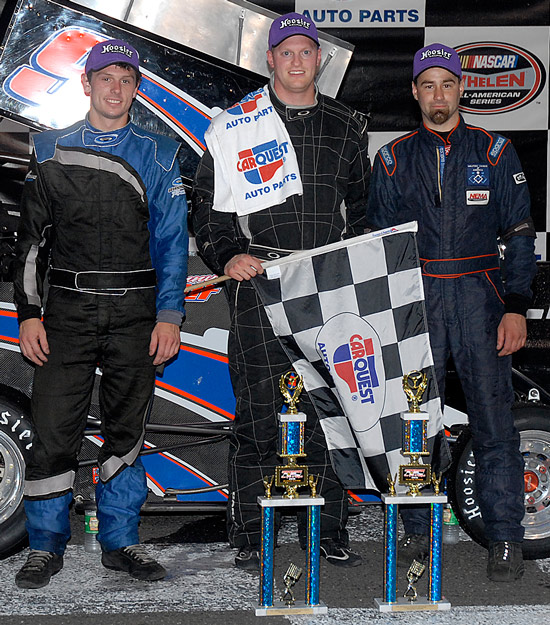 Cumens - Zych - Cabral
Heats>
Race>
Photos by John DaDalt
Zych Dominates Stafford NEMA Visit
Stafford, CT – A week after a disappointing near miss, John Zych Jr. left no doubt Saturday night with a dominating victory in the Northeastern Midget Association's 30-lap feature at Stafford Motor Speedway's Carquest Super Saturday. Zych is NEMA's first-double winner of the year.

Grabbing the lead from Ian Cumens, the only other leader, on a restart with 10 laps left, Zych (Zych 9) went on to a 3.3 second victory. Cumens (Seymour 29s) held on for second ahead of Randy Cabral (Bertrand 47), Greg Stoehr (Stoehr 26b) and Russ Stoehr (Dumo's Desire 45).

The weekend before, Zych lost a wide lead with four laps left in a confrontation with a lapped car at Monadnock. "That didn't sit well all week," he said. "I guess that provided some motivation." The track, however, was the real motivation: "I've always wanted to run well here."

Coming from second, Zych made a couple of challenges for the lead before the first yellow showed. After a red flag (oil on the track), he beat Cumens into one and had a three car advantage exiting two.

Yellow flew again a lap later and this time Cumens was ready, getting the lead back. "I was a little surprised. It actually shocked me," said Zych. "At that point I was a little more motivated." He got the lead back with an inside move ("I was pretty confident down there") in one and proceeded to run away.

The quickest laps for both Zych (17.3119) and Cumens (17.521) came on the 29th circuit. "I was taking cross weight out as we went," explained Zych. Speeds were faster in the closing laps.

Starting second Cumens took the immediate lead. Zych was third by lap four and six laps later went under Anthony Marvuglio in two to claim second.

Cabral, who had a streak of podium finishes snapped at nine at Monadnock, started a new one but not before a spirited battle with Russ Stoehr. It ended with Cabral grabbing third with 12 laps remaining. Greg Stoehr caught and
took fourth from brother Russ on the 23rd circuit.

NEMA's next stop is Friday night, July 12 at Lee USA Speedway.




A broken caliper was actually discovered when Cabral was heading out for the feature.


Cumens and Russ Stoehr were the heat winners, Cumens just nipping Phil Dimario in the Cantor 7ny car, the latter posting a 17.524 lap...


Joey Mucciacciaro, in the Bertrand 74, faced mechanical problems throughout the day and evening.
NEMA MIDGETS - STAFFORD - 6/29/13

Pos.
#
Driver
Hometown
Owner
1
9
John Zych Jr.
Mendon, MA
John Zych Sr.
2
29
Ian Cumens

Lydell, PA

Bobby Seymour
3
47
Randy Cabral
Plymouth, MA
Tim Bertrand
4
26b
Greg Stoehr
Bridgewater, MA
Greg Stoehr
5
45
Russ Stoehr
Bridgewater, MA
Dumo's Desire Racing
6
71
Seth Carlson
Brimfield, CT
Gene Feigel
7
39
Todd Bertrand

Suffield

, CT
Bertrand Motorsports
8
44
Joey Payne
Fairlawn, NJ
Ed Breault
9
38
Anthony Marvuglio
E. Bridgewater, MA
Tammy Bourbeau
10
30
Paul Scally
Raynham, MA
Paul Scally
11
7ny
Phil DiMario
Glen Cove, NY
Allan Cantor
12
21
Jim Chambers
Atkinson, NH
Mike Chambers
13
DNF
74
Joey Mucciacciaro
Wolcott, CT
Bertrand Motorsports
14
DNS
77
Doug Cleveland
Sudbury, MA
Mike Luggelle
15
DNS
5b
Bethany Stoehr
Bridgewater, MA
MCI Racing/
Greg Stoehr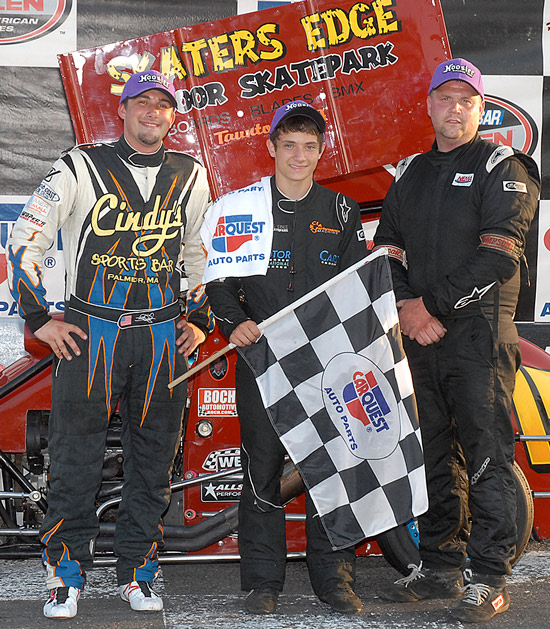 Igo - Stoehr - P. Bigelow
Heats>
Race>
Photos by John DaDalt
Photos by
Mary & Howie Hodge
Stafford LITES Laurels to Stoehr
Stafford, CT – Avery Stoehr made an inside bid on lap 12 that fell short. A lap and a half later, out of four, he went to the outside passing Paul Bigelow and taking a lead he never relinquished en route to victory in the 20-lap Northeastern Midget Association LITES feature at Stafford Motor Speedway's Carquest Super Saturday.

"I tried low and it wasn't good," understated Stoehr, who recently celebrated his 17th birthday. "I went to the outside and it seemed to stick." Pointing out "the car was just getting better and better," Stoehr had a 0.58 second advantage on Bigelow at the end of the caution-free event.

Behind Bigelow (Bigelow 31) was Brandon Igo (Igo 45), Danny Cugini (51) and Kenny Johnson (46). Carl Medieros (Medieros 50) was sixth. Johnson owned the fastest lap (19.408) which came on the 14th circuit.

Starting second, Bigelow had a sizable lead when Stoehr, who started sixth, moved into second. "I noticed Paul was having trouble getting through the turns and my car was getting better," said Stoehr.

"It is something to win at a track of this length and reputation," continued Stoehr, who averaged 90.655 mph. Third last year at Oswego, he was "happy" to learn the LITES were part of Super Saturday

Stoehr did face a challenge on the white-flag lap, running into lapped traffic in turn two. Moving to the outside, he "thought I lost it," before recovering and collecting his third career Lites win.

The LITES join the NEMA regulars Friday night, July 12 at Lee USA Speedway.
NEMA LITES - STAFFORD - 6/29/13

Pos.
#
Driver
Hometown
Owner
1
15a
Avery Stoehr
Lakeville, MA
MCI Racing/
Russ Stoehr
2
31
Paul Bigelow

Kensington

, CT
Randy Bigelow
3
45
Brandon Igo
Wilbraham, MA
David Igo
4
51
Danny Cugini
Marshfield, MA
D. Cugini
5
46
Kenney Johnson
Bethany, CT
Jeff Johnson
6
50
Carl Medeiros Jr.
Westport, MA
Carl Medeiros Sr.
7
18
DJ Moniz
Fairhaven, MA
David Moniz
8
81
Andy Barrows
New Ipswitch, NH
Dustin Anderson
9
11
PJ Stergios
Candia, NH
Bill Stergios
10
35
Randy Cabral
Plymouth, MA
Glen Cabral
11
94
Logan Rayvals
Brockville, ONT
Craig Rayvals
12
7
Dana Shaw
Danielson, CT
Gregory Olson
13
41
Megan Cugini

*

Marshfield, MA
D. Cugini
14
52
Kevin Park
Foxboro, MA
Kevin Park
15
2k
Kelly Ferrell

*

Chaplin, CT
John Ferrell
16
25
Richie Morocco

*

Plainville, MA
Richard Morocco
17
DNF
33
Scott Bigelow
E. Hampton, CT
Randy Bigelow
18
DNF
21
Joey Mucciacciaro
Wolcott, CT
Jennifer Scrivani
19
DNS
22l
Steve Powers
-
Mike Luggelle
* Rookie
The Shane Hamond Believe Foundation is pleased
to announce
The HOOSIER DOLLAR Raffle
which will be held at each race to help with tire costs.

The Stafford 6/29 winner of $100.00 Hoosier dollars:
Cugini Motorsports
Stafford Next For NEMA
Brockton, MA – Stafford Motor Speedway is one of the Northeastern Midget Association's 'separate the men from the boys' tracks. NEMA and the NEMA Lites are part of this weekend's CARQUEST Super Saturday at the speedy half mile.

Anthony Marvuglio posted the fastest lap a year ago, a sizzling 17.582. That converts to well over 100 mph meaning straightaway speeds in the 110-115 range. A smooth surface with plenty of room for passing makes it a showplace for speed.

Todd Bertrand, John Zych Jr. and Joey Payne come to Stafford with plenty of motivation to collect their second win. Payne, who already has a Stafford checkered, comes in off a winning effort last week at Monadnock in the new Breault 44 while Zych, a winner at Star, hopes to erase the agony of a near miss there. Bertrand is the point leader.

Victimized by the two-spin rule at Monadnock – ending a streak of top three finishes at nine – two-time defending champion Randy Cabral no doubt brings a special determination to Stafford. Cabral, Russ Stoehr and Greg Stoehr, the latter two second and third at Monadnock – are definite contenders based on previous big track experience which includes Stafford wins for Cabral (2010) and Russ Stoehr (2011).

Marvuglio, no doubt, would like to get even with Stafford. He was clearly on his way to victory last year when fuel problems ended his effort. Among the other hopefuls, young Seth Carlson had posted three top-fives so far this year while Ian Cumens, in his first full NEMA season, has three top 10s including two top-fives.

The Lites division, enjoying a very competitive season, will be testing the Stafford asphalt for the first time. Clearly the dominant car in Lites competition has been the Stergios #11, brothers P.J. and Jake collecting three victories including P.J.'s success a week ago at Monadnock. The car has been no worse than fourth in six starts.

Andy Barrows, second at Monadnock, and Carl Medeiros Jr. have surfaced atop the point battle, each including a win amongst consistent top-five finishes. Other Lites standouts include Danny Cugini, Avery Stoehr, Paul and Scott Bigelow, Kenny Johnson, Logan Rayvals and Kevin Hutchens, the latter leading a strong rookie class.




Only Joe Csiki's 13 straight way back in 1963 is better than Cabral's nine straight podiums.


Greg Stoehr's run from 16th to third earned the hard charger prize at Monadnock. The Lites honor went to Andy Barrows.


A "Beauty And the Beast Story:" With an eight, a fourth and a win, Joey Payne believes Ed Breault's new Beast chassis may turn out to be a beauty. The old one was, "well, a beast."


That said, Payne did not, as previously reported, turn a 11.6 lap in his heat at Monadnock. He was, however, plenty quick.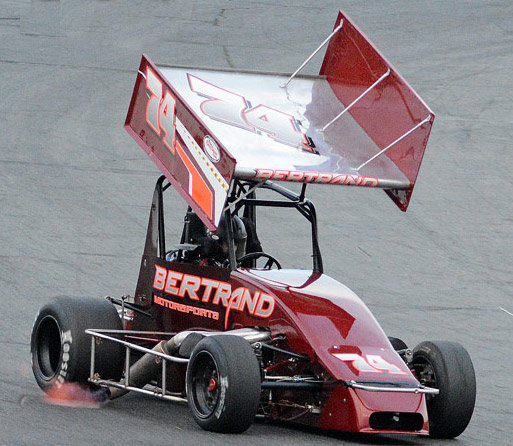 Another Busy Night For Bertrand Racing
Brockton, MA - Joey Mucciacciaro, NEMA Lites and Legends standout, will be in the Bertrand Motorsports 74 in the Northeastern Midget Association's 30 lapper at this weekend's Carquest 'Xtreme Saturday at Stafford Motor Speedway. The NEMA Lites are also on the Stafford schedule.

It will be the third time this season Bertrand Motorsports will field three cars. The last time out the Autocraft-powered Drinan chassis carried Modified ace Doug Coby to victory in the Boston Louie at Seekonk.

One of the top young talents in the east, Wolcott, CT- product Mucciacciaro is currently driving Late Models down South. He gained a ton of attention with a strong performance at Florida's New Smyrna this winter. He had a number of top finishes including a win in the Late Model division.

In addition to a slew of top five Lites finishes in recent years, "Mooch" won local and national acclaim in Legends competition.

Bertrand Motorsports heads to Stafford with the top two spots in the driver standings – Todd Bertrand (517) holding a nine point edge on two-time defending champion Randy Cabral (508). The top seven drivers including Russ Stoehr (497), John Zych Jr. (468), Ian Cumens (452), Anthony Marvuglio (440) and Seth Carlson (420), are all within 100 points.

With four podiums in the last five races, including a win and two seconds, Andy Barrows has a 63-point bulge on Carl Medeiros Jr. in the Lites standings. Dan Cugini, P.J. Stergois and Avery Stoehr aim to improve their prospects as well.