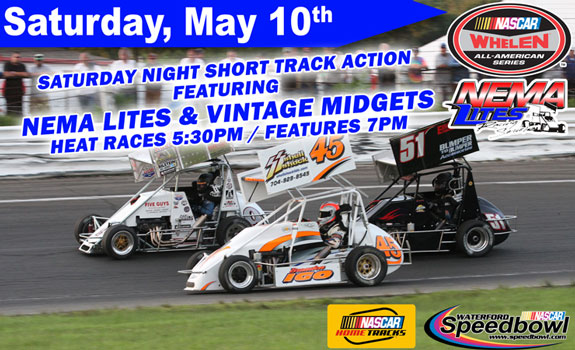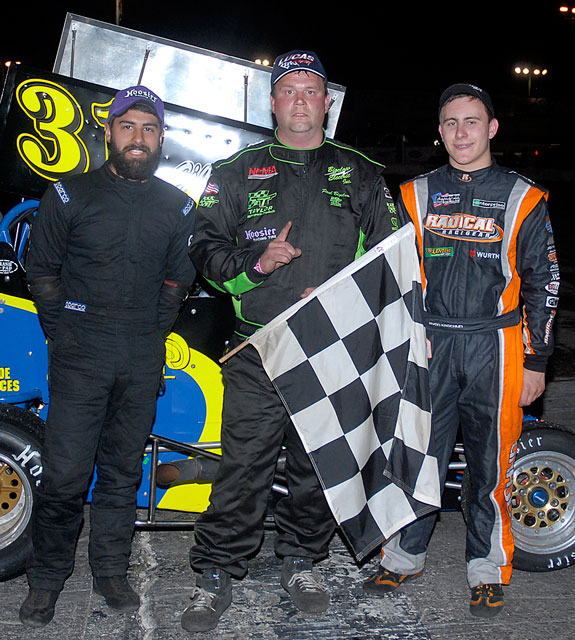 RJ TUFANO - PAUL BIGELOW - RYAN KRACHUN
Heats >>
Feature >>
Photos by John DaDalt
Paul Bigelow Takes Speedbowl
NEMA Lite Checkers
"I really needed that caution. I couldn't have caught Ryan without it," was winner Paul Bigelow's (#31) reaction in victory lane Saturday night at the Waterford Speedbowl after claiming his first Northeastern Midget Association Lite checkered flag of the young season. Finishing second after leading the most laps was Ryan Krachun (#29). R.J. Tufano (#39) was third.

From the drop of the green, Tufano lead the field until lap six when Krachun took over followed by Tufano and Scott Bigelow (#32). Scott then powered into second by lap eight but would drop out soon after with mechanical issues.

After dropping back at the start due to heavy traffic, Paul Bigelow maneuvered his way into third on lap ten, then slipped by Tufano for second on lap thirteen. The running order would remain Krachun, Bigelow, Tufano for a number of laps until a lap twenty-two caution for Logan Rayvals (#94) who stalled in turn four.

Bigelow, not knowing how his overheating machine would respond on the restart, went for broke and powered low under Krachun entering turn one and made the final lead change of the race down the back straight. Krachun was able to hold off Tufano second. DJ Moniz (#18) and Jamie Falconi, (#4) completed the top five.

The Bigelow #31 Lite, a newly acquired Beast chassis, was on its first run with the team and was "fantastic" according to Paul. "It loves the top of the track, I just couldn't get there at the start."

Young Krachun had mixed feelings post race as he "felt great leading all those laps but not feeling well about the caution coming out. We're happy with second."

"The car was going away as the race went on", third place finisher Tufano would state later. "I picked up a bad vibration after the caution and just hung on, happy to finish third."

The next stop on the NEMA schedule takes the winged rockets to Evans Mills Motorsports Park in upstate NY for a Saturday, May 24th show. The full NEMA and Lites divisions are on the card for a night that will challenge the teams as this is a new venue for NEMA. The Motorsports Park and NEMA have partnered for a driver meet-and-greet autograph session as well as some fan giveaways.




Bethany Stoehr subbed for cousin Avery in the 15a, finishing 13th.


Richie Morrocco had hard contact with the turn 3 wall in his heat. "Car just lost grip and washed up, on the brakes hard."


After a left front spring change, the #18 of DJ Moniz finished 2nd in his heat and 4th in the feature.


A scary stuck throttle forced Brandon Igo #45 to the infield early in his heat.


Busy night for rookie Dennis O'Brien with a flat tire in the 1st practice and chasing motor issues all night.


Said R.J. Ritskes, also a rookie in his 1st race, "Can't believe the down force these cars have. I love going through the corners."
NEMA LITES - WATERFORD - 5/10/14

Pos.
#
Driver
Hometown
Owner
1
31
Paul Bigelow

Kensington, CT

Paul

Bigelow

2
29
Ryan Krachun
Neschanic Station, NJ
Mike Krachun
3
39
RJ Tufano
West Haven, CT
RJ Tufano
4
18
DJ Moniz
Fairhaven, MA
David Moniz
5
4
Jamie Falconi
Southborough, MA
Paul Scally
6
9
Matt Swanson
Acton, MA
Matt Seymour
7
46x
Andy Barrows
New Ipswitch, NH
Jeff Johnson
8
93
Jake Smith
Stroudsburg, PA
Ted Smith
9
7
Alex Bright
Collegetown, PA
Gregory Olson
10
45
Brandon Igo
Wilbraham, MA
David Igo
11
42
Juris Kupris
Williamsburg, NY
Charles Thomas Motorsports
12
21
Anthony Payne

Fairlawn, NJ

Jennifer Scrivani
13
15a
Bethany Stoehr
Bridgewater, MA
Russ Stoehr
14
41
Megan CuginI
Marshfield, MA
D. Cugini
15
52
Kevin Park
Foxboro, MA
Kevin Park
16
94r
RJ Ritskes
Smiths Falls, ON, CA
Craig Rayvals
17
16
Dennis O'Brien
Deerfield, NH
Chris O'Brien
18
DNF
94
Logan Rayvals
Brockville, ON, CA
Craig Rayvals
19
DNF
32
Scott Bigelow

E. Hampton, CT

Scott

Bigelow

20
DNF
51
Danny Cugini
Marshfield, MA
D. Cugini
21
DNF
44
Christian Briggs
Mattapoisett, MA
Charles Thomas Motorsports
22
DNS
25
Richie Morrocco
Plainville, MA
Richard Morrocco

Heat 1:

39-18-42-15-7-52-41-25 (DNF)

Heat 2:

93-32-4-44-9-51-45 (DNF)

Heat 3:

31-94-46x-29-21-94r-16





ROUND 2: NEMA Lites Revisit the Waterford Speedbowl May 10th
The Northeastern Midgets Association's Lites division will make it's second of six appearances at the Waterford facility Saturday May 10th. The lighting fast machines opened their season on April 12th at the shoreline track with Candia, NH's own PJ Stergios (#11), taking the win going away at the checkered. Finishing second that day was Ryan Krachun (#29), and Carl Medeirous Jr. (#50), third.

Among the hopefuls in attendance Saturday will be Plainville's Ma.'s Richie Morrocco (#25), who had some issues at the last race and failed to finish but has worked out the problems.

Car owner of the newly expanded CTM Racing Team, Christian Briggs, will have his #44, and the #42 ride for close friend Juris Kupris, present and ready to race. Briggs, a chef by profession, has painstakingly assembled all the resources to get two cars ready for the season. Kupris, a Williamsburg, N.Y. resident, had his first Lites race back in April and will be a threat come the weekend.

Jennifer Scrivani, owner of the #21 machine, will have young Anthony Payne back in seat this Saturday. The "Tornado" has been increasingly fast each race and gets around the Speedbowl well. At his last outing Payne finished 11th and father, Joey "the Jet", has been coaching the youngster well on how to go fast.

The Johnson #46x will have talented Andy Barrows back driving this weekend. Andy brought the car home a very strong forth at the Waterford opener and is sure to better that finish this time around.

As veteran racer Briggs has stated, "The Speedbowl is a challenging track, you must be flawless to be fast.....I learn something every time I come here."

The NEMA fraternity has adopted the track as "home" and all are in agreement that it's as close to a perfect midget track as there is.