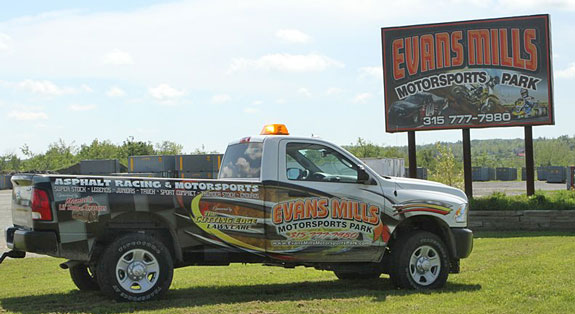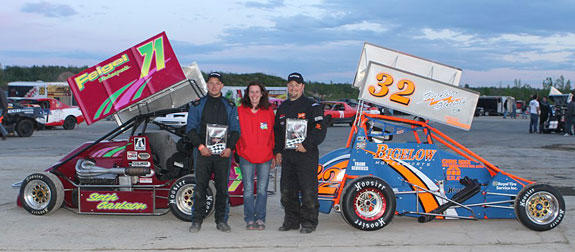 SETH CARLSON - EVANS MILLS MANAGER LESLIE KEEFER - SCOTT BIGELOW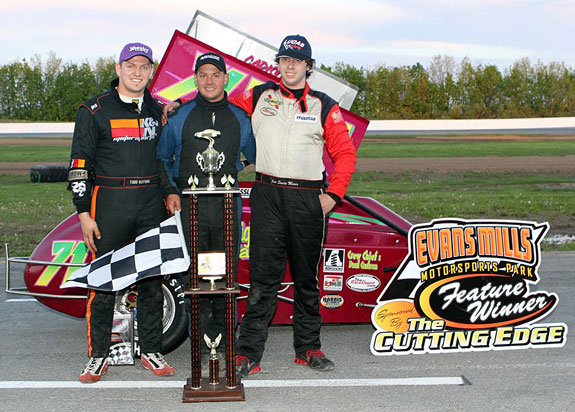 TODD BERTRAND - SETH CARLSON - JIM SANTA MARIA
First Ever Evans Mills NEMA Midget Checkers to Hot Shoe Seth Carlson
"I just love these New York tracks" Brimfield, CT resident Seth Carlson (#71) stated after his second New York state win in as many years. Seth claimed the 2013 Oswego, NY feature last fall.

The record books will forever list Seth as the first Evans Mills NEMA feature winner. He accomplished that feat with a daring three wide move from third to first coming out of turn four. At the checkers he was followed by Jim Santa Maria (#99) and Todd Bertrand (#47).

Long time club member and veteran driver Doug Cleveland (#87) took the lead from the pole at starter Steve Grant's green flag followed by Santa Maria, Carlson, Bertrand and Ian Cumens (#29).

On lap 9 down the back straight, Carlson saw the lead duo go high and drove his Drinan chassis low going into turn three. He came out of the three wide move with the lead at the line by a car length. Santa Maria also got past Cleveland, changing the running order to Carlson, SantaMaria, Cleveland, Bertrand, Cumens.

Soon after, Bertrand, Cumens and John Zych (#9) got by Cleveland, who eventually finish 9th. Zych had charged all the way up from his ninth starting spot to fifth by mid race and remain there until the checkers.

Some drama developed on lap 21 as new comer Joe Scanlin stalled on the front straight causing a yellow. With under five laps to go the field lined up single file.

On the restart there was no change in the running order and at the end it was Carlson, Santa Maria, Bertrand, Cumens, and Zych. Bertrand was hanging onto third by a bumper.

"The car had good balance all day,", winner Carlson said after the race. "I was not concerned about the restart as I could keep my car low."

"I just love these New York flat tracks," Seth said with a chuckle.

After his second place finish, Jim Santa Maria stated, "I had a loose car all race, but a drivable loose. On the restart, I was confident I could pass Seth, but I'm happy with second. This is the best finish of my three years with the full NEMA cars."

Third place finisher, Todd Bertrand said, "The track changed a lot and on the restart I thought I could pass Jim but happy with third."

Maine is the next state on the NEMA schedule as Wiscasset Speedway will host "NEMA NIGHT" on Saturday June 7th. The track's Late Models, Strictly Streets, Thunder 4s, and Trucks are on the racing card that night.




Joe Scanlin, a long time Chambers family friend, wheeled the former Adam Cantor Beast for the first time, placing twelfth.


The Bertrand #47 failed to fire for practice but an electrical issue was soon resolved for the heat race.


Doug Coby, Bertrand #74, was clocked at a 13.00 seconds lap early in the day.


Busy day for veteran Paul Scally who had a rear brake rotor problem but made repairs in time for the feature.


Bethany Stoehr, NEMA #5b, again sang the National Anthem right after mom Tara gave a touching invocation prior to the racing Saturday afternoon.
NEMA MIDGETS - EVANS MILLS - 5/24/14
Pos.
#
Driver
Hometown
Owner
1
71
Seth Carlson
Brimfield, CT
Gene Feigel
2
99
Jim Santa Maria

Burlington

, CT
Susan Santa Maria
3
47
Todd Bertrand

Suffield

, CT
Bertrand Motorsports
4
29
Ian Cumens

Lydell, PA

Bobby Seymour
5
9
John Zych Jr.
Mendon, MA
John Zych Sr.
6
15a
Avery Stoehr
Lakeville, MA
Russ Stoehr
7
74
Doug Coby

Wethersfield

, CT
Bertrand Motorsports
8
21
Jim Chambers
Atkinson, NH
Mike Chambers
9
87
Doug Cleveland
Sudbury, MA
Doug Cleveland
10
5b
Bethany Stoehr
Bridgewater, MA
MCI Racing/
Greg Stoehr
11
13
Ryan Bigelow

E. Hampton, CT

Randy Bigelow
12
DNF
7
Joe Scanlon
Salem, NH
Jim Chambers
13
DNF
44
Randy Cabral
Plymouth, MA
Ed Breault
14
DNS
30
Paul Scally
Raynham, MA
Paul Scally
Heat 1:
9 -71 - 21 - 87 - 29 - 5b - 13 (DNF)
Heat 2:

47 - 15a - 74 - 99 - 44 - 7 (DNF) - 30 (DNS)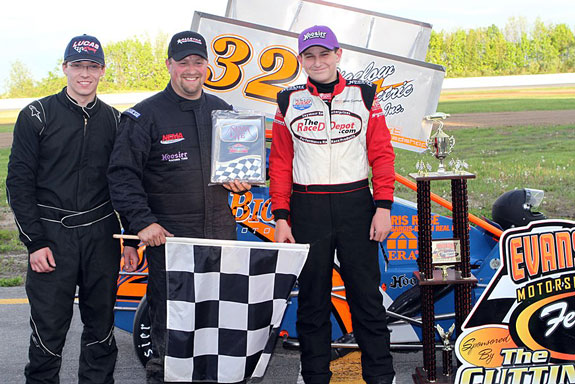 LOGAN RAYVALS - SCOTT BIGELOW - MATT SWANSON
NEMA Lites Win For Scott Bigelow
at Evans Mills
Motorsports Park
East Hampton, CT's own Scott Bigelow made it two wins in as many races for the Bigelow family at the fast NY track Saturday. It was a popular win for the driver of the #32, chased across the line by Logan Rayvals (#94) and Matt Swanson (#9).

With brother Paul, the winner at Waterford two weeks ago, looking on, Scott, took the lead from the pole at the drop of the green. On lap two the yellow flew for a Randy Cabral (#35) spin in turn one. On the restart, Scott took off and was followed by Jake Smith (#93) and Rayvals.

Rayvals quickly overtook Smith for second. Lap six saw Swanson also get by Smith for third from his eighth starting spot. and Danny Cugini (#51) had moved up all the way from thirteenth to fifth.

The running order from the middle laps to the closing laps was Bigelow, Rayvals, Swanson, Smith, and Cugini.

The Cugini Hawk chassis was on rails as Danny was digging hard to run down Smith. Danny completed the pass in the closing laps to claim forth, placing Smith back to fifth.

Said Scott post race, "Everything was good until halfway, then I started losing my tires. After that I just concentrated on hitting my marks and hoped for the best. The motor was overheating all day, and I have dropped out of races because of that that problem. But today it all worked out."

Second place Rayvals, "I Needed a caution, my car was a little loose, but happy with second."

"Just ran out of laps," Swanson said later. "I did gain some ground on him before the end."

Star Speedway, Epping N.H., is next up on the Lites schedule on May 31st when they join the EKEYS MODS, LEGENDS, WOODY'S STRICTLYS and ROADRUNNERS.




Brandon Igo, Megan Cugini and Ryan Krachun stepped up and tossed souvenir tee shirts into the stands, a fan favorite.


Bob Blanchette and Mike Scrivani met with the Evans Mills safety crew to familiarize them with the layout of a NEMA race car by pointing out the location of the fuel shut offs and other safety aspects.


All NEMA Midget / Lite teams participated in an on-track driver Meet and Greet session that was enjoyed by both the fans and drivers.
NEMA LITES - EVANS MILLS - 5/24/14
Pos.
#
Driver
Hometown
Owner
1
32
Scott
Bigelow
E. Hampton, CT
Scott
Bigelow
2
94
Logan Rayvals
Brockville, ON, CA
Craig Rayvals
3
9
Matt Swanson
Acton, MA
Matt Seymour
4
51
Danny Cugini
Marshfield, MA
D. Cugini
5
93
Jake Smith
Stroudsburg, PA
Ted Smith
6
45
Brandon Igo
Wilbraham, MA
David Igo
7
46x
Andy Barrows
New Ipswitch, NH
Jeff Johnson
8
31
Paul
Bigelow
Kensington, CT
Paul
Bigelow
9
29
Ryan Krachun
Neschanic Station, NJ
Mike Krachun
10
21
Anthony Payne
Fairlawn, NJ
Jennifer Scrivani
11
16
Dennis O'Brien
Deerfield, NH
Chris O'Brien
12
04
RJ Ritskes
Smiths Falls, ON, CA
Craig Rayvals
13
41
Megan
CuginI
Marshfield, MA
D. Cugini
14
DNF
35
Randy Cabral
Plymouth, MA
Glen Cabral
Heat 1:
32 - 29 - 9 - 93 - 94 - 45 - 51
Heat 2:

31 - 21 - 46x - 04 - 16 - 41 - 35 (DNS)





NEMA Invades New York's Evans Mills Motorsports Park May 24th
The Northeastern Midget Association will make it's first of two treks to upstate New York May 24th to Evan Mills Moforsports Park for the second race on the 2014 schedule. The NEMA Lites will also be on hand.

The NEMA and Evans Mills managements have finalized the details of a feature packed night at the Empire State track. NEMA will join the stocks, super stocks, 4 cylinder trucks and legends for a "full" action night.

Evans Mills General Manager Leslie Keefer has worked with local TV and radio stations to promote the event and will conduct a live radio remote for driver interviews. Keefer has indicated the track will hold an extended intermission to conduct a NEMA Driver Meet & Greet. Fan giveaways are also planned.

2013 NEMA MidgetChamp, John Zych, Jr. (#9) is anticipating the new venue. "I look forward to race at tracks new to NEMA. I enjoy the challenge of getting the set up just right." John was the winner at a pair of new venues in 2013, Airborne and Riverside. John continues, "We are as excited to race at Evans Mills as the fans are to have us."

Seth Carlson, driver of the Feigel Motorsports #71, claimed the checkers at Oswego Speedway last fall and hopes to make it two for two for New York tracks on the 24th. Seth and crew had his Drinan chassis tuned just right to claim 10 top 10s in 2013 and hopes to add to that.

On the Lites side, Brandon Igo (#45), will make the trip north with hopes of adding to his 9 top 10s he collected in 2013.

The "Mills" has a long and rich history as it was in the blueprint and early construction stages in 1966 and flew it's first green flag in August 1967. The surface was dirt at the time but paved the following year after some unruly dust issues. With the advent of new "dirt track preparation technology" in the early 70s, the track went back to dirt. Missing the large crowds from the previous years, the surface changed back to pavement for the final time in the mid 70s and remains that today.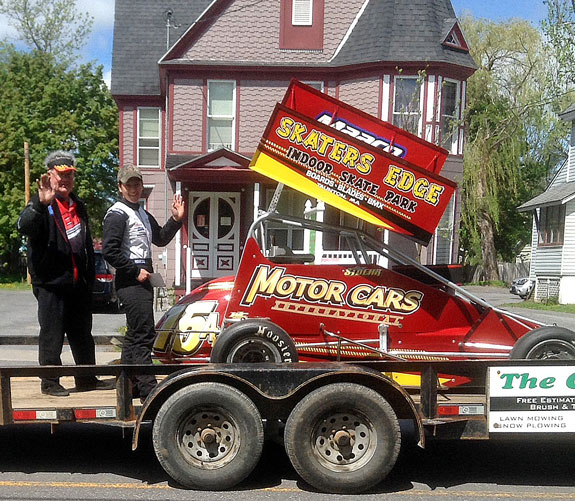 Jarret / Stoehr Preview Evans Mills
Long time NEMA members and sponsors, Lucille and Mike Jarret spearheaded a promotional trip to the Evans Mills track this past weekend to give the fans a look at what to expect on May 24th. The Jarret's enlisted the services of NEMA feature winner Bethany Stoehr to turn some hot laps on the fast oval in the #15A ex-Jarret Beast midget.

The weekend also included a parade in nearby Watertown to celebrate "Armed Forces Day" where a pair of NEMA race cars were featured to the delight of thousands in attendance. Bethany also spent time with the many young Evans Mills drivers to share her experiences and to advise the youngsters on moving up through the ranks.

Bethany also showcased her talents by singing the National Anthem at the track right along side mom Tara, who gave the invocation. The pair will offer the same on the 24th.