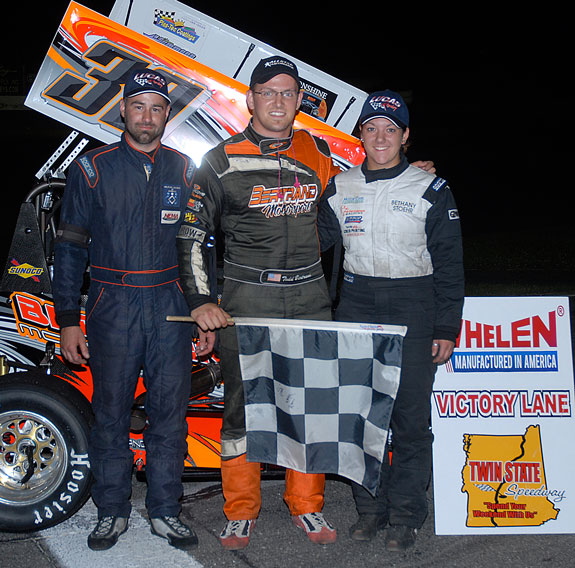 NEMA MIDGETS: Randy Cabral #47, 2nd; Winner Todd Bertrand #39;
and Bethany Stoehr #5b, 3rd.
Heats >>
Meet &
Greet >>
Photos by John DaDalt
Todd Bertrand Pulls Down NEMA Midget
Win at Twin State Speedway
On a night honoring special guests Whelen Engineering, Todd Bertrand (#39) claimed his first win of the 2014 season in commanding fashion as he took the lead in the early stages of the caution free feature. Following in second was teammate Randy Cabral (#47) with Bethany Stoehr (#5b) home third.
Under a perfect sky, the Twin State Speedway facility played host for an evening of food, souvenirs and racing action for the employees of Whelen Engineering, located in nearby Charlestown, NH. At intermission, the NEMA and NEMA Lites drivers passed out 350 NEMA fan appreciation tee shirts. That was followed by an on track Meet & Greet where fans were able to collect autographs, handshakes and photos.
As the feature action began, Bethany Stoehr pulled out to an early lead from her outside pole starting spot, followed by Bertrand and Ryan Bigelow (#13).
Bertrand was able to power past Stoehr and take the lead on lap four, followed by Bigelow in third, Jim Chambers (#21) in fourth and Paul Scally (#30) fifth.
From the ninth starting spot, a fast moving John Zych (#9) took fifth on lap six, moved past Chambers for fourth by lap eight, and past Bigelow for third on lap ten. While the top five was sorting out, team Bertrand became the show as Todd Bertrand was extending his lead and Randy Cabral (#47) was weaving his way up through the field from his tenth starting spot and entering the top five on lap nine.
By half way, the running order was Bertrand, Stoehr, Zych, and Cabral, who had just moved past Bigelow for fourth.
A patient Seth Carlson (#71), after starting eighth, was managing his was through traffic and was able to get to the top five on lap fourteen.
After a long chase, Cabral was able to catch and pass Bethany Stoehr for second on lap eighteen. Carlson was able to best Zych, who was fighting a loose race car, for fourth in the closing laps as Stoehr, Zych and Carlson were all wheel to wheel at the checkers.
After the race, winner Bertrand stated, "The track was real slick in practice, we made a few minor adjustments, added a new scuff tire, and went from there".
Second place Cabral said post race that he was happy for his teammate, and "We never adjusted the car today except for stagger, and it felt real good."
Third place Bethany Stoehr battled a tight car after "Just making stagger adjustments all day." She was happy with third.
The next stop on the NEMA schedule is July 19, at the Oxford Plains Speedway, Oxford, ME for the Marvin Rifchin Trophy Race. Both the NEMA Midgets and NEMA Lites will be part of the Oxford 250 weekend, a premiere event in the Northeast.


The Bobby Seymour owned, Ian Cumens driven, #29 had engine problem very early on and dropped out for the day.

Back from NC, Alan Chambers, a former Lite driver, wheeled the family #7 ex-Cantor NEMA midget for a shakedown run and everything performed well.

Big thanks out to Melissa Tully and Kaylee Wallace for working long hot hours at the tee shirt trailer.
NEMA MIDGETS - TWIN STATE - 6/28/14
Pos.
#
Driver
Hometown
Owner
1
39
Todd Bertrand

Suffield

, CT
Bertrand Motorsports
2
47
Randy Cabral
Plymouth, MA
Tim Bertrand
3
5b
Bethany Stoehr
Bridgewater, MA
MCI Racing/
Greg Stoehr
4
71
Seth Carlson
Brimfield, CT
Gene Feigel
5
9
John Zych Jr.
Mendon,MA
John Zych Sr.
6
15a
Avery Stoehr
Lakeville, MA
Russ Stoehr
7
21
Jim Chambers
Atkinson, NH
Mike Chambers
8
13
Ryan Bigelow

E. Hampton, CT

Randy Bigelow
9
30
Paul Scally
Raynham, MA
Paul Scally
10
87
Doug Cleveland
Sudbury, MA
Doug Cleveland
11
11L
PJ Stergios
Candia, NH
Bill Stergios
12
99
Jim Santa Maria

Burlington

, CT
Susan Santa Maria
13
7
Alan Chambers
Atkinson, NH
Mike Chambers
14
DNS
29
Ian Cumens

Lydell, PA

Bobby Seymour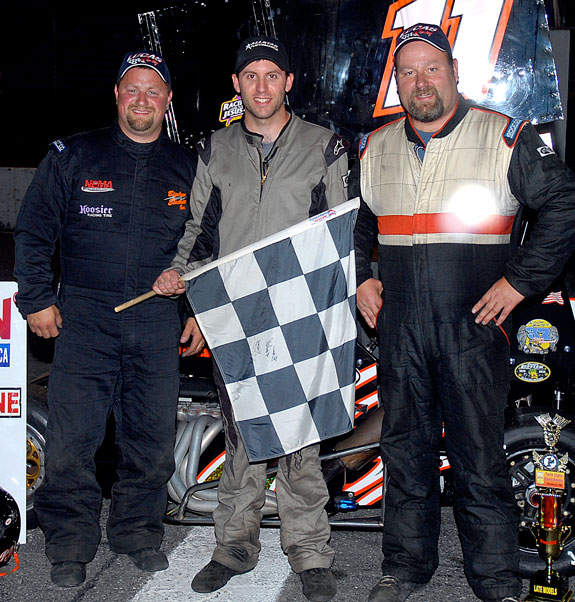 NEMA LITES: Scott Bigelow #32, 3rd; Winner PJ Stergios #11;
and Andy Barrows #46x, 2nd.
Heats >>
Photos by John DaDalt
PJ Stergios Wins "Back to Back" at
Twin State Speedway in the NEMA Lites
In his home state of NH, P.J.Stergios (#11) takes his second win in a row, and three on the year in the family owned Beast chassis. Starting from the tenth spot, it wasn't until the late stages of the race when he was able to take the point. Andy Barrows (#46x) finished runner up with Scott Bigelow (#32) third.

Under a clear sky and on a slick track from the day's heat, Richie Morrocco (#25) took the lead at the green, followed by Anthony Payne (#21) second, Barrows third, Kevin Hutchens (#27) fourth, and Ryan Krachun (#29) fifth.

On lap four, Barrows and Paul Bigelow (#31) were able to power to the front where they would dominate until lap eight when a three wide fight for third through fifth occurred. As a result, Stergios was able to blast all the way into second and P. Bigelow slid back to fourth, while Hutchens went into third.

What followed was a battle for the lead that had a very patient Stergios stalking the well handling #46x that kept Barrows in the lead. Barrows would say post race, "My brakes weren't the best, but we set up the car for late in the race, and it paid off."

After getting through some traffic, Scott Bigelow (#32) got to the third spot on lap twenty one. A lap later, Stergio's patience netted results as he got past the #46x to take the lead for good.

Hutchens, who owned the third spot for fifteen laps, brought out the only yellow with a spin after a close battle with Anthony Nocella (#9) on lap twenty three.

The single file restart had a running order of Stergios, Barrows, S. Bigelow, Nocella and P. Bigelow. The fast group would finish in that order giving Stergios his third checkers of the year.




Scott Bigelow, after spinning twice in his heat race, made no less than five adjustments to the car for the feature, netting a third place finish.


Dennis Potter (#03) who entered his third race of the year in his x- Bobby Seymour Lite midget, said "These cars are very sensitive to drive. But I love doing it."


Also in his third Lite race of the year, RJ Tufano chased the set-up all night, finishing seventh. "I'm excited about being here, lots of fun."


Hard work paid off for Andy Barrows and crew as the #46x came home second after a nagging brake issue in his heat. Unfortunately, car owner Jeff Johnson was not at the race Saturday to witness the great run.


Matt Swanson, regular driver of the #9 Seymour Lite racer, was away racing at Star Speedway for the night. Anthony Nocella subbed in and finished fourth.
NEMA LITES - TWIN STATE - 6/28/14
Pos.
#
Driver
Hometown
Owner
1
11
PJ Stergios
Candia, NH
Bill Stergios
2
46x
Andy Barrows
New Ipswitch, NH
Jeff Johnson
3
32
Scott Bigelow

E. Hampton, CT

Scott

Bigelow

4
9
Anthony Nocella
Woburn, MA
Matt Seymour
5
31
Paul Bigelow

Kensington, CT

Paul

Bigelow

6
29
Ryan Krachun
Neschanic Station, NJ
Mike Krachun
7
39
RJ Tufano
West Haven, CT
RJ Tufano
8
51
Danny Cugini
Marshfield, MA
D. Cugini
9
94
Logan Ryvals
Brockville, ON
Craig Rayvals
10
25
Richie Morrocco
Plainville, MA
Richard Morrocco
11
27
Kevin Hutchens
E. Waterborro, ME
Dan Hutchens
12
03
Dennis Potter
New Boston,NH
Dennis Potter
13
16
Dennis O'Brien
Deerfield, NH
Chris O'Brien
14
41
Megan CuginI
Marshfield, MA
D. Cugini
15
21
Anthony Payne

Fairlawn, NJ

Jennifer Scrivani
16
DNS
20
Myles DeVits
Barrington, NH
Myles DeVits





NEMA Takes Part In "Whelen Night"
At Twin States Speedway
Claremont, NH - Sat. 6/28/14
The Northeastern Midget Association will be part of an evening of fun and refreshments at the New Hampshire Twin States facility in Claremont Saturday night.
Employees from the Whelen Engineering plant in nearby Charlestown, NH will be the honored guests of the speedway for a day where food and auto racing will be offered up in abundance.
One highlight of the show will be an on-track driver Meet & Greet where the 250 plus guests can mingle with the NEMA drivers and teams as well as get up close to the high powered racing machines. Drivers will be available to explain the race car's technical details as well as sign autographs.
The day's activities will begin much earlier, at 11 am, where a handful of NEMA teams will have their
race cars on display
for the general public at select area retail locations in and around the Claremont area. Locations are; Aaron's, at 216 Washington St., Claremont / Wal-Mart, at 14 Bowen St., Claremont / and O'Reilly's Auto Parts at 323 Washington St., Claremont, NH The cars will be on display until 1 pm and for the 2 hours the public can receive autographs and any young "racers" can sit in the race cars posing for pictures.
As a special bonus, a
$5.00 general admission ticket
can be purchased at any of the NEMA display locations, giving the race fan a price break for a great night of racing action.
As the racing action begins, all eyes will be on three drivers looking to get their third wins of the season.
In the NEMA Lites division, P.J. Stergios in the #11, took wins at Waterford on April 12th, and Monadnock just last Saturday. Scott Bigelow #32, checkered at Evans Mills on May 24th, and Wiscasset on June 7th. Both teams have their cars dialed in and with momentum on their side, will be ready to be the first three time 2014 NEMA Lite winner.
Randy Cabral, wheeling the Bertrand family # 47 NEMA Midget racer, is looking to take the Lindblad chassis to a "three-peat" as he claimed the top spot in both the Wiscasset June 7th race and at Monadnock just last weekend. Randy had a tough start to the season but he and the team have worked past the problems, and the car will be a factor come Saturday.
Grandstand gates open at 4:00 PM with the racing action starting at 6:00 PM.
Joining the NEMA and NEMA Lites will be the Wild Cats, Sportsmen, Super Streets, and Late Models.