SAT. SEPT. 12th, 2015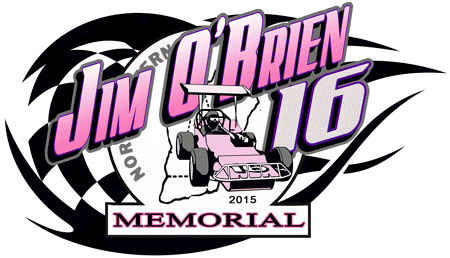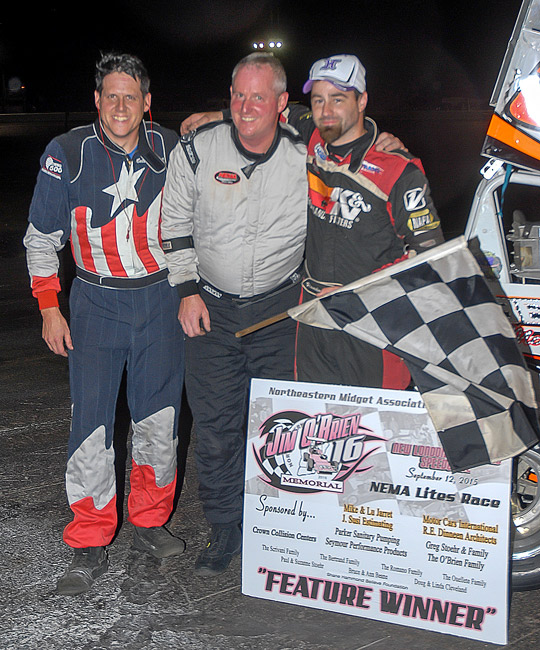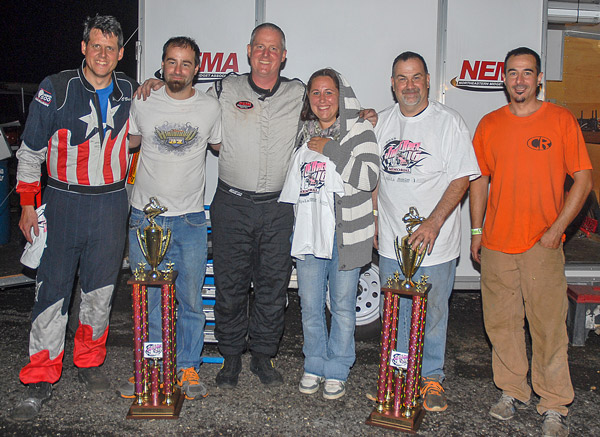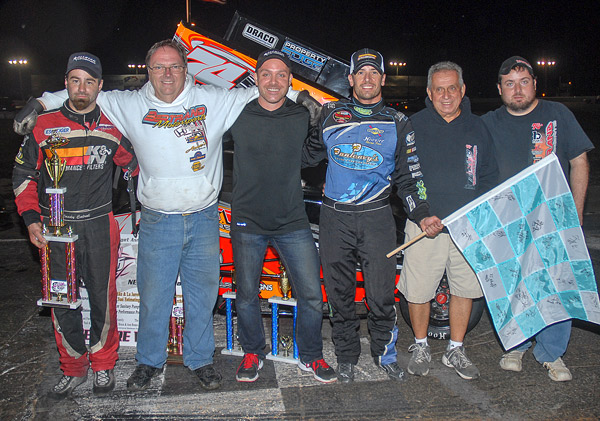 Coby, Cabral Capture O'Brien Memorial
NEMA Speedbowl Victories
Waterford, CT - Doug Coby beat back a mid race restart challenge from reigning champion, Randy Cabral, to capture the 25 lap NEMA feature at the New London Waterford Speedbowl this past Saturday night. In the Lites division, Randy Cabral took down a thrilling victory, even as the rain started to fall throughout the final laps in the race billed as the Jim O'Brien 16 NEMA Lites Memorial event, memorializing an "anchor" club member. O'Brien's family were on hand to celebrate the victories with both drivers in front of a packed house.

Jim Santa Maria and Paul Scally brought the field down for the green flag after a quick hot lap session to ensure the damp track surface was ready for action. Reigning NASCAR Whelen Modified Tour Champion, Doug Coby, was sixth on the grid, but quickly blasted his way through the field. At the end of lap two, Coby had command and quickly set a torrid pace. Coby's fastest laps a 12.93 and 91 respectively, came right before and right after the caution flew on lap twelve. When the caution flew, Coby had stretched his lead out to over a straightaway.

On the restart, Coby lined up next to teammate Cabral, and got the jump coming off of turn four. Cabral used the momentum of the high line to draw even with Coby coming off of turn two, and the duo would run side by side for the next three laps.

"I knew Randy was up there, but we were really good on the bottom and had more if we needed it. I was hoping he'd continue to run it in harder and harder, as I knew if I could keep him up there he would eventually over heat the right rear and get loose," said Coby.

Coby then set sail and never looked back, taking down the victory over Cabral by ten car lengths, and a hard charging John Zych Jr.

"Tim (Bertrand) knows what he's doing with these cars. I told him what I wanted tonight, and he gave me exactly that. The only thing I touched on the car during the feature was the steering wheel," joked Coby. "I never knew much about NEMA as a club until I started running these cars a few years back. It's a great group of people, and the series is super competitive. I also didn't know Jim O'Brien, but from what I understand he did a ton for NEMA and it's an honor to win this race in his memory," he said.

It was Coby's second NEMA win of the season in the #74 K&N Engineering machine for Bertrand Motorsports, the first coming at Chemung.

In the Lites feature, RJ Tufano got the lead early, after a multi car crash taking out Scott Bigelow and Andy Barrows, halted the racing action on the first lap. On the restart, Tufano jumped out into the lead, and looked to be the car to beat.

Further back, Randy Cabral was working his way to the front in his family owned #35 car, and behind him, Anthony Nocella in the Frank Manafort #76.

As the leaders approached lapped traffic, Cabral made a bid for the lead, and Nocella then made it three wide, briefly drawing even with Tufano, before disaster struck and the engine expired in his car.

On the restart, Cabral blasted to the outside, taking the lead from Tufano, and at this point, young gun Anthony Payne entered the mix as well. Shortly after that, a light rain started to fall, and the cars started to loosen up in the final laps. Cabral hung on to take down the victory over Tufano and Payne.

"It's an honor to win this race. Jim O'Brien was out to see the little guy succeed, and my dad & I have always been the little guys," said Cabral. "We literally have less than four thousand dollars invested in this car, and we run used tires on it in 90% of the races. I think we would have made Jim proud tonight," he said.

NEMA's final event occurs at the Thompson Speedway Motorsports Park in October, with NEMA running on Saturday night, and the Lites running on Sunday afternoon.
NEMA LITES - SPEEDBOWL - 9/12/15
Pos.
#
Driver
Hometown
Owner
1
35
Randy Cabral
Plymouth, MA
Glen Cabral
2
39
RJ Tufano
West Haven, CT
RJ Tufano
3
21
Anthony Payne

Fairlawn, NJ

Jennifer Scrivani
4
30b
Paul Scally
Raynham, MA
Paul Scally
5
25
Richie Morrocco
Plainville, MA
Rich Morrocco
6
31

Paul

Bigelow

Kensington, CT
Paul

Bigelow

7
-
Calvin Carroll
-
-
8
9
Ben Mikitarian
Northborough, MA
John Mikitarian
9
2
Jim Cataldo
Sterling, MA
Jim Cataldo
10
16
Dennis O'Brien
Deerfield, NH
Chris O'Brien
11
21w
Matt O'Brien
Wilmington, MA
Jim Chambers
12
76
Anthony Nocella
Woburn, MA
Fank Manafort
13
15a
Jim Miller
Weymouth, MA
Russ Stoehr
14
32
Scott

Bigelow

E. Hampton, CT

Scott

Bigelow

15
13
Ryan Bigelow

E. Hampton, CT

Ryan

Bigelow

16
24
Nikki Carroll
-
-
17
29d
Jeremy Decourcey
Rochester, NH
Jeremy Decourcey
18
46
Andy Barrows
New Ipswich, NH
Andy Barrows
19
36
Myles Devits
-
Myles Devits
NEMA MIDGETS - SPEEDBOWL - 9/12/15

Pos.
#
Driver
Hometown
Owner
1
74
Doug Coby
Wetherfiled, CT
Tim Bertrand
2
47
Randy Cabral
Plymouth, MA
Tim Bertrand
3
9
John Zych Jr.
Mendon, MA
John Zych Sr.
4
15a
Avery Stoehr
Lakeville, MA
Russ Stoehr
5
30
Paul Scally
Raynham, MA
Paul Scally
6
99
Jim Santa Maria
Burlington, CT
Jim Santa Maria
7
21
Jim Chambers
Atkinson, NH
Mike Chambers
8
7
Alan Chambers
Atkinson, NH
Mike Chambers
9
5b
Bethany Stoehr
Bridgewater, MA
Greg Stoehr
10
16
Matt O'Brien
Wilmington, MA
Matt O'Brien
11
87
Doug Cleveland
Sudbury, MA
Doug Cleveland
12
39
Todd Bertrand
Danielson, CT
Todd Bertrand
13
71
Seth Carlson
Brimfield, CT
Gene Feigel
O'BRIEN AWARDS

RJ Tufano & Crew:
2nd place and
Outstanding
Innovator

Anthony Payne:
3rd place and
Outstanding
Competitor

Jeremy
Decourcy:
Outstanding
Racer



9/12 NL-W Speedbowl Race
Honors the Late Jim O'Brien
On Saturday September 12th, the Northeastern Midget Association will invade New London-Waterford Speedbowl as the NEMA Lites will take center stage for the first Jim O'Brien Memorial Race.

Brothers Matt and Dennis O'Brien will both be competing in the NEMA and Lites race cards, respectively, with Matt competing in both events. Brother, Chris O'Brien, will be on hand as well - as he owns the Dennis O'Brien machine. A first O'Brien Memorial win will be a coveted one, on the minds of many Lites racers. One of those is NEMA Champion and Lites competitor, Randy Cabral.

"Jim was such a good guy, and always thought about the little guy. Maybe we aren't considered the little guys anymore, but for many years when we were showing up with a 1979 Edmunds on a snow mobile trailer, Jim was always there to greet us with a smile. It would be such an honor to win this race," said five time champion, Randy Cabral. "He did so much for the club, I'd like all of the younger generation to understand who he was, and the impact he had on what we have today," Cabral went on to say.

"Jim O'Brien was a staple in the foundation of NEMA," said NEMA President Russ Stoehr. "He was one of the pioneers who helped pave the way for pavement midget racing in the Northeast, as we see it today," he said.

Jim O'Brien was a legendary car owner and club officer, who for a span of four decades personified the best of NEMA. At a very young age, he was introduced to the Midgets by his father and in 1970, joined the NEMA family as a car owner. He earned feature wins with Johnny Evans, driving his Falcon powered Kurtis, and Doug Cleveland who powered to victory in his home built "Pink Panther" laydown chassis.

In 1975 he won the Coca-Cola dirt track championship with Hank Stevens at the wheel. Jim was an innovative fabricator and engine builder and with his sons by his side, he always built his own cars and motors. For years he served as a NEMA contest board member, once a vice-president, and for 13 consecutive years as the treasurer. His life-long dedication to the club was truly outstanding and in 2003, he was inducted into the NEMA Hall of Fame. However, most notably Jim was always one that stood-up and fought for fair competition and defended the "little guy" - racers who ran with small budgets.

In the same spirit of Jim O'Brien, the NEMA Lites were created with two principals - cost effectiveness and fair competition. While the NEMA midgets are considered the fastest midgets in the world, the NEMA Lites boast to be "lite" on the wallet, making them the perfect fit to highlight the Jim O'Brien memorial race.