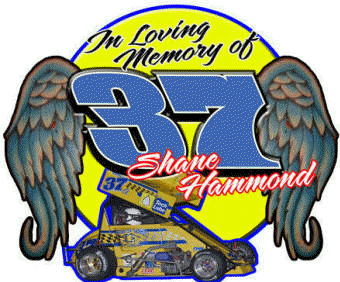 7th Annual
Shane Hammond Memorials
for Midgets and Lites

Cabral, Bigelow Best in NEMA's
Shane Hammond Memorial at
Thompson's Sunoco World Series
of Speedway Racing
Randy Cabral pulled off "one for the ages" coming from last place in the NEMA feature to pass teammate Todd Bertrand on the last lap at Thompson Speedway Motorsports Park's Sunoco World Series of Racing this past Saturday evening. In Lites action, Scott Bigelow dominated the feature event, despite a late race charge from John Zych Jr. Zych, the night before, was crowned the NEMA champion for 2015, and his father, John Zych Sr. the owner's champion. In the Lites division, Anthony Payne won his first series championship and Bigelow won the car owners title.

In the NEMA feature, Todd Bertrand jumped out into the lead in the Tim Bertrand owned #74 machine. He quickly paced the field, pulling out to nearly a half straightaway lead at one point. Further back, John Zych Jr. had charged from his ninth starting spot to take over the second spot by lap eight. Randy Cabral, who started scratch on the field, was also making his way through the field and would reach the third spot by lap thirteen.

Bertrand's advantage would start to fade with ten laps remaining, as he suffered a broken brake caliper bracket, sending the caliper rocketing across the track and into the first turn wall. Zych got to within three carlengths of Bertrand with five laps remaining, and at that point, Cabral was right in the mix as well. With three laps to go, Cabral drove into turn one hot, on the bottom to take second away from Zych and he then set his sights on Bertrand. Coming down the back stretch with two laps to go, Cabral made up big ground on Bertrand and then dove in between the lapped car of Alan Chambers and Bertrand, drawing even coming off of turn four to take the white flag. The duo raced side by side into turn one, with Cabral coming out with the advantage. He went on to take down the victory over Bertrand, putting both Tim Bertrand cars on the podium. Zych would finish third and would lock up the series championship, and was followed by a hard charging run by Seth Carlson, Avery Stoehr, Cole Carter, Jim Chambers, Paul Scally, Alan Chambers and Jake Smith.

"I could see that Todd was getting loose and John was getting tight," said Cabral. "My car was literally the same from the drop of the green until the last lap. We struggled all day, with one issue after another. A bad battery in the practice, a broken u-joint prior to the heat race. With only three laps on the track all day, I'm amazed the car was as good as it was. It was a great way to cap off the season," he said.

A dejected Bertrand said "I totally lost the brakes when the caliper issued occurred, and just couldn't hold the car on the bottom anymore. It was a good run, but I really wanted to win," he said.

Cabral's fastest lap of the feature came on the last circuit, a blistering 17.68 lap.

In the Lites feature, Scott Bigelow blasted out into the lead from his outside pole starting spot. He wasted no time stretching out his lead, but further back Randy Cabral was maneuvering his way through the pack in his family owned #35 from the tenth starting spot. John Zych Jr. driving the Frank Manafort owned #76 was also working his way to the front.

Cabral would reach second by the halfway point, and was hotly pursued by Zych, as Bigelow continued to lead. Zych would make a run by Cabral with nine laps to go, and set his sights on Bigelow. A feature best lap of 19.70 for Zych would come shortly after, but it would not be enough to catch Bigelow, as he would go on to take down both the feature win, and clinch the owner's title for the season.

Anthony Payne would have a strong fourth place run, locking up his first ever driver's championship driving the Scrivani owned #21. Cabral finished second in the driver's standings in both divisions.

NEMA's season has concluded, and the club celebrates the season at its annual awards banquet in early December.

SCOTT BIGELOW #32 - JOHN ZYCH JR. #76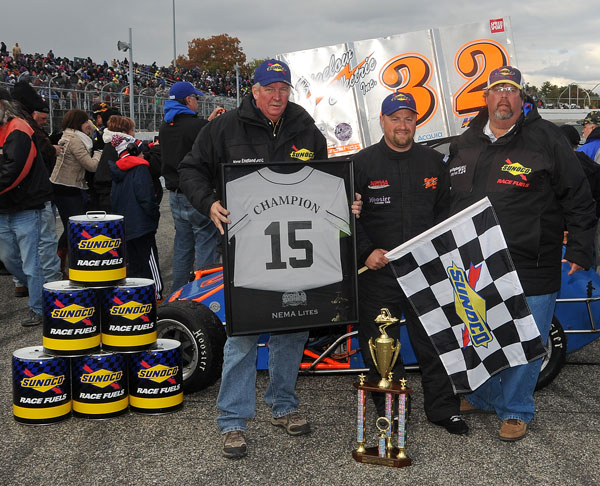 NEMA LITES RACE WINNER SCOTT BIGELOW #32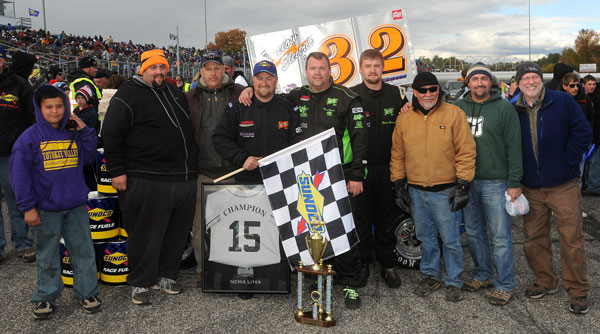 SCOTT BIGELOW - 2015 NEMA LITES OWNER CHAMPION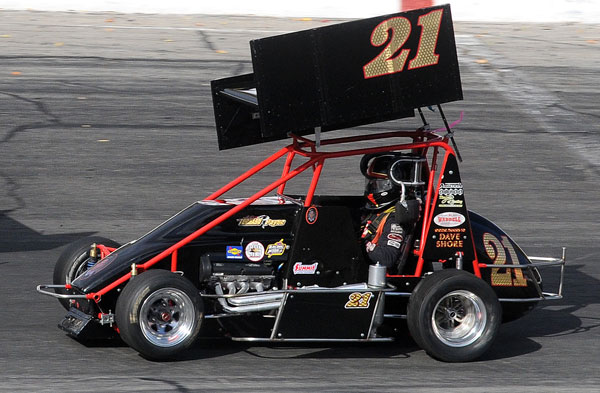 ANTHONY PAYNE - 2015 NEMA LITES DRIVER CHAMPION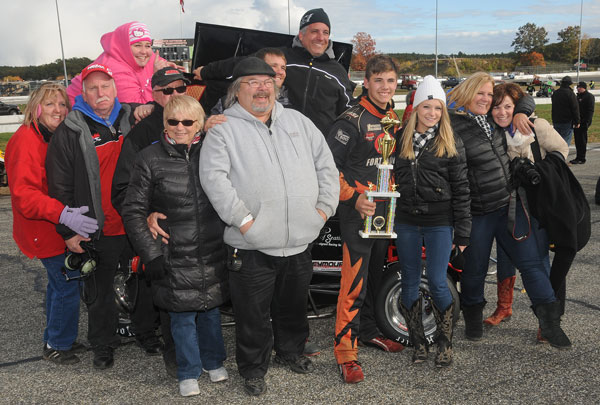 ANTHONY PAYNE - 2015 NEMA LITES DRIVER CHAMPION
NEMA LITES - WORLD SERIES - 10/18/15
Pos.
#
Driver
Hometown
Owner
1
32
Scott

Bigelow

E. Hampton, CT

Scott

Bigelow

2
76
John Zych Jr.
Mendon, MA
Fank Manafort
3
35
Randy Cabral
Plymouth, MA
Glen Cabral
4
21
Anthony Payne

Fairlawn, NJ

Jennifer Scrivani
5
15a
Avery Stoehr
Lakeville, MA
Russ Stoehr
6
30b
Paul Scally
Raynham, MA
Paul Scally
7
51
Danny Cugini
Marshfield, MA
D. Cugini
8
31

Paul

Bigelow

Kensington, CT
Paul

Bigelow

9
41
Megan CuginI
Marshfield, MA
D. Cugini
10
16
Dennis O'Brien
Deerfield, NH
Chris O'Brien
11
99
Jim Santa Maria
Burlington, CT
Jim Santa Maria
12
2
Jim Cataldo
Sterling, MA
Jim Cataldo
13
36
Myles Devits
-
Myles Devits
14
DNF
13
Ryan Bigelow

E. Hampton, CT

Ryan

Bigelow

15
DNS
11
PJ Stergios
Candia, NH
Bill Stergios
-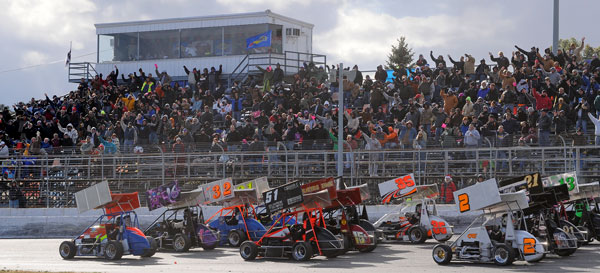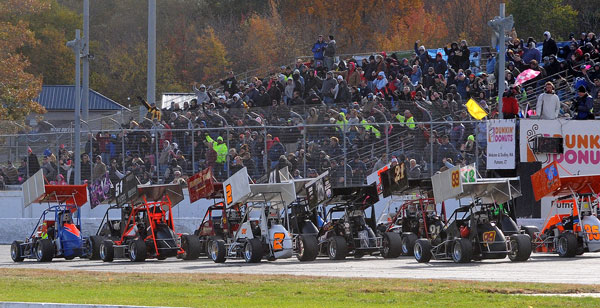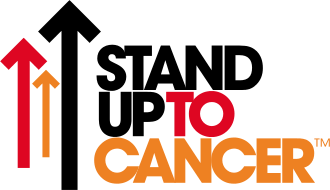 NEMA/THOMPSON SPEEDWAY PARTNER
FOR BREAST CANCER AWARENESS
EVENT on 10/18
The Northeastern Midget Association will team with the Thompson Speedway Motorsports Park to sponsor a "Stand Up To Cancer" event on Sunday 10/18/15 at the Sunoco World Series of Racing. The event will occur during the NEMA Lites 4 - wide fan appreciation parade lap just prior to their feature race.

All race fans will be given a card at the ticket booth upon entering the speedway and asked to write the name of a loved one or friend affected by cancer on the card. Then at the time of the 4 - wide NEMA Lite parade lap, all fans will be asked to stand and hold up the card in support of that person.

This event is a joint effort to not only bring awareness to early detection and a drive to a cure, but to also establish a record for the largest number of race fans to join a "Stand Up To Cancer" event in the state of Connecticut.

In addition, the organizer's are asking for a one dollar donation to benefit the Connecticut American Cancer Society.

NEMA and the Thompson Speedway would like to thank all race fans in advance for your participation.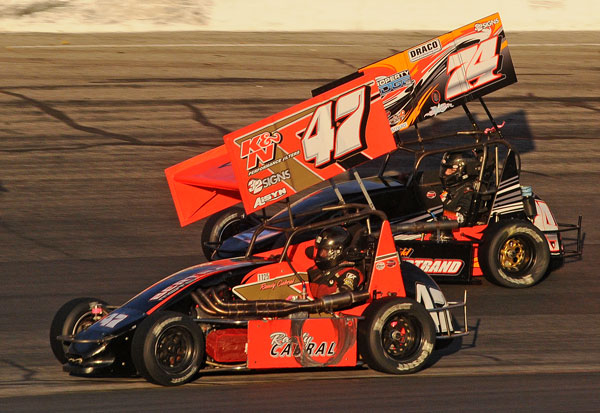 RANDY CABRAL #47 - TODD BERTRAND #74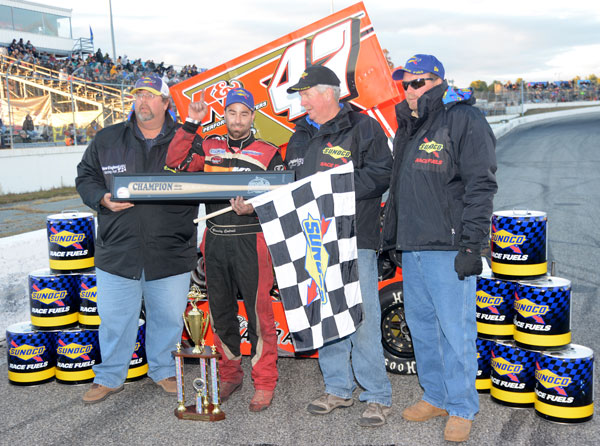 NEMA MIDGETS RACE WINNER RANDY CABRAL #47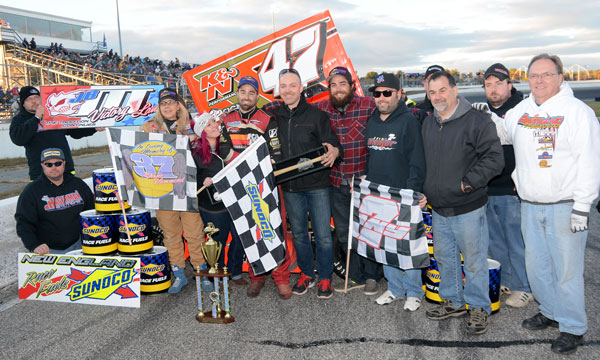 RANDY CABRAL WITH THE BERTRAND TEAM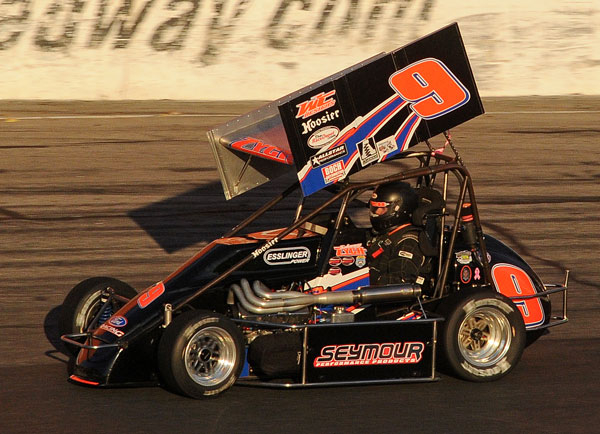 JOHN ZYCH JR. - 2015 NEMA MIDGETS CHAMPION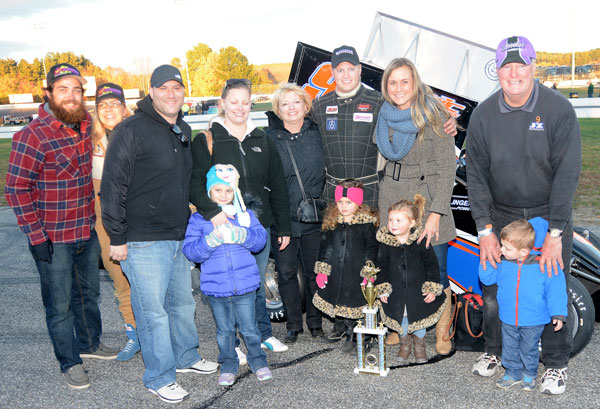 JOHN ZYCH JR. - 2015 NEMA MIDGETS CHAMPION
NEMA MIDGETS - WORLD SERIES - 10/17/15

Pos.
#
Driver
Hometown
Owner
1
47
Randy Cabral
Plymouth, MA
Tim Bertrand
2
74
Todd Bertrand
Danielson, CT
Tim Bertrand
3
9
John Zych Jr.
Mendon, MA
John Zych Sr.
4
71
Seth Carlson
Brimfield, CT
Gene Feigel
5
15a
Avery Stoehr
Lakeville, MA
Russ Stoehr
6
39
Cole Carter
Indianapolis, IN
Todd Bertrand
7
21
Jim Chambers
Atkinson, NH
Mike Chambers
8
30
Paul Scally
Raynham, MA
Paul Scally
9
7
Alan Chambers
Atkinson, NH
Mike Chambers
10
93
Jake Smith
Stroubsburg, PA
Jake Smith
11
44
Danny Cugini
Marshffield, MA
Ed Breault
12
87
Doug Cleveland
Sudbury, MA
Doug Cleveland
13
DNF
28
Russ Stoehr
Lakeville, MA
Peter Pernisiglio Sr.
14
DNF
99
Jim Santa Maria
Burlington, CT
Jim Santa Maria
15
DNS
5b
Bethany Stoehr
Bridgewater, MA
Greg Stoehr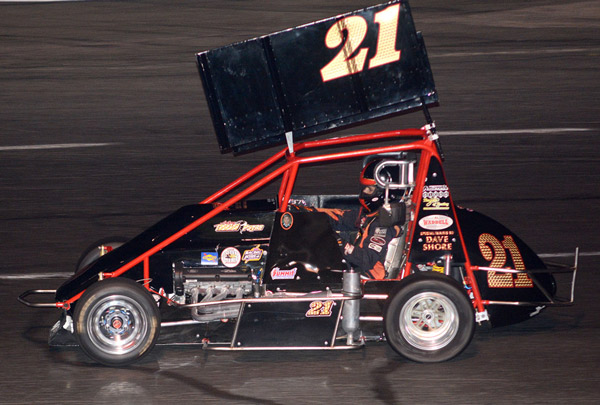 ANTHONY PAYNE - #21 NEMA LITES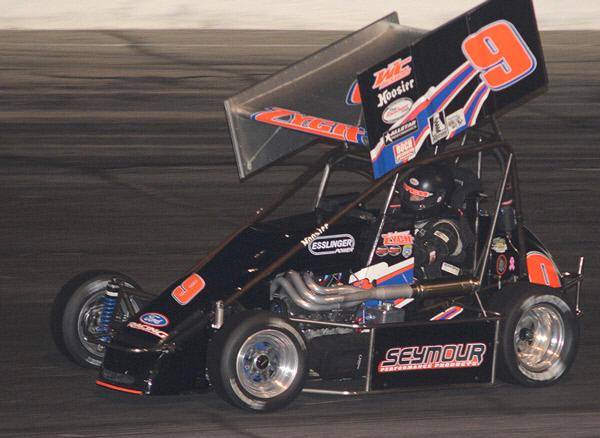 JOHN ZYCH JR. - #9 NEMA MIDGET
A. Payne, Zych Lead NEMA to the
Shane Hammond Memorial at
Thompson Speedway Motorsports Park
Sunoco World Series presented by Xtramart
Both Anthony Payne and John Zych Jr. lead NEMA to this coming weekend's World Series of Racing at Thompson Speedway Motorsports Park, with commanding points leads. Payne leads reining NEMA champion Randy Cabral by 49 points in the Lites division, and Zych leads Cabral by 65 points in the NEMA division. Zych merely needs to finish his heat race and start the feature event to clinch the NEMA championship. For the previous winner, Zych, it seems like a very accomplishable feat this Saturday, barring any mechanical issues. In the Lites division, Scott Bigelow leads Mike Scrivani in the owners points and John Zych Sr. leads Tim Bertrand in the NEMA owner points.

This year's Thompson finale is a special one, in that it will be the first time that the Shane Hammond Memorial will be held at TSMP. The young Hammond lost his life in a NEMA midget at Thompson in 2008. Since that point, his mother, Deb Marvuglio, has been a devout supporter of the club through the Shane Hammond Memorial Foundation, and her support of the annual event, memorializing Hammond.

For Payne, son of Joey Payne, and a multi generational racing family, a Championship is the ultimate prize.

"Coming into this season I wanted to improve my finishes from last year and concentrate on getting some wins. We got some wins and consistent top 5s. The season started at Thompson, which was a big accomplishment getting a top 5 on my first ever 5/8th St mile race. We got wins at Evans Mills and New London Waterford Wpeedbowl and had a lot of strong finishes," said the young Payne.

"Thompson is a very unique track with lots of speed and room to use the high banks to help pass cars. They have made it into such a great place to race, one of the most professional looking tracks to race at. Going into the last race of the year as points leader comes with a lot of pressure and a lot on the line. I want to be successful with another good run there and come away as the 2015 NEMA Lite Champion. Battling Randy Cabral for the championship is really special, he is such a talented driver and a multi-time NEMA Midget champion. Its great racing against him in the series as it helps me watching where he is on the track learning his lines," Payne went on to say.

"I'd like to thanks the Scrivani's, Jarret's and Jim Susi for all they do for me. My family for their support and my sponsors Dave Shore, Waddell Communications for making my racing successful. I've had a successful season and looking forward to many more to come," he concluded.

As always, a Thompson victory prize is the ultimate for any NEMA or NEMA Lite driver. A "separate the men from the boys" track, the 5/8 mile will see speeds in excess of 140 miles per hour when the NEMA cars hit the track next Saturday.

"We're very excited to conclude a very competitive season at the Thompson Speedway Motorspors Park," said NEMA President Russ Stoehr. "Josh (Vanada), Don Hoenig and their team have put together a first class facility, staff and program. We have been very proud to be a part of their program for three events this year, and the World Series is one of everyone's favorites in the club" Stoehr said.

The NEMA midgets will run the Saturday evening portion of the Sunoco World Series program and the Lites will be a part of Sunday's program this coming weekend.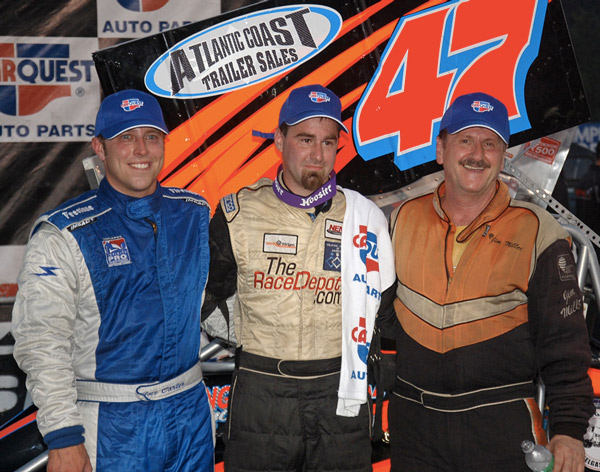 L to R:
Carter with teammate Cabral and Jim Miller
at Stafford Motor Speedway in 2010
Cole Carter Enters NEMA Finale at
Thompson Speedway Motorsports Park
Sunoco World Series
Bridgewater, MA - - Cole Carter, a USAC open-cockpit mainstay and a member of one of America's premier racing families, will be in the Northeastern Midget Association field at Thompson Speedway Motorsports Park for the Sunoco World Series presented by Xtramart on Saturday, October 17th.

The son of the legendary "Pancho" Carter, Cole will be a teammate of former series champion Randy Cabral of Plymouth, MA and Todd Bertrand of Danielson, CT in Bertrand Motorsports entries. He'll steer the Boston Louie Memorial winning #39 typically driven by Bertrand and Bertrand will run the #74 driven this season by reining NASCAR Whelen Modified Tour champion, Doug Coby and Joey Payne. Coby and Payne both captured 2015 wins in the #74.

Carter will join a strong field led by Cabral, the all-time NEMA winner at Thompson, 2013 Champion and points leader John Zych, Avery Stoehr of Lakeville, Seth Carlson, Jim & Alan Chambers, Bethany Stoehr and Paul Scally of Raynham.

Among current competitors, Russ Stoehr of Bridgewater and Zych are the other previous Thompson winners scheduled to be on hand in the field.

Cole Carter's racing genes include both grandfathers - Duane Carter and Carl Forberg - and an uncle - the late Dana Carter - as well as his dad Poncho who, in addition to many Midget and Sprint successes, had 17 Indianapolis 500 starts, including a pole run in 1985. Pancho was also the USAC National Sprint Car champion in 1974 and 1976.

Cole has been running USAC periodically over the last fifteen years, climbing to as high as fourth in the 2005 USAC standings. He has also driven Sprints, Silver Crown and Infiniti Pro Series cars. His last starts for Bertrand Motorsports resulted in a runner up effort to Cabral in 2010 at the World Series and a duplicate of that run, finishing second to Cabral in the 2014 World Series at TSMP.