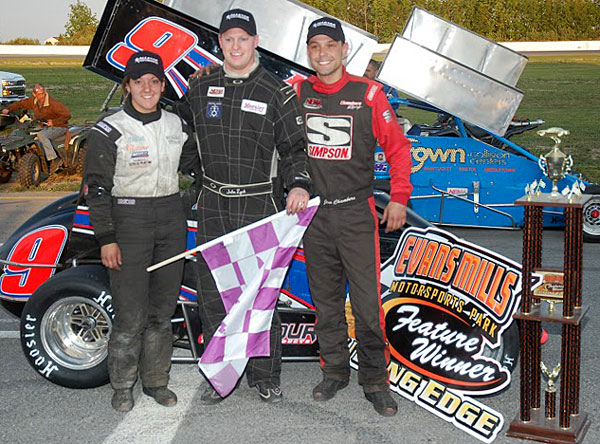 B. STOEHR - ZYCH - J. CHAMBERS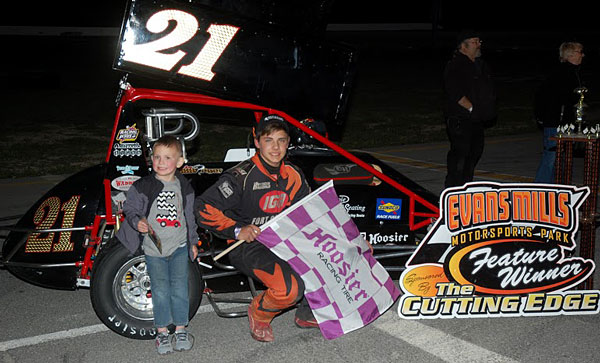 A. PAYNE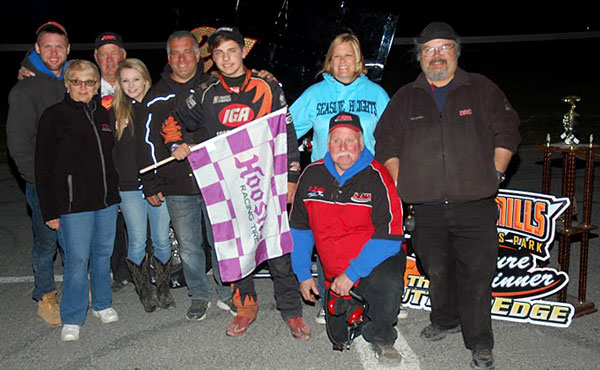 Zych, A. Payne Score




Evans Mills Victories

After exciting races at the Chemung Speedrome on Friday evening, claimed by modified regulars Doug Coby (NEMA) and Jimmy Zacharias (Lites) - NEMA concluded its weekend at the 3/8 mile Evans Mills Speedway. Known for its distinctive flat surface and round corners, the Speedway proved challenging for many teams in terms of set up. One of the teams early in the day, who appeared to be struggling was the John Zych Racing team, who didn't transfer through their heat race, winding up at the tail of the field.

Zych, starting scratch on the field, would have his work cut out for him. "We were terrible in the heat race. We threw a bunch of changes at the car for the feature, and were amazed at how well they worked," the Mendon, MA driver said after the feature. When the green flag dropped, Bethany Stoehr jumped out into the lead in the Breault 44 machine. She would dominate the majority of the feature event, while Zych was methodically working his way to the front using the high line. A caution was thrown with seven laps to go, when Zych made contact with NEMA regular Paul Scally. The caution tightened up the field, and Zych made his march to the front.

With two laps to go, it appeared that Stoehr would hold on for the victory, but coming to the white flag, Zych darted to the outside of Stoehr and made a pass that stuck entering turn one. He went on to take down the victory and was followed by Stoehr, Jim Chambers, Todd Bertrand and Randy Cabral.

"It's kind of like an out of body experience," said Zych. "We were so bad earlier today I just can't believe we won. I feel really bad that I got into Paul, it was not intentional at all," he went on to say. "It feels great to win up here in New York, where a lot of my family grew up."

In the Lites division, Anthony "the Tornado" Payne, son of legendary Joey "the Jersey Jet" Payne, looked very strong from the start of the day, winning his heat race. Payne, who drives for NEMA charter family, the Scrivani's - had come close previously, but had not tasted his sweet first victory until this past Saturday. Payne started fourth in the feature event, and quickly worked his way to the front of the field. He looked to have the dominant car as the feature went on, despite the always strong Scott Bigelow, who came charging through the field, with NEMA regular, Danny Cugini in tow.

Payne went on to cross the line victorious, followed by Bigelow, Cugini, Meg Cugini, and Randy Cabral. Payne thanked his sponsors - the Jarrett family, crew, his parents, and the Scrivani family in victory lane.

"It was a great feeling putting the famed Scrivani 21 back in victory lane. There have been so many great drivers in that seat I'm proud to be one that has a win now. The car is really good at most tracks we go to, but Saturday the car was really good from the first practice. The heat win built my confidence and I knew I had a good shot to win the feature. I liked Evens Mills and felt comfortable in 2014 and came back more confident in 2014 and knowing I had a shot to win. This wouldn't be posible without the Scrivani family and the support of the Jarrets, Jim Susi, Dave Shore. Thanks to my family for all their support," said the young Payne.

The Lites division resumes its schedule at the New London Waterford Speedbowl on June 6th, and both divisions the following weekend at Wiscasset Speedway.

The Northeastern Midget Association is the oldest pavement midget racing club in the Nation. Midgets are typically four cylinder, pure bred open wheel racecars. They do not use starters, flywheels or clutches. If it is bolted into a midget, it serves one of only two purposes: safety or speed. The mighty midgets of NEMA are that and more. With their nearly four hundred horsepower motors, large wings, and wide Hoosier tires - the NEMA midgets are the fastest asphalt midgets in the world.

NEMA MIDGETS - EVAN MILLS - 5/23/15

Pos.
#
Driver
Hometown
Owner
1
9
John Zych Jr.
Mendon,MA
John Zych Sr.
2
44b
Bethany Stoehr
Bridgewater, MA
Ed Breault
3
21
Jim Chambers
Atkinson, NH
Mike Chambers
4
39
Todd Bertrand
Sufield, CT
Todd Bertrand
5
47
Randy Cabral
Plymouth, MA
Tim Bertrand
6
51
Danny Cugini
Marshfield, MA
D. Cugini
7
74
Doug Coby
Milford, CT
Tim Bertrand
8
71
Seth Carlson
Brimfield, CT
Gene Feigel
9
15a
Avery Stoehr
Lakeville, MA
Russ Stoehr
10
7
Alan Chambers
Atkinson, NH
Mike Chambers
11
30
Paul Scally
Raynham, MA
Paul Scally
12
13
Ryan Bigelow

E. Hampton, CT

Randy

Bigelow

13
31
Jim Santa Maria

Burlington

, CT

Paul

Bigelow
NEMA LITES - EVAN MILLS - 5/23/15
Pos.
#
Driver
Hometown
Owner
1
21
Anthony Payne

Fairlawn, NJ

Jennifer Scrivani
2
32

Scott

Bigelow

E. Hampton, CT

Scott

Bigelow

3
51
Danny CuginI
Marshfield, MA
D. Cugini
4
41
Megan CuginI
Marshfield, MA
D. Cugini
5
35
Randy Cabral
Plymouth, MA
Glen Cabral
6
16
Dennis O'Brien
Deerfield, NH
Chris O'Brien
7
30b
Paul Scally
Raynham, MA
Paul Scally
8
15a
Randy Brunelle
-
Russ Stoehr
9
31
Paul Bigelow

Kensington, CT

Paul

Bigelow

10
21c
Jim Chambers

Atkinson, NH

Jim Chambers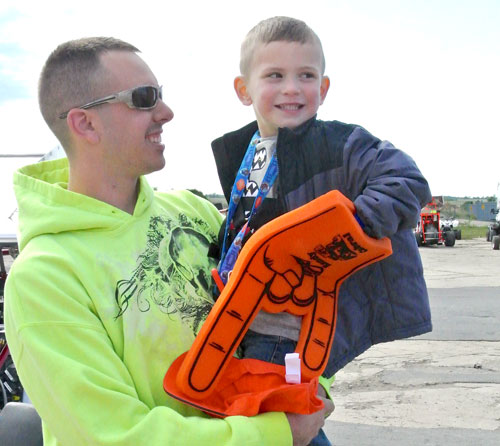 His name is Riley. He is 5 years old - his birthday was the day of our race at Evans Mills. His favorite driver was Anthony 'Tornado" Payne because he loves tornados. He has a service dog named Gunnar. Below is what his dad had said after the NEMA VIP experience.

"Hey it's Aaron French, Riley's father. I just wanted to thank you again for last night. Rileys face was lighting up more than I have seen in a very long time and he had an amazing time. The entire family had a blast. It was especially special when Tornado which is Riley's favorite racer let him take photos with him in victory lane. He was so excited. The NEMA organization will definitely be leaving a great impression on this family. Thank you so much again!"

Evans Mills Welcomes NEMA & VIP Fans for NEMA New York Weekend
As the "second act" in the upcoming "NEMA New York" weekend, the division will bring a strong field to Evans Mills Speedway this Saturday evening. The Evans Mills staff has been busy promoting the event with anticipation of an exceptional show, and NEMA has been participating in the promotional activities throughout the winter and spring months. Last weekend, NEMA star Bethany Stoehr and family visited the Speedway in an effort to promote the upcoming race.
Last year's Evans Mills winner Seth Carlson is also excited to return to the Speedway. He brings his newly redone Gene Feigel, Esslinger powered #71 back to New York with high hopes of a victory. Paul Scally, who didn't have good luck at Evans Mills last year, was very strong at some of the "round" race tracks last year, nearly winning the Seekonk Boston Louie Memorial race in July. Scally also has high hopes for Evans Mills. Last year's winner and opening day winner, Scott Bigelow, has high hopes in the Lites division.
Perhaps one of the most exciting additions to the weekend is the return of the VIP Fan program, spearheaded by Mariah Michalski of Bertrand Motorsports. This weekend's VIP fans are 5 year old Riley French and 3 year old Izabella French. Riley, an autistic child, is no different than many other children - he loves to play legos, play on his iPad, and brings his pal & work dog, Gunnar, with him wherever he goes. The French family is very excited to attend their first NEMA race, and NEMA will give them a whole hearted welcome as this week's VIP fans.
NEMA will run extended distance races of 30 laps at both Chemung and Evans Mills and the Lites 25 laps. Doug Coby's 13.000 lap, clocked by Evans Mills Officials last season stands as the fastest lap turned by the midgets to date. Surely many will be aiming for that range, including Coby, as he returns to the facility this weekend.
The Northeastern Midget Association is the oldest pavement midget racing club in the Nation. Midgets are typically four cylinder, pure bred open wheel racecars. They do not use starters, flywheels or clutches. If it is bolted into a midget, it serves one of only two purposes: safety or speed. The mighty midgets of NEMA are that and more. With their nearly four hundred horsepower motors, large wings, and wide Hoosier tires - the NEMA midgets are the fastest asphalt midgets in the world.