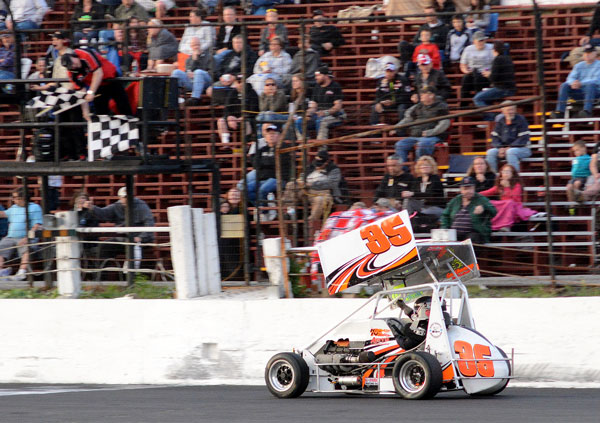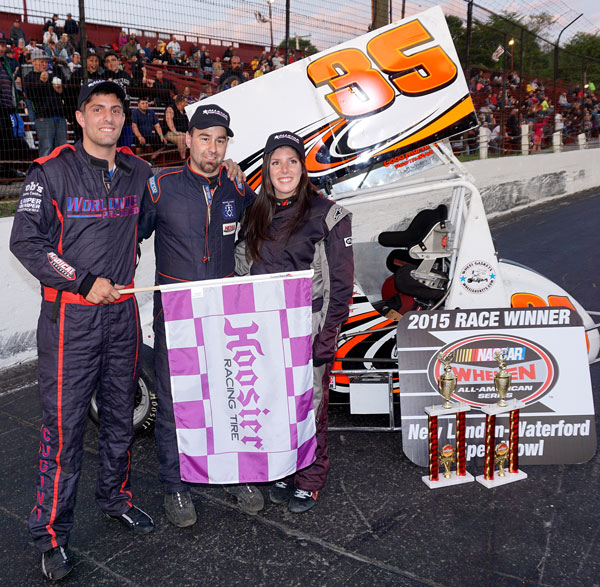 Danny Cugini - Randy Cabral - Megan Cugini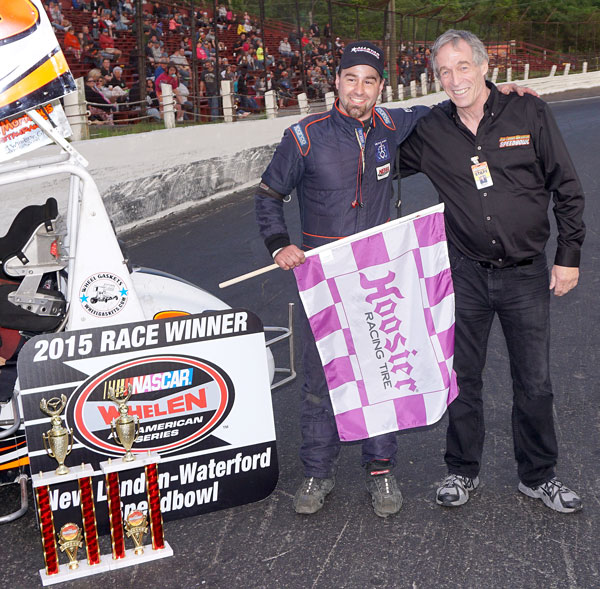 Cabral Back to Victory Lane in
Lites Speedbowl Action
Waterford, CT – Randy Cabral ended a long, multi year dry streak at the New London Waterford Speedbowl this past Saturday night, taking down the win in the NEMA Lite class in their "solo act" performance during the Bowl's Saturday night program. Cabral is NEMA's all time winner at the Speedbowl, with 8 NEMA wins at 2 Lites wins, for a total of 10.
Cabral won his heat race, running laps down in the high 13's, only seven tenths off of the typical NEMA top five. He started the race from the third position, and was quickly pursued by the family "dynamic duo" of Meg Cugini and brother, Danny. One caution halted the event, but when it went back to green, it was all Cabral to the finish. Danny Cugini ended up besting sister Meg, but both ended up on the podium – a first for the family. Current points leader Scott Bigelow finished fourth, followed by Jim Chambers.
The winner of the last event, Anthony Payne, finished sixth, followed by Dennis Potter, Paul Bigelow, long time Speedbowl supporter and multi time champion, Tom Fox making a rare appearance, and Dennis O'Brien rounded out the top ten.
"This was one of the first times at the Speedbowl in recent years that I had a car that literally handled the same all day. The car was fantastic. I'd like to thank Bruce Bemer, Shawn Monahan and the Staff at the Speedbowl, as well as all of the fans that came out to the race," said a very happy Cabral after the feature event.
Cabral's car is Todd Bertrand's former #39 Drinan chassis, also driven at LEE USA Speedway in 2009 by NASCAR star Ryan Newman. It is powered by a 1992 QUAD 4 engine.
The NEMA and NEMA Lite classes take to the main stage again this coming weekend for some extreme action, at Wiscasset Speedway in Wiscasset Maine. Last year, track records were broken, with Randy Cabral coming from last to win the feature event and undoubtedly fast times will be the goal of all of the competitors this coming weekend.
NEMA LITES - NL-W SPEEDBOWL - 6/6/15
Pos.
#
Driver
Hometown
Owner
1
35
Randy Cabral
Plymouth, MA
Glen Cabral
2
51
Danny CuginI
Marshfield, MA
D. Cugini
3
41
Megan CuginI
Marshfield, MA
D. Cugini
4
32

Scott

Bigelow

E. Hampton, CT

Scott

Bigelow

5
21w
Jim Chambers

Atkinson, NH

Jim Chambers
6
21
Anthony Payne

Fairlawn, NJ

Jennifer Scrivani
7
03
Dennis Potter
New Boston

, NH

Dennis Potter
8
31
Paul Bigelow

Kensington, CT

Paul

Bigelow

9
15a
Tom Fox
-
Russ Stoehr
10
16
Dennis O'Brien
Deerfield, NH
Chris O'Brien
11
DNF
30b
Paul Scally
Raynham, MA
Paul Scally
12
DNF
52
Kevin Park
Foxboro, MA
Kevin Park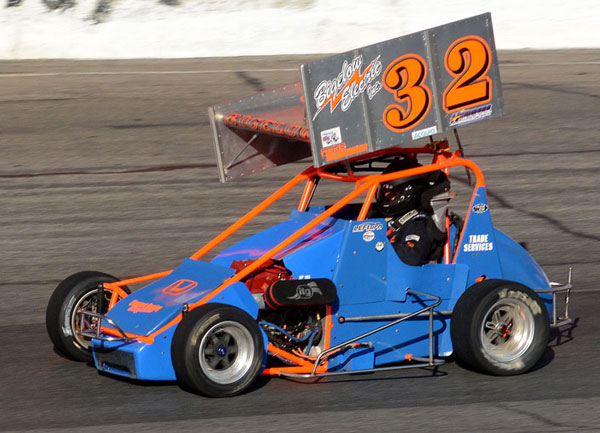 Bigelow Leads NEMA Lites to Speedbowl
Waterford, CT - There are no secrets left for the Northeastern Midget Association (NEMA) at the New London Waterford Speedbowl. A tight points race amongst the Lites between Scott Bigelow, Danny Cugini and Anthony Payne will highlight the night as NEMA's Lite class performs a solo show back at the 'Bowl Saturday night, the 25-lap feature part of the traditional Saturday evening program.
Bigelow, who won at Thompson earlier this year, knows that there are not many secrets left amongst the competitors at the Speedbowl. Between open practices, and many years of history between the Speedbowl and NEMA, it tends to be a place where most of the competition run their best.
"It is a pedal to the metal place," says long time NEMA member Joey Payne, father of last week's winner - Anthony Payne, who has run many laps in the high 12 seconds bracket at the Speedbowl. "You don't get to relax at the Speedbowl."
Payne's son, Anthony, took down his first NEMA Lite win at Evans Mills Speedway, the last time the Lites took the track. He drives for the famed Scrivani family, with help from long time NEMA supporters Mike and Lu Jarrett.
"The Speedbowl's geography makes it one of the best Midget tracks in the East," says NEMA President Russ Stoehr. "The surface is great and there's just enough straightaway. You can go three, four wide no problem."
Danny Cugini, regular NEMA competitor, has produced some strong runs so far, and only trails bigelow by 30 points, or roughly four spots in a NEMA Lite feature. He comes prepared to win this Saturday night, similar to Paul Scally with his new Lites ride, Cugini's sister Meg, and Bigelow's brother, Paul.
Randy Cabral, who ranks amongst the top of NEMA's all time winners at the Bowl also plans to attend Saturday night. Cabral has not visited victory lane in a long time at the Speedbowl, and a victory there is high on his priority list.
The Lites will run a 25 lap feature, as a compliment to the Mini Stock's, SK Lights, Late Models, SK Modifieds, the NEMST and the Limited Sportsman.