SATURDAY, JUNE 13th
NEMA MIDGETS & NEMA LITES
Cugini Nabs First NEMA Win; R. Bigelow Takes Down Big Wiscasset Lites Victory
Bridgewater, MA - The Wiscasset Speedway put together a blockbuster evening for NEMA this past Saturday night, with packed stands, and fans eagerly awaiting the return of the Winged Warriors. At the end of the evening, a very happy Danny Cugini took down his first ever NEMA victory over five time champion Randy Cabral, and Ryan Bigelow took down the Lites victory.

In the NEMA feature, veteran Paul Scally took off from the pole position. Scally looked extremely strong, stretching his lead out to ten carlengths over the first half of the race. Behind him, Danny Cugini had worked his way up to second, but had not challenged Scally at that point. Randy Cabral had worked his way by John Zych for third, by the halfway point.

With eight laps remaining, Scally, who was over heating at the time, had his worst nightmare come true - a caution for a spin by Matt O'Brien. On the restart, Cugini powered by Scally to take the lead, and Cabral quickly got by for second.

"I had been trying to save my tires because it was a 30 lap race and my motor lagged a little on the restart. I saw Randy next to me (he restarted 3rd) and I knew the only way I was going to stay in front of him was to sail it in on the outside. Once we cleared Randy I figured I'd try for Scally in the same corner, I never lifted and cleared them both by turn 3. After that, I just tried to hit my marks," Said Cugini.

With three laps remaining, Cabral appeared to narrow the distance between himself and Cugini, and Seth Carlson slipped by Scally. With two laps to go, Cabral had caught Cugini and slipped his nose under Cugini's left rear. The last lap proved to be one of the most exciting in recent NEMA history.

"The last lap was something else, I left a little door open and Randy did what any other race car driver would do and he stuck his car under me. I didn't want to give my first win away so I was on it 100% coming off of turn 2. Randy and myself made contact. Whether I pinched him off or he came into me, it was just good hard racing. His right front tire ended up on my exhaust header and we rode half the back stretch like that. The whole time he was on me all that was going through my head was 'how can we finish the race', I was turned right as hard as I could and I kept my foot in it and Randy having all his experience wheeled his car off and we made it through 3 and 4 for the finish, and I came out on top," said an elated Cugini.

Cabral crossed the line in second, happy with the finish, followed by Carlson, Paul Scally, John Zych, Jim Chambers, Avery Stoehr, Jim SantaMaria, Bethany Stoehr, Todd Bertrand, Alan Chambers, Steve Powers, Matt O'Brien and Ryan Bigelow.

In the Lites Feature, Ryan Bigelow started fourth and was able to get under Jim Chambers in the Chambers 21 going into three on lap one. He survived two restarts on lap 6 and 16 and both times was able to get a good jump and take down the win. Bigelow was driving the 32 car, regularly driven by his brother Scott, and last year's championship car.

"I would like to thank Scott (Bigelow) for giving me such a good car and of course my father for supporting my racing. Also have to thank my sponsors Bigelow Electric, Royal Tire and Stewart race engines," said a happy Bigelow.

He was followed across the line by Danny Cugini and Randy Cabral, Meg Cugini, Joey Payne, Jim Cataldo, Jeremy Decourcey, Dennis O'Brien, Jim Chambers, Anthony Payne, and Bethany Stoehr.

NEMA continues its run this week at Monadnock for the Iron Mike Scrivani Memorial.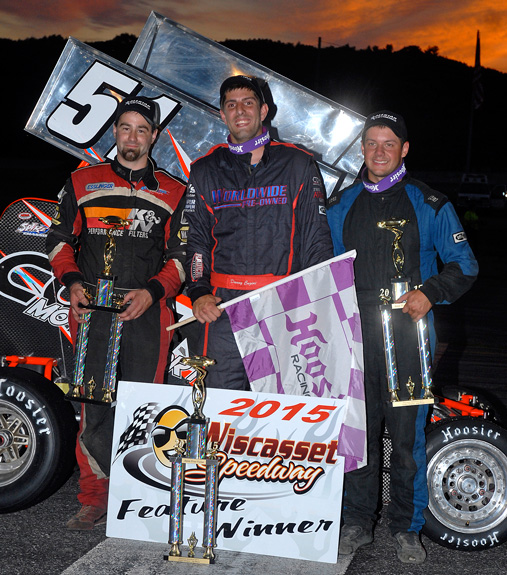 NEMA Midgets: L to R - Randy Cabral #35, 2nd;
Winner Danny Cugini #51; & Seth Carlson #71, 3rd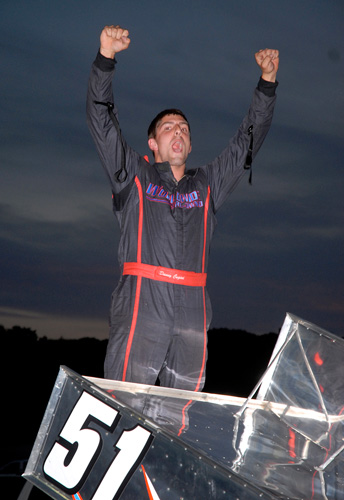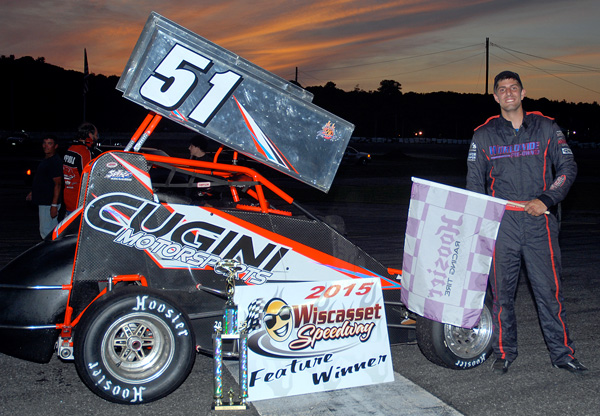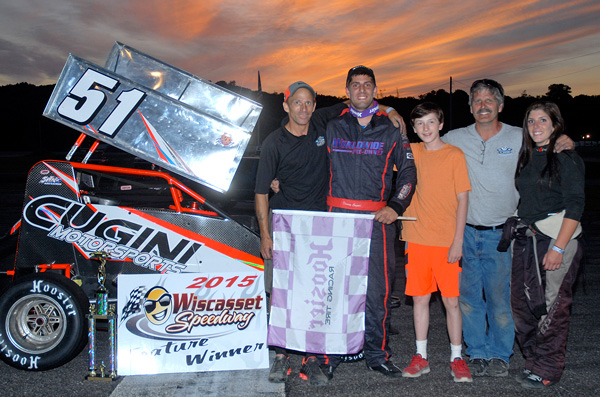 Photos by




John Dadalt
NEMA MIDGETS - WISCASSET - 6/14/15

Pos.
#
Driver
Hometown
Owner
1
51
Danny Cugini
Marshfield, MA
D. Cugini
2
47
Randy Cabral
Plymouth, MA
Tim Bertrand
3
71
Seth Carlson
Brimfield, CT
Gene Feigel
4
30
Paul Scally
Raynham, MA
Paul Scally
5
9
John Zych Jr.
Mendon,MA
John Zych Sr.
6
21
Jim Chambers
Atkinson, NH
Mike Chambers
7
15a
Avery Stoehr
Lakeville, MA
Russ Stoehr
8
99b
Jim Santa Maria

Burlington

, CT
Susan Santa Maria
9
44b
Bethany Stoehr
Bridgewater, MA
Ed Breault
10
39
Todd Bertrand
Sufield, CT
Todd Bertrand
11
7
Alan Chambers
Atkinson, NH
Mike Chambers
12
77
Steve Powers
-
Mike Luggelle
13
16
Matt O'Brien
Wilmington, MA
Matt O'Brien
14
DNF
13
Ryan Bigelow

E. Hampton, CT

Randy

Bigelow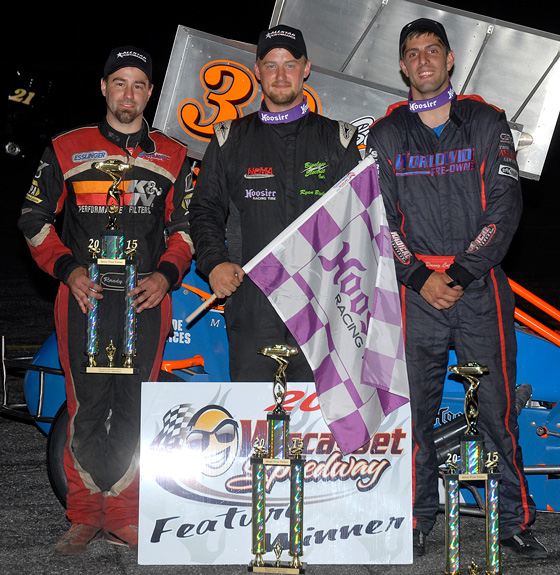 NEMA LITES: L to R - Randy Cabral #35, 3rd;
Winner Ryan Bigelow #32; & Danny Cugini #51, 2nd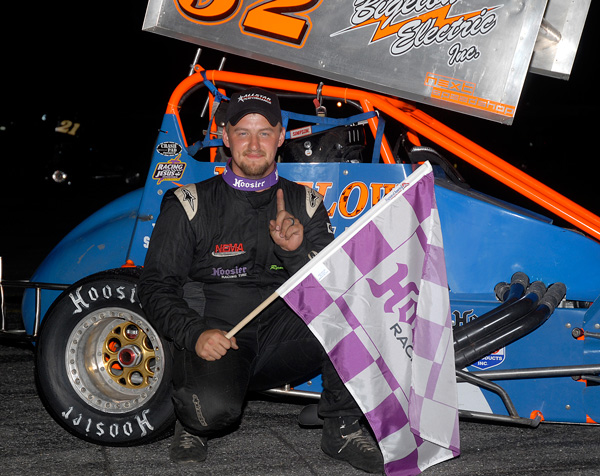 NEMA LITES - WISCASSET - 6/14/15
Pos.
#
Driver
Hometown
Owner
1
32

Ryan

Bigelow

E. Hampton, CT

Scott

Bigelow

2
51
Danny CuginI
Marshfield, MA
D. Cugini
3
35
Randy Cabral
Plymouth, MA
Glen Cabral
4
41
Megan CuginI
Marshfield, MA
Glen Cugini
5
76
Joey Payne

Fairlawn, NJ

Frank Manafort
6
2
Jim Cataldo
Sterling, MA
Jim Cataldo
7
29d
Jeremy DeCourcey
-
Jeremy DeCourcey
8
DNF
16
Dennis O'Brien
Deerfield, NH
Chris O'Brien
9
DNF
21w
Jim Chambers

Atkinson, NH

Jim Chambers
10
DNF
21
Anthony Payne

Fairlawn, NJ

Jennifer Scrivani
11
DNS
15a
Bethany Stoehr
Bridgewater, MA
Russ Stoehr
Photos by Tifanny Rose Payne





Photos by John Dadalt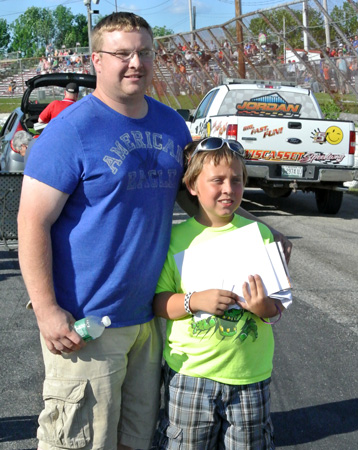 Dillon was one of several kids who submitted posters in the C&D Laundry Kids Club to be the VIP Fan of the Week for NEMA Night. He drew a picture of his favorite car #77 Prostock Maggie Ferland.

On the back Dillon wrote and inspiring account of why he deserved it. Dillon had been struggling in school. His step mom used his love of racing as motivation to improve in school, telling him that he could go to the races if he worked hard and brought his grades up. Dillon described how he worked really hard, even staying inside during recess to bring his grades up. His hard work paid off as he made the Honor Roll this past semester.

Probably the best part of his explanation was at the end, where he said "even if i don't win, i'm proud of myself". Dillon's hard work and inspiring words not only got him to the race track on the 13th, but he and his step mom got to go in the pits for the day. Dillon got to meet his favorite driver, Maggie Ferland, and was the NEMA VIP fan of the Day. He spent the day with the NEMA teams, got autographs and prizes, and got inside access to the race day experience that few people get to enjoy.

Congratulations Dillon !! Keep up the good work.