Heat 1
99-M. Roselli
54-D. Fonoro
15-R. Dolan
47-T. Bertrand
17-B. Seitz
75-F. Schell
5-L. Cheetham
3-T. Spada
49-J. Payne

= DNF

Heat 2
44-E. Breault
12x-K. Carpenter
2-H. Bumpus
45-R. Stoehr
77-M. Lugelle
21-R. Mausteller
57-B. Bradbury
7ny-A. Cantor
50-P. Pernesiglio

Heat 3
76-M. Buonomo
35-R. Cabral
9-B. Santos
38-D. Baumgartner
51-M. Wonder
16-M. O'Brien
18-R. Gerbe
81-T. Heath
4-B. Seymour




































Race 12
Oswego Speedway
Oswego Budweiser Classic

August 31, 2002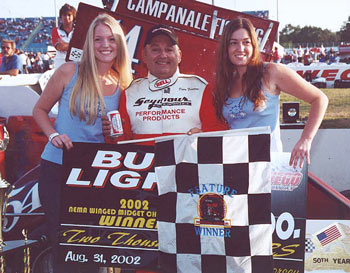 Jim Feeney Photo
1
54
D. Fonoro
-
2
35
R. Cabral
-
3
17
B. Seitz
-
4
2
H. Bumpus
-
5
38
D. Baumgartner
-
6
81
T. Heath
-
7
4
B. Seymour
Hard
Charger
8
51
M. Wonder III
-
9
98
M. Roselli Jr.
-
10
50
P. Pernesiglio
-
11
75
F. Schell
-
12
16
M. O'Brien
-
13
57
B. Bradbury
-
14
12x
K. Carpenter
DNF
15
5
L. Cheetham

DNF

16
21
R. Maustellar
DNF
17
3
T. Spada
DNF
18
9
B. Santos III
DNF
19
18
R. Gerbe
DNF
20
77
M, Lugelle
DNF
21
15
R. Dolan
DNF
22
44
E. Breault
DNF
23
47
T. Bertrand
DNF
24
45
R. Stoehr
DNF
-
76
M. Buonomo
DNS
-
7ny
A. Cantor
DNS
-
49
J. Payne, Jr.
DNS

DREW FORNORO SCORES AT OSWEGO
Oswego, NY – The count continues to climb for Drew Fornoro. The Northeastern Midget Association's all-time career winner, Fornoro collected number 82 Saturday night at Oswego Speedway. Taking the lead on lap 15, Fornoro, in the Campanale Bros. #54, went on to a comfortable win over Randy Cabral.

The race featured a torrid battle between Fornoro and Kyle Carpenter that didn't end until the latter retired with electrical problems on a restart with five laps to go. Fornoro then breezed to his third win of the season, the first to do so.

Fornoro and Carpenter hooked up and, working traffic, chased down early leader Mike Roselli Jr. With 15 gone, Fornoro got by Roselli through three and four. When Carpenter took second a lap later, Fornoro had built a lead but Carpenter stormed back, the duel becoming side-by-side for a while.

Caution, the third of the race, for oil on the track (which turned into red) ended the duel. Heading to the green, Carpenter turned into the pits with a sputtering engine.

Following two cautions in the first two laps, including a terrifying crash by point leader Russ Stoehr before the event was a lap old, Roselli took the lead. He opened up a considerable edge before hitting traffic. Roselli was looking for his second Oswego win.

Outside pole sitter Ben Seitz, a rookie in his first Oswego test, came home third. Howard Bumpus and ARCA visitor Dave Baumgartner completed the top five. Tim Heath, also a rookie, was sixth.

Fornoro, who posted his fourth career Oswego success, now trails point leader Stoehr by 75.

Heading in turn three on the initial green, Tim Bertrand was inside pole sitter Mike Luggelle heading into three. Luggelle's left front made contact with Bertrand's right rear, sending Bertrand up the track into the path of the on-coming Stoehr. Bertrand's car serve as a launching ramp for Stoehr who went up in the air doing a complete flip before landing on all four wheels. Bertrand wound up in the foam.

Stoehr, a nine-time Oswego winner, was taken to the hospital with a minor concussion and bruised ribs but was back at the track.

Following another yellow on lap one, the race ran clean before Randy Mausteller dropped oil with five to go.

Roselli, Ed Breault and Mark Buonomo were the heat winners.

Cabral and Bumpus, who sit third and fourth in driver points, extend top-five streaks to five.

Next up - NEMA's 50th anniversary celebration at Waterford Speedbowl's Finale on Oct. 5-6.


Ray Grela Photo Sequence



Russ Stoehr had one of the most horrific crashes in midget race history at Oswego Speedway Saturday during the Bud Light Midget Championship event. A four-wide scenario on the green flag lap set up a tangle between Stoehr and the 47 of Tim Bertrand. Stoehr, the defending race champion, was transported to Oswego Hospital and later released. The Gene Angelillo 45 was demolished.
Caption by
Carol Haynes, Oswego Speedway

Jim
Feeney
Photos

Drew Fornoro, Newton, NJ, is certainly no stranger to Oswego Speedway victory lane, but the win of the Bud Light Midget Championship Saturday was his first in the Campanale & Sons 54 midget. The Bud Girls join Drew in victory lane with his $2,000 check.
Captions by
Carol Haynes, Oswego Speedway

The pass for the lead is made by Drew Fornoro as he goes by leader Mike Roselli (98) on lap 14. Fornoro led the rest of the way chased down mainly by Kyle Carpenter in the Carpenter 12 at Oswego Speedway. Roselli would end up 9th after Carpenter's demise on lap 20.

Ben Seitz in what may have been his first Oswego visit leads 35 Randy Cabral , 2 Howard Bumpus and 38 Dave Baumgartner of Ottawa Lake. Mich. They all finished near the front of the pack led by Drew Fornoro.

Lap 23 and the midgets are driving home to end the 6th annual Bud Light Midget championship at Oswego Speedway on Saturday afternoon.

Howard Bumpus tries to stay out front of Dave Baumgartner and Tim Heath as the laps wear down on the Bud Light Midget Championship 25 at Oswego Speedway on Saturday.