Heat 1
47 - T. Bertrand
9 - B. Santos
35 - R. Cabral
45 - R. Steohr
15 - R. Dolan
77 - M. Luggelle
7ny - A. Cantor
16 - M. O'Brien
33 - J. Libby
28 - W. Arute
88 - D. Rosenfield

Heat 2
12x - K. Carpenter
12w - P. DiMario
54 - D. Fonoro
2 - H. Bumpus
17 - B. Seitz
44 - E. Breault
5 - L. Cheetham
57 - B. Bradbury
3 - T. Spada
21 - B. Kittredge

= DNF

Waterford Speedbowl

June 15, 2002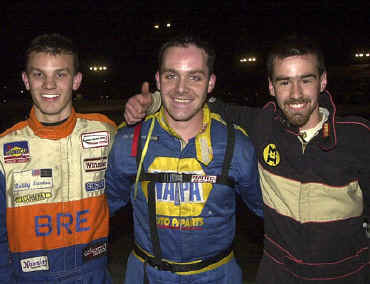 L to R: Bobby Santos III, 3rd, Tim Bertrand, Winner,
and Randy Cabral, 2nd (Norm Marx Photos)
Feature
| | | | |
| --- | --- | --- | --- |
| 1 | 47 | T. Bertrand | |
| 2 | 35 | R. Cabral | |
| 3 | 9 | B. Santos III | Hard Charger |
| 4 | 45 | R. Stoehr | |
| 5 | 17 | B. Seitz | |
| 6 | 12w | P. DiMario | |
| 7 | 15 | R. Dolan | |
| 8 | 54 | D. Fonoro | |
| 9 | 12x | K. Carpenter | |
| 10 | 2 | H. Bumpus | |
| 11 | 7ny | A. Cantor | |
| 12 | 77 | M. Luggelle | |
| 13 | 33 | J. Libby | |
| 14 | 16 | M. O'Brien | |
| 15 | 6 | P. Lawless | |
| 16 | 57 | B. Bradbury | |
| 17 | 28 | W. Arute | |
| 18 | 88 | D. Rosenfield | |
| 19 | 3 | T. Spada | DNF |
| 20 | 44 | E. Breault | DNF |
| 21 | 5 | L. Cheetham | DNF |


Bertrand Gets First NEMA Winner
at Speedbowl
Waterford, CT – Tim Bertrand struck another blow for the Northeastern Midget Association's "Youth Movement" Saturday night. The 24-year captured the 25-lap NEMA feature at Waterford Speedbowl after a classic duel with teenager Bobby Santos III.

The only caution with four laps left put an end to the Bertrand-Santos battle that featured some "hairy" in-traffic antics. On the restart, Bertrand simply ran away.

Bertrand took the lead from rookie Ben Seitz on lap 13, actually "reeling him in." Seitz got away from fellow front-row starter Mike Luggelle and opened up a wide lead before Bertrand got by Luggelle and began the chase.

"I got such a good run out of four and got right behind him and went into two very low," Bertrand said of the pass on Seitz. "From that point it was run like a jack rabbit." On the pace laps, he has actually run below the white line in two realizing "the track was slick and that's where I would probably have to make a pass."

Santos, coming from 12th, passed Seitz on lap 15 and quickly closed behind Bertrand. The top three were quickly in traffic. Shortly before the only caution, Bertrand and Santos put on a dazzling display of driving in turn three.

"I didn't know who was behind him," Bertrand said. "There were two lapped cars right in front of me and I saw a point where I could thread the needle. It was a Hail Mary move. Then I saw one car drift up and I knew the car behind was going to get picked off."

Santos, however, threaded through the mess equally well and came out of four right on Bertrand's tail. The war continued until the yellow. On the restart, Randy Cabral got by Santos in turn two but Bertrand was long gone. "I realized I could pull it out and at that point I just kept my foot it," Bertrand said.

There was racing back through the top 12 finishers.

It was the second straight top-five in the Seymour-owned No.9 car for Santos, the Hard Charger winner. "It was a good run, but the car tightened up after the restart," he explained. Point leader Russ Stoehr late rush earned a fourth (his fifth top-five in as many races) while Seitz got a well-earned fifth.

Bertrand is the second member of last year's heralded rookie class to grab a checker, following Icebreaker winner Ryan Dolan. "It's unbelievable," he said. "I never thought it would come this soon."

The win enabled Bertrand and his father/car owner Gil to climb into the top 10 in points. After a tough start (three straight DNFs), the team decided to switch from Fontana to Esslinger power. "It's made a difference," he said.

Among the fastest cars all night, Bertrand won the first heat and Kyle Carpenter, also a 2001 Rookie, grabbed the second. NEMA returns to Star Speedway this Saturday with five winners in as many races.

NEMA doesn't return to Waterford until the Boston Louie Memorial on Aug. 24.

---