Heat 1
9 - B. Santos
15 - J. Dolan
21- B. Kittredge
98 - M. Roselli
44 - E. Breault
16 - M. O'Brien
12x - K. Carpenter
57 - B. Bradbury
88 - D. Rosenfield
3 - T. Spada

Heat 2
46 - R. Boetticher
81 - T. Heath
2 - H. Bumpus
35 - R. Cabral
54 - D. Fonoro
17 - B. Seitz
47 - T. Bertrand
51 - M. Wonder III
28 - W. Arute
7x - E.J. Douville
34 - R. Durso
33 - J. Libby

Heat 3
45 - R. Stoehr
12w - P. DiMario
59 - N. Fonoro
1s - J. Horn
7ny - A. Cantor
50 - P Pernesiglio
77 - M. Luggelle
22 - A. Shlatz
79 - K. Botelho
4 - B. Seymour

= DNF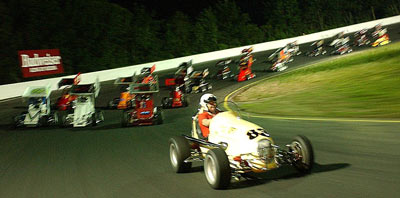 Howie Hodge Photo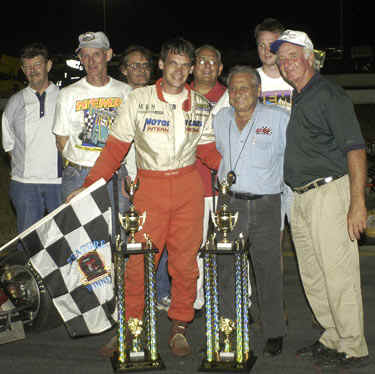 Thompson International Speedway

July 4, 2002
Feature
1
45
R. Stoehr
2
35
R. Cabral
3
44
E. Breault
4
7ny
A. Cantor
5
81
T. Heath
6
16
M. O'Brien
7
4
B. Seymour
Hard
Charger
8
12w
P. DiMario
9
2
H. Bumpus
10
59
N. Fonoro
11
33
J. Libby
12
3
T. Spada
13
7x
E. J. Dourille
14
57
B. Bradbury
15
88
D. Rosenfield
16
47
T. Bertrand
DNF
17
98
M. Roselli Jr.
DNF
18
50
P. Pernesiglio
DNF
19
15
R. Dolan
DNF
20
17
B. Seitz
DNF
21
46
R. Boetticher Jr.
DNF
22
1
J. Horn
DNF
23
87
D. Cleveland
DNF
24
28
W. Arute
DNF
25
51
M. Wonder III
DNF
26
79
K. Botelho
DNF
27
9
B. Santos
DNF
28
21
B. Kittredge
DNF
29
54
D. Fonoro
DNF
30
34
R. Durso
DNF
31
22
A. Shlatz
DNF
32
77
M. Lugelle
DNS
33
12x
K. Carpenter
DNS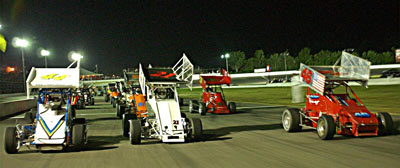 Howie Hodge Photo
STOEHR NEMA MINI INDY WINNER
Thompson, CT - The fifth leader, two-time defending champion Russ Stoehr, took the lead on lap 13 and went on to capture the Northeastern Midget Association 33-lap Mini Indy on July 4 at Thompson Speedway. The event was part of NEMA's 50th birthday celebration.

Stoehr, diving Gene Angelillo's #45, went around Nokie Fornoro coming out of turn two on lap 13 and went on to post his 39th career NEMA win, putting him third on the all-time win list. "I really love to win at Thompson and I don't think anybody realized just how much Gene wanted to win tonight."

The three-abreast start (the first since the mid 1980s for NEMA) "went off without a hitch," said Stoehr who started outside the fifth row. He got a "close-up" view of some terrific racing, most notably a duel between teenagers Bobby Santos III and Ryan Dolan and the veteran Nokie Fornoro.

The winning pass came shortly after the second of four cautions. Fornoro was able to get away on the restart but it was Stoehr in front out of two. "[Nokie] was almost as fast as I was," explained Stoehr, "but he wasn't handling as well as he need to be. I figured if I could get by him it was going to be hard for the next guy."

A late rally gave Randy Cabral runner-up honors while front-row starter Ed Breault drove a consistent race to claim third. Both passed a slowing Phil DiMario in the final laps.

Fornoro, Dolan and DiMario, swapped positions behind Stoehr for much of the latter stages of the race. In the end, bad luck caught up with Dolan and Fornoro.

Dolan, who was looking for a second straight Thompson win, went out on the third restart running second. Fornoro and DiMario then went at it until Fornoro lost an engine with two laps remaining, resulting in the final restart. The slowing DiMario limped home from that point.

"There was some fast cars doing some great things out there," said Angelillo, taking pride as both winning car owner and club president. "This was a great Midget race."

Pole sitter Rudy Boetticher led the 33 starters into turn one but before the second lap was complete Santos, who started ninth in the Seymour #9, had the lead. Fornoro and Dolan were quickly in pursuit. A daring move to the outside heading into three on lap five sent Dolan past both Fornoro and Santos and into the lead.

"They talk about the learning curve," said Stoehr. "There is no more learning curve. These kids are coming with lots of experience and great equipment."

Mechanical woes claimed Santos just after the first yellow showed. That put Stoehr third behind Dolan and Fornoro. Stoehr followed Fornoro past Dolan and sat second when caution flew again two laps later.

"I really wanted to get a Thompson win with Gene," said Stoehr. "I've been second twice and I guess we picked the right night to get it." Stoehr won twice at Thompson driving for Bruce Beane.

History continues to repeat as NEMA heads for events at Star (July 13) and Hudson (July 14).

NEMA NOTES: Steve Grant started the Mini Indy from the track. "I have complete trust in these guys," said Grant who had to jump onto the wall and into the stand after the field passed…Promoter Don Hoenig, professing the Midgets remain his first love, was very happy with the show and told Angelillo, in front of the crowd, there's a standing invitation for more…Interestingly enough, the top four on NEMA's all-time win list were on the track. In addition to Drew and Nokie Fornoro and Stoehr, Dave Humphrey (who holds second spot) paced the field in the immaculate Ken Brenn Offy, the latter part of an ACOT display…


NEMA'S 50th Bash Includes Mini Indy
Wolcott, CT – The Northeastern Midget Association will dig deep into Midget racing history and celebrate its golden anniversary with a "Mini-Indy" at Thompson Speedway on Thursday night July 4. The 33-lap, three-abreast start feature will be the highlight of the club's 50th birthday bash.

The drivers voted overwhelming in favor of the three-abreast start before last Saturday's feature at Waterford Speedbowl. One of the drivers speaking in favor was Drew Fornoro, the last Thompson Mini-Indy winner.

The Atlantic Coast Old Timers (ACOT) will also be on hand with some antique racers that will rekindle memories for NEMA veterans. ACOT will run laps during the day.

Fans can also purchase tickets to a special afternoon party that will bring them in contact with a number of invited guests, all of which played leading roles in NEMA's rich history. NEMA was actually born in the Thompson Clubhouse in the spring of 1953.

"We've got all the makings of a great party," said NEMA president Gene Angelillo.

It has been almost 20 years since Thompson has hosted a Mini Indy. Fornoro actually came from the last starting spot to win it after spinning in his qualifying heat.

According to Thompson owner Don Hoenig, the "Mini-Indy" concept at Thompson goes back before World War II. Called the "Midget Classic," it ran in the fall and contributed much to Midget lore.

Hoenig has hoping for such an event for the last few years, pointing out Thompson's length and width make it a natural.

"This is the perfect time," said Angelillo. "The club has never been healthier and we have so many talented drivers in good equipment.

Ryan Dolan, 16, became the youngest winner in NEMA history at Thompson's Icebreaker earlier this year. Mark Buonomo was the World Series winner last fall.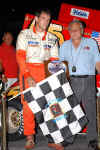 Howie Hodge Photo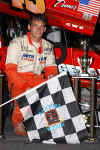 Howie Hodge Photo