Heat 1
45 - R. Stoehr
81 - T. Heath
17 - B. Seitz
44 - E. Breault
79 - G. Cabral
2x - L. Smith
22 - A. Shlatz
88 - D. Rosenfield

Heat 2
2 - H. Bumpus
54 - D. Fonoro
15 - R. Dolan
7ny - A. Cantor
46 - R. Boetticher
35 - R. Cabral
5 - L. Cheetham
3 - T. Spada
33 - J. Libby

Heat 3
76 - M. Buonomo
12x - K. Carpenter
9 - B. Santos
4 - B. Seymour
47 - T. Bertrand
62 - C. Morton
87 - D. Cleveland
7x - E.J. Douville
34 - P. Pernasiglio

Consi
1s - J. Horn
3 - T. Spada
7x - E.J. Douville
34 - P. Pernesiglio
33 - J. Libby
88 - D. Rosenfield

= DNF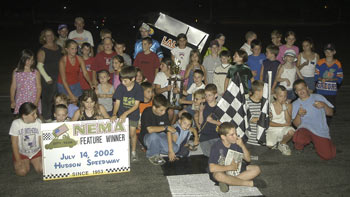 Race 8

Hudson Speedway

July 13, 2002
Feature
1
2
H. Bumpus
2
76
M. Buonomo
3
54
D. Fonoro
4
35
R. Cabral
Hard
Charger
5
45
R. Stoehr
6
7ny
A. Cantor
7
4
B. Seymour
8
1s
J. Horn
9
12x
K. Carpenter
10
47
T. Bertrand
11
44
E. Breault
12
62
C. Morton
13
87
D. Cleveland
14
79
G. Cabral
15
9
B. Santos
DNF
16
3
T. Spada
17
7x
E. J. Douville
18
17
B. Seitz
DNF
19
46
R. Boetticher Jr.
DNF
20
22
A. Shlatz
DNF
21
5
L. Cheetham
DNF
22
81
T. Heath
DNF
23
2x
L. Smith
DNF
24
15
R. Dolan
DQ
25
34
P. Pernesiglio
DNS
26
33
J. Libby
DNS
27
88
D. Rosenfield
DNS
28
77
M. Lugelle
DNS
29
16
M. O'Brien
DNS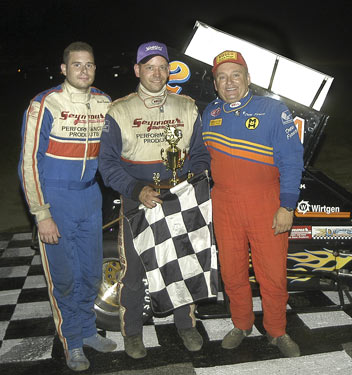 Hudson Top Three: Left - Mark Buonomo, 2nd
Center - Howie Bumpus, 1st Right - Drew Fonoro, 3rd
Fornoro, Bumpus NEMA Winners
at Star and Hudson
July 12 & 13 - Drew Fornoro and Howard Bumpus were the winners as the Northeastern Midget Association continued its 50th birthday celebration with the first Star Speedway-Hudson Speedway since 1994. Fornoro scored his 80th NEMA victory at Star on Saturday while Bumpus prevailed Saturday night at Hudson.

NEMA has now had seven winners in eight races.

Starting 11th, Fornoro (in the Campanale Brothers #54) took advantage of Ben Seitz (Cape Cod Aggregates) bobbled in turn three and went on to a two-car length win at Star. Starting third, Seitz passed pole sitter Mike Luggelle out of two before three laps were complete. He had a half-straightaway lead when Fornoro, coming from 11th, took second.

" I knew Drew was there," said Seitz. "I heard him. I had to get going because I knew he'd get me on the bottom. I just slipped up. Traffic was coming and I was thinking too far ahead of myself. I threw it too hard and it didn't hold. The time before I threw it in hard and it stuck. This time it didn't."

It was all according to plan for NEMA's all-time winner. "He was running very good," said Fornoro. "I probably had a tad more. I was waiting for traffic and saw him getting loose a couple times. I figured if I could lead through traffic all the better, That's when I decided to drive in a little bit extra [in turn one] to shake him up."

Fornoro was the hard charger as well.

Seitz, a rookie, then had his hands full with Ryan Dolan, Tim Bertrand and Bobby Santos in the closing laps. The charging Santos lost a tire on lap 24 to bring out the second yellow, the first coming before the race was a lap old. Bobby Seymour finished behind Dolan and Bertrand to complete the top five.

Bumpus, who started fifth in the Don Berrio #2, got past Mark Buonomo on a restart nine laps in at Hudson. He went on to a convincing win, leaving behind a torrid Buonomo-Fornoro duel that Buonomo finally won with three laps remaining.

Coming from third, Buonomo had a wide lead when, on lap nine, Tim Heath's journey off turn three brought out the red. On the restart Buonomo got away but heading into three Bumpus moved inside him and was quickly gone.

"He jumped the start a little bit and I let him go," said Bumpus. "He had been running the middle to high groove before the red and I figured he'd take it in fairly deep. I wanted to pinch it off and get underneath him and that's the way it played out."

"We were on a harder tire than anybody else," Buonomo said. "Right before the red the car was really coming to me. Than after the tires cooled and then heated up again – that cycle – they never came back." He called the closing laps "really skatty."

Fornoro, who ran out of rubber late, got second from Buonomo on lap 14 and then gave it back with three to go in a classic duel. Randy Cabral and Russ Stoehr completed the top five. Cabral, who started 16th, was the hard charger.

Seymour, Bertrand and Bumpus were the Star heat winners with Doug Cleveland claiming the consi. Stoehr, Bumpus and Buonomo were Hudson heat winners with Horn taking the consi.

July 12-13 - Star and Hudson



There are some advantages to being Drew Fornoro. When pushed, Fornoro admits it. He clearly took rookie Ben Seitz to school Saturday night at Star.

"If somebody thinks I'm behind them and it shakes them up that's an advantage I guess," said Fornoro who won his 80th career feature at Star. A move in turn one resulted in a Seitz bobble in turn three, giving Fornoro the room he needed to take the lead.

Fornoro is quick to add, however, "I did that same thing a lot of years to a lot of guys with a lot more experience than these kids." Fornoro, in fact, is very high on NEMA's younger drivers and that includes Seitz, who came to the club from Legends Racing. Seitz drives the Sam LaRusso – Cape Cod Aggravates #17.

Seitz, who held on for second, was smart enough to keep learning. "Drew ran a flawless line," said Seitz. "He didn't make one mistake. He's silk with traffic. He knows where to be; he knows which line is going to go. He knows it before it actually happens."

Fornoro feels like the Campanale Brothers #54 was the best car at Thompson's Mini Indy. It broke an exhaust valve. "This is a little reprieve," he said after the Star win.



Howard Bumpus found the Hudson win "really sweet because going in it was a track I had never won at." He figured it was "10-to-12 years since I raced here." Actually over half of the competitors were at Hudson for the first time.

"It was really pretty clean," continued Bumpus, impressed with way the younger drivers adapted. "For the most part, everybody did a good job. It was a good show."

Bumpus, who now has six career NEMA wins, took the checkered last summer when the club visited Canaan USA Speedway for the first time."



Both runners-up on the Southern New Hampshire tour expressed joy in the finish. Mark Buonomo out-dueled Drew Fornoro to grab second at Hudson is a classic duel. "It was fun," said Buonomo who wouldn't quit working the outside and finally took second place back with just three laps left. "I think we've got it figured out," announced Buonomo who has had his share of woes this season.

Seitz had to battle Ryan Dolan, Tim Bertrand and Bobby Santos III through a ton of traffic to hold on to second. "You don't know if lapped traffic is going to go up or down," Seitz said. "It's confusing but it's good for the fans. I know I saw a good race from where I was sitting." Star marked the second time this season Seitz, who drives the Cape Cod Aggregates sponsored #17, led a race. The Rookie was also a leader at Waterford earlier this year. The New Jersey native ran with the leaders most the way at Hudson before late problems.



A tire going flat thwarted Santos' last-lap front-stretch bid for second at Star. He did a great job holding on to the car.



2002 rookies Seitz, Tim Heath and Bobby Santos III continue a developing trend in NEMA. Two members of the 2001 Rookie class – Ryan Dolan and Tim Bertrand – have won in 2002. Dolan, Adam Cantor, Kyle Carpenter and Bertrand are all in the top-10 in points.



Each race attracted 29 cars. Both Star and Hudson had a pre-green flag "pit party" in celebration of NEMA's golden anniversary,

There was yellow before the first lap was over at both tracks. Doug Cleveland, Larry Cheetham, Bob Bradbury, Jeff Horn and Chuck Morton were involved in the first lap crash at Star. All but Bradbury showed up at Hudson.

The "ride" of the weekend belonged to Tim Heath who "disappeared" after leaving the track in turn two at Hudson.