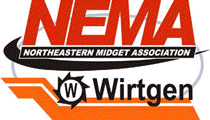 Star Speedway
May 10, 2003
Feature
1
7ny
Adam Cantor
2
91
Drew Fornoro
3
36
Randy Cabral
4
29
Bobby Santos III
Hard
Charger
5
45
Joey Payne
6
2
Howie Bumpus
7
62
Chuck Morton
8
10c
Sean Caisse
9
44
Ed Breault
10
35
Glen Cabral
11
12
Kyle Carpenter
12
50
Pete Pernesiglio
13
32
Justin Barger
14
77
Mike Lugelle
15
57
Bob Bradbury
16
10
Lee Bundy
17
15
Ryan Dolan
18
17
Ben Seitz
19
46
Rudy Boetticher
20
00
Doug Cleveland
21
22
Andy Shlatz
22
18
Rich Gerbe
23
56
Bob Boetticher
24
5
Nokie Fornoro
DNS
25
81
Tim Heath
DNS

Cantor, Santos Capture NEMA Wins
Adam Cantor and Bobby Santos III, prominent members of the Northeastern Midget Association's Youth Brigade, were the winners on a very busy weekend. Cantor grabbed his first-ever NEMA victory in Saturday night's 25-lapper at Star Speedway while Santos prevailed in Sunday's 25-lapper at Waterford Speedbowl's Budweiser Modified Nationals.

It was especially busy for Santos who went from Waterford (where he qualified a SK-Modified) to Star (to finish fourth) and back to Waterford.

Cantor, who started second beside Ryan Dolan at Star, grabbed the lead on the third and final restart. On the two previous restarts, Cantor got a good jump but didn't have enough to get past Dolan who was sliding up in one. "On the last restart," said Cantor, "I drove it in as hard as I could and jammed on the brakes. When he [Dolan] pushed up, I just dove below him."

The race went green the rest of the way. "I knew Drew Fornoro was coming, I knew the others were coming," Cantor continued. "I just tried to maintain my line, stay smooth." Fornoro was well behind in second followed by Randy Cabral, Santos and Joey Payne Jr.

A member of the heralded rookie class of 2002 and a very successful go-kart racer, Cantor admitted to "wondering if we were ever going to win again." He said, "having Drew finish second in my first NEMA makes it the best," Dolan said. "I have learned so much from him."

Santos arrived with five minutes to spare, jumped into the car his sister Erica had qualified, and came from last to fourth. He was the hard charger.

If there was a hard luck award, it would go to Dolan who had mechanical problems at both spots. Santos actually inherited the lead from Dolan at Waterford. Dolan, the pole sitter, went out with a leaking motor after the second caution flew with nine laps remaining.

"It's a lousy way to win a race," said Santos, who started fifth and moved to second before the second lap was competed. "It was like Thompson. Someone else lost it more than someone won it." Santos dominated at the season-opening Thompson World Series but was DQed when the car was found to be about a half inch too wide.

"I think there would have been a race at the end," said Santos who was catching Dolan. Ben Seitz was second while Payne came from 20th to third, winning the Hard Charger award. Cabral and Mike Roselli Jr. filled out the top five.

Erica Santos, in her first NEMA feature, started 22nd but was idled by mechanical woes. She stopped in the third turn, bringing out the caution that eventually put his brother in front.

Kim DeMonte Photos