1 - 45 - Payne
2 - 50 - Persiglio
3 - 17 - Seitz
4 - 36 - R. Cabral
5 - 81 - Heath
6 - 62 - Morton
7 - 57 - Bradbury
8 - 10 - Bundy
9 - 3 - Spada



Heat 2

1 - 10c - Caisse
2 - 2 - Bumpus
3 - 7ny - Cantor
4 - 91 - D. Fornoro
5 - 29 - B. Santos
6 - 12 - Carpenter
7 - 00 - B Cleveland
8 - 77 - Lugelle
9 - 22 - Shlatz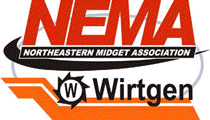 Wen Kelley Memorial
Star Speedway
July 12, 2003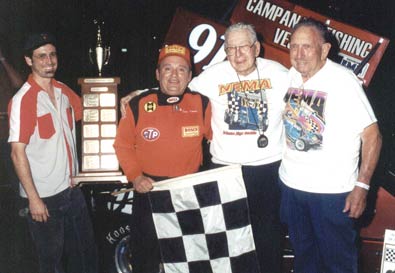 Sam Kelley, Drew Fornoro, Marvin Rifchin, & Ray Kelley.
Rich Hayes Photo

Feature
| | | | |
| --- | --- | --- | --- |
| 1 | 91 | Drew Fornoro | - |
| 2 | 29 | Bobby Santos III | - |
| 3 | 36 | Randy Cabral | - |
| 4 | 7ny | Adam Cantor | - |
| 5 | 45 | Joey Payne | - |
| 6 | 81 | Tim Heath | - |
| 7 | 50 | Pete Pernesiglio | - |
| 8 | 2 | Howie Bumpus | - |
| 9 | 10c | Sean Caisse | - |
| 10 | 77 | Mike Lugelle | - |
| 11 | 10 | Lee Bundy | - |
| 12 | 57 | Bob Bradbury | - |
| 13 | 12 | Kyle Carpenter | - |
| 14 | 17 | Ben Seitz | - |
| 15 | 62 | Chuck Morton | - |
| 16 | 00 | Brian Cleveland | - |
| 17 | 22 | Andy Shlatz | - |
| 18 | 3 | Tommy Spada | - |

Fornoro Wins At Star
Epping, NH – Drew Fornoro's Northeastern Midget Association numbers continue to grow. Inheriting the lead following a crash, Fornoro captured the 25-lap feature Saturday night at Star Speedway. It was Fornoro's 84-career win, 24 of them at Star.

It was the second win of the season Fornoro and the Campanale Bros #91. He took the lead on the final restart and held off a determined Bobby Santos III over the final circuits.

Fornoro was riding third when Kyle Carpenter, the race's third leader, and Brian Cleveland touched coming out of turn before. The incident also collected Ben Seitz and Chuck Morton, the latter rolling and winding up on the Carpenter #12. He was cut from the racer and taken to the hospital but then released.

Second heat winner Sean Caisse led the first four laps until the first caution. On the restart, Tim Heath took advantage of the preferred outside lane to lead briefly. Carpenter followed Heath past Caisse and within two laps had the lead.

Randy Cabral found up third with Adam Cantor and Joey Payne Jr. filling out the top five. Payne, impressive in winning the first heat, was hampered in the feature by a stagger problem. Payne and owner Gene Angelillo do, however, hold on to the respective points leads, 12 up on Fornoro and the Campanale team.

NEMA's hectic scheduled continues Friday night with the first visit to Lee USA Speedway since 1994. Beech Ridge Motor Speedway hosts NEMA on July 26th before the prestigious Boston Louie Memorial on Saturday night,
August 2nd.


Rich
Hayes
Photos


RHayesFoto@aol.com