Waterford Speedbowl
May 1, 2004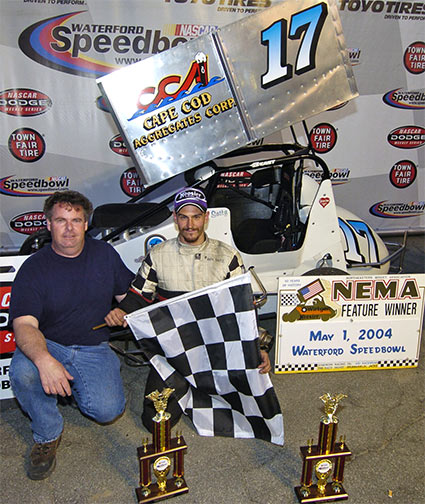 Pete Valeri and Ben Seitz

Finish
Car #
Driver Name/Hometown
1
17
Ben Seitz - Monument Beach, MA***
2
81
Tim Heath - Lebanon, CT
3
44
Ed Breault - Lincoln, RI
4
36
Randy Cabral - Plymouth, MA
5
50
Pete Pernesiglio - Long Island, NY
6
2
Howie Bumpus - Lakeville, MA
7
7ny
Adam Cantor - Dix Hills, NY
8
37
Shane Hammond - E. Bridgewater, MA
9
33
Tommy Spada - Berlin, CT
10
57
Bob Bradbury - Wakefield, RI
11
35
Glen Cabral - Plymouth, MA
12
11
Lee Bundy - Kennebunkport, ME
13
12
Kyle Carpenter - Gloucester, MA
14
47
Mark Buonomo - Waltham, MA
15
16
Matt O'Brien - Wilmington, MA
16
13
Ed Devoe - E. Hartford, CT
17
45
Joey Payne - Fairlawn, NJ
DNS
22
Andy Shlatz - Enfield, CT
DNS
48
Tim Bertrand - Watertown, MA
*** Hard Charger

Seitz Gets First NEMA Win
at Waterford Speedbowl
WATERFORD - Ben Seitz proved both an opportunist and a defender Saturday night en route to a 25-lap victory in Northeastern Midget Association's season opener at Waterford Speedbowl. It was the first NEMA victory for both the 24-year old Seitz and car owner Pete Valeri.

Seitz inherited the lead when electrical problems ended Kyle Carpenter's run with eight laps remaining. Carpenter, who had led since taking over from Glen Cabral with five laps gone, went off the track just seconds after Seitz took second away from Tim Heath coming out of four.

"Once I cleared traffic I saw on the scoreboard I was second but I couldn't see Kyle," said Seitz who started 12th. "Then coming out of two I saw him pull off and said to myself 'I've got a chance here.'"

He had to beat back two restart challenges from Heath, the last with three laps remaining. He got away each time, leaving Heath to battle Ed Brault and Randy Cabral, the latter two finishing third and fourth. Pete Pernesiglio was fifth.

"It's good to get that first win and I'm happy it came at the Speedbowl," said Seitz who was very successful in Legend Cars there. "It's good to get that over with. Now we can focus on racing." The win comes in his third NEMA season in a new Gaerte-powered Beast chassis.

"I have to thank Pete Valeri and [sponsor] Cape Cod Aggregates for the time and money they've invested in me," said Seitz who has four NEMA seconds (including two at the Speedbowl). Despite winning his heat (Pernesiglio won the other) he was not optimistic about the feature.

"I wasn't optimistic about the heat either," he said, "but I just kept picking off cars. The same thing happened in the feature. The car was great."

Pole sitter Matt O'Brien grabbed the immediate lead but gave it up to Glen Cabral coming out of two on lap two. Carpenter, who started fifth, challenged immediately and took command, again in two, with 20 showing, leaving behind a battle that included Breault, Heath, Howie Bumpus and Adam Cantor. When Seitz caught that group with 12 laps left, Carpenter had a wide advantage.

"At one point I thought the smart thing to do was save the car and hope for a caution," said Seitz. "There was no way I could have caught him."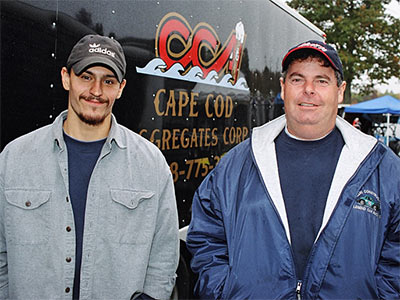 First Win a Top Priority
For NEMA's Seitz
Ben Seitz is one of those "take one step at a time" kind of guys. Ask him about winning the Northeastern Midget Association championship and his answer is "I'd like to win a race first."

The New Jersey native will begin that pursuit when NEMA opens its 52nd season Saturday night, May 1 at Waterford Speedbowl. He has new equipment this season - Pete Valeri's Gaerte-powered Beast chassis that Steve Lewis drove on the USAC circuit last year. Cape Cod Aggregates Corp. remains the sponsor.

It is the first of 13 races on the 2004 agenda. While the Seitz/Valeri team plan on doing some USAC racing, running the entire NEMA schedule is top priority.

"Hopefully we can return to what we were doing at the first half of last season," says Seitz. "The last half of the season we just had problems – chassis, motor, everything. It was tough."

Seitz was third in points following a second in last year's Boston Louie. Then the bottom fell out and he and Valeri wound up sixth in the respective point standings following a fourth at Thompson's World Series.

Coming to NEMA after a very successful five year stint with the Legend Cars (including the 2001 New England Region championship) Seitz is quick to admit he "still has things to learn" about Midgets. "I still try to watch the veterans to see what they're doing."

Seitz believes, however, he's advanced "about five notches" as a driver. "The first three laps my eyes were like saucers," he recalls. "It was a big adjustment." He fits nicely into the younger generation of NEMA drivers that includes Randy Cabral, Ryan Dolan, Bobby Santos II, and Adam Cantor.

He is now ready to join them on NEMA's winner's roster.

"We were not far off last season," Seitz continues. "We were competitive, reasonably quick." At Star he was actually dueling for the lead when he "got involved in lapped traffic."

Opening at the Speedbowl pleases Seitz. He was second there twice in 2004. Over the past five years, six different drivers, including Santos, have posted their first win on the quick three-eights oval.

"Everybody seems to be at the top of their game at the Speedbowl," points out defending champ Joey Payne Jr. "The surface is good, it's three-four lanes wide and quick. You get no time to relax there."

Payne, on NEMA's veteran list along with nine-time champ Drew Fornoro, Howie Bumpus and Pete Pernesiglio, is convinced a Seitz victory "is not far away."

Payne and owner Gene Angelillo are the targets this season, the latter looking for a seventh straight owner crown. "Gene shows everybody how to win championships," says Seitz. "You have to be consistent. You don't have to win every race."

It's getting the first one that drives Seitz and Valeri.

Visit www.BenSeitzRacing.com

Waterford Opener Notes:
The Northeastern Midget Association will open its 53rd consecutive season Saturday night, May 1 at Waterford Speedbowl. The Speedbowl hosted two previous NEMA openers back-to-back in 1999 and 2000.

Drew Fornoro is the all-time leader in season-opening wins with six including last year's Icebreaker win at Thompson Speedway. Next in line with four are Bill Eldridge and Dutch Schaefer. Jeff Horn has three.

The winner of the season opening race has gone on to capture the championship eight times. Fornoro was the last to do it 1998, matching his 1983 effort. Eldridge also did it twice (1954 and '58). Others were Dick Brown in 1961, Johnny Mann in 1972, Armond Holley in 1976 and Joey Coy in 1991.

The Coy family – father Johnny (2) and sons Johnny Jr.(1) and Joey (1) – claim four opening day wins.

The most noteworthy opener of recent vintage has to be Ryan Dolan's 2002 win at Thompson. He was just 16 at the time – the youngest winner in club history.

Other active drivers with season-opener wins are Howie Bumpus (1989 at Star), Joey Payne (1996 at Star), Rudy Boetticher (2000 at Waterford) and Randy Cabral (2001 at Thompson).

Thompson, Star Speedway and the now gone Westboro Speedway each hosted 11 NEMA openers. Westboro's last season opener was Fornoro's first season-opener win.


Photos by
Norm Marx